Cross Vegas - C2
Las Vegas, USA, September 26, 2007
Trebon, Bessette say 'Viva Cross Vegas!'
By Mark Zalewski, North American Editor in Las Vegas, Nevada
The final podium.
Photo ©: Jon Devich
The inaugural 'Cross Vegas' cyclo-cross race held during the Interbike trade show was a big success, with more than 5,000 spectators making the hike up to North Las Vegas to watch some of the top 'cross racers in the country do battle on a unique turf course in the middle of the desert under the night lights. The soft and dragging turf made for a more difficult than expected race for everyone, with an elite group forming early and dropping a rider each lap. In the end, it was Ryan Trebon (Kona-Your Key Mortgage) and Christian Heule (Stevens) doing battle all the way into the final stretch, with Trebon getting revenge on Heule from last weekend's races in Washington state.
"I was thinking, 'Aw s&$%, he's going to out sprint me again!'" said Trebon regarding seeing Heule on his wheel in the end. "At least come around me and give me a chance this time!' I just had to keep going and get him on the final section. Luckily the sprint had a kick to it."
"Ryan is a very strong guy, always attacking," said Huele. "It's not my thing, but I know him from the races in Seattle. I knew he would be very strong now and I watched him the most. I also watched Jonathan Page, but I was surprised he could not hold us on the last lap."
"It is really like riding on three or four layers of carpet, and it's constant," said Page. "I was just following moves because I'm not on really good form -- it's pretty simple but not easy."
The racing began with 92 starters, all vying for the hole shot on the top part of the course which started with a hot lap of the finish loop before heading out to the main course, set mostly in a retention pond. The walls of the pond were the scene of the biggest challenges, with one of the uphill sections stacked with numerous barriers.
The first time into the up and down corners resulted a little congestion, but the top riders made sure to be at the front before all of this. After two laps, a group of 15 made the elite selection, including riders like Trebon, Huele, Page, Barry Wicks (Kona-Your Key Mortgage), Davide Frattini (Colavita-Sutter Home) as well as Tim Johnson and Jeremy Powers (cyclocrossworld.com).
As the minutes ticked off the hour-long race a few of the riders hanging onto the elites dropped off and a core group formed. Out of this group almost every rider put in an attack, either full or half-hearted. On more than a few occasions Trebon, Page and Heule would look at each other, wanting the other to do the work. With two laps to go, this group finally started to shed more elite riders such as Johnson, Frattini and Wicks.
"Barry was doing good sacrificing himself that lap to keep the us away from the others," said Trebon. "I think Page was watching me and Christian and I was watching both them.
Into the last lap it was down to four riders: Trebon, Heule, Page and Powers -- but with Heule and Trebon the obvious top two. Half-way through the lap it was Trebon putting on a variety of attacks, with Heule covering them all, but causing Page and Powers to lose contact.
Finally, on the longest uphill section, Trebon's attacking put the two off the front for good. "It was a headwind into the hill and then it got really soft going across, but it was the only park of the course where you could really get away," said Trebon."Through the pits the final time it was Trebon drafting Heule, continuing back up to the upper finish loop.
Around the final kilometre, it was Trebon and Heule keeping the pace up to make sure Powers and Page could not close the gap. Trebon was forced to lead, but this time, a little uphill kicker at 150 meters was enough for Trebon to beat the tough Swiss rider. "Second is not so bad but I'm not really happy with it," said Huele. "For me it would have been better to have 300 meters on the road to relax a little bit, but it was the same for everybody."
Bessette victorious in Cross Vegas
By Kirsten Robbins
"The King" made an appearance
Photo ©: Jon Devich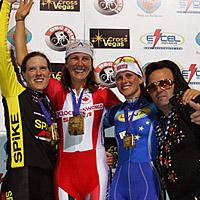 All eyes were on the Canadian national champion Lyne Bessette (Cyclocrossworld.com) as she threw down an impressive solo finish ahead of her strongest rivals, US national champion Katie Compton (Spike) and Katrina Nash (Luna) in the most talked about cyclo-cross event of the season.
"I felt really good and I never thought I would be able to win," said Bessette. "I mean, I knew I could do this but it was a really hard course. This was not a fast course, it was very powerful and I think that is why. I'm just really excited that I won."
Bessette admitted that the secret to her success was because of her track focus in an ongoing bid for the 2008 Olympic pursuit. "I did a lot of track this year and almost nothing on the road and I think that's what helped me," said Bessette. "I have more power and I can hold on to the tempo when she bursts. I used to fall back and then catch back up all the time, but tonight I didn't. I am also really fresh, and I think that helped a lot too."
Bessette and Compton frequently find themselves competing against one another during the North America cyclo-cross season and Compton admitted to Bessette's improvement since last season. "Lyne is definitely riding stronger now than she has in the past and her power is looking really good."
The two national title holders separated themselves from the rest of the field on the first lap leaving Katrina Nash and her team-mate Georgia Gould (Luna) to chase in no man's land and multiple groups scattered behind. "I'm pretty excited because I think the race went really well," said third placed rider Katrina Nash. "I lost their wheels on the first lap because I didn't have a good position at the start. There was no catching them -- they were flying. The gap was slowly getting a little bigger and my legs were slowly getting more and more tired."
Bessette saw her opportunity to escape Compton with two laps to go and jumped ahead through the barrier-littered section of the circuit. "I saw that she was a little slower than me on the uphill parts," said Bessette. "She was pulling really strongly and I felt really good behind her. I didn't really attack I just went a little harder through the barriers."
Though Compton has competed in several cyclo-cross events prior to Cross Vegas, she regarded the unique venue as a being more difficult that it looked. "The course was really hard because it's on the grass and so you're constantly pushing on the pedals," said Compton. "It looks flat but there are a lot of false flats and few places to recover."
Photography
For a thumbnail gallery of these images, click here
Images by Jonathan Devich/

Images by Dave McElwaine/www.trailwatch.net
Images by Mark Legg Images
Results
Elite men

1 Ryan Trebon (USA) Kona-Your Key Mortgage Team                           58.28
2 Christian Heule (Swi) Stevens Bicycles                                       
3 Jeremy Powers (USA) Cyclocrossworld.Com                                  0.02
4 Barry Wicks (USA) Kona-Your Key Mortgage Team                                
5 Jonathan Page (USA) Sun Web / Pro Job                                    0.08
6 Geoff Kabush (Can) Team Maxxis                                           0.24
7 Jonathan Baker (USA) Primus Mootry                                           
8 Davide Frattini (Ita) Colavita/Sutter Home Presented By Cooking Light        
9 Tim Johnson (USA) Cyclocrossworld.Com                                    0.25
10 Christopher Jones (USA) Nerac Pro Cycling                               0.34
11 Michael Muller (Swi) Inovex                                             1.40
12 Mathew Touloose (Can) Team Maxxis                                           
13 Matt Shriver (USA) Jittery Joe'S/Sonic Cyclocross                       1.51
14 Jesse Anthony (USA) Jamis Bicycles                                      2.09
15 Mark Mccormack (USA) Team Clif Bar Cyclocross                           2.55
16 Colby Pearce (USA) Cody Racing                                              
17 Todd Wells (USA) Gt                                                     3.02
18 Derek Hermon (USA) Bear Valley Bikes                                        
19 Matthew White (USA) Fiordifrutta Elite Cycling Team                     3.29
20 Kris Sneddon (Can) Kona-Your Key Mortgage Team                          3.32
21 Andy Jacques-Maynes (USA) California Giant Berry Farms/Specialized      3.37
22 Jim Bryan (GBr) Ace Racing Team                                         3.42
23 Brandon Dwight (USA) Boulder Cycle Sport                                3.53
24 Whitey Debroux (USA) Einstein Bros / Mob Cyclery                        4.00
25 Joachim Parbo (Den) Ccv-Cicli Protek                                    4.05
26 Carl Decker (USA) Team Giant                                            4.12
27 Ryan Leach (USA) Gpoa-Cannondale                                        4.16
28 Cody Peterson (USA) Scott Bicycles                                          
29 Jake Wells (USA) Mafiaracing.Com                                            
30 Kevin Bradford-Parish (USA) Redline Team                                4.26
31 Tristan Schouten (USA) Planet Bike                                          
32 Sam Krieg (USA) Sienna Dev'T                                            4.35
33 Daniel Neyens (USA) Hagens Bergman Cycling Team                         4.45
34 Adam Craig (USA) Team Giant                                             4.54
35 Troy Wells (USA) Team Clif Bar Cyclocross                                   
36 John Behrens (USA) Black Mountain/Bailey                                    
37 Paul Brooks (USA) Kodakgallery.Com/Sierra Nevada Pro Cycling Team           
38 Nicholas Stevens (GBr) Waltworks/Fuentesdesign/Americanclassic/Panaracer    
39 Evan Plews (USA) Capitol Subaru Cycling/Scottusa                        5.05
40 Bjorn Selander (USA) Ridley                                             5.17
41 Frederick Bottger (USA) Team Bearclaw                                   5.30
42 Matt Pachoca (USA) Velo News                                            5.35
43 Aaron Odell (USA) Hrs Rock Lobster Cycles                               6.12
44 David Wyandt (USA) Hrs-Rocklobster                                          
45 Ernesto Marenchin (USA) Asylum Cycles                                   6.34
46 Adam Myerson (USA) Nerac Pro Cycling                                    6.46
47 Danny Summerhill (USA) Clif Bar Development Cross Team                  6.58
48 Molly Cameron (USA) Vanilla Bicycles-Stumptown Coffee                   7.10
49 Damian Schmitt (USA) Sunnyside Sports                                   7.29
50 Justin Robinson (USA) California Giant Berry Farms/Specialized          7.38
51 Ryan Iddings (USA) Lapierre Usa                                         7.40
52 James Schneider (USA) Jittery Joe'S/Sonic Cycling                       8.25
53 Scott Keller (USA) Tribe Multisport                                     8.36
54 Ali Goulet (USA) Ridley Factory Team                                        
One lap down
55 Mark Legg (NZl) Spike Shooter                                               
56 Ian Brown (USA) River City/Tonicfab.Com                                     
57 Rob Evans (USA) Stolen Underground                                          
58 Jon Cariveau (USA) Moots                                                    
59 Jon Gallagher (USA) Cole Sport                                              
60 Gannon Omyall (USA) California Giant Berry Farms/Specialized                
61 Adam Mcgrath (USA) Team Maxxis                                              
62 Evan Hyde (USA) Nashvillecyclist.Com P/B Bike Pedlar                        
63 Chance Noble (USA) California Giant Berry Farms/Specialized                 
64 Nat Ross (USA) Subaru-Gary Fisher                                           
Two laps down
65 Bryan Fawley (USA) Bicycle Sport Shop                                       
66 Jason Lowetz (USA) Teambearclaw                                             
DNF Michael Cody (USA) Bikereg.Com                                             
DNF Steve Tilford (USA) Hrrc/Trek Bike Store                                   
DNF Christopher Horner (USA)                                                   
DNF Tyler Johnson (USA) Alan North American Cycling Team                       
DNF Donald Reeb (USA) Cmg Racing/ Bike N Hike                                  
DNF Chris Dimmick (USA) Team Turin                                             
DNF Joel Mischke (USA) Basalt Bike & Ski                                       
DNF Patrick Collier (USA) Scott Bicycles                                       
DNF Charles Coyle (USA) Success Living Presented By Parkpre                    
DNF Luca Damiani (Ita) Colavita/Sutter Home Presented By Cooking Light         
DNF Antonio Cruz (USA) Discovery Pro Cycling Team                              
DNF Henry Kramer (USA) California Giant Berry Farms/Specialized                
DNF Andy Bestwick (USA) Allegiant Air Team Pain Md                             
DNF Michael Hosey (USA) Soulcraft                                              
DNF Samual Ames (USA) Simply Fit/Action Sports                                 
DNF Pete Lopinto (USA) Kodakgallery.Com/Sierra Nevada Pro Cycling Team         
DNF Kevin Attkisson (USA) Texas Roadhouse Cycling                              
DNF Robert Downs (USA) Planet Bike                                             
DNF Hunter Pronovost (USA) Anthem-Cccc                                         
DNF Darren Lightfield (USA) Team Tamarack Resort                               
DNF Jason Sager (USA) Monavie/Cannondale                                       
DNF Dean Poshard (USA) Hrs Rock Lobster Cycles                                 
DNF Gary Hanson (USA) Factory Giant Team                                       
DNF John Bailey (USA) Bailey Bikes                                             
DNS Brent Prenzlow (USA) Alan North America Cycling Team                       
DNS Phil Grove (USA) 53X11 Coffee                                              
DNS Jordan Kobert (USA) Gs Ciao                                                
DNS Tim Johnson (USA) Cyclocrossworld.Com                                      
DNS Chris Sheppard (Can)                                                       

Elite women

1 Lyne Bessette (Can) Team Cyclecrossworld.Com                      45.31
2 Katie Compton (USA) Spike Shooter                                  0.37
3 Katerina Nash (Cze) Luna Women's Mtb Team                          1.13
4 Georgia Gould (USA) Luna Women's Mtb Team                          1.22
5 Alison Sydor (Can) Rocky Mountain Haywood                          1.37
6 Kelli Emmett (USA) Team Giant                                          
7 Wendy Williams (USA) River City Bicycles                               
8 Mary Mcconneloug (USA) Kenda/Seven Cycles                              
9 Shelley Olds (USA) California Giant Berry Farms/Specialized        1.51
10 Wendy Simms (Can) Kona-Yor Key Mortgage Team                      2.49
11 Rachel Lloyd (USA) Proman/Paradigm                                2.51
12 Barbara Howe (USA) Velo Bella/Kona                                3.20
13 Sue Butler (USA) River City Bicycles                              3.35
14 Ann Trombley (USA) Excel Sports                                       
15 Melissa Thomas (USA) Team Maxxis                                      
16 Kerry Barnholt (USA) Tokyo Joes/Van Dessel                        3.39
17 Kelly Jones (Can) Sugoi/Cannondale/Bontrager                      5.57
18 Megan Elliott (USA) Unattached                                    6.10
19 Carolyn Popovic (USA) Team C.I.C.L.E. Presented By Voler          6.12
20 Lana Atchley (USA) Unattached                                         
21 Megan Monroe (USA) Bmc-Sports Garage                                  
22 Cris Rothfuss (USA) Nebc/Cycle Loft/Devonshire Dental                 
23 Melodie Metzger (USA) California Giant Berry Farms/Specialized        
24 Shannon Gibson (USA) Velobella-Kona                               6.23
25 Anna Milkowski (USA) Velo Bella/Kona                              7.22
26 Jennifer Tilley (USA) Velo Bella/Kona                             7.29
27 Tiffany Pezzulo (USA) Ivory Homes                                 7.58
28 Natasha Cowie (USA) Velo Bella/Kona                               8.02
29 Kris Walker (USA) Krieg Cycling.Com                               8.09
30 Catherine Walberg (USA) Mesa Cycles Racing Team                   8.46
One lap down
31 Christie Pleiss (USA) Team C.I.C.L.E. Presented By Voler              
32 Dorothy Wong (USA) Team C.I.C.L.E..Presented By Voler                 
33 Mandy Eakins (USA) Team C.I.C.L.E. Presented By Voler                 
34 Catherine Johnson (USA) Organic Athlete                               
DNF Mandy Lozano (USA) Vanderkitten Women's Professional Cycling Team    
DNF Josie Beggs (USA) California Giant Berry Farms/Specialized           
DNF Jennifer Bodine (USA) Velo Bella/Kona                                
DNF Tonya Bray (USA) Team C.I.C.L.E. Presented By Voler                  
DNF Amy Dombroski (USA) Velo Bella/Kona                                  
DNF Kari Studley (USA) Velo Bella/Kona