Cyclo-cross News & Racing Round-up, January 29, 2009
Edited by Laura Weislo
Welcome to our regular roundup of what's happening in cyclo-cross. Feel free to send feedback, news and releases to mtb@cyclingnews.com.
World championships preview: Who'll be on song in Hoogerheide?
The incomparable Sven Nys
Photo ©: Cyclingnews.com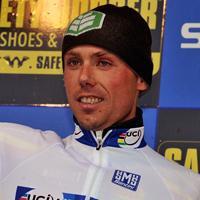 This weekend's Cyclo-cross world championships in Hoogerheide, The Netherlands, promises to be another intriguing event. Despite heading into the titles with the best chances on paper, often the favourites struggle as the winner comes from a corner no-one predicted before the race. Cyclingnews' Brecht Decaluwé gives us a little history and the lowdown on the climax to the 2008-09 cyclo-cross season.
Somewhere along the border between Antwerp, Belgium and Bergen op Zoom, The Netherlands, there used to be not much else than heathland near an old defensive wall. The old road towards the local airfield turned into a small village and that's what Hoogerheide still is, a small rural town. For all the linguistic scientists among our readers, Hoogerheide can be translated as Higherheath.
Thanks to local hero Adrie van der Poel - multiple Spring Classics winner and former cyclo-cross world champion - once a year the town is turned into a cyclo-cross course, and this year Hoogerheide is hosting the UCI's cyclo-cross World Championships.
For those who don't know about Van der Poel, what follows is a short introduction. Cycling-mad Adrie was one of the best one-day riders during the eighties and he racked up wins in Classics like the Amstel Gold Race, Liège-Bastogne-Liège and the Ronde van Vlaanderen. In between the road seasons, training maniac Van der Poel choose to compete in cyclo-cross to remain in competition all year long.
It turned out that Van der Poel was among the best in the world in the discipline. During the latter stages of his career Van der Poel focused mainly on cyclo-cross and back in 1996 the Dutchman captured the world title in Montreuil, France.
Read the rest of the preview here.
Nys sends warning shot in Milan
By Peter Hymas
Sven Nys (Landbouwkrediet - Colnago)
Photo ©: Riccardo Scanferla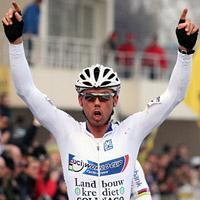 Sven Nys won the final round of the UCI Cyclo-cross World Cup in Milan with an emphatic sprint victory over Lars Boom and Zdenek Stybar, sending a message to his competitors with his victory in Milan that he's on form to win a world championship in one week's time.
On a fast, dry circuit in Italy, a large group of contenders were still in contention on the final lap. A group of six, including Niels Albert, Sven Vanthourenhout and Bart Wellens in addition to Nys, Boom and Stybar, contested the final sprint, having separated themselves from a larger leading group of 10 that emerged half way through the event. Boom led Nys through the last corner onto the short finishing stretch but Nys powered his way around the world champion in the closing meters.
Nys had already clinched the World Cup title at the previous weekend's race in Roubaix, France, so there were no changes at the top of the overall standings. A trio of Fidea Cycling team riders, Bart Wellens, Zdenek Stybar and Kevin Pauwels, finished second through fourth overall while Lars Boom moved into fifth overall with his second place finish in Milan.
Stybar motivated
Czech Zdenek Stybar (Fidea Cycling Team) wins the Sixth Round of the Superprestige
Photo ©: Cyclingnews

All eyes are on the Dutch and Belgian riders for this year's World Championships, but there is at least one rider who has quietly worked his way into second place in the overall UCI rankings, and he stands a good chance at upsetting everyone else's plans. Zdenek Stybar, the Czech rider from Fidea, has just three wins to his name this year but is motivated to make number four the big one: the World Championship.
"I have very good feelings now. I finished on the podium in last seven races," Stybar said on his web site, zdenekstybar.com. "I have a big motivation, I can go to the race without stress. When I will make a good result, it will be nice bonus for me. I trained hard, my form should be best on Sunday."
In last year's race in Treviso, Stybar out-sprinted Sven Nys to take the silver behind Dutchman Lars Boom, and he knows that the rivalry between the two teams will make it difficult to make the podium again. "It is always difficult to be on the podium in world championships. There are a lot of guys with these ambitions. Podium is great, but the most important is a rainbow jersey for the champion. There are big differences between the first and the second place. And rainbow jersey, it is a big motivation for me. But I know, that it will be very hard to win it."
Stybar tipped Boom and Nys as favourites again, with the defending champion on his home turf and Nys showing his form has not faded at the final World Cup race in Milan last Sunday. He isn't ready to call himself a favourite, however. "I would like to be... But it won''t be so fair to speak about myself.... I know, that I am in a good shape and I should be able to ride for the best places."
The Czech rider previewed the frozen course on Tuesday, but is expecting the surface to soften up with slightly warmer temperatures. "When the rain comes, the track will be very hard and muddy. I wanted to train there in the last week, but it was impossible. But I know the track well, I was there every month from September. The track is not hard for the technique. No hard curves, no descent, just long flat."
Compton seeks to conquer the World
Compton rode to a fifth consecutive US title
Photo ©: Mitch Clinton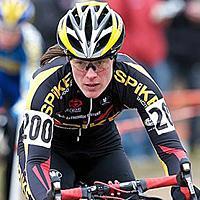 Katie Compton goes into this weekend's World Cyclo-cross Championships in Hoogerheide, the Netherlands as one of the hot favourites. Cyclingnews' Ben Atkins has been speaking to the US champion as she builds up for her best chance yet of a rainbow jersey.
Despite an early season injury, copious travel and conditions that haven't always suited her, Katie Compton has taken three rounds of the World Cup – including arguably the two toughest in Roubaix and Koksijde – and rarely been out of contention in any of the races she's entered. Throughout the 2007/08 season, this rider from Colorado Springs, Colorado was a regular on the podium of the biggest races; in 2008/09 it has been unusual for her not to be there.
Remarkably, Compton has excelled in the toughest conditions – where sand or thick mud slows riders to a crawl – like those in Nommay, her second World Cup win, or Gavere, her first European victory of the season. "Yeah, definitely gotten faster this year," she agreed, "definitely feeling stronger. I like the mud and sand better because it's more just power and there's less tactics involved, so I definitely like those courses over [others] where it's really fast and tactics are involved; positioning and sprinting and stuff."
"It definitely feels good to be consistently on the podium this year."
Continue to the full interview.
Mourey, Vervecken hurting before Worlds
Francis Mourey (France) and Erwin Vervecken (Belgium), two of the major contenders for a podium at the World Championships in Hoogerheide this weekend, are trying to recover from back injuries in the days leading up to the race.
Mourey abandoned Sunday's race after feeling a sharp pain in his back before the start, not wanting to jeopardize his chance this weekend. He told AFP that he was able to train and was going to visit a physiotherapist to help identify the source of the pain. He still expects to travel to the Netherlands tomorrow and be on the line with his French team on Sunday. "This week, my priority will be on recovery to be 100% on Sunday."
Mourey's problems were compounded this week when his teammate Julien Belgy withdrew from the start list after suffering from an illness. He will not be replaced, so the French team will be down to four.
Vervecken crashed in Milan, throwing out his lower back and injuring his hip. According to Sporza.be, he has been treated by an osteopath for his back, but is still worried about the pain in his hip, but thinks he will be ship-shape in time for Sunday. "I am more concerned about the bruising on my left hip and muscle pain. But now I can train. Friday I will go to the osteopath again."
Page clears a hurdle
American Jonathan Page has been cleared of a doping violation by the United States Anti-Doping Agency, the agency reported this week. Page was notified last month that he had missed a doping control at the Koksijde World Cup – a race he abandoned after crashing. Page explained last month that he had sought medical assistance after the crash and was unaware he had been called for a random control.
"USADA announced today the unanimous decision by a three-member panel from the American Arbitration Association (AAA)/North American Court of Arbitration for Sport (CAS) that cyclo-cross athlete Jonathan Page, of Northfield, NH, did not commit an anti-doping rule violation," the press release read.
Arbitrators heard evidence that Page was " not contacted by a chaperone concerning his need to present a sample and did not see the posting of his name" along with details of his crash. They unanimously decided "that there was compelling justification for Page's failure to report to the doping control station following the race".
Page was given an expedited hearing by the anti-doping agency so that his case could be resolved before the World Cyclo-cross Championships in Hoogerheide, The Netherlands, next week. The move clears him to race, but the UCI can still appeal the decision.
USA Cycling announced its roster for the World Championships last week, naming four out of five potential starters in the men's field. It has not yet been announced if Page will be added to the team in the fifth roster position. The deadline for entering riders is January 30.
Van Den Brand ready for home soil Worlds
By Peter Hymas
Daphny van den Brand (ZZPR.nl-Destil-Merida) wins the World Cup round in Milan.
Photo ©: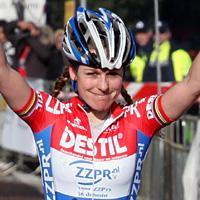 Daphny Van Den Brand held off World Champion Hanka Kupfernagel to win the final round of the World Cup in Milan. Van Den Brand controlled the race from start to finish with only Kupfernagel able to match the power and bike handling skills of her Dutch competitor on the quick, technical circuit. French Champion Maryline Salvetat kept the leading duo in check, but was unable to make contact and finished in third place.
Van Den Brand separated herself from the field early in the first lap and set the tempo nearly the entire race. Kupfernagel was slower to start, but joined the surging Van Den Brand on the second lap. Kupfernagel tested Van Den Brand on the brief sections of pavement, but found herself fighting to maintain Van Den Brand's wheel on the punchy climbs and twisting, technical sections that dominated the circuit.
Van Den Brand led Kupfernagel for virtually the entire last lap and made sure she arrived first out of the last corner with a slight gap in order to neutralize Kupfernagel's sprint on the short finishing stretch.
Hanka Kupfernagel already wrapped up the overall World Cup title the previous weekend in Roubaix, France and entered today's final event with an unassailable lead. Kupfernagel maintained her World Cup streak of never finishing worse than second with a second place finish to conclude her World Cup campaign.
Daphny Van Den Brand secured second place overall in the World Cup with her second victory of the series in Milan. Katie Compton did not compete in Milan, choosing to remain in Belgium to train for the upcoming world championships, but had acquired enough points to guarantee a third place overall finish without racing the final round.
Recent Cyclo-cross results
Upcoming UCI races
January 31 - February 1: Championnats du Monde / World Championships, Hoogerheide (Ned) CM ME/MU/MJ/WE

(All rights reserved/Copyright Future Publishing (Overseas) Limited 2009)