Cyclo-cross news & racing roundup for September 19
Edited by Laura Weislo
Welcome to our regular roundup of what's happening in cyclo-cross. Feel free to send feedback, news and releases to mtb@cyclingnews.com.
Euro 'cross news round-up
Sven Nys (Belgium) scored a ninth place.
Photo ©: Greg Chang
The European 'cross peloton has undergone some changes over the summer. After spending his entire career with Rabobank, UCI #1 Sven Nys has decided to make a change and move over to the Landbouwkrediet-Tönissteiner beginning January 1. Nys focused the majority of his efforts on the Olympic Games mountain bike race this summer, where he took a surprising ninth place - his country's best finisher. He had to fight his way up from the third row on the start, and was encouraged by his result.
Nys will make his 'cross season debut in the GP van Neerpelt this weekend. He'll face off against the in-form Niels Albert, Klaas Vantornout, as well as Fidea's leaders Bart Wellens and Erwin Vervecken.
The Hofstade World Cup may have to move after a dispute erupted between the organiser and the venue's administrators over certain restrictions which have been imposed on access to parts of the facility which have previously been integral parts of the course. The organisers are considering moving the World Cup to Zolder, the site of the 2002 World Championships.
Enrico Franzoi (Liquigas) is currently racing the Vuelta a España, which he considers good preparation for the 'cross season. He'll switch back to the cantilever brakes and knobby tires for the October 11 race in Dottignies.
New teams: The Dutch AA Drink team will once again star former world champion Richard Groenendaal, who is in his last season of racing. The team, which officially begins January 1, 2009, will also feature Thijs Al, Stef Boden and Tijmen Eijsing. The new Rendementhypo Cycling Team, under manager Maro Lammens, will be led by Swiss champion Christian Heule and Camiel Van Den Bergh, with juniors Tom Van Den Bosch, Mike Thielemans and Laudelino Lammens.
Albert signals youth coup
By Brecht Decaluwé
Niels Albert (Palmans-Cras)
Photo ©: Isosport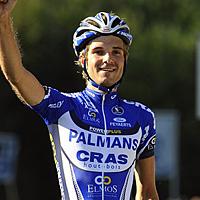 One week before the first North American UCI-race of the season the Belgian season officially traditionally kicked off with the A2 race in Erpe-Mere. All the best European riders were present except for world champion Lars Boom and last year's UCI number one Sven Nys who's taking a longer break after taking part in the Olympic cross country MTB race.
Last season showed that the top of cyclo-cross had widened as a large crop of young riders like Lars Boom, Niels Albert and Zdenek Stybar started winning big races. If this race was any indication, the top of the rankings could be undergoing a permanent transformation as former world champions Bart Wellens, Erwin Vervecken and Richard Groenendaal learned today.
While these riders had an off day, it turned out that last year's winner Niels Albert was already on form in sunny and dry Erpe-Mere, which is the home town from the last Belgian Tour de France winner Lucien Van Impe.
The 22 year-old Albert jumped away during the second lap and the rest of the field didn't see him again before the race had ended. Klaas Vantornout, who won in Dudzele last week, started a solo pursuit on Albert but he had to settle for second place. Sven Vanthourenhout, who is Vantornout's team-mate at Sunweb-Projob, won the battle for third place ahead of cousin Dieter Vanthourenhout, Rob Peeters and Bart Aernouts. Richard Groenendaal was the first non-Belgian at the seventh place, finishing just ahead of the Fidea leaders Wellens and Vervecken who disappointed today.
"This was a super Albert," the Sunweb riders who finished second and third admitted, "Niels' tempo was just set far too high for us." The winner explained that he had started very fast until he knew he had a good gap. "Then I consolidated my advantage and continued while keeping something in reserve," an amused Albert said to sport.be. Behind Albert there was an effort from Klaas Vantornout to join the front of the race but his efforts were in vain. "I didn't come any closer on Niels, on the contrary. Quickly I decided to focus on second place today," Vantornout said.
Continue to the full report, results and photos from Steenbergcross.
World Champion in Missouri feed zone
By Kirsten Robbins in Rolla, Missouri
Lars Boom
Photo ©: Roberto Bettini

It is not often you see a reigning world champion hanging out in the feed zone, handing out musette bags on country roads in the middle of America. However, that is where you can find Lars Boom, the current cyclo-cross world champion. The talented Dutch-man is spending his rest days at the Tour of Missouri and offering team support before he kicks off the rugged 'cross season in a brand new rainbow banded skin suit.
"I finished my road season with the national time trial championships last week and now I'm preparing for the cyclo-cross season," the 23-year-old multi-time world champion told Cyclingnews. "I'm here riding a little bit and also resting a little bit before my first 'cross race next month. I wanted to come here to help the team and I really like hanging out in the feed zones, it's my first time in the US too."
"Maybe after today I'll go in the team car as a second team director," he continued his list of team support duties. "I am having fun here. I get to see what the mechanics are doing and what the soigneurs are doing. It's nice to have a chance to see all these parts of racing."
Boom, born in Vlijmen in the Netherlands, currently competes in the disciplines of cyclo-cross and road for the Rabobank continental squad, a contract that will end in in February of 2010. In his first season as a an elite, this January, he won the cyclo-cross world title in Treviso, Italy.
Before that, his extensive palmarès included the 2007 under-23 world time trial title in Stuttgart which was followed by a second under-23 world title in cyclo-cross in Hooglede, as well as multiple Dutch national championships.
"I'm healthy, doing good with no problems this season," he said. "I'm really looking forward to starting my season, especially in the white jersey. That's going to be cool."
He confirmed the start of his cyclo-cross season at the first Superprestige event held on October 12 in Ruddervoorde, Belgium. "I could've raced here at the Cross Vegas but I decided not too," admitted Boom who felt the end of September event cut into his recovery time from the lengthy road season. "I had a long year so far, and I know this is going to be a busy winter for me so I'm happy to take a little bit of rest and not touch the bike for a few days."
American cyclo-cross continues to attract the top cyclo-cross talents in the world. However, Boom confirmed with Cyclingnews that he will only be competing in the Superprestige series, the World Cup series and the World Championships this season.
"I don't think I'll be racing in the USA this year," he said. "I've thought about it a lot. I've seen the American 'cross racing on TV, I bought all the DVD's with all the American races from the winter of 2006 and 2007 and it looks so good."
North American season kicks off with five UCI events
Cyclo-cross season gets into full swing this weekend with UCI C2 events in three different regions. On the west coast, the new North American Cyclo-cross Trophy (NACT) kicks off in Washington State. The midwest season opens with the KTR Michigan Double 'Cross, while the popular Mid-Atlantic series starts in Fogelsville, Pennsylvania with the Nittany Lion 'Cross.
Most of the North American 'cross stars will be in Redmond, Washington for the FSA Star Crossed and Rad Racing GP, the first events of the eight-race NACT - a new series which adds $7,000 in series bonus prizes to four already lucrative weekends of racing. Current US champion Tim Johnson (Cyclo-crossworld.com/Cannondale) will face off against the 2006 champion, Ryan Trebon (Kona) and '05 champion Todd Wells (GT).
Wells is in superb form after representing the USA at the Beijing Olympic Games in mountain biking. He took fifth in the cross-country race at the the Canberra MTB World Cup last month. Current National Cross Country Champ Another mountain biker who could upset the 'cross specialists is Adam Craig (Giant), who took eighth in last weekend's MTB World Cup in Austria.
Former Star Crossed winners and Carl Decker (Giant) and Andy Jacques-Maynes (Specialized/KMC p/b California Giant Berry) have confirmed attendance along with Joachim Parbo who is two-time Danish National Cyclo-cross Champion.
For up to date and race information go to www.starcrossedcx.com and www.radracingnw.org/rrnwcross.php
Jonathan Page, the top-ranked American on the UCI circuit, will opt for the KTR Michigan Double-Cross, Michigan's only UCI Cyclo-cross event. Page won both days of racing at last year's event. The race takes place at the Springfield Oaks County Park in Davisburg, Michigan. After the race, Kinetic Systems will be hosting a post race party / Q & A session with Page and some of the other top professionals.
For those on the east coast, the Mid-Atlantic Cyclo-cross series will kick off in the region's cycling mecca, the Lehigh Valley, with the Nittany Lion 'Cross.
Mid-Atlantic 'cross expands
The already popular MAC series has expanded for 2008, adding races, UCI points and prize money as well as extending its geographic reach. With the inclusion of the Whitmore's Landscaping Super 'Cross Cup, the series now stretches from the tip of Long Island to the Virginia suburbs of Washington DC, a distance almost equal to the length of Belgium and The Netherlands combined.
Two other well-respected races have also joined the MAC this year and together will form the series' season-opening weekend on September 20-21. The UCI C2 Nittany Lion Cross will kick-off the season on Saturday, September 21 at Penn State University's Fogelsville Campus. The following day, the MAC circuit travels south to Baltimore's Charm City Cyclo-cross, a race that has frequently set new attendance records for Mid-Atlantic region.
Also rejoining the MAC after a two-year hiatus will be the event at Maryland's Fair Hill Fairgrounds, near the University of Delaware on November 1.
The new events have not come at the expense of the races that created the MAC legacy. The legendary cyclo-cross at Granogue once again joins the Wissahickon cyclo-cross for their traditional October UCI double header, while MAC's New Jersey weekend featuring Beacon cyclo-cross' "Ampitheater of Pain" and the HPCX occur in early November. The MAC season will end in December with its traditional curtain closer, the Capital 'Cross Classic in the Washington, DC area.
For more information, see www.midatlanticCyclo-cross.com.
2008 MAC Cyclo-cross Series Schedule:
9/20: Nittany Lion Cyclo-cross, Lehigh Valley, Pennsylvania (UCI C2)
9/21: Charm City Cyclo-cross, Baltimore, Maryland
10/18: Cyclo-cross at Granogue, Granogue Estate (Wilmington) Delaware (UCI C1)
10/19: Wissahickon Cyclo-cross, Ludwig's Corner (Philadelphia), Pennsylvania (UCI C2)
11/1: Fair Hill Cyclo-cross, Fair Hill Maryland (Newark Delaware)
11/8: Beacon Cross, Bridgeton, New Jersey
11/9: HPCX, Jamesburg, New Jersey (UCI C2)
11/22: Whitmore's Landscaping Super Cross Cup #1
Southampton "the Hamptons" New York Day (UCI C1)
11/23: Whitmore's Landscaping Super Cross Cup #2
Southampton "the Hamptons" New York Day (UCI C1)
12/7: Capital Cross Classic, Reston, Virginia (Washington DC) (UCI C2)
Green Mountain hosts Verge NECCS opener
The Catamount Outdoor Family Center, nestled in the beautiful Green Mountains of Vermont, will host the first two rounds of the Verge New England Championship Cyclo-cross Series, September 27 and 28.
The weekend will feature some of the nation's top cyclo-cross stars as well as two of the best courses New England has to offer. "We've been holding cyclo-cross races at Catamount for years now. It's a passion of ours, and we are honored to be a part of the Verge NECCS Series, arguably the top Cyclo-cross series in the country," says Eric Bowker. "We consistently hear each year is how beautiful the setting is and how challenging the courses are. We are really excited to bring the Catamount cross experience to a larger audience as part of the Verge NECCS Series."
The Green Mountain Cyclo-cross Weekend is a Cat. 2 UCI event with two days of UCI points on the line. The event will also serve as a springboard for the points race in all categories for the Verge NECCS series. After the Vermont Cyclo-cross Weekend, the NECCS moves onto Gloucester Grand Prix of Cross (Oct. 3 & 4), Cycle-Smart International (Nov. 1 & 2), Bay State Cyclo-cross (Nov. 29) and NBX Grand Prix (Dec. 6 & 7).
The Catamount Outdoor Center is located minutes from downtown Burlington and the Burlington International Airport. It is an easy drive from Boston, New York and Montreal. Free on site camping is available. For further information about the weekend and area lodging please visit www.catamountoutdoor.com.
Registration is now open at www.bikereg.com.
Kelly Benefits Strategies to sponsor Rockburn Cross
The sponsor of a major US men's professional team, Kelly Benefit Strategies (KBS), will lend its support to cyclo-cross this year by sponsoring the Rockburn 'Cross race in Maryland on November 2.
The BikeReg.com MABRAcross race, which is promoted by the Howard County Parks and Recreation Department in conjunction with Lateral Stress Velo, holds a unique place in American racing history. Recognizing the benefits to its local citizenry, both physical and fiscal, the Howard County Parks and Recreation Department last year became the first American governmental agency to officially take an active role in the organization and promotion of its local Cyclo-cross race.
For more information on the Kelly Benefit Strategies Cyclo-cross at Rockburn, see www.rockburncross.com or contact the race at rockburncross@gmail.com.
Ridley Factory Team for 2008-09
Rebecca Wellons returns with the Ridley Factory Team
Photo ©: Dave McElwaine

The Ridley Factory Team is entering its sixth year in the North American cyclo-cross scene. The squad, which focuses on developing young riders, has announced its final elite roster and sponsor lineup for the 2008-09 cyclo-cross season.
Based in Minneapolis, Minnesota, the team will be composed of elite riders who will contest the major U.S. Cyclo-cross events - including the U.S. Gran Prix of Cyclo-cross, The North American Cyclo-cross Trophy, U.S. national cyclo-cross championships, and an expanded European campaign including the World Championships. Several members also plan to race in Europe in preparation for the 2009 UCI cyclo-cross World Championships in Hoogerheide, NL.
Riders: Bjorn Selander, Ali Goulet, David Hackworthy, Peter Hagerty, Nils Boberg, Rebecca Wellons, Linda Sone, Sara Morse, Corey Coogan, Margot Herman
Staff: Paul Schoening, team director, Dag Selander, team manager and coach
Sponsors: Ridley Bikes, SRAM, Sinclair Imports, Thule, Brightkeys Homes and Neighborhoods, Mavic, Under Armour, Dedicated Athlete (EP-NO), Mt. Borah Custom Cyclewear, 4ZA Components, Challenge Tires, Crank Brothers, Tifosi Sunglasses, Thomson, Giro Helmets, Pedro's, and Rotor Rings.
Upcoming UCI Cyclo-cross races
September 20: N. American Trophy #1 FSA Star Crossed, Redmond (USA) C2 ME/WE
September 20: KTR Michigan Double Cross - 1, Springfield Township, Michigan (USA) C2 ME/WE
September 20: Nittany Lion Cross, Fogelsville, PA (USA) C2 ME/WE
September 21: N. American Trophy #2 Rad Racing GP, Lakewood, Washington (USA) C2 ME/WE
September 21: National Trophy Round 1, Abergavenny (GBr) C2 ME
September 21: GP Neerpelt Wisseltrofee Eric Vanderaerden, Neerpelt (Bel) C2 ME/MU/MJ/WE
September 21: Grand Prix Olomouc, Olomouc (Cze) C2 ME
September 21: KTR Michigan Double Cross - 2, Springfield Township, Michigan (USA) C2 ME/WE
September 21: Charm City Cyclocross, Maryland (USA) NE
(All rights reserved/Copyright Future Publishing (Overseas) Limited 2007)