Dudzele Cross - NE
Dudzele, Belgium, September 7, 2008
2007 Results Results Past Winners
Sunweb dominates season opener
By Brecht Decaluwé in Dudzele, Belgium
The first cyclo-cross podium of the season with Winner Klaas Vantornout, team-mate Sven Vanthourenhout and Davy Commeyne
Photo ©: Brecht Decaluwé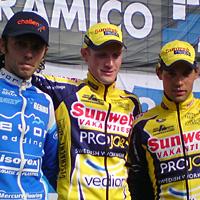 Klaas Vantornout of Team Sunweb-Projob won the first cyclo-cross race of the season in Dudzele, Belgium. The Belgian won the national race – non-UCI – ahead of his Sunweb team-mate, Sven Vanthourenhout. Davy Commeyne completed the podium at more than a minute from the winner. Dieter Vanthourenhout and Jan Soetens were fourth and fifth at about two minutes from Klaas Vantornout.
Rain showers transformed the polder in Dudzele into a mud bath and the riders had to run several hectometres of the course, resulting in big differences between the riders. At the start there were only three professional riders: the eventual winner, the runner-up and Dieter Vanthourenhout, who finished fourth at almost two minutes. Vanthourenhout pointed out that running wasn't at all his cup of tea for now. Vantornout and Vanthourenhout didn't mind, and together they dominated the tough race, but when the latter got stuck into the ribbon with his handlebars during the penultimate lap, Vantornout exploited the gap and kept the lead until the finish line.
"I think we were well matched to each other today," said winner Vantornout about his team-mate Vanthourenhout after the race. "His bike got stuck in the ribbon and that way he lost at least ten seconds. If something like that happens in the last laps then you can't hesitate, you have to persist.
"I just had to keep up my tempo on this very heavy course. We weren't granted a present over here," Vantornout referred to the muddy circumstances in Dudzele. "We had to dig deep and I wasn't prepared at all to run as much as we had to do today, even though I'm probably one of the few riders who specifically trains on running. You couldn't ride around at ease, or make it a training here. It was a bloc – being on the limit – right from the start."
After a good start, Vanthourenhout was alone in the lead for a few laps, but he seemed to be waiting for his team-mate Klaas Vantornout after four laps, who was on the counter-attack. "I don't have the form to ride alone in front all race long; I don't have enough race rhythm in the legs nor resistance for that. I waited for Klaas and together we continued the race until I had to let go of him in the penultimate lap.
The two Sunweb riders dominated
Photo ©: Brecht Decaluwé
"After a hill, I slipped away and got stuck in a ribbon," Vanthourenhout confirmed.
"My form today was good enough to go home confident, but not enough to fight along in the bigger races of the season. There was a lot of running needed today and nobody had that in the legs. It seemed like we were stumbling more than we were running. My running will get better after doing more races like this; I'm not training specifically on it."
Winner Klaas Vantornout expected Commeyne (Revor), who finished third, to be in better shape and he kept an eye on him during the first laps. "When Sven Vanthourenhout jumped away in the first lap. I stayed with Commeyne, but I thought he would be a bit stronger – apparently he couldn't go faster. Then I bridged up to Sven on my own. Clearly, I'm right on schedule, although I'm not at all in top form yet. I guess nobody will have fantastic sensations after a race like this," Vantornout said with a laugh.
Commeyne confirmed his good results on the road – recently he won the Belgian elite w/o contract road championships – but had to settle for third best as he couldn't battle up against the Sunweb team tactics. "I thought I had the better form of the starting field here, but I already told before the race that my running isn't quite there yet. During the race this prediction was confirmed ... I managed to get back at fifteen seconds of the duo in front, but then I went off the course and lost a lot of time. From then on I didn't push any further," Commeyne said. "My riding is currently at 110 percent, but my running is probably at 75 percent and that isn't enough although the two riders ahead of me are excellent runners."
As a result of the muddy conditions the time gaps between the riders at the finish line were huge. "I think there were only four of five riders near the front and behind us they were trudging," Commeyne declared. "We lapped a lot of riders who win national races and that says a lot about the difference between professional riders and amateurs." He then started laughing when realizing that he was no longer a professional rider this season.
Dieter Vanthourenhout was one of those riders who struggled with the running, but he eventually managed to keep off Belgian elite w/o contract champion Jan Soetens, who excels on muddy courses like the one the riders encountered in Dudzele.
Photography
For a thumbnail gallery of these images, click here
Images by Brecht Decaluwé/Cyclingnews.com
Results
1 Klaas Vantornout (Bel) Sunweb Projob Cycling Team                       56.05
2 Sven Vanthourenhout (Bel) Sunweb Projob Cycling Team                     0.31
3 Davy Commeyne (Bel) Revor Cycling Team
4 Dieter Vanthourenhout (Bel) Palmans-Cras
5 Jan Soetens (Bel) Revor Cycling Team
6 Tim Van Nuffel (Bel) Ck Podborany - Easypay
7 David Willemsens (Bel) Revor Cycling Team
8 Ben Berden (Bel) Revor Cycling Team
9 Nico Clarysse (Bel) Cyclingteam Oost-West VZW
10 Bjorn Rondelez (Bel) Lingier Versluys Beachbikers Team VZW
11 Gianni Denolf (Bel) Palmans-Cras
12 Stijn Penne (Bel) SDC - Rogelli Cycling Team
13 Kenneth Van Compernolle (Bel) Sunweb Projob Cycling Team
14 Kenny Geluykens (Bel) Sunweb Projob Cycling Team
15 Kay Van Den Brande (Bel) Palmans-Cras
16 Patrick Bassez (Bel) Edegem Bicycle Club V.Z.W.
17 Ivar Hartogs (Bel) Jan Van Arckel
18 Robby Cobbaert (Bel) Revor Cycling Team
19 Steven Decaluwe (Bel) SDC - Rogelli Cycling Team
20 Jan Denuwelaere (Bel) Adinkerkse Veloclub
21 Bart Hermans (Bel) Ck Podborany - Easypay
22 Steve Gruwier (Bel) SDC - Rogelli Cycling Team
23 Toon Devenyns (Bel) C.T.- Dj.Matic-Kortrijk
24 Thomas Demets (Bel) CT CLG Nutriplanet
25 Nick De Proost (Bel) MBK - Delsol Team
26 Tom Desmet (Bel) Asfra Racing Team
27 Jo Naert (Bel) Lingier Versluys Beachbikers Team VZW
28 Steven De Schoesitter (Bel) Rudyco Cycling Team
29 Dries Cauwelier (Bel) Cycling Team Cauwelier Roeselare
30 Jordan Becquet (Bel) La Royale Pedale Saint-Martin - Tournai
31 Freddy De Meester (Bel) Rijschool Ah - Gentse VS

Past Winners
2007 Niels Albert (Bel) Palmans Cras
2006 Sven Vanthourenhout (Bel)