MTB index page for all MTB content
MTB World Cup XC #9 & DH #7 - CDM
Schladming, Austria, September 11-14, 2008
Main Page Results Final World Cup standings Previous Race
Race 7 - September 14: Elite men cross country
Sauser caps season with a win
By Luke Webber in Schladming
Sauser crosses the line
Photo ©: Luke Weber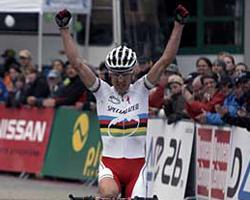 Christoph Sauser (Specialized Factory Racing) ended his most successful season to date with a win today in Schladming at the World Cup finals, beating a resurgent Jose Hermida (Multivan Merida) and earning second place in the overall standings to go with his rainbow jersey. Olympic champion Julien Absalon (Orbea) claimed the overall World Cup title.
In good conditions, on a rapidly drying course, the men raced over eight laps. The organisers were careful to make sure that the winner would be racing for about two hours.
The first climb was lead by Geoff Kabush (Maxxis), obviously eager to fight against Sauser for the second place overall in the World Cup series.
By lap two however, any hope of that battle was gone. A group containing Hermida, Sauser, Adam Craig (Giant) and Roel Paulissen (Cannondale-Vredestein) was at the front and making good ground.
At the start of lap two, Paulissen had an unfortunate fall from one of the bridges, catapulting over the bars and sustaining a concussion which resulted in an overnight stay in hospital.
This left Sauser and Hermida away to do battle along with Ivan Alvarez Gutierrez (Giant Italia) and Craig, who was slightly off the pace of the group.
By this point Absalon had already abandoned the race. Some reports said that the Frenchman was already out partying the night before the race - obviously excited about winning the overall World Cup before a pedal was turned.
Speaking to Absalon after the race, he confirmed the rumours and said that today was only about enjoying the moment and ending the season on his own terms.
"It was just so fun here, I have won the overall already so there was no pressure. Today was just for fun and it was fun to ride just as much as I wanted, nothing more."
Burry Stander (GT Bicycles)
Photo ©: Luke Weber

Meanwhile on the slopes of Schladming the race was between rivals on the racetrack and friends on the circuit Hermida and Sauser. Both were very evenly matched but Hermida was on the attack from lap one, while the Swiss rider preferred to follow and use his ammunition in the closing stages.
One effort was enough to gain a slender ten second gap on the final lap and Sauser ended his season perfectly, with a win.
"I really wanted to win today and it feels so good to end the season on top," said Sauser.
"I race for winning and for nothing else. I knew it was going to come down to us two, I knew it would be a mental thing also. I made the gap in the downhill, just a few seconds and then I just sprinted all the way to the finish.
"It was really only second by second today. I think it was a good battle today for the spectators and on a great course too, steep up and down, just what I like," said Sauser.
For Hermida, it was more about salvaging something from a lacklusture year in which he has suffered bad luck with mechanicals and illness. Only in Madrid did he show a glimpse of his talent translated into a top result, but this has only served as motivation for him for the coming 2009 season.
"Only in the last month have I started to come back to my normal self - but maybe that is a good thing!" said Hermida. "Battles like today take years off your life! But I am still having fun on the bike and this is the most important thing."
"Today I had nothing to lose and that's why I took the responsibility of leading. I had to play all of my cards, I like to race it - is part of my character. I'm a hot latino - I don't care if I suffer!"
For the regular podium visitors there has been one major new player this season - a young South African rider who has made an impact at every race culminating in the under 23 title and fifth in the senior overall ranks. This year Burry Stander (GT Bicycles) has created inspiration for the new generation of riders, and next year it will be exciting to see the progression in his third year of international competition against the old guard of Sauser, Absalon and Hermida.
Photography
For a thumbnail gallery of these images, click here
Images by Luke Weber
Results
1 Christoph Sauser (Swi) Specialized Factory Racing            1.57.56
2 José Antonio Hermida Ramos (Spa) Multivan Merida Biking Team    0.19
3 Ivan Alvarez Gutierrez (Spa) Giant Italia Team                  1.09
4 Lukas Flückiger (Swi) Athleticum-MTB-Team                       2.20
5 Jaroslav Kulhavy (Cze)                                          2.51
6 Moritz Milatz (Ger) Multivan Merida Biking Team                 3.10
7 Florian Vogel (Swi) Swisspower MTB Team                         3.23
8 Adam Craig (USA) Giant Mountain Bike Team                       3.32
9 Matthias Flückiger (Swi) Athleticum-MTB-Team                    3.44
10 Burry Stander (RSA) GT Bicycles                                3.53
11 Todd Wells (USA) GT Bicycles                                   4.09
12 Geoff Kabush (Can) Team Maxxis                                 4.14
13 Martin Gujan (Swi) Athleticum-MTB-Team                         4.21
14 Liam Killeen (GBr) Specialized Factory Racing                  4.35
15 Ruben Ruzafa Cueto (Spa) Orbea                                 5.15
16 Milan Spesny (Cze) Merida Biking Team                          5.26
17 Nino Schurter (Swi) Swisspower MTB Team                        5.33
18 Jochen Kass (Ger) Team ALB Gold                                5.35
19 Stéphane Tempier (Fra) Gewiss Bianchi                          5.49
20 Emil Lindgren (Swe) Full-Dynamix-It                            5.58
21 Andrea Tiberi (Ita) Giant Italia Team                          6.17
22 Jakob Fuglsang (Den) Cannondale-Vredestein                     6.52
23 Rudi Van Houts (Ned) Dolphin-Trek Mountainbike Racing Team     7.02
24 Lars Petter Nordhaug (Nor)                                     7.27
25 Jean-Christophe Peraud (Fra) Orbea                             7.33
26 Jan Skarnitzl (Cze)                                            7.40
27 Hannes Metzler (Aut) Giant Mountain Bike Team                  7.50
28 Alban Lakata (Aut) Dolphin-Trek Mountainbike Racing Team       7.52
29 Andreas Kugler (Swi) Fischer-BMC                               7.55
30 Alexandre Moos (Swi)                                           8.00
31 Inaki Lejarreta Errasti (Spa) Orbea                            8.27
32 Thomas Frischknecht (Swi) Swisspower MTB Team                  8.50
33 Yader Zoli (Ita) Giant Italia Team                             8.53
34 Jürg Graf (Swi) Swisspower MTB Team                            8.54
35 Martino Fruet (Ita)                                            8.57
36 Robert Gehbauer (Aut) Multivan Merida Biking Team              9.03
37 Kristian Hynek (Cze)                                           9.15
38 Periklis Ilias (Gre)                                           9.44
39 Silvio Bundi (Swi) Giant Mountain Bike Team                    9.50
40 Fabian Giger (Swi)                                            10.24
41 Oliver Beckingsale (GBr) Giant Mountain Bike Team             10.55
42 Fabien Canal (Fra) Team Lapierre International                11.19
43 Josef Kamler (Cze) Ceska Sporitelna MTB                       11.23
44 Guillaume Vinit (Fra) Scott Valloire Galibier                 11.30
45 Pierre Geoffroy Plantet (Fra) Team Lapierre International     11.34
46 Matous Ulman (Cze)                                            11.37
47 Lukas Kaufmann (Swi)                                          11.41
48 Rene Tann (Ger)                                               11.52
49 Cédric Ravanel (Fra) Team Lapierre International              12.07
50 Martin Fanger (Swi)                                           12.13
51 Filip Eberl (Cze)                                             12.24
52 Connor Mcconvey (Irl)                                         12.32
53 Nicola Rohrbach (Swi) Central Ghost Pro Team                  12.47
54 Torsten Marx (Ger) Team ALB Gold                              12.58
55 Frank Beemer (Ned)                                            13.23
56 Umberto Corti (Ita)                                           13.52
57 Andras Parti (Hun)                                            14.41
 
One lap behind
 
58 Jelmer Pietersma (Ned) Beone Mountainbiketeam                      
59 Gerald Hauer (Aut)                                                 
60 Uwe Hochenwarter (Aut)                                             
61 Alexis Vuillermoz (Fra) Scott Valloire Galibier                    
 
Two laps behind
 
62 Sebastien Carabin (Bel)                                            
63 Maxim Gogolev (Rus)                                                
64 Anders Ljungberg (Swe)                                             
65 Thomas Litscher (Swi)                                              
66 Calle Friberg (Swe)                                                
67 Heiko Gutmann (Ger)                                                
68 David Fletcher (GBr)                                               
69 Frank Schotman (Ned)                                               
70 Giuseppe Lamastra (Ita)                                            
71 Barry Wicks (USA) Kona                                             
72 Michael Stieglbauer (Ger)                                          
73 Rob Vangenechten (Bel)                                             
74 Diego Rosa (Ita) Giant Italia Team                                 
75 Evgeniy Pechenin (Rus) Format-Udmurtia                             
76 Anton Gogolev (Rus)                                                
 
Three laps behind
 
77 Pascal Hossay (Bel)                                                
78 Till Marx (Swi) Swisspower MTB Team                                
79 Igor Bogdan (Ukr)                                                  
80 Samuele Porro (Ita)                                                
81 Oleksandr Kachanov (Ukr)                                           
82 Hubert Pollinger (Ita) Sunshine Racers ASV Nals                    
83 Ola Kjören (Nor)                                                   
84 Volodymyr Zinovkyn (Ukr)                                           
85 Martin Loo (Est) Merida Biking Team                                
 
Four laps behind
 
86 Michael Margesin (Ita) Sunshine Racers ASV Nals                    
87 Jelmer Jubbega (Ned)                                               
88 Michal Plesnik (Svk)                                               
89 Jernej Muzga (Slo)                                                 
90 Felix Euteneuer (Ger)                                              
91 David Escolar Ballesteros (Spa) Sunshine Racers ASV Nals           
92 Guido Thaler (Aut)                                                 
 
Five laps behind
 
93 Andriy Gumenyuk (Ukr)                                              
94 Lukas Platzgummer (Ita) Sunshine Racers ASV Nals                   
95 Boris Vasilyev (Rus) Format-Udmurtia                               
96 Ross Creber (GBr)                                                  
97 Christoph Plank (Aut)                                              
98 Michael (1978) Weiss (Aut)                                         
99 Nejc Cernilogar (Slo)                                              
 
Six laps behind
 
100 Matthias Rupp (Aut) Matthias Rupp (Swi) Swisspower MTB Team       
101 Tim Wijnants (Bel) Dolphin-Trek Mountainbike Racing Team          
102 Alexey Belokrylov (Rus) Format-Udmurtia                           
103 Claudio Caluori (Swi)                                             
104 Andriy Khripta (Ukr)                                              
105 Bostjan Lavtar (Slo)                                              
 
Seven laps behind
 
106 Ronald Paur (Aut)    

Final World Cup standings

1 Julien Absalon (Fra) Orbea                                       1340 pts
2 Christoph Sauser (Swi) Specialized Factory Racing                1195
3 José Antonio Hermida Ramos (Spa) Multivan Merida Biking Team     1064
4 Geoff Kabush (Can) Team Maxxis                                   1030
5 Burry Stander* (RSA) GT Bicycles                                  992
6 Adam Craig (USA) Giant Mountain Bike Team                         878
7 Florian Vogel (Swi) Swisspower MTB Team                           848
8 Nino Schurter* (Swi) Swisspower MTB Team                          808
9 Lukas Flückiger (Swi) Athleticum-MTB-Team                         808
10 Todd Wells (USA) GT Bicycles                                     803
11 Martin Gujan (Swi) Athleticum-MTB-Team                           744
12 Cédric Ravanel (Fra) Team Lapierre International                 682
13 Jean-Christophe Peraud (Fra) Orbea                               576
14 Christoph Soukup (Aut)                                           556
15 Jakob Fuglsang (Den) Cannondale-Vredestein                       552
16 Jaroslav Kulhavy (Cze)                                           544
17 Kashi Leuchs (NZl) Cannondale-Vredestein                         515
18 Seamus Mcgrath (Can)                                             462
19 Ralph Naef (Swi) Multivan Merida Biking Team                     450
20 Liam Killeen (GBr) Specialized Factory Racing                    446
21 Marco Aurelio Fontana (Ita)                                      440
22 Roel Paulissen (Bel) Cannondale-Vredestein                       419
23 Ruben Ruzafa Cueto (Spa) Orbea                                   416
24 Jürg Graf (Swi) Swisspower MTB Team                              414
25 Hannes Metzler (Aut) Giant Mountain Bike Team                    388
26 Fredrik Kessiakoff (Swe) Full-Dynamix-It                         387
27 Oliver Beckingsale (GBr) Giant Mountain Bike Team                373
28 Inaki Lejarreta Errasti (Spa) Orbea                              352
29 Jeremy Horgan-Kobelski (USA) Subaru-Gary Fisher                  313
30 Ivan Alvarez Gutierrez (Spa) Giant Italia Team                   312
31 Rudi Van Houts (Ned) Dolphin-Trek Mountainbike Racing Team       296
32 Moritz Milatz (Ger) Multivan Merida Biking Team                  295
33 Chris Jongewaard (Aus) Dolphin-Trek Mountainbike Racing Team     291
34 Milan Spesny (Cze)                                               286
35 Karl Markt (Aut)                                                 267
36 Thomas Frischknecht (Swi) Swisspower MTB Team                    261
37 Wolfram Kurschat (Ger) Topeak Ergon Racing Team                  253
38 Yader Zoli (Ita) Giant Italia Team                               248
39 Tony Longo (Ita) Full-Dynamix-It                                 231
40 Matthias Flückiger* (Swi) Athleticum-MTB-Team                    227
41 Emil Lindgren (Swe) Full-Dynamix-It                              227
42 Sergio Mantecon Gutierrez (Spa) Cemelorca-Seguros10.com          220
43 Michael Broderick (USA)                                          220
44 Jiri Friedl (Cze)                                                212
45 Jan Skarnitzl* (Cze)                                             184
46 Bas Peters (Ned)                                                 183
47 Manuel Fumic (Ger) Fumic.Brothers.International                  176
48 Derek Zandstra (Can)                                             176
49 Jochen Kass (Ger) Team ALB Gold                                  173
50 Stéphane Tempier* (Fra) Gewiss Bianchi                           173
51 Andreas Kugler (Swi) Fischer-BMC                                 173
52 Jeremiah Bishop (USA) Trek / VW                                  171
53 Lado Fumic (Ger) Fumic.Brothers.International                    171
54 Mathieu Toulouse (Can) Team Maxxis                               161
55 Samuel Schultz (USA) Subaru-Gary Fisher                          156
56 Cristobal Silva Ibaceta (Chi)                                    153
57 Bart Brentjens (Ned) Dolphin-Trek Mountainbike Racing Team       149
58 Connor Mcconvey* (Irl)                                           131
59 Sven Nys (Bel)                                                   130
60 Gion Manetsch (Swi) Athleticum-MTB-Team                          128
61 Karl Platt (Ger)                                                 123
62 Martino Fruet (Ita)                                              122
63 Daniel Mcconnell (Aus)                                           115
64 Matthew Hadley (Can)                                             112
65 Anders Hovdenes* (Nor)                                           110
66 Lachlan Norris* (Aus)                                            109
67 Carlos Coloma Nicolas (Spa) ECP-TAU Ceramica                     106
68 Giuseppe Lamastra (Ita)                                          104
69 Barry Wicks (USA) Kona                                           102
70 Martin Fanger* (Swi)                                              99
71 Michael Weiss (Aut)                                               99
72 Frank Schotman (Ned)                                              98
73 Nicola Rohrbach* (Swi) Central Ghost Pro Team                     97
74 Raphael Gagne* (Can) Rocky Mountain                               96
75 Kris Sneddon (Can) Kona                                           94
76 Matous Ulman (Cze)                                                93
77 Tim Bohme (Ger) Team ALB Gold                                     89
78 Maxime Marotte* (Fra)                                             87
79 Ola Kjören* (Nor)                                                 86
80 Alban Lakata (Aut) Dolphin-Trek Mountainbike Racing Team          84
81 Peter Riis Andersen (Den) Team ALB Gold                           82
82 Marti Gispert Labarta (Spa) ECP-TAU Ceramica                      78
83 Andrea Tiberi (Ita) Giant Italia Team                             76
84 Eric Batty (Can)                                                  76
85 Alexis Vuillermoz* (Fra) Scott Valloire Galibier                  75
86 Kristian Hynek (Cze)                                              74
87 Josef Kamler* (Cze) Ceska Sporitelna MTB                          73
88 Fabian Giger* (Swi)                                               69
89 Carl Decker (USA) Giant Mountain Bike Team                        68
90 Dylan Cooper (Aus)                                                66
91 Filip Meirhaeghe (Bel)                                            64
92 Peter Glassford (Can)                                             62
93 Daniel Sessford (Can)                                             61
94 Cal Britten* (Aus)                                                60
95 Lars Petter Nordhaug (Nor)                                        58
96 Ken Onodera* (Jpn) Subaru-Gary Fisher                             58
97 Andrew Watson (Can)                                               58
98 Israel Nunez Baticon (Spa) Massi                                  57
99 Andrew Blair (Aus)                                                56
100 Max Plaxton (Can) Rocky Mountain                                 56
101 Till Marx (Swi) Swisspower MTB Team                              55
102 Nick Both (Aus)                                                  52
103 Pierre Lebreton (Fra)                                            52
104 Calle Friberg (Swe)                                              51
105 Spencer Paxson (USA)                                             51
106 Francis Morin* (Can)                                             51
107 Nathan Haas* (Aus)                                               50
108 Murray Spink (Aus)                                               48
109 Marc Colom* (Fra)                                                47
110 Alexandre Moos (Swi)                                             46
111 Brendon Sharratt (NZl)                                           46
112 Craig Richey (Can)                                               45
113 Shaun Lewis (Aus)                                                44
114 Ben Henderson* (Aus)                                             42
115 Brian Price (Aus)                                                40
116 Freddy Betremieux* (Fra)                                         40
117 Christof Bischof (Swi)                                           40
118 Marek Galinski (Pol)                                             39
119 Kenji Takeya (Jpn)                                               39
120 Andrew Bott (NZl)                                                38
121 Stefan Widmer (Can)                                              38
122 Brett Anderson* (Aus)                                            36
123 Julien Fillion (Can)                                             36
124 Pierre Geoffroy Plantet (Fra) Team Lapierre International        36
125 Robert Gehbauer* (Aut) Multivan Merida Biking Team               34
126 Gavin Mccarthy (NZl)                                             34
127 Andras Parti (Hun)                                               33
128 James Maebus (Aus)                                               32
129 Tad Elliot* (USA)                                                32
130 Ricky Federau (Can)                                              31
131 Sid Taberlay (Aus)                                               30
132 Periklis Ilias* (Gre)                                            30
133 Ben Grieve-Johnson* (Aus)                                        30
134 Gareth Montgomerie (GBr)                                         29
135 Silvio Bundi (Swi) Giant Mountain Bike Team                      29
136 Rohin Adams (Aus)                                                29
137 Ian Bibby* (GBr)                                                 29
138 Lukas Kaufmann* (Swi)                                            29
139 Jelmer Pietersma (Ned) BEO                                       29
140 Ryan Atkins* (Can)                                               29
141 Marc Trayter Alemany (Spa) ECP-TAU Ceramica                      28
142 Travis Frisby* (Aus)                                             28
143 Yu Takenouchi* (Jpn)                                             27
144 Davy Coenen (Bel)                                                27
145 Klaus Nielsen (Den) Team ALB Gold                                27
146 Fabien Canal* (Fra) Team Lapierre International                  26
147 Dario Alejandro Gasco* (Arg) Massi                               26
148 Mattias Wengelin* (Swe)                                          26
149 Adam Snyder (USA)                                                26
150 Torsten Marx (Ger) Team ALB Gold                                 26
151 Patrik Gallati* (Swi) Swisspower MTB Team                        25
152 Guillaume Vinit* (Fra) Scott Valloire Galibier                   24
153 Alexander Wetterhall* (Swe)                                      21
154 Rene Tann (Ger)                                                  20
155 Andrew Freye (USA)                                               19
156 Leni Trudel* (Can)                                               18
157 Nicolas Bazin (Fra)                                              18
158 Troy Wells (USA)                                                 17
159 Filip Eberl (Cze)                                                17
160 Kyle Douglas* (Can)                                              17
161 Ian Wilkinson (GBr)                                              17
162 Pascal Meyer* (Swi)                                              16
163 Cody Peterson (USA)                                              16
164 Bjorn Brems* (Bel)                                               15
165 David Lozano Riba* (Spa) MSC Bikes                               15
166 Ross Schnell (USA) Trek / VW                                     15
167 Martin Loo* (Est)                                                14
168 Javier Eduardo Puschel (Chi)                                     14
169 Paul Van Der Ploeg* (Aus)                                        14
170 Jonathan Boulanger* (Can)                                        14
171 Ethan Gilmour* (USA)                                             13
172 Frank Beemer* (Ned)                                              13
173 Alejandro Diaz De La Pena Lopez (Spa)                            13
174 Umberto Corti* (Ita)                                             12
175 Tim Madgwick (NZl)                                               11
176 Mattias Nilsson* (Swe)                                           11
177 Jianhua Ji (Chn)                                                 10
178 Ian Field* (GBr)                                                  9
179 Jonathan Galante (Fra)                                            9
180 Gerald Hauer (Aut)                                                9
181 Uwe Hochenwarter* (Aut)                                           8
 
Team - men

1 Orbea                                                             467 pts
2 Swisspower MTB Team                                               409
3 GT Bicycles                                                       347
4 Athleticum-MTB-Team                                               326
5 Multivan Merida Biking Team                                       301
6 Specialized Factory Racing                                        301
7 Giant Mountain Bike Team                                          290
8 Cannondale-Vredestein                                             279
9 Team Maxxis                                                       220
10 Team Lapierre International                                      136
11 Full-Dynamix-It                                                  128
12 Dolphin-Trek Mountainbike Racing Team                            107
13 Giant Italia Team                                                 79
14 Subaru-Gary Fisher                                                71
15 Merida Biking Team                                                58
16 Topeak Ergon Racing Team                                          40
17 Fumic.Brothers.International                                      39
18 Cemelorca-Seguros10.Com                                           37
19 Trek-VW                                                           28
20 Ecp-Tau Ceramica                                                  18
21 Rocky Mountain                                                    17
22 Team Alb-Gold Mountainbike                                        13
23 Kona                                                              13
24 Gewiss Bianchi                                                    13
25 Fischer-BMC                                                       12
26 Versluys-Landbouwkrediet MTB Team                                  5
27 Bh-Sr. Suntour                                                     1
28 Scott Valloire Galibier                                            1