Cyclo-cross news & racing roundup for October 31
Edited by Laura Weislo and Paul Verkuylen
Welcome to our regular roundup of what's happening in cyclo-cross. Feel free to send feedback, news and releases to mtb@cyclingnews.com.
Nys takes over UCI rankings, Compton holds lead
By Laura Weislo
Sven Nys (Rabobank)
Photo ©: AFP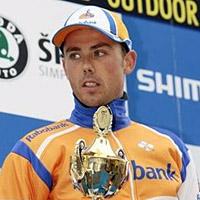 Sven Nys resumed his regular position at the top of the UCI rankings this week, thanks to a big win in the Tabor World Cup. His victory pushed him up and over the previous leader, Zdenek Stybar, winner of the Kalmthout World Cup. Klass Vantornout moved from 8th in the rankings up to third thanks to his second place in Tabor, while Lars Boom was one of the biggest movers, rocketing up to 9th from 40th with his third place.
American Jonathan Page (Sunweb-ProJob), who makes his residence in Belgium, maintained his tenth place in the rankings which he achieved through a strong showing in Kalmthout (11th) and a 23rd in Tabor, which earned more points than his third place this week in the Swiss Radquer Steimaur.
The biggest losers in the rankings came mainly from the USA, where riders like Barry Wicks and Ryan Trebon (Kona-YourKey) fell from the top 20. Wicks and Trebon fell from 9th to 20th and 16th to 24th, respectively, as their European counterparts had higher ranked races applied to their standings, while the Americans chose to take on the US Gran Prix of Cyclo-cross in Kentucky (C2).
Failure to participate in the World Cup also hurt Jeremy Powers (Cyclocrossworld), who took his third win in three starts in Kentucky, and Tim Johnson (Leer/Cannondale) who took his second win of the year. Powers fell from 13th to 26th, while Johnson dropped from 14th to 21st.
The 'yanks' should have an opportunity to pull themselves back into the top 20 with this weekend's C1 Boulder Cup in Colorado, which will yield points equal to the C1 Koppenberg 'cross in Belgium - 60 points for the win, compared with 30 points for a C2 win. However, with only one more C1 race in the USA left after this weekend (December's USGP in Portland), any North Americans who wish to improve their rankings, and therefore their starting position at the World Championships in Treviso will have to head overseas to the World Cups which yield a whopping 300 points for a win. A win in a C1 race is equivalent to a 17th at a World Cup, and a win in a C2 race is the same as 30th place.
Belgium dominated the men's nation rankings, as expected, with a commanding 1707 points over the Czech Republic at 1027. The dearth of American men at the World Cups was most apparent in the slip of that country in the nations rank from third to sixth.
Rankings as of October 29, 2007
1 Sven Nys (Bel) Rabobank                                                  740 pts
2 Zdenek Stybar (Cze) Fidea Cycling Team                                   604
3 Klaas Vantornout (Bel) Fidea Cycling Team                                502
4 Bart Wellens (Bel) Fidea Cycling Team                                    465
5 Francis Mourey (Fra) Française des Jeux                                  450
6 Christian Heule (Swi)                                                    390
7 Sven Vanthourenhout (Bel) Sunweb-Projob                                  296
8 Erwin Vervecken (Bel) Fidea Cycling Team                                 288
9 Lars Boom (Ned)                                                          277
10 Jonathan Page (USA) Sunweb-Projob                                       237
Compton stays on top
Katie Compton (Spike Shooter)
Photo ©: Mitch Clinton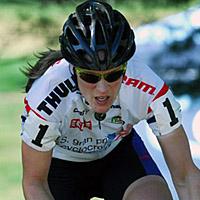 The women's ranking continues to be the domain of the American stand-out, Katie Compton, who took silver in last year's World Championship. Compton stormed through the early US races, opening her season with a second place to Canadian Lyne Bessette in the 'Cross Vegas (C2) opener, then dominating every domestic race she entered. Compton took victories in both races in Southampton (C1 and C2) and both races in Ohio (C2) before heading to Belgium for the Kalmthout World Cup, where she finished a close second to Dutch woman Daphny Van Den Brandt.
The European women have been at a distinct disadvantage to the North Americans when it comes to races where they can earn UCI points. Many European races do not have women's fields, including the Tabor World Cup. This has helped Bessette, who held onto a top ten ranking despite having a relatively poor showing in Kentucky due to illness. However, the rest of the World Cups will have women's fields except for the round in Igorre, Spain on December 2, and these races will be critical for UCI points toward the all important starting position in Treviso.
The record number of UCI sanctioned races in the USA has helped lift the American women to a second place in the nations ranking overall, shy of the Netherlands 630 points at 553.
Rankings as of October 29, 2007
1 Katie Compton (USA) Spike Shooter                  395 pts
2 Daphny Van Den Brand (Ned)                         320
3 Christelle Ferrier-Bruneau (Fra)                   235
4 Sanne Van Paassen (Ned)                            200
5 Pavla Havlikova (Cze)                              190
6 Wendy Simms (Can) Kona-Yor Key Mortgage Team       185
7 Stephanie Pohl (Ger)                               150
8 Maryline Salvetat (Fra)                            150
9 Lyne Bessette (Can) Team Cyclecrossworld.Com       150
10 Arenda Grimberg (Ned)                             140
Cross weekend for Getränke Hoffman
Steffi Pohl of Getränke Hoffman was not as seriously injured in a training accident last week as first feared, and went on to win a regional race, Citycross von Hainholz, on Sunday. Pohl, currently sits seventh in the UCI rankings after taking sixth in the Kalmthout World Cup - a promising performance for the 20 year-old. But her season nearly came to an end after a crash during training saw Pohl fly through the air for several metres before landing heavily. Pohl went to a Berlin hospital where she was treated for head injuries, scrapes and bruises before being sent home.
The weekend races were planned as a careful return to action for her, but things worked out otherwise. "It surprised me that things went so well," she said. "I know that I should still take care of myself, but of course I am very happy that I got back in shape so quickly and had so much luck and that I got well again so fast."
Her team-mate Birgit Hollman won the Cross am Galenberg Saturday. Pohl and Hollman are preparing for the Cyclo-Cross European Championships next weekend in Switzerland. Hollman finished fifth there in 2005 and seventh last year. It will be Pohl's first appearance. (SW)
Burghardt to Koppenberg
The first round of the Gazet van Antwerpen Trophy, the Koppenbergcross which takes place tomorrow, November 1, will see not one but two previous winners of the Belgian spring classic, Gent-Wevelgem.
After Frank Vandenbroucke agreed to take part in the event earlier this month, 2007 Gent-Wevelgem winner, Marcus Burghardt will also take part in the prestigious event.
Burghardt has had a successful season this year, Taking the win in Gent-Wevelgem as well as being active in the Tour of Flanders and riding prominently in the Tour de France.
The 24 year old German will not arrive unprepared for the event after taking part in a 'cross in the Swiss town of Steinmaur last Sunday. Burghardt plans to take part in more 'cross races later in the year as preperation for the 2008 road season.
Nys dominates in Tabor
By Brecht Decaluwé
Sven Nys (Rabobank)
Photo ©: AFP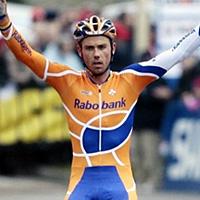 Sven Nys (Rabobank) won the second round of the Cyclo-Cross World Cup Saturday in Tabor. The peloton traveled to Tabor, Czech Republic to race one hour on the World Championships course of 2010, challenging the second event in the UCI World Cup. Local hero and UCI-leader Zdenek Stybar – winner of the first World Cup event in Kalmthout – surprised the field when he bunny-hopped the 40cm plank barriers on a slightly uphill sector, but Nys took on the challenge. The Belgian forced his rival to the limit and one by one the riders dropped back, until with two laps to go Nys was on his own in front.
"I didn't know where it would happen; I just kept riding at full speed. I realized that I could break but then I wouldn't care. The speed went up for two laps and I noticed the others were at their limit," Nys commented on how he wore his opponents down. "The new sand sector made up for a more honest race. I could accelerate, and clearly everybody would be in the red."
Nys is unmistakably reigning again in the cyclo-cross world, and he couldn't help to badger some of his opponents in his comments after the race. "I've got the feeling some riders can't get sleep the night before the race, they're scared out of their pants, but it doesn't keep me awake really," Nys taunted.
With this win the Belgian captured a well-deserved fifth victory of the season and his second World Cup round win in Tabor. Behind him Klaas Vantornout got rid of Dutch champion Lars Boom in the last minute to claim second place. A best-ever result in a World Cup race for the Fidea rider after a third place in Igorre, Spain, last year.
"I'm going well for a while now but I felt I could do even better, finishing second is fantastic for me," Vantornout said. The Belgian felt first place was within his reach if Stybar would have left him some space. "Stybar lost all speed so I had to come from too far to catch Nys. Nevertheless, I tried but it was impossible. I feel we were worth each other today," he commented on how he lost the battle for victory.
Dutch champion Lars Boom was happy with his third place in his second cyclo-cross race of the season. "I had a great start today and despite a minor mistake I managed to stay near the front. Riding on this course was fun, especially after the awful course in Kalmthout last week," Boom expressed his unhappiness about last week's World Cup course." The young Dutchman also spotted a bunny-hopping Stybar today. "During the warming-up I already saw him trying. During the race I noticed he enjoyed an advantage, but afterwards I could always come back," Boom smiled and tried to turn down the excitement.
See the full report, results and photos here.
Johnson, Powers and Compton rule Louisville
Tim Johnson (Cannondale - Leer - cyclocrossworld.com) is all business
Photo ©: Mitch Clinton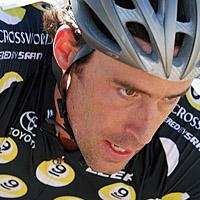 The early season dominance of the Kona-YourKey.com "twin towers", Barry Wicks and Ryan Trebon came to an abrupt halt at the first round of the US Gran Prix of Cyclo-cross in Louisville, Kentucky. The pair traded blows with Cyclocrossworld.com team-mates Tim Johnson and Jeremy Powers.
Johnson, who also is sponsored by Leer and Cannondale and sports a decidedly different team kit than his younger counterpart, sensed a bit of weakness in his West Coast competitors, and attacked repeatedly throughout the weekend, first ungluing Wicks, who was dropped on Saturday and crashed on Sunday, and then later cracking Trebon. Trebon, who just returned from the World Cup in Belgium, complained of leg and back problems that affected his race.
On Saturday, Powers took his second consecutive UCI win after his victory in Wissahickon, and shared the podium honours with Jonhson and Wicks, while on Sunday, the crash with Wicks cost him a chance at another victory. Johnson was able to get the better of Trebon to take his second win of the year after his triumph in Granogue.
Powers recovered quickly from his first lap tangle to finish third, while Wicks worked his way back to finish fourth. Adam Craig (Giant) rounded out the top five.
The women's competition played in a similar fashion both days, with three-time US Champion Katie Compton distancing her competitors from the gun and never looking back. Chasing Compton was the Canadian trio of Alison Sydor (Rocky Mountain Haywood), Lyne Bessette (Cyclocrossworld.com), and Wendy Simms (Kona Yourkey.com), who were taken by surprise by a hard-charging Georgia Gould (Luna), who moved up from a third row start to finish second both days.
Simms took the third spot on Saturday, while Sydor, a hardened veteran mountain biker and road racer and cyclo-cross novice got the hang of the game on Sunday to take the final podium spot ahead of Simms and Proman-Paradigm's Rachel Lloyd.
See Saturday and Sunday's full results and photos.
Rivalries to continue in Boulder
After taking wins both days in US Gran Prix of Cyclo-cross in Louisville, the team of Jeremy Powers and Tim Johnson will have another shot at the lanky duo of Barry Wicks and Ryan Trebon at this weekend's national-class races Boulder, Colorado. The duel between the Cyclocrossworld.com and Kona-YourKey.com team may well swing toward the favour of the West Coast duo of Wicks and Trebon, who only have to cross one time zone this week, while East Coasters Powers and Johnson will cross two. Also in the mix will be Todd Wells (GT Racing), Joachim Parbo (Danish National Champion) and road-vet Chris Horner.
The women's field stars US champ Katie Compton (Spike Shooter) and Georgia Gould (Luna Chix) who are sure to battle it out. Gould kept dangerously close to Compton at Louisville's second day of racing. Local contenders include Amy Dombrowski (Velo Bella) and Melissa Thomas (Maxxis).
Racing begins on Saturday with The Redline Cup, a UCI Cat. 2 race at The Boulder Reservoir. Elite women take the start at 1:25 p.m. followed by elite men at 2:15.
Sunday the second Boulder Cup (UCI Cat. 1) takes place at Harlow Platts Park, adjacent to Fairview High School in South Boulder. Elite women start at 1:30 p.m. followed by elite men at 2:30. Other activities include an expo area with product demonstrations, food and beverage vendors, and the Boulder Beer Garden, featuring samples of their Cyclocross Ale. For more, go to www.dbcevents.com
MABRA double-header heats series up
The first weekend in November will host a rare double-header race weekend, with rounds four and five of the seven race series taking place. On Saturday, November 3, the series heads to Maryland's Fair Hill Natural Resources Management Area just across the Delaware-Maryland Border from Newark, Delaware for the Wayne Scott Memorial, in honour of the former promoter of the Fair Hill Cyclo-cross races. Still very much alive, Scott was forced by job requirements to relocate to South Carolina several years ago and is missed by the Delaware Cross Coalition who are organizing the race.
The following day, November 4, the series heads south to Leesburg, Virginia's Ida Lee Park for Squadra Coppi's annual "Tacchino Cicliocross". The Ida Lee Park is easily the most majestic venue on the BikeReg.com MABRAcross circuit. The hilly terrain and scenic views of the Catoctin Mountain range create a crowd-pleasing course for both riders and spectators that will be duplicate last year's successful event with minor changes.
These races will also see the introduction of the revised MABRAcross race-day schedule. Because of the huge growth being experienced by the BikeReg.com MABRAcross Series, the Category 3 & 4 Women will now have their own separate race starting at 9:00 am. For more information, including directions and pre-registration, on the Wayne Scott Memorial and the Tacchino Cicliocross, rounds 4 & 5 of the BikeReg.com MABRAcross Series, see BikeReg.com.
With attendance up by over 23%, two BikeReg.com MABRAcross races raised $7,750 for worthy causes. The Ed Sander Memorial raised $4,250 for the Chris Sander Scholarship Fund, and the Breast Cancer Awareness Race raised $3,500 for Breast Cancer Awareness of the Cumberland Valley (www.hopeforu.org).
Series leaders Weston Schempf and Betsy Shogren have comfortable, though not safe, leads in the Elite Men and Elite Women divisions respectively. Seven riders are bunched closely behind Schempf, Steve Cummings, Michael Gallagher, Gordon Steven, Davide Frattini, Stephen Kincaid and Jeremiah Bishop. In the 35+ subdivision, Mark Gwadz is leading the series with a 'not-so-comfortable' lead ahead of Blair Saunders. This official jersey category has seen a big jump in attendance making this race a hotly contested race throughout the MABRAcross series.
Like the men, there are a bunch of women close behind points leader Shogren. Defending champ Lisa Vible, Jessica Hill, Jennifer Maxwell, Carolyn Popovic, Sheldon Libbey, Heidi von Teitenberg, and Erica Yozell are all within striking distance of the lead. Other leaders in the Championship Jersey divisions are: Randy Root (1/2/3 age 45+), Nunzio Dibiasi (Masters 55+), Ethan Townsend, who promotes the next race in the MABRAcross series (category 3/4 men), Sam O'Keefe in U18 Juniors, Justin Mauch in U16 Juniors, Steven Wahl in category 4 men and Terri Spanogle in category 3/4 women.
The complete BikeReg.com MABRAcross point tables can be found at mabra.org.
Toronto club hosts UCI races, clinic
The Midweek Cycling Club will host the UCI-C2 International Pro-Am Cyclo-Cross on November 10 -11 at Centennial Park in Etobicoke, outside of Toronto, Ontario. Races will begin at 10am each day and run until the early evening. Adding a flair of Belgium and Holland, the Thistletown Lion's Club will have beer tents directly adjacent to the course (for spectators only, of course!). Information and a technical guide for the race can be found on the club's website.
The club also hosts a weekly cyclo-cross clinic at the site of the UCI race, allowing novices to learn the skills necessary to tackle the event from experienced, accomplished 'cross riders. There are special sessions for youth 10 to 16 years of age, and the course changes every week to give students experience against the full gamut of obstacles in cyclo-cross. Instruction and guidance are provided by expert cyclocross racers Carolyne Haille, Peter Morse, Lorne Anderson and Scott Doel. Sessions start at Centennial Park at 6pm Tuesdays until December.
For more information, contact: midweekclub@gmail.com or www.midweekclub.ca
MAC to benefit animals
Round three of the Verge MAC series on November 10th, the Beacon 'cross race, has announced that proceeds from the food and drink sales at the race will benefit the Beacon Animal Rescue. Volunteers from the shelter will be manning the concession located on top of the course's signature obstacle: the 'Amphitheatre of Pain' run-up. The concession will feature a pasta bar and choices for meat eaters and vegans.
In addition to the proceeds from selling 'people food', the Shelter is also asking for donations of money, cat food (preferably 9 Lives or Friskies), dog food (preferably Pedigree) and anything else that is normally needed to care for a cat or dog. The Beacon Animal Rescue (which is not affiliated with race sponsor Beacon Cycling & Fitness) is a non-profit organization located near the race in Cape May County, New Jersey, and is dedicated to rescuing domestic animals that are about to be euthanized in shelters.
For more information about Verge MAC races, see BikeReg.com. For more information about the Beacon Animal Rescue, located at 701 Butter Road Ocean View, NJ 08230, see http://beaconanimalrescue.tripod.com or call (609) 390-7946.
Upcoming UCI Cyclo-cross races
November 1: Cyclo-cross international de Marle, Marle (Fra) C2
November 1: Internationales Radcross, Magstadt (Ger) C2
November 1: Koppenbergcross, Oudenaarde (Bel) C1
November 3: Chainbiter 9.0, Farmington (USA) C2
November 3: Vlaamse Houtlandcross, Eernegem (Bel) C2
November 3: Redline North American Cross, Colorado (USA) C2
November 4: Boulder Cup, Boulder, Colorado (USA) C1
November 4: Championnats d'Europe, Hittnau (Swi) CC
November 4: Superprestige Hamme-Zogge, Hamme-Zogge (Bel) C1
November 4: The Cycle-Smart International, Northampton (USA) C2
(All rights reserved/Copyright Future Publishing (Overseas) Limited 2007)