Cyclo-cross news & racing roundup for November 16
Edited by Laura Weislo and Paul Verkuylen
Welcome to our regular roundup of what's happening in cyclo-cross. Feel free to send feedback, news and releases to mtb@cyclingnews.com.
Vantornout challenging the old masters
Belgian Klaas Vantornout (Fidea)
Photo ©: Brecht Decaluwé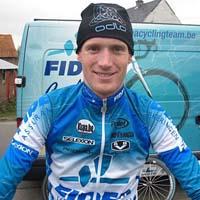 In his second year as a professional cyclo-cross competitor, Klaas Vantornout is hitting above his weight and is consistently taking on his more experienced counterparts. Cyclingnews' Brecht Decaluwé caught up with the 25 year-old to discuss the past and the future.
Sitting between all the big campers and mobile homes owned by the cream of cyclo-cross crop in Eernegem, Belgium earlier this month was the modest van of Belgian Klaas Vantornout. Despite being in just his second professional season, the 25 year-old is quickly shaping up as the heir to Belgium's cyclo-cross throne.
"Those are all personal mobile homes, none of them are given by the team," explained Vantornout, who lives just 10 kilometres away from the Eernegem venue. "For sure that nice mobile home will come eventually, together with the good results. Right now my house is more important as I'm currently building in my hometown Torhout."
That new motor home could well come with a new contract next season, with the Belgian proving his worth and potential already this season. The Fidea Cycling Team rider stormed through last month's World Cup round two in Tabor, Czech Republic where he finished second to compatriot and cyclo-cross king Sven Nys (Rabobank). Vantornout took another podium finish at last weekend's third World Cup round in Pijnacker, Netherlands where the Belgian bounced back from illness to finish an impressive third, behind Dutchmen Lars Boom (Rabobank) and his own team-mate Bart Wellens.
The World Cup podium finishes, combined with his fifth place in the season opening World Cup in Kalmthout, Belgium, shows that Vantornout has taken a large step forward in his development as a rider this season. When it comes to Belgian cyclo-crossers, the depth of talent that comes out of the European nation is endless, making Vantornout's progress all the more impressive.
"The reason for my improvement?" repeated Vantornout, who lives together with girlfriend Annelies. "I had a fantastic training week with the team in Sankt-Moritz, Switzerland. Before that the team made sure we rode a couple of good stage races. I had no bad luck or setbacks so my base is solid. I didn't do much different than before but, I've become more mature, more experienced. I'm stronger now and I want to become even better which is possible if I don't have a setback."
Sven Nys: I am not worried
Sven Nys didn't have a successful weekend
Photo ©: Isosport

Along side the great results from Lars Boom and Bart Wellens over the weekend, the next biggest news was that Sven Nys was beaten. "No panic," the cannibal from Baalen told Sport.be. "I will be back in Hasselt."
After Nys' third place in Niel and fifth in the Pijnacker round of the World Cup, the Belgian was in just as much, if not more, demand by the press. They all wanted to know the same thing - why the leader in the UCI ranking was in such 'bad' form over the weekend.
"This is indeed a problem," Nys said a day after Pijnacker. "So you see, everyone has been sitting waiting for the day that Sven Nys doesn't win. The impossible has occurred, now it is up to me to rise above it. And that will happen, no problem."
Dismissing speculation that the reason for the apparent bad form is a signal that Nys is suffering the effects of overtraining, the captain of the Rabobank 'cross team said that the day after Pijnacker he was up at seven in the morning, "…and at nine I was already out training on the bike. Believe me, with full determination and in the pouring rain! This is certainly not a signal that this crosser is on his last legs, on the contrary."
Sven Nys is still ranked number 1 in the world.
Photo ©: Isosport

Nys still stands by his earlier explanation, which he gave after the last round of the World Cup that his lack of form is due to a back problem that, "most likely occurred during a training run last Tuesday. But so as to not dramatise, after treatment everything was already back in order by Friday. Come to think of it, who hasn't ever had a problem with their back?" he questioned.
"It came back again on the weekend due to using so much strength, just at the moment that we get two very hard races, and then there is nothing that you can do."
The winner of seven races this season already is confident that he will be back to form by this weekends race in Hasselt, "I am confident that by next weekend in Hasselt, there will be nothing more to worry about. It already went better in Pijnacker than in Niel," he explained.
Compton slips from UCI lead
Van Den Brand and Compton
Photo ©: Mark Legg

US Champion Katie Compton slipped from the overall lead in the UCI rankings despite her win in the Pijnacker World Cup this week. Dutch woman Daphny Van Den Brand took back the lead with a win in the European Continental Championships, worth 150 points, and a second place to Compton in Pijnacker. Van Den Brand now leads by 15 points with 750. Frenchwoman Christelle Ferrier-Bruneau is a distant third with just 445 points.
Compton remains in Europe following her first World Cup victory, and will seek to regain the blue leader's jersey at the Superprestige in Gavere, Belgium this weekend.
In the men's rankings, Belgian Sven Nys held onto his lead, which stands at 1030 points over second place Czech rider, Zdenek Stybar (Fidea) with 814 points. Bart Wellens pulled himself into third place thanks to his win in Niel and a strong second place in the Pijnacker World Cup, swapping places with his team-mate Klaas Vantornout who fell to fourth.
Dutch champion Lars Boom moved himself up to fifth from ninth place thanks to his win in the World Cup, while Fidea's Petr Dlask moved into the top ten with his fourth place in Pijnacker, and is now ranked ninth. The biggest drop came from Sunweb ProJob team-mates Sven Vanthourenhout and Jonathan Page, who fell from seventh to tenth and 10th to 17th, respectively, after relatively poor performances in Pijnacker.
See full men's and women's rankings.
Frattini, Gould take MAC round five
By Kirsten Robbins in Jamesburg, New Jersey
The scenic Thompson Park hosted the fifth round of the Verge Mid Atlantic Championship Cyclo-cross Series under sunny skies and dry terrain making the Elite men's 60 minute race unrecognizable compared to last year's unforgettably muddy slosh through the rain. Davide Frattini (Colavita/Sutter Home) took advantage of his 'cross smarts and the circuit's hills to aid in a back-to-back UCI victory and enough points to take the lead in the Verge MAC series.
Frattini out sprinted cyclo-cross strong man Jon Hamblen (Richard Sachs/RGM Watches) as Colavita/Sutter Home team-mate Matt Kraus claimed third place, securing the team's second double podium in as many days.
"To have won two races in a row means that my coach and I are working well together," said the winning Italian, who is working with Herriott Sports Performance's Todd Herriott. "It's important for me, for the team and for the sponsors who support me all season. To have a good performance is the best way to say thanks."
The desirable weather conditions in Thompson Park led to an exciting women's race where Georgia Gould (Luna) used her mountain biking prowess and polished fitness to gain an insurmountable lead over Maureen Bruno Roy (Independent Fabrication) and Anna Milkowski (Velo Bella).
After winning the Master B men's event and the Elite women's event in the previous days Beacon Cyclo-cross race, Gould continued her dominance on the UCI 'cross scene by marking a third win in a single weekend. Gould noted that her east coast racing schedule has led to some valuable training leading into the next USGP round. "I'm happy with my fitness right now and racing has been really fun," said Gould. "I always look forward to cross season. I got some good training in this weekend and that bodes well for next weekend in New Jersey."
Also see full results, report and photos from the men's and women's races.
Simms, Reain & Watson tops in Ontario weekend
By Scott Kelly
Canadian champion Mike Garrigan leads
Photo ©: Matthew Knight

Competitors from across Ontario and the US met in Toronto over the weekend to battle it out on the slopes of Centennial ski hill at the first annual Toronto UCI C2 International Pro-Am Cyclo-cross Race weekend. It would be the first time this year that all of Ontario's top riders, along with a few American wildcards, would converge in one place.
On Saturday, racers were faced with a long, flat challenging course that was a serpentine affair which rewarded riders who could push a big gears.
Buoyed by a first lap prime, Saturday's elite men's race was fast from the gun. Mike Garrigan (Epic Ride/Jetpower), newly crowned Canadian National Cyclo-cross champion, took the money for being the first through the beer tent barriers. Unfortunately what momentum he had was hindered by an early puncture.
A group containing all the favourites quickly formed and the race was on. Positions would change but it was still very much anyone's race until the closing laps when Greg Reain (Ride with Rendall) decided to make his move. It was a course suited to his style of riding and when Reain went, no one could respond. Reain finished thirty seconds clear of second placed Osmond Bakker (Stevens Cross) with Nathan Chown (Handlebars CC) rolling in for third.
The women's podium
Photo ©: Matthew Knight

In the elite women's race pre-race favourite and reigning Canadian National champion Wendy Simms (Kona-Yourkey.com) led from start to finish. Owing much to her strong legs and flawless riding she was simply the class of the field. Knowing the UCI points would earn her a favourable spot on the start line at next weekend's USGP in New Jersey; Simms was out for the win. Natasha Elliot (Stevens Cross) continued her strong cross campaign in second place and Jennifer Stephenson (Team Ultralink) in third.
Sunday's course treated racers to the classic rolling up and down grind that is a ski hill course and with it, came a new set of challenges. Gone were the windy flat stretches and off camber sections that played so strongly in Greg Reain's favour on Saturday; climbing was the theme of the day, favouring Southern Ontario series leader Andrew Watson.
Like the previous day, the competition was fierce from the gun. Almost immediately riders were fighting for lines and for places. Again there was a prime on offer for the first rider to the barriers and Mike Garrigan claimed it for the second time in the process earning himself a brand new pressure washer.
It didn't take long for a split to happen and when it did it was Watson and Garrigan making amends for their mechanical difficulties on Saturday. Working together they distanced themselves from a hard-charging field. With several laps to go, Watson went to work on the climbs. Watson flew up the slopes of Centennial Park riding towards a deserved win. Garrigan was able to hold on for second with previous day's winner Reain coming in for third.
In the women's race Wendy Simms was again favoured for the win and she came up with the goods. Simms again proved why she is one of the premiere Cyclo-cross riders in North America. She appeared just as adept on the hills as on the flats and she climbed and descended in a class all her own. Trading spots on the podium from the previous day were Jennifer Stephenson in second and Natasha Elliot in third.
Also see full results, reports and photos from day one and day two.
Wicks, Williams win single speed 'cross 'worlds'
Barry Wicks in his golden shorts
Photo ©: Carson Blume
It might not have been an official world championship, and it certainly wasn't an event taken seriously as evidenced by riders in baggy hockey jerseys, party hats and even an inner-tube bustier, but the Portland, Oregon single speed cyclo-cross 'world championship' proved that this region is simply crazy about 'cross.
The event began with a qualifying cyclo-cross time trial - possibly one of the first of its kind - and then followed up with the men's and women's finals. US 'Cross champion Ryan Trebon and Kona-YourKey team-mate Barry Wicks blitzed the qualifiers, finishing 1-2 with the only times under eight minutes. Wendy Williams (River City Bicycles) was fastest in the women's event.
What followed was one of the most unique cyclo-cross races ever held, beginning with a traditional call-up by time trial finishing order which was unexpectedly turned upside down when the referee ordered everyone to turn around 180 degrees - putting Trebon and Wicks at the back of the field.
It was followed by a furious battle for position on the opening lap with riders having to make the difficult decision to ride the course or take a trip through the 'tequila short cut' - saving precious seconds with the requirement to down a shot of liquor or be pelted with paintballs.
Wicks went on to victory in the men's finals, beating Adam Craig and Trebon, and was presented with a shiny gold speedo trimmed with rainbow bands and a Vanilla Bicycles 'SpeedVagen' single speed 'cross bike.
Between the beer hand-ups and heckling contests, and the award of golden spandex kits to the winner, the event was anything but a traditional cyclo-cross event.
See the full report, results and photos here.
USGP heads to the Garden State
The US Gran Prix of Cyclo-cross heads to the 'Garden State', New Jersey this weekend for a first time visit to Mercer County Park in West Windsor. Racers will be treated to seasonably cool 'cross conditions after the warm weather of the series' first weekend in Louisville, Kentucky.
The Elite men's race will see another round in the rivalry between the Cyclocrossworld.com and Kona YourKey.com teams. USGP series leader Tim Johnson will be looking to retain his leader's jersey with a strong showing in New Jersey, while his team-mate Jeremy Powers, who won the first USGP race in Louisville, will be in the hunt as well. They'll have to contend with the 'twin towers', Kona-YourKey.com's Ryan Trebon and Barry Wicks as well as Jesse Anthony, Christopher Jones and Italian winner of last weekend's New Jersey races, Davide Frattini.
In the Elite Women's field, USGP leader Katie Compton will be in Europe to try to regain her UCI leader's jersey, and will miss the weekend's event. Her absence leaves the door open for her competitors to gain points in the series standings. Vying for the series lead will be Georgia Gould, Lyne Bessette, Wendy Simms and Alison Sydor.
A first-time USGP venue, the Mercer Park course will run alongside a lake, with much of the course exposed to the wind. The course will feature a fly-over and three long sand pits lined up in a row as well as other technical spots designed to select riders with skill and determination.
"In general, with the fly-over, sand and grass there is more than enough on this course to make it very interesting," said USGP director Bruce Fina. "Throw in the strong winds coming off the lake and we're in for a great weekend of racing."
With less than one month to go before Nationals, everyone is in mid-season form and will be looking to put themselves in a good position to compete for the USGP series championship.
2007 Mercer Cup presented by Knapp's Cyclery Schedule of Events:
Clif Bar Kid's Clinic
Friday, 3:30 - 4:30 pm The weekend kicks off with the Friday afternoon Clif Bar Kids' Cross Clinic with World Championship Silver Medalist Danny Summerhill, Team Clif Bar's Ben Turner and USGP Technical Director Geoff Proctor at the Race Venue - registration is free and limited to the first 30 kids ages 10-16 on BikeReg.com
Friday Night Number Presentation Ceremony: Fans can get a head start on the weekend's fun by attending the Number Presentation Ceremony at the Knapp's Cyclery - 1761 Princeton Ave, Lawrenceville, NJ 08648, 6 - 9 pm
Race schedule for Saturday and Sunday
8:30 am - Cat 4 Men
9:15 am - Junior 10-16 - Cat 3/4 Women
10:00 am - Cat 2/3 Men
11:15 am - USGP Juniors 17-18 - Masters 45+/55+
12:15 pm - USGP Masters 35+
1:45 pm - USGP Elite Women
2:45 pm - USGP Elite Men
USGP goes 'Zero Waste'
With concern for the environment at an all time high, organisers of the US Gran Prix of Cyclo-cross along with sponsors Clif Bar and Crank Brothers, are taking steps to make the event environmentally friendly with a goal of making each event 'Zero Waste.' The goal of 'Zero Waste' is to divert as much solid waste as possible from landfill or incineration through recycling and composting efforts.
Landfills aren't just unsightly, they are also one of the largest producers of a strong greenhouse gas, methane, which is a major contributor to global warming.
In order to reduce landfill waste, USGP organizers are providing support and mechanisms onsite to reduce the amount of trash produced. At each event in the six-race series there will be multiple stations for recycling and composting with directional signs letting spectators know which items go in each station. The series is also using 'Greenware' and other products at each venue that can be recycled or composted.
At the first series event in Louisville the zero waste efforts yielded a 75.6% diversion rate which translates to saving two trees, 918 kilowatt hours of energy, 846 gallons of water, and diverting 3900 pounds of compost materials from the landfill. Even with more than 5,000 spectators over the two day weekend, the Louisville event yielded just 12 bags of trash.
"The US Gran Prix of Cyclo-cross is the premiere 'cross series in the US but our goal is to also take a leadership role in making our events environmentally sustainable through our 'Zero Waste' implementation," said Bruce Fina, Executive Director, US Gran Prix of Cyclo-cross. "Clif Bar and Crank Brothers have done a tremendous job of helping to drive this initiative and we have received tremendous support from each municipality on our Zero Waste efforts.
Team Clif Bar's Ben Turner added, "Zero Waste is a core belief of Team Clif Bar's "sustainable cycling" mission. Louisville really embraced the Zero Waste idea and helped us achieve a 75% diversion rate -- meaning only 25% of the total waste generated ended up in the landfill."
Sponsor Crank Brothers is extremely supportive of the efforts being made by the Series and Team Clif Bar. "We are thrilled to see that both the Series that we support and Team Clif Bar have taken such a leadership role in this area," said Christina Orlandella, Crank Brothers. "Crank Brothers is supporting this effort by donating the first $2,000 in sales of Crank Brothers merchandise at the USGP to offsetting the cost of implementing this Zero Waste initiative."
The Zero Waste efforts will also be implemented in the next two stops of the USGP – Mercer County, NJ and Portland, OR.
New sponsor for Capital 'Cross
The final round of the Verge MAC series, the UCI C2 Capital 'Cross Classic in Reston Virginia gained a new sponsor, the promoter Chip Sovek announced this week. Outdoor retailer REI has signed on as sponsor of the International Women's division at the December 2 event.
As an active supporter of the communities in which it does business, REI is committed to promoting environmental stewardship and increasing access to outdoor recreation through education, volunteerism, gear donations and financial contributions.
The "REI Classic" for the Elite Women powered by SRAM will start at 1:30 and will be the first of two internationally-ranked races that highlight the day-long event which will run rain-or-shine at Lake Fairfax Park on December 2. For a full schedule of the day's events and more information, see http://www.potomacvelo.com/CapitalCrossClassic.htm
Upcoming UCI Cyclo-cross races
November 17: GP Stad Hasselt, Hasselt (Bel) C2
November 17: North Carolina Grand Prix 1, Hendersonville (USA) C2
November 17: USGP of Cyclocross - Mercer Park, West Windsor, New Jersey (USA) C2
November 18: Cyclo-cross International Aigle, Aigle (Swi) C1
November 18: GP Cittā di Verbania, Paco Donati, Verbania (Ita) C2
November 18: National Trophy Series 3, Mallory Park, Leicestershire (GBr) C2
November 18: North Carolina Grand Prix 2, Hendersonville (USA) C2
November 18: Superprestige, Gavere (Bel) C1
November 18: USGP of Cyclocross - Mercer Park, West Windsor, New Jersey (USA) C2
(All rights reserved/Copyright Future Publishing (Overseas) Limited 2007)