An interview with Klaas Vantornout, November 16, 2007
Youngster Vantornout challenging the old masters
Klaas Vantornout
Belgian Klaas Vantornout (Fidea)
Photo ©: Brecht DecaluwÚ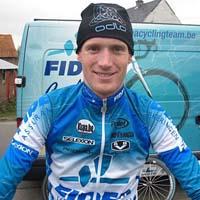 Born: May 19, 1982, in Torhout
Professional since: September 2006 for Fidea Cycling Team
Previous team: Morgan Blue (elite w/o contract) during cross season from 2004 until August 2006
Website: http://www.klaasvantornout.tk/
Major results

2007-2008 (to date)
1st Knokke-Heist
1st Eernegem
2nd World Cup Tabor
3rd World Cup Pijnacker
5th World Cup Kalmthout
2006-2007
2nd Belgian championships
2nd SP Vorselaar
3rd SP Gieten
3rd World Cup Igorre
4th World Cup Tabor
5th World Cup Milano
15th World Championships
2005-2006:
7th World Cup Igorre
11th GvA Koppenbergcross
12th World Championships
2004-2005

Only three cyclo-cross races ridden due to glandular fever
Transfer rumours
The young rider was the revelation of the 2006-2007 season and has confirmed his arrival with great results this year. Teams are lining up to sign the Belgian, as he is one of the few available top Belgian cyclo-cross riders. Sunweb-Projob has clearly showed interest and Fidea is keen on keeping its talented rider, while even the T-Mobile team has been named. Vantornout deals with the negotiations himself - together with his father - and he wants to have a team for next year soon.
"It's true that I'm busy with negotiations and I hope it's not taking much more time now," he said. "I want certainty and clarity. Preferably I would stay with Fidea, but there's interest for all cyclo-cross teams."
In his second year as a professional cyclo-cross competitor, Klaas Vantornout is hitting above his weight and is consistently taking on his more experienced counterparts. Cyclingnews' Brecht DecaluwÚ caught up with the 25 year-old to discuss the past and the future.
Sitting between all the big campers and mobile homes owned by the cream of cyclo-cross crop in Eernegem, Belgium earlier this month was the modest van of Belgian Klaas Vantornout. Despite being in just his second professional season, the 25 year-old is quickly shaping up as the heir to Belgium's cyclo-cross throne.
"Those are all personal mobile homes, none of them are given by the team," explained Vantornout, who lives just 10 kilometres away from the Eernegem venue. "For sure that nice mobile home will come eventually, together with the good results. Right now my house is more important as I'm currently building in my hometown Torhout."
That new motor home could well come with a new contract next season, with the Belgian proving his worth and potential already this season. The Fidea Cycling Team rider stormed through last month's World Cup roud two in Tabor, Czech Republic where he finished second to compatriot and cyclo-cross king Sven Nys (Rabobank). Vantornout took another podium finish at last weekend's third World Cup round in Pijnacker, Netherlands where the Belgian bounced back from illness to finish an impressive third, behind Dutchmen Lars Boom (Rabobank) and his own team-mate Bart Wellens.
"A lot has changed after my performance in Tabor."
-Vantornout's first World Cup podium has changed things
The World Cup podium finishes, combined with his fifth place in the season opening World Cup in Kalmthout, Belgium, shows that Vantornout has taken a large step forward in his development as a rider this season. When it comes to Belgian cyclo-crossers, the depth of talent that comes out of the European nation is endless, making Vantornout's progress all the more impressive.
"The reason for my improvement?" repeated Vantornout, who lives together with girlfriend Annelies. "I had a fantastic training week with the team in Sankt-Moritz, Switzerland. Before that the team made sure we rode a couple of good stage races. I had no bad luck or setbacks so my base is solid. I didn't do much different than before but, I've become more mature, more experienced. I'm stronger now and I want to become even better which is possible if I don't have a setback."
As happy as a pig in mud: Vantornout was delighted
Photo ©: ISO Sport

It hasn't all been roses and candy for Vantornout this season, with the rider suffering some ups and downs due to his packed racing schedule. UCI cyclo-cross coordinator Peter Van Den Abeele has also noticed that some riders haven't recovered from the series of tough races this year.
After his podium placing in Tabor, Vantornout finished down in eighth the following Thursday at Koppenbergcross in Oudenaarde, Belgium, before bouncing back that Saturday where he took victory at the Vlaamse Houtlandcross Eernegem. But the victory came at the expense of the following day's Hamme-Zogge Superprestige #2, where Vantornout suffered from sore legs and rolled home in 18th place.
"For a while I've had stomach problems and [then] I got a little better, that brought me to top three results," he explained. "Hamme-Zogge was disappointing, but that fifth race in eight days was a bit too much of a good thing."
Although Vantornout was one of the better performing Fidea riders last season, he remained relatively anonymous in the Belgian team where Bart Wellens is the team leader and which also holds reigning World Champion Erwin Vervecken. While some riders would be annoyed with the situation, it's a fact that sits well with Vantornout, who knows his time will come. "That's how it is," Vantornout stated. "I'm not Wellens, he is radiating something that attracts fans. Although I must say that a lot has changed after my performance in Tabor where I was in the spotlights on TV for an hour."
The 25 year-old took second place at the Tabor World Cup
Photo ©: AFP

While few Belgian fans travelled to the Czech Republic World Cup round, Vantornout expects that his fan club will continue to grow. "I've got a fan club and they are organizing bus trips for my fans, it's pretty successful I must say," he modestly explained. "They're already busy organizing the trip to Treviso and that bus is almost sold out."
The Belgian expects the bus to be particularly full by the time January's World Championships in Treviso come around. Vantornout has his sights set on the Italian race after finishing eighth at the Treviso World Cup round last season. "Last year I was very good in the Treviso World Cup race, I finished eighth but I was in the first group behind the three leaders," he said. "It can be a reasonably heavy race in different conditions - especially with rain - since the race is at another time of the year.
"Anyway, becoming World Champion is the dream of every rider, it's the biggest prize you can get," emphasized Vantornout.
If it came down to a choice of season-long consistency at the cost of the World Championship, similar to Nys' past, or targeting the UCI rainbow jersey at the cost of season long consistency, Vantornout's mind isn't yet clear on which he would rather. "I think most riders would choose the jersey and it's true that [Nys] doesn't win the championships, but he dominates the season," said Vantornout. "It would be hard to choose for me. Nys is the top favourite in every race, it must be tough for him. The fact that he's shown some mockery towards Fidea seems logical to me, [Fidea team manager] Van Kasteren is provoking him all the time."
A punishing schedule took its toll on Vantornout
Photo ©: Stijn Vercaemer

Vantornout has a clear respect and admiration for his compatriot Nys while off the bike, but when it comes to racing the Belgian believes the UCI points leader can be beaten. In fact Vantornout believes the 2005 UCI Cyclo-cross World Champion isn't as strong this season as he has been in years gone by. "I still feel that Nys is less good than during previous seasons," he explained. "If I have a very good day then I'm a match for him. The top is getting broader and that's good for the 'cross, there are more duels."
With the growing popularity of cyclo-cross in the United States of America and Canada it seems inevitable that the World Cup will eventually end up with a round on North American soil, despite this year's failed attempt to get one off the ground. However, despite the lucrative cycling market in the US, it will take the World Cup's likely expansion to draw Vantornout across the Atlantic, with the Belgian saying the travel is too taxing to do it regularly. "No, certainly not," stated Vantornout when asked if he'd compete on American soil. "Erwin Vervecken does it, but he's grabbing along whatever he can these days. It's tiring to travel so far and I would never go there."
"If there's a World Cup then I would go, because it's obligatory, but in that case it is the same for everybody," he added. "I understand that the UCI wants to profile cyclo-cross as an international sport, and that's something I support since the youth will look up to that. Over here, it's amazing to see how popular the sport has become. In the beginners' race there were about 100 starters in Oudenaarde, in my time we were lining up with 20 kids."
The Belgian was one of Fidea's strongest riders
Photo ©: Luc Claessen

Vantornout said he's had some good contact with the North American riders that are starting to venture across to compete in Europe, but warned that they will never be able to match the speed and consistency of the Europeans. "I know [Ryan] Trebon, he's a nice guy, and [Jonathan] Page of course," he said. "[Barry] Wicks and [Jeremy] Powers are other guys I saw here in the past seasons. They are good riders but they will never keep up with the top over here, there's still a big gap between their level and ours."
While Page took a strong second place at last season's World Championships, Vantornout was delighted that the American didn't win the event. "I'm happy that he didn't become World Champion," he said. "It wouldn't be good for the appearance of the sport, because right now he's always finishing 10th or something, which would be a disgrace as World Champion. His luck was that he was fresh at the start of the world's due to his injury earlier that season."
Vantornout is again hoping that an American won't walk away from this season's World Championships with the rainbow jersey, as the Belgian hopes that he will be the winner in Treviso. In the meantime, Vantornout has something else to focus on, after being offered a contract to contest the entire GvA Trophy following his victory in Eernegem.
Vantornout beat some of the best in the business
Photo ©: Brecht DecaluwÚ

After initially being overlooked by the GvA Trophy organisers, a decision was seriously questioned after his form this season, Vantornout was delighted to hear of his inclusion. "It's a good thing for all parties," Vantornout said. "For me because I can compete for that desirable GC, [and] for sponsor Fidea because every GvA race is live on television and they receive more exposure. But also for the GvA Trophy because they can bring out positive news now that I finally joined their competition."
As Vantornout's career progresses over the coming season and the years to follow, we can all expect to hear positive news about the Belgian.
Photography
For a thumbnail gallery of these images, click here
Images by Brecht DecaluwÚ/Cyclingnews.com
Images by AFP Photo
Images by ISO Sport
Images by Stijn Vercaemer
Images by Luc Claessen/www.ctm-images.com