Superprestige #7 - C1
Vorselaar, Belgium, February 15, 2009
2008 Results Results Superprestige standings Past winners
Again and again...Nys claims ninth Superprestige title
By Brecht Decaluwé
Nys also won the overall classification
Photo ©: Cyclingnews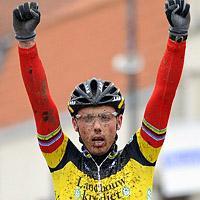 By winning his fifth event of this year's Superprestige Series, Sven Nys (Landbouwkrediet-Colnago) added another overall victory to his palmarčs. The 32-year-old Belgian has now won the Superprestige Series nine times, including the last five editions. In Vorselaar – home soil of Bart Wellens – Belgian champion Nys held off world champion Niels Albert in a tactical last lap.
"Of course this isn't the same as the first time I won the Superprestige but surely winning it nine times is excellent. I don't think it's coincidence," Nys said.
Half a minute later, veteran Erwin Vervecken won the sprint for third place ahead of Kevin Pauwels, Klaas Vantornout and Wellens. Vantornout and Wellens accompanied Nys on the podium of the Superprestige overall classification.
Richard Groenendaal – former winner of the Superprestige in 1998 and 2001 – rode the last round of his career in the only international cyclo-cross overall competition next to the UCI's World Cup.
Local hero Bart Wellens opened up the race with an attack halfway through the first lap on the fast but slippery frozen course near Antwerp. In that first lap big guns Nys and Albert were holding their fire, sitting in the 13-strong chasing group.
"I didn't feel great but had a good start," Wellens said."I heard from our U23 boys that there was a corner where I could run. That's what I did and suddenly I had a gap. I went for it."
Wellens kept going full out for three laps and the arch rival of Nys built up a lead that never got up to more than 20 seconds. During that third lap world champion Albert moved forward and his move was marked by Nys, Pauwels and Vervecken. "The gap wasn't really growing and I had the feeling that I could easily close it down," Albert said.
Albert's move resulted in a leader's group of five Belgians and only one important rider was missing at the front. The number two in the overall SuperPrestige standings, Klaas Vantornout, tumbled back into a chasing group with teammate Sven Vanthourenhout and Dutch aces Groenendaal and Thijs Al. Thanks to Vanthourenhout's work on the road in this group, team leader Vantornout was able to bridge up on his own a little later, making it a six-man leader's group.
Vantornout's efforts for the overall victory were in vain as Nys and Albert powered away once he joined the group. The two champions worked together quite well and it was clear they would be battling for the victory in Vorselaar.
During the last lap Albert took the lead and tried to get rid of Nys on the fast technical and twisting course. Nys didn't get into trouble and halfway he surprised the world champion by cutting a corner at the pits.
"This was cyclo-cross as I like it, twisting and turning," Nys said. "During the race I had always been comfortable when on Albert's wheel and I knew that specific spot was suitable to gain a couple of metres on him." The Belgian champion led Albert through the forest of Vorselaar and after the last obstacle Nys had a gap over Albert which proved to be enough for the victory.
"I had trouble clicking back into my pedal and that was it, Nys was gone," said Albert about that decisive moment during the last lap.
Third-placed Vervecken showed that despite his respectable age of 36 he still is a force to be reckoned with. "All race long I was struggling to stay near the front but once Nys and Albert were gone the pace dropped in our group. I was able to recover and during the last lap I tried hard to get that podium spot," Vervecken said.
Vantornout crossed the line in fifth place, ahead of his rival for third place in the overall classification, Bart Wellens. "This is my worst result in the Superprestige this season so I can be happy about my overall consistency," Vantornout said. "Without my illness this week I would've been able to do more, but surely Nys is the deserved winner. He's the best. Of course, I would've liked to make it tighter during the last two rounds."
Vantornout rode his last important race of the season while most other riders will race in the Gazet van Antwerpen Trophy's final round in Oostmalle next week. "They don't want me there, although I showed that I'm capable of giving them value for their money," Vantornout said.
Photography
For a thumbnail gallery of these images, click here
Images by Cyclingnews
Results
1 Sven Nys (Bel) Landbouwkrediet-Colnago                             57.23
2 Niels Albert (Bel) BKCP - Powerplus                                 0.08
3 Erwin Vervecken (Bel) Fidea Cycling Team                            0.25
4 Kevin Pauwels (Bel) Fidea Cycling Team                                  
5 Klaas Vantornout (Bel) Sunweb Projob Cycling Team                   0.31
6 Bart Wellens (Bel) Fidea Cycling Team                               0.36
7 Sven Vanthourenhout (Bel) Sunweb Projob Cycling Team                1.15
8 Thijs Al (Ned) AA Drink - BeOne                                         
9 Richard Groenendaal (Ned) AA Drink - Be One                         1.22
10 Dieter Vanthourenhout (Bel) BKCP - Powerplus                       1.32
11 Rob Peeters (Bel) Landbouwkrediet-Colnago                         
12 Gerben de Knegt (Ned) Rabobank                                     1.50
13 Ben Berden (Bel) Revor Cycling Team                                1.58
14 Bart Aernouts (Bel) Rabobank                                           
15 Marco Bianco (Ita) L´Arcobaleno Carraro Team                       2.05
16 Jan Verstraeten (Bel) Sunweb Projob Cycling Team                   2.24
17 Eddy van IJzendoorn (Ned) AA Drink - BeOne                         3.04
18 Lars Boom (Ned) Rabobank                                               
19 Wilant van Gils (Ned) Pro Cycling Team ZZPR.nl-Destil-Merida           
20 Mariusz Gil (Pol)                                                  3.16
21 Tom Van den Bosch (Bel) Rendementhypo Cycling Team                 3.42
22 Nico Berckmans (Bel) DCM-GB Vorselaar Cycling Team                     
23 Bart Verschueren (Bel) Revor Cycling Team                          4.02
24 Jan Soetens (Bel) Revor Cycling Team                                   
25 Tim Van Nuffel (Bel) Easypay Cyclocross Team                       4.13
26 Joachim Parbo (Den)                                                4.22
27 Cyrille Bonnand (Fra) Les Bleus de France                          4.56
28 Stijn Penne                                                            
29 Roy Van Heeswijk (Ned)                                                 
30 Patrick Van Leeuwen (Bel) Het Snelle Wiel                              
31 Tom De Kort (Bel) AVB-USSspa Cycling Team Kasterlee                5.00
32 Nico Clarysse (Bel) Cyclingteam Oost-West VZW                      5.08
33 Geert Wellens (Bel) AVB-USSspa Cycling Team Kasterlee              5.25
34 Stijn Huys (Bel) BKCP - Powerplus                                        

One lap behind
35 Ken Smets (Bel)                                                        

Two laps behind
36 Jo Naert (Bel)                                                         
37 Bram Wind (Ned)                                                        

Three laps behind
38 Freddy De Meester (Bel)                                                

Four laps behind
39 Jochem Danckaers (Bel)                                                 
 
U23
1 Philipp Walsleben (Ger) BKCP - Powerplus                           52.30
2 Kenneth Van Compernolle (Bel) Sunweb Projob Cycling Team            0.10
3 Tom Meeusen (Bel) Fidea Cycling Team                                0.18
4 Ramon Sinkeldam (Ned) Rabobank                                      0.20
5 Quentin Bertholet (Bel) Fidea Cycling Team                              
6 Marcel Meisen (Ger)                                                 0.31
7 Mitchell Huenders (Ned) AA Drink - BeOne                            0.50
8 Jim Aernouts (Bel) BKCP - Powerplus                                       
9 Jan Denuwelaere (Bel) Adinkerkse                                        
10 Kevin Eeckhout (Bel) Sunweb Projob Cycling Team                        
11 Jan Van Dael (Bel) Sunweb Projob Cycling Team                      1.15
12 Dave De Cleyn (Bel) Scott USA Cycling Team                             
13 Robert Gavenda (Svk) Fidea Cycling Team                            1.20
14 Stef Boden (Bel) AA Drink - BeOne                                      
15 Gianni Denolf (Bel) BKCP - Powerplus                                     
16 Lukáš Kloucek (Cze) Sunweb - Projob Cycling Team                       
17 Kevin Cant (Bel) AVB-USSspa Cycling Team Kasterlee                 1.38
18 Zeb Willems (Bel) AVB-USSspa Cycling Team Kasterlee                1.43
19 Ruben Veestraeten (Bel)                                            2.02
20 Kobus Hereygers (Ned) (Bel)                                        2.18
21 Kristof Cop (Bel) AVB-USSspa Cycling Team Kasterlee                2.40
22 Edwin Arts (Ned)                                                   3.06
23 Thomas Vernaeckt (Bel)                                                 
24 Bart Barkhuis (Ned)                                                4.27
25 Michiel Dieleman (Bel)                                             4.37
26 Jens Gys (Bel) Velosport Reigerlo Beernem                          4.49
27 Kenny Maes (Bel) De Toekomstvrienden Baal                          4.54
28 Dries Dewit (Bel) Scott USA Cycling Team                           5.02
29 Tom Desmet (Bel) Asfra Racing Team                                 5.30
30 Hans Antonissen (Bel)                                                  
31 Stijn Mortelmans (Bel)                                                 
32 Kaj Slenter (Ned)                                                  6.15
33 Arnaud Van den Abeele (Bel)                                            
34 Geert van der Horst (Ned)                                          7.22
35 Vincent Van Hooste (Bel) Asfra Racing Team                         7.35
36 Kenneth Speltinckx (Bel)                                               
 
Juniors
 
1 Tijmen Eising (Ned)                                                39.25
2 Wietse Bosmans (Bel)                                                0.58
3 Lars van der Haar (Bel)                                             1.28
4 David van der Poel (Bel)                                                
5 Mike Teunissen (Ned)                                                    
6 Vinnie Braet (Bel)                                                  1.36
7 Jesper Baelen (Bel)                                                 1.47
8 Jelle Lugten (Ned)                                                      
9 Joeri Adams (Bel) Rabobank                                              
10 Xandro Meurisse (Bel)                                              1.55
11 Niels Koyen (Bel)                                                  2.05
12 Hendrik Sweeck (Bel)                                               2.11
13 Raf Risbourg (Bel)                                                 2.30
14 Kevin Peeters (Bel) Scott USA Cycling Team                         2.34
15 Zeb Veestraeten (Bel)                                              2.40
16 Gianni Vermeersch (Bel)                                            2.52
17 Ritchie Denolf (Bel)                                               2.57
18 Ingmar Uytdewilligen (Bel)                                         3.03
19 Michaël Peeters (Bel)                                              3.17
20 Jordy Van Staeyen (Bel)                                            4.00
21 Jeffrey Mellemans (Bel)                                            4.02
22 Jelle Cant (Bel) AVB-USSspa Cycling Team Kasterlee                 4.47
23 Sieën Veestraeten (Bel)                                            4.58
24 Nick van Dijke (Ned)                                               5.02
25 Bert Noterman (Bel)                                                    
26 Michiel Janssen (Bel)                                                  
27 Pieter Van Overstraeten (Bel)                                      5.33
28 Jens Joosen (Bel)                                                  7.08
29 Jens Van den Bosch (Bel)                                           7.11
30 Olivier Vernaet (Bel)                                              7.30
31 Jeff Goossens (Bel)                                                7.40
32 Kristiaan Claeskens (Bel)                                          8.00
33 Robin Delanghe (Bel)                                                   
34 Glenn Pieters (Bel)                                                    
35 Bavo Symens (Bel)                                                      
36 Axel Dekker (Ned)                                                      
37 Thibeaut De Winter (Bel)                                               
38 Daan Hens (Bel)                                                        
39 Klaas Vermetten (Bel)                                                  
 
Beginners

1 Laurens Sweeck                                                          
2 Danny van Poppel (Ned)                                              0.05
3 Diether Sweeck (Bel)                                                0.26
4 Maxim Panis (Bel)                                                   1.03
5 Timo Verschueren (Bel)                                              1.16
6 Lorenzo Pepermans (Bel)                                                 
7 Matthias Van de Velde (Bel)                                         1.28
8 Daan Hoeyberghs (Bel)                                                   
9 Koen Weijers (Ned)                                                      
10 Wout Van Aert (Bel)                                                    
11 Daan Soete (Bel)                                                   1.30
12 Stan Godrie (Ned)                                                  1.38
13 Michael Vanthourenhout (Bel)                                           
14 Toon Aerts (Bel)                                                       
15 Jens Couckuyt (Bel)                                                    
16 Toon Wouters (Bel)                                                 1.41
17 Pjotr van Beek (Ned)                                               1.55
18 Jellen Schiettecatte (Bel)                                         2.13
19 Jeroen Eyskens (Bel)                                               2.20
20 Jeff Vertommen (Bel)                                               2.21
21 Jochen Vervoort (Bel)                                              2.31
22 Jens Van Rompaey (Bel)                                             2.53
23 Bart De Zutter (Bel)                                               3.13
24 Michael Dhondt (Bel)                                               3.16
25 Matthias Ballet (Bel)                                              4.01
26 Gertjan Bervoets (Bel)                                             4.18
27 Michiel Van Echelpoel (Bel)                                        4.21
28 Patrick Mulder (Ned)                                               4.49
29 Jordy Vermeire (Bel)                                               4.54
30 Robin Van den Bruel (Bel)                                          4.59
31 Niels Verdijck (Bel)                                               5.05
32 Glenn Vissers (Bel)                                                    
33 Niels Ooms (Bel)                                                       
34 Stijn Gielen (Bel)                                                     
35 Eelke van der Horst (Bel)                                              
36 Jorne Kockaerts (Bel)                                                  
37 Jeffrey Jansegers (Bel)                                                
38 Pepijn Martens (Bel)                                                   
39 Sibe Smets (Bel)                                                       
40 Alexander Verslegers (Bel)                                             
41 Steff Heyns (Bel)                                                      
42 Nathalie Nijns (Bel)                                                   
43 Robbie van Bakel (Ned)                                                 
44 Glenn Thys (Bel)                                                       
45 Niels Boons (Bel)                                                      
46 Siebe Jacops (Bel)                                                     
47 Charles Mesteron (Bel)                                                 

One lap behind
48 Maaike Lanssens (Bel)                                                  
49 Yolan Brems (Bel)                                                      
50 Steffy Van den Haute (Bel)                                             

Superprestige final standings

Men elite

1 Sven Nys                                                             114 pts
2 Klaas Vantornout (Bel) Sunweb Projob Cycling Team                    104
3 Bart Wellens (Bel) Fidea Cycling Team                                 96
4 Kevin Pauwels (Bel) Fidea Cycling Team                                83
5 Thijs Al (Ned) AA Drink - BeOne                                       66
6 Erwin Vervecken (Bel) Fidea Cycling Team                              63
7 Niels Albert (Bel) BKCP - Powerplus                                   56
8 Zdenek Stybar (Cze) Fidea Cycling Team                                46
9 Rob Peeters (Bel) Landbouwkrediet-Colnago                             42
10 Gerben de Knegt (Ned) Rabobank                                       40
11 Sven Vanthourenhout (Bel) Sunweb Projob Cycling Team                 38
12 Bart Aernouts (Bel) Rabobank                                         37
13 Dieter Vanthourenhout (Bel) BKCP - Powerplus                         28
14 Lars Boom (Ned) Rabobank                                             25
15 Richard Groenendaal (Ned) AA Drink - Be One                          25
16 Petr Dlask (Cze) Fidea Cycling Team                                  21
17 Christian Heule (Swi) Rendementhypo Cycling Team                     12
18 Wilant van Gils (Ned) Pro Cycling Team ZZPR.nl-Destil-Merida          9
19 Ben Berden (Bel) Revor Cycling Team                                   8
20 Radomir Simunek (Bel) BKCP - Powerplus                                7
20 Jan Verstraeten (Bel) Sunweb Projob Cycling Team                      7
22 Martin Zlámalík (Cze) Prodoli Racing Team                             6
22 Thijs Van Amerongen (Ned) Van Vliet EBH Elshof                        6
22 Martin Bína (Cze) Cyklo Team Budvar Tábor                             6
25 Jan Soetens (Bel)                                                     5
25 Jonathan Page (USA) Planet Bike                                       5
27 Marco Bianco (Ita) L´Arcobaleno Carraro Team                          3
28 Tom Van den Bosch (Bel) Rendementhypo Cycling Team                    1
28 Eddy van IJzendoorn (Ned) AA Drink - BeOne                            1

U23

1 Philipp Walsleben (Ger) BKCP - Powerplus                              90 pts
2 Kenneth Van Compernolle (Bel) Sunweb Projob Cycling Team              79
3 Tom Meeusen (Bel) Fidea Cycling Team                                  74
4 Mitchell Huenders (Ned) AA Drink - BeOne (Ned)                        71
5 Quentin Bertholet (Bel) Fidea Cycling Team                            55
6 Marek Konwa (Pol)                                                     41
7 Jim Aernouts (Bel) BKCP - Powerplus                                   40
8 Joeri Adams (Bel) Rabobank                                            40
9 Marcel Meisen (Ger) (Dui)                                             39
10 Lukáš Kloucek (Cze) Sunweb - Projob Cycling Team (Cze)               39
11 Ramon Sinkeldam (Ned) Rabobank (Ned)                                 33
12 Vincent Baestaens (Bel)                                              30
12 Jan Denuwelaere (Bel) Adinkerkse                                     30
14 Stef Boden (Bel) AA Drink - BeOne                                    29
15 Jan Van Dael (Bel) Sunweb Projob Cycling Team                        27
16 Arnaud Jouffroy (Fra) Vendée U Pays de la Loire (Fra)                23
17 Dave De Cleyn (Bel) Scott USA Cycling Team                           21
18 Lubomír Petruš (Cze) Empella Czech Team (Cze)                        19
19 Wim Leemans (Bel)                                                    16
21 Twan van den Brand (Bel)                                             15
22 Robert Gavenda (Svk) Fidea Cycling Team (Svk)                        14
23 Rik van IJzendoorn (Ned)                                             12
24 Geert van der Horst (Ned)                                            10
25 Kevin Eeckhout, (Bel)                                                 8
25 Davy De Scheemaeker (Bel)                                             8
25 Pawel Szcepaniak (Pol)                                                8
28 Julian van Dijk (Ned)                                                 7
28 Sascha Weber (Dui)                                                    7
30 Ruben Veestraeten                                                     6
30 Jasper Ockeloen (Ned)                                                 6
32 Kaj Slenter (Ned)                                                     5
33 Bart Barkhuis (Ned)                                                   4
33 Gianni Denolf 4                                                       4
35 Marco Minnaard (Ned)                                                  3
36 Dennis Verhoeven (Bel) AVB-USSspa Cycling Team Kasterlee (Ned)        2
36 Ivar Hartogs (Ned) Revor Cycling Team (Ned)                           2
36 Micki van Empel (Ned) Pro Cycling Team ZZPR.nl-Destil-Merida (Ned)    2
36 Daniel Summerhill (USA) Felt-VMG U23 (USA)                            2
40 Kevin Smit (Ned) JVR Batauwers (Ned)                                  1 

Juniors

Eindstand Superprestige Topsport Vlaanderen Trofee                        
1 Tijmen Eising (Ned)                                                   89 pts
2 Lars van der Haar (Bel)                                               82
3 Wietse Bosmans (Bel)                                                  81
4 Michiel van der Heijden (Bel)                                         66
5 David van der Poel (Bel)                                              64
6 Mike Teunissen (Ned)                                                  57
7 Jelle Lugten (Ned)                                                    44
8 Vinnie Braet (Bel)                                                    36
9 Joeri Adams (Bel) Rabobank                                            34
10 Niels Koyen (Bel)                                                    32
11 Corné van Kessel (Ned)                                               30
12 Gianni Vermeersch (Bel)                                              29
12 Hendrik Sweeck (Bel)                                                 29
14 Angelo De Clercq (Bel)                                               25
15 Matthias Bossuyt (Bel)                                               19
15 Gert-Jan Bosman (Ned)                                                19
17 Daan Meijers (Ned)                                                   18
18 Xandro Meurisse (Bel)                                                17
19 Ruben Scheire (Bel)                                                  15
20 Jan Nesvadba (Cze)                                                   14
20 Jesper Baelen (Bel)                                                  14
22 Ritchie Denolf (Bel)                                                 11
23 Zach McDonald (USA)                                                  10
24 Milan Svoboda (Cze)                                                   8
24 Valentijn Van de Velde (Bel)                                          8
24 Bart De Vocht (Bel)                                                   8
27 Robin Wennekes (Ned)                                                  7
27 Dennis Stultiens (Ned)                                                7
27 Raf Risbourg (Bel)                                                    7
30 Bas Krauwel (Ned)                                                     6
31 Sieën Veestraeten, (Bel)                                              5
31 Kenzie Boutté, (Bel)                                                  5
31 Elmar Reinders (Ned)                                                  5
31 Zeb Veestraeten (Bel)                                                 5
35 Guillaume Van Keirsbulck (Bel)                                        4
35 Frederik Geerts (Bel)                                                 4
35 Gavin Mannion (USA)                                                   4
38 Daniel Vesely (Cze)                                                   3
38 Niels Wytinck (Bel)                                                   3
38 Milan van den Ende (Bel)                                              3
41 Lise Müller (Swi) (Zwi)                                               2
41 Wilco van Beusekom (Ned)                                              2
41 Dylan van Baarle (Ned)                                                2
41 Karl Peeters (Bel)                                                    2
45 Arjan Smit (Ned)                                                      1

Past winners
2008 Niels Albert (Bel) Palmans-Cras
2007 Sven Nys (Ned) Rabobank
2006 Sven Nys (Bel) Rabobank
2005 Sven Nys (Bel) Rabobank
2004 Sven Nys (Bel) Rabobank
2003 Bart Wellens (Bel) Spaar Select
2002 Richard Groenendaal (Ned) Rabobank