Gran Prix of Gloucester - C2
Massachusetts, USA, October 11-12, 2008
Main Page Results Previous Race
Race 4 - October 12: N. American Trophy #4 - Elite Men
Trebon furthers NACT lead
By Kirsten Robbins in Gloucester, Massachusetts
Ryan Trebon (Kona)
Photo ©: Bill McCarrick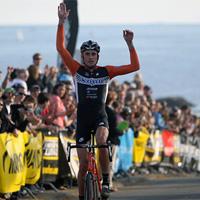 North American Cyclo-cross Trophy leader Ryan Trebon (Kona) took a second convincing win of the Gran Prix of Gloucester weekend, furthering his lead in the North American Cyclocross Trophy series. He finished ahead of the New England hometown favourite, and US national champion, Tim Johnson (Cannondale/Cyclocrossworld.com).
A battle for third between the chase group saw the New England Cyclo-cross Series leader Jamey Driscoll (Cyclocrossworld.com) take the last podium spot. The trio celebrated their success over an enormous glass full of the sponsor's product - Erdinger Weisbier.
"I usually feel better on the second day than I do on the first day," said Trebon, who clearly recovered from his jet lag experienced the previous day. "Johnson and I worked together to try and keep the gap on the others. I was a little more comfortable on the wheel today. Once I saw I had a bit of a gap I tried to hold that until the end."
Round two of the Gran Prix saw a showdown between the two leading North American 'cross riders, similar to the previous day's round one event. Trebon and Johnson counter matched each other's efforts on sections of the course that well suited their abilities. Johnson made up ground through the technical twists and turns but Trebon used his powerful pedal strokes on the straight away to create the slim gap needed for victory.
"I was a little frustrated yesterday to go down like I did, by just getting ridden off his wheel," said Johnson. "I wanted to throw a few attacks in there just to see what would happen. Ryan is riding really well and he got a bit of a gap with a lap and a half to go, I chased it. People used to say that Ryan and I had opposing strengths in technical skills versus power but I don't think that's too true anymore. I think Ryan is a complete rider."
Warm autumn temperatures and dry conditions created clouds of dust as the 60 'cross-men field shot out of the starting gates. Some surprising changes were made to the course overnight, with the addition of a steep 20-metre run up. The revamp required the organisation to drive in three truckloads of dirt for the occasion.
"It was good to have a course change like that," said Johnson who has some decision swaying with the course planning. "Gloucester's known for being super fast and dry and we've never had a good run up before. Plus the fans on the run up were great."
Tim Johnson (Cannondale/Cyclocrossworld.Com)
Photo ©: Bill McCarrick

The race behind Trebon and Johnson evolved into a chase group of four riders to include Driscoll, Dan Timmerman (Team Race Pro), Andy Jacques-Maynes (Specialized) and Matt White (Bikereg.com). Later, Justin Lindine (TargetTraining) clawed his way back to join the chase.
"I had a pretty bad start and was unable to get back up to my teammate," said Driscoll who wanted to be of more help to Johnson in his battle against Trebon p front. "We weren't really working together in my group. There were a few attacks and I was able to get a gap on Dan. We used to be teammates so I know how strong he is in the cross season."
Trebon put the pressure on Johnson with two laps remaining, broke the elastic band on the bell lap over the pavement straight away, and held the lead until the finish. Close behind the leaders, Timmerman proved to be on good form attacking his group with Driscoll in tow. The pair continued to play cat and mouse until the final pavement section where Driscoll gained a small lead to take third.
The UCI cyclo-cross events continue in Pennsylvania at Granogue and Wissahickon next Saturday 18 and Sunday 19. Trebon noted that his season goals include victories in Pennsylvania as well as to continue his NACT lead.
"I want to win the NACT, the USGP, nationals and worlds," half-joked Trebon. "Those goals aren't too lofty."
Photography
For a thumbnail gallery of these images, click here
Images by Bill McCarrick/www.buffalo2step.com
Images by David Chiu/www.kagl.com
Results

1 Ryan Trebon (Kona)                                                   55.57
2 Tim Johnson (Cannondale/Cyclocrossworld.Com)                          0.13
3 Jamey Driscoll (Cyclocrossworld.com/Cannondale)                       1.31
4 Dan Timmerman (TEAM RACE PRO)                                         1.42
5 Justin Lindine (TARGETRAINING)                                        2.02
6 Andy Jacques-Maynes (Specialized/KMC pb Cal Giant)                    2.32
7 Jesse Anthony (Jamis)                                                 2.48
8 Matt White (BikeReg.com/Joe's Garage)                                 3.10
9 Nicholas Keough (Jittery Joe's/ Sonic Cyclocross)                     3.19
10 Adam Myerson (Cycle-Smart/Van Dessel)                                3.40
11 Josh Dillon (Fiordifrutta/Cannondale)                                    
12 Osmond Bakker (EMD Serono Stevens)                                   3.50
13 Matthew O'keefe (CCB/Volkswagen)                                     4.00
14 Davide Frattini (Colavita/sutter home presented by Cooking light)    4.16
15 Kevin Wolfson (FI/IF)                                                4.18
16 Jake Keough (Kelly Benefit Strategies/Medifast)                          
17 Toby Marzot (Fiordifrutta/Cannondale)                                4.22
18 Alec Donahue (BikeReg.com/Joe's Garage)                              4.59
19 Nathaniel Ward (BikeReg.com/Joe's Garage)                            5.34
20 Christian Favata (Favata's Tablerock Tours and Bikes)                5.36
21 Matt Kraus (RGM WATCHES - RICHARD SACHS - BOATHOUSE INC)             5.39
22 Rickey Visinski (Exodus Road Racing)                                     
23 Eneas Freyre (TARGETRAINING)                                         6.09
24 Tyler Johnson (TARGETRAINING)                                        6.17
25 John Burns (Bikeman.com)                                             6.22
26 Jonathan Awerbuch (NorEast)                                          6.27
27 Michael Gallagher (C3-SOLLAY.COM)                                    6.44
28 Warren Macdonald (EMD Serono/Stevens)                                6.47
29 William Dugan (RGM WATCHES - RICHARD SACHS - BOATHOUSE INC)          6.52
30 William Goodfellow (Volkswagen)                                      7.08
31 Adam St. Germain (TARGETRAINING)                                     7.21
32 John Peterson                                                        7.24
33 Peter Rubijono (Embrocation/Cambridge/Igleheart/madAlchemy)          7.25
34 Adam Sullivan (NBX/Narragansett Beer Cyclocross Team)                7.47
35 Joshua Berry (team BODE)                                             7.48
36 Benjamin Coleman (BikeReg.com Cycling)                               8.03
37 Thierny Lalibente (Sportif Bromont)                                  9.31
38 Eric Thompson (Lees-McRae College)                                   9.38
 
1 lap down
 
39 Stephen Weller                                                           
40 Mat Ankney (KCCX/VERGE)                                                  
41 Ryan Weaver (River City Bicycles)                                        
42 Pete Smith (Embrocation Racing/Cambridge p/b Mad Alchemy.com)            
43 Brian Hughes (Fast Splits)                                               
44 Michael Patrick (Bikebarn.com/29ercrew.com)                              
45 Ryan Kelly (NorEast Cycling)                                             
46 Michael Norton (Verge Sport/Test Pilot)                                  
47 Tom Gosselin (Fitness Together/IF powered by Lionette's)                 
 
2 laps down
 
48 Jamie Belchak (North Atlantic Velo/ Pedros/ Classbook.com)               
49 Scott Dolmat-Connell (MetLife p/b unlose.it)                             
 
3 laps down
 
50 Adam Snyder (3-D racing)