Gran Prix of Gloucester - C2
Massachusetts, USA, October 11-12, 2008
Main Page Results Previous Race Next Race
Race 3 - October 12: N. American Trophy #4 - Elite Women
Dombroski takes two in Gloucester
By Kirsten Robbins in Gloucester, Massachusetts
The womens podium
Photo ©: Bill McCarrick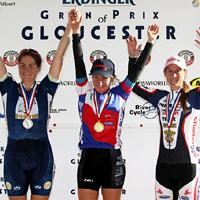 At 21 years of age, Amy Dombroski (Velo Bella-Kona) was just old enough to celebrate her second victory after round two of the Gran Prix of Gloucester over an enormous glass of Erdinger trophy beer. The youngster rode solo from start to finish ahead of second placed Sarah Kerlin (HRS/Rock Lobster) and third placed Rebecca Wellons (Ridley Factory Team).
"I tried a different pair of shoes and they weren't as slippery trying to clip back in," said the race winner who had trouble with her cleats in the previous day's race. "It worked out better today. Plus I had no mechanicals or anything so it was a smooth race."
As Dombroski rode in with a victory salute, the chase group containing the top New England talents battled for the remaining podium places. Kerlin proved to have the strongest sprint in the bunch ahead of Wellons, who came up from behind to surprised Kathy Sherwin (Velo Bella-Kona) and Maureen Bruno-Roy (Seven) at the line. "I really thought together we would be able to bring back Amy Dombroski," said Kerlin, who had two rough years with injury-laden seasons. "I race with Amy during the summer on the road and she has some good fitness right now. But, we tried."
Some thirty riders lined up under dry dusty conditions to start the revamped circuit. The organization drove in three truckloads of dirt, dumped onto a new steep 20-metre run up. Dombroski succeeded in taking the hole shot which later enabled her to be the first rider into to the steep dirt run up with her bike slung over her shoulder. Her gap grew considerably from the first run up and onto the south seaside half of the circuit on the first lap.
"My little legs were a little slower than everyone else on the new run up," said the 5'1" Dombroski. "And that run up got rough after a few laps."
A chase group of six formed behind the solo leader to include Kerlin, Wellons, Bruno-Roy, Sherwin, Josie Jacques-Maynes (Specialized) and Sally Annis (NEBC/Cycle Loft). The six took turns out-manoeuvering one another through the technical sections, reducing the chase from six to four.
Wellons took on the bulk of the work, riding against the wind in an effort to try to reduce the difference to Dombroski. However, the effort became a detriment when the women began their tactical efforts with two laps to go and Wellons fell off pace.
"They all left me out there to chase for a lap and half and I gained about five seconds back on Amy but I was like 'common girls, you gotta help'," said Wellons who felt that camaraderie amongst the chase group might have been enough to bring Dombroski back in time for the finish. " I hit the brakes and pulled off in order for them to come around but the speeds slowed back down and I was cooked after chasing."
Dombroski finished the race with enough of a lead to turn around and watch the chase group sprint. Kerlin convincingly jumped ahead of the bunch to take second with Wellons clawing her way back, just in time to sprint for third.
Photography
For a thumbnail gallery of these images, click here
Images by Bill McCarrick/www.buffalo2step.com
Results

1 Amy Dombroski (Velo Bella - Kona)                                  41.28
2 Sarah Kerlin (Hrs/ Rock Lobster)                                    0.11
3 Rebecca Wellons (Ridley Factory Team)                               0.12
4 Kathy Sherwin (Velo Bella - Kona)                                   0.14
5 Maureen Bruno Roy (Mm Racing P/B Seven Cycles)                      0.16
6 Josie Jacques-Maynes (Specialized/Kmc Pb Cal Giant)                 0.37
7 Sally Annis (Nebc/Cycle Loft/Devonshire Dental)                     0.51
8 Anna Milkowski (Velo Bella-Kona)                                    1.04
9 Amy Wallace (Rgm Watches - Richard Sachs - Boathouse Inc)           1.42
10 Kristin Gavin (Human Zoom/Pabst Blue Ribbon)                       1.52
11 Cris Rothfuss (Nebc/Cycle Loft/Devonshire Dental)                  1.56
12 Karen Potter (Zanconato)                                           1.58
13 Linnea Koons (International Bicycle / Global)                      2.01
14 Sara Bresnick-Zocchi (Pedalpowercoaching.Com/ Landrys Bicycles)    2.17
15 Katherine Northcott                                                2.26
16 Karine Travaillaud (Specialized)                                   2.30
17 Perri Mertens (Embrocation Racing/Cambridge Bicycle)               3.02
18 Heidi Von Teitenberg (C3-Sollay.Com)                               3.35
19 Kate Scheider (Mafia Racing)                                       3.47
20 Nikki Thiemann (Human Zoom Pabst Blue Ribbon)                      3.48
21 Hannah Kirshner (Nbx/Narragansett Beer)                            4.46
22 Kathryne Carr (Joe's Garage)                                       4.49
23 Rebecca Blatt (Team Kenda Tire)                                    5.19
24 Michelle Kersbergen (Joe's Garage)                                 5.37
25 Beth Mason (C3-Sollay.Com)                                         5.49
26 Callie Mcdowell                                                    6.53
27 Brenda Bahnson (Independent Fabrication)                           7.11