Gran Prix of Gloucester - C2
Massachusetts, USA, October 11-12, 2008
Main Page Results Previous Race Next Race
Race 2 - October 11: N. American Trophy #3 - Elite Men
Trebon powers away in Gloucester
By Kirsten Robbins in Gloucester, Massachusetts
The elite men's podium
Photo ©: Bill McCarrick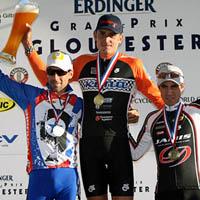 Ryan Trebon (Kona) brought his top-notch fitness to the Gloucester Grand Prix, despite feeling 'jet lagged'. The 6'5" rider used his long limbs to power away from the current national champion and hometown favourite Tim Johnson (Cannondale/Cyclocrossworld.com) on the last lap. New Englander, Jesse Anthony (Jamis) suffered a broken wrist just ten weeks prior and came back with a strong third place finish.
"I didn't have a lot today and I'm surprised I won," said Trebon who acknowledged the lengthy travel on his early season cross schedule. "I was suffering behind those guys and I followed when I could, saved energy where possible but I was definitely cracked on that last lap."
At the top of the smooth pavement section, on the ultimate lap, Trebon jumped repeatedly, attacking his small group of four lead riders. His effort pulled Johnson out of the bunch with him, the only rider who could respond. However, the last stab was enough to put some slim but valuable time between himself and Johnson -- Time that the national champion could not regain before the finish.
"I was able to match Ryan Trebon's attacks and then counter him once but the final time he hit it, on the pavement, I just couldn't hang," said Johnson who knows first hand what it takes to out ride a talented rider like Trebon in recent events such as Rad Racing GP in Washington. "He's just riding really well right now - But he's not unbeatable."
The New England event marks the second set of races for two distinguished cyclo-cross series' held in North American. Trebon's victory moved him into the lead for the North American Cyclo-Cross Trophy Points Series. Jamey Driscoll (Cyclocrossworld.com) continued to lead the New England Cyclo-Cross Series after placing fourth, in lieu of the ample amount of work put forth for his teammate Johnson.
Ryan Trebon (Kona) countered and held on for the win
Photo ©: Bill McCarrick

Sunny skies and dry conditions made for a fast and bumpy circuit, made even faster by Trebon who set a high pace for the first lap. Only seven riders followed the man nicknamed the 'three farm' to include Johnson, Anthony, Driscoll, Andy Jacques-Maynes (Specialized), Matt White (BikeReg.com) and Dan Timmerman (Team Race Pro).
"That was a really fast and a really slow Gloucester, all at the same time," said Johnson who always enjoys competing in front of his hometown fans. "The course was rough and we were going 35mph on the straights or 2mph around the corners."
The front-runners took turns launching hitting Trebon with surprise attacks in an attempt to contain or tire him out before the finish. Driscoll was the only rider to successfully hold a threatening fifteen-second advantage for several laps.
"This is the first time that I've been any bit useful to Tim and it was really great to be able to allow him to sit on for a bit," said Driscoll, a newly signed member of the Cyclocrossworld.com team supporting Johnson. "I was hearing from around the course that Trebon was 'going' and I know that means my lead was going to end quick."
Driscoll's separation took the pressure off his teammate Johnson and eventually forced Trebon to close the gap down within the final laps. His chase successfully reeled in the escapee while reducing the lead bunch from seven to four to include Trebon, Johnson, Anthony and Driscoll.
"I had a screw put in my wrist and the doctors told me it would take four to six months to heal but I asked to race here after only ten weeks," said Anthony who held on strong to the lead bunch despite a painful injury. "It hurt standing up and this course was very bumpy today, there were a few times that I wasn't comfortable."
The national champion along with Driscoll and Anthony continued the throw ammo at Trebon in a bid to win the prized event. However, on the last lap the eventual winner kicked his pace up one more notch and, for a short time, only Johnson could respond..
"Jamey [Driscoll] and Jesse [Anthony] are pretty young and they don't have the same resistance that some one like Johnson has," said Trebon. "They are still really fast but I knew they were going to crack before the end of the race. I marked Johnson more than anything and hoped that it worked out."
Photography
For a thumbnail gallery of these images, click here
Images by Bill McCarrick/www.buffalo2step.com
Images by Paul Weiss/www.paulweiss.bz
Results

1 Ryan Trebon (Kona)                                            1.04.03
2 Tim Johnson (Cannondale/Cyclocrossworld.Com)                     0.23
3 Jesse Anthony (Jamis)                                            0.42
4 Jamey Driscoll (Cyclocrossworld.com/Cannondale)                  0.57
5 Dan Timmerman (TEAM RACE PRO)                                    1.59
6 Andy Jacques-Maynes (Specialized/KMC pb Cal Giant)               2.00
7 Matt White (BikeReg.com / Joe's Garage)                          2.24
8 Justin Spinelli (Richard Sachs - RGM Watches - Boathouse Inc)    2.44
9 Adam Myerson (Cycle-Smart/Van Dessel)                            2.49
10 Osmond Bakker (EMD Serono Stevens)                                  
11 Justin Lindine (TARGETRAINING/ FASTAR)                          2.53
12 Toby Marzot (FIORDIFRUTTA)                                      4.11
13 Michael Gallagher (C3-SOLLAY.COM)                               4.14
14 Matthew O'keefe (CCB/Volkswagen)                                4.22
15 William Dugan (RGM WATCHES - RICHARD SACHS - BOATHOUSE INC)     4.30
16 Kevin Wolfson (Fitness Together/IF powered by Lionettes)        4.40
17 Rickey Visinski (Exodus Road Racing)                            5.29
18 Eneas Freyre (TARGETRAINING)                                    5.42
19 Mat Ankney (KCCX/VERGE)                                         6.02
20 Christian Favata (Favata's Tablerock Tours and Bikes)           6.12
21 Warren Macdonald (EMD Serono/Stevens)                           6.27
22 John Burns (Bikeman.com)                                        6.30
23 Matt Kraus (RGM WATCHES - RICHARD SACHS - BOATHOUSE INC)        6.37
24 Josh Dillon (Fiordifrutta / Cannondale)                         7.06
25 Nicholas Keough (Jittery Joe's/ Sonic Cyclocross)               7.30
 
1 lap down
 
26 Eric Thompson (Lees-McRae College)                                  
27 Adam St Germain (TARGETRAINING)                                     
28 Todd Wheelden (Portland Velo Club/KONA/661)                         
29 Pete Smith (Embrocation Racing/Cambridge p/b Mad Alchemy.com)       
30 Jamie Belchak (North Atlantic Velo/ Pedros/ Classbook.com)          
31 Scott Dolmat-Connell (MetLife p/b unlose.it)                        
32 Thierry Lalibente (Sportit Brounont)                                
33 Brad Sheehan (MetLife)                                              
34 William Goodfellow (Volkswagen)                                     
35 Michael Norton (Verge Sport/Test Pilot)                             
36 Joshua Berry (team BODE)                                            
37 Peter Rubijono (Embrocation/Cambridge/Igleheart/madAlchemy)         
38 Michael Rea (NorEast)                                               
39 Brian Hughes                                                        
40 Ryan Weaver (River City Bicycles)                                   
41 Ryan Kelly (NorEast Cycling)                                        
42 Tom Gosselin (Fitness Together/IF powered by Lionette's)            
43 Jonathan Awerbuch (NorEast)