Gran Prix of Gloucester - C2
Massachusetts, USA, October 11-12, 2008
Race 1 - October 11: N. American Trophy #3 - Elite Women
Dombroski celebrates success in Gloucester
By Kirsten Robbins in Gloucester, Massachusetts
The womens podium
Photo ©: Bill McCarrick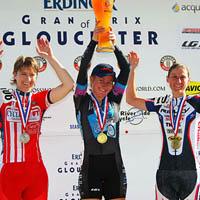 Amy Dombroski (Velo Bella-Kona) triumphed after her first season victory at the in UCI elite women's Gloucester Grand Prix. The Boulder native made her winning move when she jumped ahead of a leading group of three on the last lap and soloed in ahead of Sally Annis (NEBC/Cycle Loft) and Rebecca Wellons (Ridley Factory).
"I was able to take a big rest after the road season this year," said Dombroski, who raced a full road season with the Webcor women's professional team. "Cyclo-cross is my main focus this year; I'm feeling really good about my fitness right now, plus I love cross."
Shortly after Dombroski celebrated the first win of the season, Wellons looked like she had second place locked up. However, the podium regular was forced to settle for third when Annis sprinted around her at the line.
Wellons admitted that not knowing how many laps remained combined with her focus on Dombroski, who was just several seconds ahead, resulted in a confusing finish. "I'm embarrassed to say this, but I thought there was still one lap to go," said Wellons. "I honestly didn't hear the bell for the last lap and I was focused on closing the gap to Amy."
Dry conditions combined with sensational warm temperatures, atypical for cyclo-cross weather, made for a fast and aggressive women's race. Some 30 women lined up before the gun went off and Dombroski used her quick road sprint to take the hole shot, the first rider onto the single track. "I was psyched about the start and I wanted to be the first onto the grass, to have a good start," said Dombroski who later suffered a crash that set her back several places.
Annis prevailed as the most consistent rider in the front group, maintaining an early lead with Sarah Kerlin (HRS/Rock Lobster). The pair spent most of the race ahead of a chasing group of four riders to include Dombroski, Wellons, Maureen Bruno Roy (Seven) and Josie Jacques-Maynes (Specialized).
"All the girls were riding really strong and the competition was great today," said Dombroski, who continued to use an aggressive style to reduce the front group to three. "Sally took a pass over the barriers and went down taking a lot of us out. But I picked off some girls and made it back up to the front."
After a successful and consistent first half, Kerlin eventually fell off pace and the leading group diminished to Dombroski, Wellons and Annis. Dombroski made her winning move on the pavement through the start-finish, a section of road that catered to her strong sprinting skills. With one lap to go, her lead grew to 10 second ahead of Wellons.
Wellons reduced some of the damage before the finish line but was unable to close the remaining five seconds before the end. Dombroski finished in a victory salute. Shortly after, Annis clawed her way back to Wellons on the finishing pavement, passing her in a sprint for second place.
Photography
For a thumbnail gallery of these images, click here
Images by Bill McCarrick/www.buffalo2step.com
Images by Paul Weiss/www.paulweiss.bz
Results

1 Amy Dombroski (Velo Bella - Kona)                                  37.49.00
2 Sally Annis (Nebc/Cycle Loft/Devonshire Dental)                        8.00
3 Rebecca Wellons (Ridley Factory Team)                                      
4 Josie Jacques-Maynes (Specialized/Kmc Pb Cal Giant)                   23.00
5 Sarah Kerlin (Hrs/ Rock Lobster)                                      44.00
6 Kathy Sherwin (Velo Bella - Kona)                                     49.00
7 Maureen Bruno Roy (Mm Racing P/B Seven Cycles)                        53.00
8 Amy Wallace (Rgm Watches - Richard Sachs - Boathouse Inc)           1.24.00
9 Linnea Koons (International Bicycle/Global)                         1.31.00
10 Arley Kemmerer (Hub Racing)                                        1.33.00
11 Cris Rothfuss (Nebc/Cycle Loft/Devonshire Dental)                  2.01.00
12 Anna Milkowski (Velo Bella-Kona)                                   2.13.00
13 Karine Travaillaud (Specialized Canada)                            2.20.00
14 Heidi Von Teitenberg (C3-Sollay.Com)                               2.28.00
15 Perri Mertens (Embrocation Racing/Cambridge Bicycle)               2.30.00
16 Marianne Stover (Independent Fabrication/Cyclemania)               2.49.00
17 Katherine Northcott                                                2.59.00
18 Kristin Gavin (Human Zoom/Pabst Blue Ribbon)                       3.17.00
19 Sara Bresnick-Zocchi (Pedalpowercoaching.Com/ Landrys Bicycles)    3.31.00
20 Kate Scheider (Mafia Racing)                                       3.37.00
21 Michelle Kersbergen (Joe's Garage)                                 4.17.00
22 Beth Mason (C3-Sollay.Com)                                         4.36.00
23 Callie Mcdowell                                                    4.42.00
24 Alex Jospe                                                         5.29.00
25 Rebecca Blatt (Team Kenda Tire)                                    5.40.00
26 Brenda Bahnson (Independent Fabrication)                           5.47.00
27 Debony Diehl (Sunapee/S & W Racing Team)                           7.51.00
 
1 lap down
 
28 Jessica Miller                                                            
29 Samantha Dery NEBC/Cycle Loft/Devonshire Dental