North American Trophy # 5 - Boulder - C2
Boulder, Colorado, USA, November 1, 2008
Main Page Results Overall standings Previous Race
Race 3 - November 1: Elite Men/Under 23
Wells gets first win in balmy Boulder
By Mark Zalewski, North American Editor in Boulder, Colorado
Trebon retains series lead with second
Todd Wells (GT) won
Photo ©: Dave McElwaine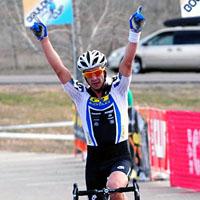 Unseasonably warm weather in Boulder made for dry and dusty 'cross racing, with some riders wishing they had packed short sleeves for temperatures in the upper 70s (24C). But what the racing lacked in true 'cross weather it made up for in altitude and a sand section similar to the storming of Normandy. It was here that the race was won and lost, with Todd Wells (Team GT) the strongest through the 'beach,' giving him the winning gap over Ryan Trebon (Kona) and Tim Johnson (Cyclocrossworld-Cannondale) for his first win of the season.
"Yeah, it is nice to finally get the first victory this season," Wells told Cyclingnews. "Almost everyone is here - though some guys are a little under the weather, but I can only control myself, so I am happy with it!" Wells was referring mostly to Trebon, who is fighting the same head cold that affected Jeremy Powers last week in Louisville.
"Head, nose, chest... everything," said Trebon when asked about his ailments. "Up here at altitude everything was just sore. My body with four laps to go was so tight." But despite his troubles, Trebon was still in the mix with Wells and Johnson the whole race up until the final sand section.
"Really it was all in the sand pit," said Wells about his race strategy. "If you made it through there good you had a gap, if you didn't you had to chase. So I saved enough energy to ride through the sand fast. Even if you hit that sand pit first with somebody if you don't match up you come out with enough of an advantage."
However, Wells was clearly the strongest on the final laps, doing a lot of the pace setting. And he put in an attack heading towards the backside of the course that set him up with a gap for the beach.
"[Wells] attacked out of the pavement and into the pits," said Johnson about the final lap. "He had a little gap and Ryan let it grow. I couldn't close it, then Ryan hit me on the straightaway and that was it. I was coming back on Ryan in the sand section, but I ended up crashing in the last sand section - I was really trying."
Out of the sand Wells had a small but significant lead on Trebon, with only two barriers and 750 metres of pavement to the line. Behind him Trebon gave chase until the barriers but then seeing the writing on the wall sat-up and took stock of where his series rival Johnson was.
Ryan Trebon (Kona) holding his line
Photo ©: Jon Devich

"He had the separation out of the beach section, and I kinda sat-up and watched Tim, because I was thinking about the series," said Trebon. "There is a pretty big point difference after first and second, and I wanted to make sure I was in front of him to buffer my lead. Who knows what will happen tomorrow or in Southampton, but I would like to win the series. But this weekend I have to be more defensive than I would like to be, but as s*** as I feel I am happy with second place!
Though not able to close the distance to Trebon on the series, Johnson was content with a third place at altitude. "I think racing at altitude brings everyone's top level power down," he said. "We are all chasing each other and trying as hard as we can to close a two-second gap, but you can't because you don't have anything to dig with. But that was probably one of my better altitude races. Usually my first race I'm in a friggin' body bag; I can barely get out of my own way!"
Johnson's teammate Jeremy Powers was the early leader, going out hard but fading halfway through. "I tend to do that when I come to this course - did it last year and blew up pretty good!" Powers laughed. "Then I was out there saying to myself, 'Aw crap, why did I do this to myself again!' But Tim and I did play the game a little in the beginning. We have to capitalize on the face that we are teammates."
One of the nice surprises of the race was Boulder's own Jonathan Baker (Vitamin Cottage) making it into the early selection. "I've been with those guys before - I have the speed to stay there, but not the endurance. I made a bobble in the sand pit and was gapped. I dangled for the next lap but then flatted. But tomorrow is two blocks from my house so I am excited!"
The racing continues Sunday at a course close to downtown in Harlow Platts Park. And with more sublime weather planned the crowds should be big.
Photography
For a thumbnail gallery of these images, click here
Images by Jonathan Devich/

Images by Dave McElwaine/www.trailwatch.net
Results

1 Todd Wells (USA) Team GT                                       
2 Ryan Trebon (USA) Kona                                         
3 Timothy Johnson (USA) Cannondale/Cyclocrossworld.com           
4 Jeremy Powers (USA) Cannondale/Cyclocrossworld.com             
5 Barry Wicks (USA) kona                                         
6 Jonathan Baker (USA) Vitamin Cottage p/b XP Compani            
7 Chris Sheppard (USA) Santa Cruz/Giro/Easton/Chris K            
8 Brady Kappius (USA) Clif Bar                                   
9 Troy Wells (USA) TEAM CLIF BAR                                 
10 Joey Thompson (USA) Chocolate Factory                         
11 Erik Tonkin (USA) Kona                                        
12 Matt Pacocha (USA) VeloNews                                   
13 Russell Stevenson (USA) Benaroya Research Institute Cy        
14 Tim Heemskerk (USA) United Cycle Racing                       
15 Travis Brown (USA) Trek                                       
16 Brent Prenzlow (USA) CELO PACIFIC / ALAN                      
17 Kevin Bradford-Parish (USA) Redlinebikes.com                  
18 Alex Howes (USA) CLIF BAR Development Cyclo-Cro               
19 Jon Tarkington (USA) Vitamin Cottage p/b XP Compani           
20 Jake Wells (USA) MafiaRacing.com                              
21 Paul Brooks (USA) Newton Running/Sierra Nevada B              
22 Greg Lewis (USA) Directory Plus/ Trek                         
23 Shawn Harshman (USA) Harshman Wealth / Primus Mootr           
24 Allen Krughoff (USA) Team Rio Grande                          
25 Justin Robinson (USA) California Giant Berry Farms/S          
26 Kurt Refsnider (USA) FORT Factory Team                        
27 Spencer Powlison (USA) Mafia Racing                           
28 Chance Noble (USA) California Giant Berry Farms/S             
29 Nat Ross (USA) Subaru-Gary Fisher                             
30 Andrew Llewellyn (USA) Calistoga Racing Team                  
31 Michael Hosey (USA) soulcraft                                 
32 Aaron Bouplon (USA) Rocky Mounts / Izze                       
33 Robert Squire (USA) Devo                                      
34 Corey Piscopo (USA) Moots                                     
35 Greg Krause (USA) Primal Wear                                 
36 Brendan Shafer (USA)                                          
37 Michael Cody (USA) BikeReg.com / Spooky                       
38 Mitch Hoke (USA) CLIF BAR Development Cyclo-Cro               
39 Logan Garey (USA) Team Rio Grande                             
40 Brett Morgan (USA) Mafia Racing                               
41 John Phillips (USA) Colorado Multisport                       
42 Jesse Giordano (USA) Nob Hill Velo                            
43 Darryn Biggerstaff (USA) unattached                           
44 Dustin Wanstrath (USA) Tamarack                               
45 Blake Harlan (USA)                                            
46 Chad Cheeney (USA) Durango Devo                               
47 Kevin Mullervy (USA) CLIF BAR Development Cyclo-Cro           
48 Eric Moore (USA) ARADD                                        
49 Conor Mullervy (USA) CLIF BAR Development Cyclo-Cro           
50 Austin Forbes (USA) BODE                                      
51 Darian Founds (USA)                                           
52 Chris Peterson (USA) Monaviecannondale.com                    
53 Ratcliff Alister (USA) Fior Frutta                            
54 Robert Schmidt (USA) CCNS-Pedal Power                         
DNS Jamey Driscoll (USA) cyclocrossworld.com                     
DNS Ryan Barthel (USA) Rocky Mountain Chocolate Facto            
DNS Will Campbell (USA) Vitamin Cottage Cycling Team             
DNS Jason Hilimire (USA) Gary Fisher 29er Crew                   
DNS Daniel Matheny (USA) Mafia Racing                            
DNS Mike West (USA) maverick                                     
DNF Jesse Anthony (USA) Jamis Bicycles                           
DNF Matt Shriver (USA) Jittery Joe's Pro Cycling Team            
DNF Christopher Pietrzak (USA) Porcupine/Specialized             
DNF Ben Raby (USA) KCCX-VERGE                                    
DNF Joshua Berry (USA) team BODE                                 
DNF Colin Cares (USA) CLIF BAR Development Cyclo-Cro             
DNF Jeff Courter (USA) Horizon Organic Cycling Team              
DNF Jesse Dekrey (USA) unattached                                
DNF Joshua Johnson (USA) Big Shark Racing                        
DNF  (USA)                                                       
DNF Chris Parrish (USA) Hagens Berman LLP                        
DNF Bryan Alders (USA) Monaviecannondale.com                     
DNF Mitchell Peterson (USA) Monaviecannondale.com                

Series standings:

1 Ryan Trebon (Kona)