Beacon Cycling & Fitness Cyclo-cross - C2
Bridgeton, New Jersey, USA, November 10, 2007
2006 Results Results Past winners Men's results
Gould takes east coast win
By Kirsten Robbins in Bridgeton, New Jersey
Georgia Gould (Luna Women's MTB Team) led from the start
Photo ©: Fj Hughes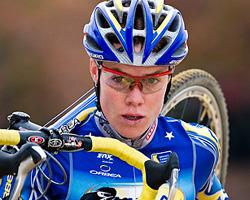 If the amphitheatre of pain wasn't enough to shred the elite women's field, Georgia Gould was. The US MTB national cross-country champion continued her dominance over the cyclo-cross field in Bridgton, New Jersey in a solo finish ahead of Maureen Bruno-Roy (Independent Fabrication) and Rebecca Wellons (Ridley Factory Team).
"This is my first cross race over on the east coast," said the Baltimore native. "It was a really fun course with a little bit of everything; some fast straight away, climbing, sand and running - good for all round practice. Plus, my Mom still lives in Baltimore so it was perfect to come back for this race, the next USGP and then stay for Thanksgiving too, a good excuse to come back for two weeks."
Gould flew over the circuit with ease while her nearest competitor, Bruno-Roy, proved her expertise at running and gained sizeable lead over the rest of the field. "Getting my legs to come around was hard but doing all that flat racing really helped me today," said Bruno-Roy in regards to her newly found fitness after a bout of early season illness. "There were a lot of flat sections at the back of the course that I was feeling better on. The more I can get off the bike, the better it is for me. With all the running and sand pits, I had an advantage today. I do well when I can get off the bike and run and then jump on the bike with short bursts of power."
Bruno-Roy took off over the steep stairs up the amphitheatre leaving a grueling battle between Wellons and the two Velo Bella's, Anna Milkowski and Melanie Swartz. Wellons, who eventually took third place in two up sprint against Milkowski, was pleased with her efforts after what she considered to be the most difficult of circuits. "Thank God there was an uphill road today," said Wellons in regards to the finishing straight. "Melanie and Anna had awesome rides today. Melanie gapped me through a lot of the corners in the beginning. The hard part wasn't running through the sandy sections but the bounding up the amphitheatre. To jump up stairs that tall is really difficult. That is where Maureen first pulled away from me."
Maureen Bruno Roy (IF/Wheelworks)
Photo ©: Fj Hughes

Wellons may have successful created a gap between herself and Swartz but when Milkowski decided to step on the gas over the last lap, it was clear the third place was far from sewn up. "Anna caught me on the last lap," said Wellons. "I had no idea she was coming but she flew passed me like a freight train and I never even heard her. I caught her a little bit up the amphitheatre and stayed on her wheel until the road to the finish. The sprint was really close, like less than a wheel. We pretty much threw our bikes at the end and I just got her."
While Gould has had a successful season of podiums in the world of cyclo-cross she admitted that she is uncertain in what's to come of it. "I haven't decided what my season goals are for cross," said Gould. "I'd like to do well at nationals and have strong finishes in the USGP series. And depending on how I feel at nationals, I'll make a decision about competing at the world championships."
Gould added. "I've been really happy with how I've been racing cross and I haven't ever felt burnt out. But, cyclo-cross worlds are at the end of January and mountain biking starts in March so it doesn't leave much time to rest. Because 2008 is an Olympic year, mountain biking will be really important."
Photography
For a thumbnail gallery of these images, click here
Images by Fj Hughes/www.fhughesphoto.com
Results

Elite women
 
1 Georgia Gould (Luna Women's Mtb Team)                                                   39.51
2 Maureen Bruno Roy (If/Wheelworks/Sram Presented By General Catalyst)                     2.05
3 Rebecca Wellons (Ridley Factory Team)                                                    2.21
4 Anna Milkowski (Velo Bella-Kona)                                                             
5 Melanie Swartz (Velo Bella - Kona)                                                       2.40
6 Carolyn Popovic (Team Cicle)                                                             3.15
7 Jennifer Maxwell (Team Kenda Tire)                                                       3.32
8 Betsy Shogren (Fort Factory Team)                                                        4.00
9 Marci Titus Hall (Desalvo Custom Cycles)                                                 4.08
10 Amy Wallace (Rgm Watches - Richard Sachs)                                               4.20
11 Kristen Kelsey (Evolution Racing)                                                       4.32
12 Alexandra Kenzer (Richard Sachs)                                                        5.26
13 Amy Breyla (Fort Factory Team)                                                          6.24
14 Kristine Church (Human Zoom/ Pabst Blue Ribbon)                                         6.32
15 Mandy Lozano (Vanderkitten Women's Professional Cycling Team)                           6.42
16 Cheryl Sornson (Trek Vw East Coast)                                                     6.52
17 Heidi Von Teitenberg (C3-Sollay.Com)                                                    6.57
18 Lisa Vible (C3-Sollay.Com)                                                              7.10
19 Brenda Bahnson (Independent Fabrication)                                                7.24
20 Arley Kemmerer (Hub Racing)                                                             7.41
21 Beth Mason (C3-Sollay.Com)                                                              8.26
22 Tammy Ebersole (Evolution Racing)                                                       8.52
23 Diane Grim (C3-Sollay.Com)                                                              9.10
1 lap down
24 Nina Santiago (High Gear)                                                                   
 
B Women, 45+ & U19
 
1 Nikki Thiemann (Human Zoom Pabst Blue Ribbon)                                           40.07
2 Elizabeth Harlow (Hunt Valley Bicycles/Marathon Roofing)                                 0.06
3 Jill Waggett (Guy's Racing)                                                              0.59
4 Brett Dollar (Middlebury College)                                                        2.15
5 Kristin Gavin                                                                            3.05
6 Kathrin Schumacher (Crcofa / Bm&G - Pete's)                                              3.28
7 Kim Dubeck (Beans Bikes)                                                                 3.55
8 Karen Tourian (Guy's Racing)                                                             5.11
9 Jennifer Pitt (Hunt Valley Bicycles/Marathon Roofing)                                    5.44
1 lap down
10 Anne Rock (Sturdy Girl Cycling)                                                             
11 Diane Vettori (C3-Sollay.Com !)                                                             


Past winners