Beacon Cycling & Fitness Cyclo-cross - C2
Bridgeton, New Jersey, USA, November 10, 2007
2006 Results Results Past winners Women's results
Frattini's 'bellissima vittoria'
By Kirsten Robbins in Bridgeton, New Jersey
Davide Frattini (Colavita Sutter Home) took the lead from the start
Photo ©: Fj Hughes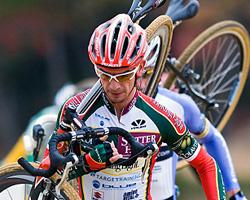 One run up the infamous amphitheatre of pain was enough to tame wild thoughts about the Beacon Cyclo-cross being an easy effort. The Elite men started with the usual high speeds but Italian Davide Frattini (Colavita/Sutter Home) orbited around the final lap into a solo triumph ahead of Justin Spinelli (Richard Sachs/RGM Watches) and his teammate Matt Krauss (Richard Sachs/RGM Watches).
"It was a bellissima vittoria," said race winner Davide Frattini. "I feel very happy to have won this UCI race because it's a New Jersey event, where one of my team sponsors, Colavita is based. It's a great way to say thank you to John A. Profaci Jr. for all of his support and visions in building an amazing team for the 2008 season."
Frattini has been a member of the Italian national cyclo-cross team and added that his win was even more of a surprise given that cyclo-cross has taken the back seat to his road-racing career this year. "I'm not doing my national championships and I'm not doing the world championships this year," said Frattini. "Cross hasn't been my focus but a part of my road training for next season and because I want to be fit for our team training camp in Argentina in January."
The race headed off with the two marquee riders Frattini and Adam Myerson (Nerac) splitting off the front of the group. After several laps, their lengthy gap was reduced to nothing when chasing riders Spinelli, Krauss, Johnny Sundt (Kelly Benefit), Adam McGrath (Maxxis), Jon Hamblen (Richard Sachs/RGM Watches) and Greg Wittwer (Ford) swelled the front group to eight.
Matt Krause (Richard Sach's)
Photo ©: Fj Hughes

According to second placed on the day, Justin Spinelli, he and his teammate Matt Krauss found themselves in an opportunity to throw team tactics into the mix in an effort to tire out the group's sprint-danger, Adam Myerson. Each rider took a turn on the front until the tempo became unbearable for five riders and only three remained - Frattini, Myerson and Spinelli.
"Adam has already beaten me twice in a sprint this year so, I tried to drop him several times but he always caught up to me," said Frattini with regards to his efforts to clear Myerson before the finish. "Justin was pushing a good tempo through the sand and when we looked back Adam wasn't there. We worked together to make sure that we had enough of a gap between him and us that he wouldn't able to bridge across."
With one and half laps to go, Myerson had a flat out of the sand pit but passed the pit lane before he realized what happened. He commented on the situation that ended a solid chance at a UCI victory as an unfortunate turn of events. "I had to ride half a lap on a flat before I could get to the pit," said Myerson. "Davide really deserved to win today, but both he and Justin thought I could have done it today if we all came to the line together. I've been doing this for a long time, I'm really fit and I've never won a UCI race before so chances like today don't come along often."
Adam Myerson (Nerac Pro Cycling)
Photo ©: Fj Hughes

Spinelli admitted that not worrying about the sprint left him better able to focus on how to take a shot at the win, but he too faltered at an untimely moment. "When Davide and I noticed that Myerson had gotten gapped off we hit the gas really hard because no one wants to go to the line with a guy like Adam Myerson," said Spinelli. "Davide is such a good rider that I knew I'd have to be flawless going to the line with him and hope that he would make a mistake. Instead I made a mistake on the descent into the sand pit, took too wide of a line and got messed up in the rocks. As smooth as he is, Davide got a gap and kept it the same the whole time. It was a really good race and I'm really happy with the way it wet, other than a couple of mistakes."
Frattini took a run at Spinelli on the descent toward the sand pit in hopes of taking the lead. While he gained several meters before the sand pit he gained several more coming out when Spinelli faltered just behind. "I never want a race to come down to a sprint," said Frattini. "I had a few bike lengths coming out of the sand pit so I kept going to the top of the hill and was able to keep the same gap to the end."
Photography
For a thumbnail gallery of these images, click here
Images by Fj Hughes/www.fhughesphoto.com
Results
Elite men
 
1 Davide Frattini (Team Colavita/Sutter Home Presented By Cooking Light)                  57.55
2 Justin Spinelli (Rgm Watches - Richard Sachs)                                            0.08
3 Matt Kraus (Rgm Watches - Richard Sachs)                                                 0.34
4 Adam Myerson (Nerac Pro Cycling)                                                         1.00
5 Jonny Sundt (Kelly Benefit Strategies/Medifast)                                          1.12
6 Jon Hamblen (Rgm Watches - Richard Sachs)                                                1.18
7 Greg Wittwer (Fort Factory Team)                                                         1.29
8 Adam Mcgrath (Maxxis/Litespeed)                                                          1.33
9 Weston P. Shempf                                                                         1.58
10 Charles Pendry (Inland Construction - Btd)                                              2.18
11 Ryan Leach (Gpoa-Cannondale)                                                            2.26
12 Travis Livermon (Cycling Spoken Here)                                                   2.31
13 Michael Yozell (Fort Factory Cyclocross Team)                                           3.13
14 Bobby Lea (Toyota-United)                                                               3.22
15 Peter Rubijono (Cambridge)                                                              3.28
16 Stephen Cummings (Indiana Regional Medical Center / Ekr Racing)                         3.58
17 Daniel Neyens (Hagens-Berman Cycling Team)                                              4.12
18 Nathan Wyatt (Carolina Fatz/Sram/Santa Cruz)                                            4.39
19 J Gabriel Lloyd (Crca - Remax)                                                          5.36
20 Franklin Mcconnell (Middlebury College)                                                 5.38
21 Aaron Oakes (Van Dessel)                                                                5.54
22 Ryan Dewald (Rite Aid Pro Cycling)                                                      6.02
23 Matthew Ferrari (Mt Nittany Wheelworks)                                                 6.41
24 Joseph Reynolds (Wissahickon)                                                           7.21
25 Russ Langley (Battley Harley-Davidson/Hudson Trail)                                     7.29
26 Gregory Lindstrom (Hunt Valley Bicycles/Marathon Roofing)                               7.31
1 lap down
27 John Burns (Bikeman.Com)                                                                    
28 Chris Mcgill (Fort Factory Team)                                                            

Elite Masters 35+/45+
 
1 Roger Aspholm (Westwood Velo)                                                           45.43
2 Todd Cassan (Westwood Velo)                                                              0.42
3 Greg Ferguson (Fort Factory Team)                                                        0.45
4 Dave Weaver                                                                              0.59
5 Blair Saunders (Henry's)                                                                 1.00
6 Mike Hebe (Gpoa-Cannondale)                                                              1.02
7 Kristopher Auer (C3-Sollay.Com)                                                          1.18
8 Gerry Pflug (Freddie Fu Cycling Team)                                                    1.21
9 Kevin Molloy (Crca / Empire Cycling Team)                                                1.25
10 Andy Gorski (Netapp - Viner P/B Kinetic-Koffee.Com)                                     1.27
11 Kirk Reisinger (Wissahickon)                                                            1.51
12 Matthew Howard (Gs Gotham/Toga)                                                         2.04
13 Brian Wieczorek (Freddie Fu Cycling Team)                                               2.06
14 Roger Foco (Skylands Cycling)                                                           2.11
15 Sean Kelsey (Evolution Racing)                                                          2.15
16 Mark Kutney (Van Dessel Cycles)                                                         2.34
17 Ransom Weaver (Guys Racing)                                                             2.56
18 Jeff Cordisco (C3-Sollay.Com)                                                           3.00
19 Gunnar Shogren (Fort Factory Team)                                                      3.03
20 Christopher Long (Independent Fabrication/Gotham)                                       3.08
21 Bernie Shiao (Kelly Benefit Strategies/Lsv Amateur Cycling)                             3.13
22 Joseph Piccillo (Evolution Racing)                                                      3.51
23 Chris Facas (Westwood Velo/Trade Manage Capitol)                                        4.02
24 Michael Kolb (Chrsitiana Care Pt+/Fsvs)                                                 4.17
25 Martin Jones (Team Somerset / Van Dessel / Bike King)                                   4.20
26 Charles Chichester (Crc Of A)                                                           4.24
27 John Miller (Guys Racing Club)                                                          4.31
28 Vin Mancuso (Skylands Cycling/Act)                                                      4.42
29 Kevin Kielty (Skylands Cycling)                                                         4.51
30 Judd Milne (Squadra Coppi/Im Saab)                                                      4.57
31 Charles Erndl (Human Zoom Cycling)                                                      4.59
32 Charles Mcdaniel (Secret Henry's Team)                                                  5.11
33 James Perren (Breakaway Racing/Qcw)                                                     5.30
34 Douglass Gray (Christiana Care Pt+/Fsvs)                                                5.32
35 Basil Moutsopoulos (Crualsaconnet)                                                      5.56
36 David Lowe (Human Zoom/Pabst Blue Ribbon)                                               6.02
37 Shawn Downing (Chesapeake Wheelmen/King Pawn)                                           6.14
38 Joe Gadomski (Guy's Racing)                                                             6.18
39 Glenn Turner (Human Zoom / Pabst Blue Ribbon)                                           6.37
40 Kelly Cline (Wissahickon)                                                               6.48
41 Mark Dontigny (Central Penn Racing/The Bicycle Shop)                                    6.52
42 Eben Weiss (Gs Gotham)                                                                  7.02
43 Kevin Breckenmaker (Yellow Breeches Racing)                                             7.33
44 Werner Freymann (Easy Riders Cycling)                                                       
45 Russell Kelly (Crca/Sakonnet Technology)                                                8.24
46 Tom Bowmaster (Liberty Cycle)                                                           8.35
47 Karl Kensinger (Ncvc/Inova Health System)                                               9.41
1 lap down
48 Larry Kaufman (Van Dessel Factory Team)                                                     
49 Jay Downs (Fort Factory Team)                                                               
50 Jim Feehan (Kissena)                                                                        
 
B-Master Men/55+
 
1 Fred Wittwer (Van Dessel Factory Team)                                                  41.56
2 Raymond Zeimet (Cycle Sports/Zaveta Construction)                                        0.05
3 Trevor Williams (Guy's Bicycle Racing)                                                   0.10
4 Mike Lynch (Cape Atlantic Racing/Team Beacon)                                            0.16
5 James Perren (Breakaway Racing/Qcw)                                                      1.40
6 Richard Bilson (Fort Factory Team)                                                       1.41
7 Bernard Mcdonald (C3/Sollay.Com)                                                         1.43
8 Douglas Dicks (Bennetts Bikes)                                                           2.07
9 Bruce Freehoff (Cape Atlantic Racing/Team Beacon)                                        2.09
10 Henry Tremper (First State Velo Sport)                                                  2.21
11 Paul Wahner (Well Adjusted Racing/Wahner Chiropractic)                                  3.01
12 Barry Wahner (Well Adjusted Racing/Wahner Chiropractic)                                 3.05
13 Mike Czupryna (Christiana Care Pt+/Fsvs)                                                3.16
14 Karl Connolly (Kelly Benefit Strategies/Lsv Amateur Cycling)                            3.33
15 David Troop (First State Velo Sport)                                                    3.46
16 Mike Connair (First State Velo/Christiana Care Plus)                                    3.49
17 Brian Clarkey (Guy's Bicycle Racing)                                                    3.52
18 Dennis Smith (Secret Henry's Team)                                                      4.31
19 Rolf Windh (Guy's Racing)                                                               4.45
20 Tim Bowman (Trophy Bikes)                                                               5.04
21 Brian Burgess (Cape Atlantic Racing/Team Beacon)                                        5.14
22 Norman Brach (C3-Sollay.Com)                                                            5.15
23 Lawrence Dudek (Team Somerset)                                                          5.29
24 Dusan Strika (Kissena Cycling Team)                                                     6.13
25 Todd Peterson (Team Bulldog/Campmor)                                                    6.44
26 Nunzio Dibiasi (Yellow Breeches Racing)                                                 7.26
27 Bob Perna (Beans Bikes)                                                                 7.55
28 Charles Futcher (Guy's Racing)                                                          8.30
29 Joe Saling (Team Somerset Van Dessel)                                                   8.47
30 Jay Prudente (Guy's Bicycle Racing)                                                     8.52
31 Jeff Sutherland (Cape Atlantic Racing/Team Beacon)                                      9.06
32 Harry Langdon (Guy's Bicycle Racing)                                                    9.43
33 R. Michael Williams (Wilmington Velocity)                                               9.55
34 Louis D'amelio (Van Dessel Factory Team)                                               10.41
1 lap down
35 Gary Dugovich (Beaver Valley Velo)                                                          
36 Patrick Leonard (Evolution Racing)                                                          
37 Gustavo Sanchez (Evolution Racing)                                                          
38 Karl Dittebrandt (Kissena Cycling Club)                                                     
dnf Chris Thaler (Evolution Racing)                                                            
dnf Leo Pizzini (Henry Bike)                                                                   
 
B men
 
1 Georgia Gould (Luna)                                                                    39.50
2 Eric Linder (Hunt Valley Bikes / Marathon Roofing)                                       0.07
3 John Brewer (Squadra Coppi/Im Saab)                                                      0.08
4 Kevin Kralik (Guy's Racing)                                                                  
5 Patrick Bradley (Cape Atlantic Racing/Team Beacon)                                       0.20
6 Jeremy Dunn (Cambridge)                                                                      
7 Marc Vettori (C3-Sollay.Com !)                                                           0.33
8 Matthew Budd (Nyc Velo)                                                                  0.38
9 Dusty Labarr (Joe's Bike Shop)                                                           0.40
10 Frank Zgoda (Skylands Cycling)                                                          0.46
11 Peter Bradshaw (Cambridge)                                                              0.47
12 Jeff Bahnson (C2S/Henry's Bikes)                                                            
13 Ethan Townsend (C3- Sollay.Com)                                                         1.31
14 Collin Sandberg (Cannondale)                                                            2.08
15 Michael Mihalik (Beaver Valley Velo)                                                    2.21
16 Johann Liljengren (Faulkner Honda)                                                          
17 Danil Brill (Cape Atlantic Racing/Team Beacon)                                          2.37
18 Christopher Pagoda                                                                      2.39
19 Jim Mudd (Hunt Valley Bicycles/Marathon Roofing)                                        2.42
20 Charles Southgate (Turkey Hill)                                                         2.44
21 Nick Fischer (Freddie Fu)                                                               2.46
22 Gary Freidrich (Cambridge)                                                              2.48
23 Cam Mancuso (Act)                                                                       2.56
24 Erik Leaver (Ncvc/Inova Health System)                                                  3.04
25 Charles Florek (Rutgers University Cycling Team)                                        3.11
26 Alex Monte-Sano                                                                         3.15
27 John Hostetter Iii (C3-Sollay.Com)                                                      3.22
28 Joel Moats (Yellow Breeches Racing)                                                     3.26
29 Erik Kristiansen (Skylands Cycle)                                                       3.36
30 Robert Thomas (Secret Henry's Team)                                                     3.47
31 Chad Culbertson (Crcofa / Bm&G-Pete's Bikes)                                            3.51
32 Wade Hess (Cape Atlantic Racing/Team Beacon)                                            4.06
33 Eric Morgan Eric Morgan (Wissahickon)                                                   4.11
34 Andrew Logiudice (Skylands Cycling)                                                     4.27
35 John Hunter (Temple University)                                                         4.30
36 Shawn Stafford (Bikeline)                                                               4.32
37 Tom Mains (Van Dessel Factory Team)                                                     4.56
38 Jason Parkin (Crca/Blue Ribbon-Translations.Com)                                        5.11
39 Ian Mathias (Hunt Valley Bicycles / Marathon Roofing)                                   5.16
40 Robert Campbell (Ncvc/Inova Health System)                                              5.18
41 Carl Maslne (Fitness Mission)                                                           5.47
42 Ken Deitch (Human Zoom\Pabst Blue Ribbon)                                               6.02
43 Joseph Ashman                                                                           6.39
44 Arron Eckstein                                                                          7.02
45 Jordan Czajka (Funky Talk)                                                              7.17
46 Ed Krall (Fort Pitt Velo)                                                               7.28
47 Robert May (Holitna River Lodge)                                                        7.35
48 Robert Maxted (Rocket Baring)                                                           7.40
49 Joe Mulligan (Montclair Bikery)                                                         8.00
50 Matthew Panas (The Bare Wall)                                                           8.08
51 Erik Mitchell (Quaker City Wheelmen/Team Breakaway)                                    10.17
1 lap down
52 Doug Horth (Rocket Baring)                                                                  
53 Michael Fennell (Rocket Baring)                                                             
54 Stephen Gualano                                                                             
55 Jerry Hadley (Wiping With Leaves)                                                           
 
C Men/U19 Men
 
1 Matthew Spinks (Skylands Cycling)                                                       34.43
2 Andy Glaser (Rutgers University Cycling Team)                                            1.28
3 Matthew Neugebauer (Christiana Care Pt+/Fsvs)                                                
4 Erik Kristiansen                                                                         1.46
5 Sam O'keeeefe                                                                            2.01
6 Matthew Hennessy (Team Bbc)                                                              2.06
7 Katriel Statman (Bard College Cycling)                                                   2.07
8 Erik Peterson (Cambridge)                                                                2.28
9 Ross Megargel                                                                            2.30
10 Joseph Zorn Iii (Christiana Care Pt+ / Fsvs)                                            2.48
11 Tyler Brown (Christiana Care Pt+/Fsvs)                                                  2.59
12 Daniel Knepper                                                                          3.14
13 Lars Jacobsen (Skylands Cycling)                                                        3.24
14 Mike Reardon (Columbus Bike Racing Team)                                                3.37
15 Brett Kielick (Drexel Cycling)                                                          3.39
16 Adam Leman (Drexel University)                                                              
17 Blake Bedoya (Rutgers University Cycling Team)                                          3.44
18 Sean Croce (Action Wheels)                                                              3.53
19 Steven Burke (Hunt Valley Bicycles/Marathon Roofing)                                    4.10
20 Brooks Ward (Bard College)                                                              4.14
21 Casale David (Tri-State Velo)                                                           4.24
22 Daniel Ryan (Christiana Care Pt+/Fsvs)                                                      
23 Mark Fitzwater (Secret Henry's Team)                                                    4.37
24 James Doherty (Unattached)                                                              5.28
25 Ross Gordon (Cape Atlantic Racing/Team Beacon)                                          5.41
26 Bren Moran (None)                                                                       6.02
27 Joseph Gilch (Rutgers University Cycling Team)                                          6.19
28 Ed Moran (Maverick Fab Inc)                                                             6.47
29 Boyd Garrison (Propedals)                                                                   
30 Charles Gardiner (Human Zoom/Pabst Blue Ribbon)                                         7.14
31 Max Mancuso (Skylands Cycling)                                                          7.20
32 Charles Crocco Jr (Team Somerset)                                                           
33 Dag Anderson (Team Somerset)                                                            7.28
34 David Kim (Rutgers University Cycling Team)                                             8.11
35 Matthew Brancheau (Kelly Benefit Strategies/Lsv Amateur Cycling)                        9.31
36 Robert Sands (Evolution Racing)                                                         9.36
37 Phillip Esempio (Kelly Benefit Strategies/Lsv Amateur Racing)                           9.55
38 Zach Bender (Gs Park Ridge / Team Cyclesport)                                          10.09
39 Frank Schlipf Iii (Guy's Racing Club)                                                  10.24
40 Joseph Manning (Guys Racing)                                                           10.39
41 Bill Davis (Potomac Velo Club)                                                         10.49
1 lap down
42 Dave Baumgardner (Tri-State Velo)                                                           
43 Mike Bradley                                                                                
44 Tyler Kristiansen (Skyland Cycling)                                                         
45 Noah Granigan (Team Somerset/Van Dessel)                                                    
46 Stephen Gualano                                                                             
47 Adam Duncan (Crca/Avenue A-Razorfish)                                                       
48 Louis D'amelio (Van Dessel Factory Team)                                                    
49 Tracy Campbell (Cape Atlantic Racing/Team Beacon)                                          

Past winners