Beacon Cyclo-cross - C2
Bridgeton, New Jersey, USA, October 29, 2006
2005 Results Results Past winners
Schouten and Winfield destroy the amphitheater of pain
By Kirsten Robbins in Beacon, New Jersey
After battling
Photo ©: FJ Hughes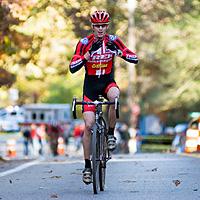 Three riders solidified their lead on the field after the first run up the 'amphitheater of pain'. Tristan Schouten (Trek/VW/Michelin) earned his win after holding a small gap over Davide Frattini (Colavita Olive Oil/Sutter Home Winery). Jonathan Sundt (Hagens Berman) hung on for the third place on the podium aiding in the tactical third event organized by the Mid Atlantic Championship series.
The smaller than usual field was not lacking in speed or strength, witnessed after the men began their grueling effort lead by Frattini. His quick start caused the decisive split in the field that only two would reconnect with. "In the beginning of the race I did not know what Davide's fitness was like but we gained a large gap right away," Schouten said.
"I thought it was going to end more in a group but with the amphitheater and the beach, it separated from the beginning. I felt good and figured he was riding well too so I just had to wait and see what happened -- I was able to hold the gap on him the whole way to the end." Schouten said while thanking his sponsors Michelin and Trek.
Sundt and Schouten closed the gap to Frattini soon after the start of the second lap. "Sundt was pretty strong on the fast sections so I stayed behind him after they caught me," Frattini said. "Then Schouten pushed hard in a couple of sections and we dropped Sundt. I stayed behind Schouten because it is the kind of race where if you stay behind you save more energy and have less fatigue."
Although Sundt displayed remarkable strength on the flat sections of the circuit he noted that, "coming back to cyclocross is hard and you lose a lot of off-road skills," Sundt said. "There are really good riders here that have been getting top fives and tens so it was a really difficult start. I got a little excited and drove it in the beginning when maybe I shouldn't have."
Davide Frattini (Colivita-Sutter Home)
Photo ©: Dennis Smith

Luck was not on Frattini's side when three laps to go he punctured a front tire losing Schouten's wheel for good. "I lost some time with a flat tire on three laps to go in one part of the circuit that is really fast with many turns," Frattini said. "I started to get close again on the technical parts but lost almost everything on the amphitheater stairs."
Adam Myerson (Nerac-Outdoorlights.com) and Roger Aspholm (Westwood Velo) were biting at the heels of Sundt's third place. The two worked well together until their final two up sprint for fourth place that Myerson convincingly won.
The circuit offered a little bit of everything from a sandy beach to an amphitheater stair run up. "The upper section of the course was really fast and the lower sections in the sand were slow," Schouten said. "The corners were sandy so it was not a real high-speed circuit. It fit my style because I like really short, punchy type run ups that seem to favour my riding. Also, the racing is really strong out here and any time you do a UCI race you can't count any one out."
Many of the riders competing in the MAC series come from either road or mountain bike roots and continue to progress in cyclocross fitness as the season moves on. "I can see the difference between me and some of the other guys here," said Frattini. "After a couple of months of cyclocross I am able to run the stairs and then jump on the bike to accelerate quickly, right now I am not able to do that. But, I am happy with the race today. Maybe I could have closed the gap - without the amphitheater of pain," Frattini joked.
Winfield paves the way
Deidre Winfield
Photo ©: Tim Mullin

Deidre Winfield (Velo-Bella) paved the way for her teammate Melanie Swartz (Velo-Bella) arriving to the finish line in first and second ahead of Mandy Lozano (Cheerwine). "This is the first time that I have had a win at the UCI level," Winfield said. "I was working hard this week on having a better start for this weekend so that was my focus, to get out front first and then gain my distance from there."
The Velo-Bella team started with three riders all placing in the top four. "It was a really fun race for me today and it was also nice to have our surprise rider, Anna Milkowski, come out to race with us," Swartz said. "We were able to place first, second and fourth so we are very happy with that."
The course may not have been suited for a solo ride today with several windy sections adding to the painful amphitheater steps and sandy beach. "It was a little harder with the wind and the course was really fast," Winfield said. "The sand sections were also difficult. Some riders are better running and some better riding through it. I tried to do a little bit of both and had to be careful because I was approaching the sand really fast and them just hopping off my bike which was the fastest way for me to take it."
The women's field also dwindled in numbers from the previous two MAC series Cyclocross races. "It is always more rewarding when the top riders are here, even if you don't win, because it pushes you further when you are able to race with people who are faster than you," Winfield said. "But it still feels really good to win and gain points."
Melanie Swartz (Velo Bella-Kona)
Photo ©: Dennis Smith

With Winfield safely off the front the race became tactical between Swartz and Lozano for second place. "It was a tactical race. Once we had Deidre off the front, we wanted to make sure that no one would come around me to challenge her for the position," Swartz said.
"I tried to hold Mandy Lozano back a bit so that Deidre's gap would build and then we ended up working together for the first few laps. I realized that I had an advantage over Lozano in some of the technical sections. I was able to get around her in one of the corners and take the lead from there."
Lozano found her self caught sandwiched between two Velo-Bella riders up front and one Anna Milkowski chasing. "I think I should have done less of the work for Swartz while trying to chase Winfield, maybe had her do a little more," Lozano said. "But I was in a tough position because I had Milkowski chasing from behind."
The course also made racing a little difficult for some and a little easier for others depending on the rider's skill. "It was a different type of course," Swartz said. "It is deceiving because it is a hard packed course with a lot of sand. A lot of people would think it is a 'roadie' style course but when the dirt is loose in the corners and there is a little bit of mud you have to be able to trust your tires. You need to really know how to balance your bike and weight it through the corners so you won't slide out. This way you can take them as fast as you need to with out losing any speed."
Fun was to be had in spite of the technically demanding circuit. Post race Lozano noted, "it is one of the best courses I have ever ridden on and I think it was an equalizer, showing who has the best fitness and skills combined, with the beach and the amphitheater - it was a blast,"
Photography
For a thumbnail gallery of these images, click here
Images by Dennis Smith/www.dennisbike.com
Images by Tim Mullin
Images by FJ Hughes/www.FhughesPhoto.com
Results

Elite Men
 
1 Tristan Schouten (Trek/Vw/Michen)                             57.43
2 Davide Frattini (Team Colavita / Sutter Home)                  0.12
3 Jonathan Sundt                                                 1.05
4 Adam Myerson (Nerac-Outdoorlights.Com Pro Cycling)             1.14
5 Roger Aspholm (Westwood Velo)                                      
6 David Wyandt (Hrs-Rocklobster)                                 1.51
7 Matt Kraus                                                     2.06
8 Christopher Jones (Targetraining- Williamscycling.Com)         2.34
9 Luca Damiani (Team Fidibc Vc Arbedo)                           2.47
10 Weston Schempf (Fort Factory Team)                            3.01
11 Ryan Dewald                                                   3.37
12 Sean Galegher (Hunt Valley Bicycles/Marathon Roofing)         4.09
13 Bill Elliston (Targetraining/Fuji)                                
14 Zoltan Tisza (Rocky Mountain Business Objects)                4.37
15 John Hanson (Nerac/Outdoorlights.Com Pro Cycling Team)        4.54
16 Michael Yozell (Fort Factory Team)                            5.05
17 Pierre Roussel (Velo Club Chaumontais / Univ Of Rochester)    5.16
18 Stephen Cummings                                              5.25
19 Andrew Wulfkuhle (Adg/Joe's Bike Shop/C3)                     5.34
20 Stephen Kincaid (Meredith Group-Gpoa-Cannondale)              5.53
21 Nathan Deibert (Holmes Cycling)                                   
22 John Mintura (Hotel San Jose)                                 6.41
23 John Degele (Inland Construction)                             6.46
24 Joseph Reynolds (Wissahickon)                                 7.14
25 Peter Rubijono (Harris Cyclery)                               8.02
DNF Greg Marini (Coffee Plus Inc. Com)                               
DNF George Menard (Hunt Valley Bicycling)                            
DNF Chris Newell (Hvb/Marathon Roofing)                              
DNF Erik Mitchell (Quaker City Wheelmen)                             
DNF Tyler Wren (Colavita)                                            
DNS Elliot Mcallister                                                
DNS Ryan Leech (Meredith Group-Gpoa-Cannondale)                      
 
Elite Women
 
1 Deidre Winfield (Velo Bella-Kona)                             41.52
2 Melanie Swartz (Velo Bella - Kona)                             1.26
3 Mandy Lozano (Cheerwine Cycling)                               1.49
4 Anna Milkowski                                                 2.07
5 Betsy Shogren (Fort Factory Team)                              2.13
6 Heidi Von Teitenberg (C3/Adg/Joes)                             2.53
7 Erica Yozell (Fort Factory Team)                               3.24
8 Lisa Vible (C3/Adg/Joe's Bike Shop)                            4.31
9 Lisa Most (Wissahickon)                                        5.21
10 Beth Mason (C3/Adg/Joe's)                                     5.38
11 Lynda Maldonado (Human Zoom)                                  5.46
12 Kristine Church (Human Zoom)                                  5.58
13 Jennifer Bodine (Artemis/Gwu)                                 6.08
14 Tammy Ebersole (Evolution Racing)                             8.28
 
U19 Men
 
1 Erik Kristiansen (Skylands Cycling)                           39.40
2 Cam Mancusa (Act)                                              0.27
3 Matthew Spinks (Skylands Cycling)                              1.36
4 Tyler Brown (Bike Line/Lwa)                                    1.43
5 Dag Anderson (Somerset)                                        1.18
 
Elite Masters
 
1 Todd Cassan (Nyc Velo)                                        39.07
2 Mike Hebe (Gpoa-Cannondale)                                        
3 Greg Ferguson (Fort Factory Team)                                  
4 Kristopher Auer (Adg/Joe's)                                        
5 Ralf Warmuth (Highland Park Hermes)                            0.07
6 Robert Campos (Hvc/Jessies)                                    0.12
7 Christopher Long (Independent Fabrication/Gotham)              0.19
8 Eric Schlauch (Team Somerset / Van Dessel)                     0.26
9 Gunnar Shogren (Fort Factory Team)                             0.30
10 Richard Mihills (The Secret Henry's Team)                         
11 Mark Kutney (Van Dessel Factory Team)                             
12 Blair Saunders (Henry's Bikes)                                0.37
13 John Lux (Hvb/Marathon Roofing)                               1.02
14 Glenn Turner (Herman Zoom)                                    1.23
15 Sean Mealey (Hunt Valley Bicycles/Marathon Roofing)           1.26
16 Kurt Dericks (Vcc Race Team)                                      
17 Jeff Cordisco (Capoforma Custom/Cadence)                      1.46
18 Joseph Piccillo (Evolution Racing)                            2.15
19 Kirk Reisinger (Wissahickon)                                  2.17
20 Tim Haitz (Vicious Cycles)                                    2.27
21 Andy Gorski (Agisko - Viner P/B Kinetic-Koffee.Com)           2.40
22 N. Johan Anestad (Evolution Racing)                           3.09
23 Chris Facas (Westwood Velo/Trade Manage Capitol)              3.17
24 John Stenger (Guy's Racing)                                   3.31
25 Mark Featherman (Guys)                                        3.46
26 John Miller (Guys Bicycles)                                   3.54
27 Judd Milne (Squadra Coppi/Im Saab)                                
28 Douglass Gray (First State Velo Sport)                        4.00
29 Kevin Kielty (Skylands Cycling)                               4.13
30 Chris Newell (Hvb/Marathon Roofing)                           4.19
31 Charles Erndl (Human Zoom Cycling)                            4.26
32 Mike Jancola (Alan Factory Team)                              4.29
33 Michael Kirk (The Secret Henry's Team)                        3.55
34 Peter Smith (Premier Bank)                                    4.43
35 Charles Mcdaniel (Secret Henry's)                             4.48
36 Kevin Saint Clair (Bikyle/Main Line Cycling)                  4.54
37 David Lowe (Human Zoom/Pabst Blue Ribbon)                     5.08
38 Charles Chichester (Crc Of A)                                 5.12
39 Paul Debartolo (Gs Gotham/Toga)                                   
40 Kelly Cline (Wissahickon)                                         
41 Christopher Weiland (E-Caps.Com / Highland Park Hermes)       5.29
42 Bob Piacine (Guys Racing Club)                                5.32
43 Mike Connair (Henry's Bikes)                                      
44 Ed Burgess (Hammer Nutrition)                                 5.38
45 Karl Kensinger                                                5.42
46 Mike Czupryna (First State Velo Sport)                        5.53
47 Trevor Williams (Guys)                                        5.56
48 Kevin Breckenmaker (Yellow Breeches Racing)                   6.02
49 Mark Elsasser (Bare Knuckle Brigade)                          6.14
50 Rob Lyon (Hunt Valley Bicycles/Hvb/Marathon Roofing)          6.20
51 Gary S. Keblish (Cycle-Smart, Inc.)                           6.28
52 Peter Baiamonte (Bvf)                                         6.30
53 Drew Guldalian (Club Wissahickon)                             6.40
54 Scott Reynolds (Guy's Racing)                                 7.51
55 Joseph Kenas (Guy's Racing)                                       
56 Tom Perkins (Bike Depot)                                      8.43
57 Frederick Hughes (Bike Doctor)                                8.55
58 Dusan Strika (Kissena Cycling Team)                           9.58
 
1 lap down
 
59 Craig Callan (Highland Park Hermes)                               
60 Nunzio Dibiasi (Yellow Breeches Racing)                           
61 Todd Peterson (Bulldogs)                                          
62 Richard Bauch (Colavita Racing)                                   
63 Mark Mccabe (3D)                                                  
DNF Kurt Mikeska (Secret Henry's)                                    
DNF Rolf Windh (Guy's Racing)                                        
DNF Chris Evan (Wissahickon)