Recently on Cyclingnews.com
Results &amp reports from the USA
Promoters wishing to submit results should send them to Cyclingnews
Spirit of Surf City Cyclocross
Santa Cruz County Fairgrounds, CA, October 31, 2004
Surf City Cyclocross Lives on Halloween
By Sabine Dukes
It's Halloween.
Photo ©: Nancy Wright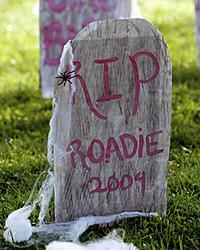 The popular and long running Northern California cyclocross series, Surf City, received a Frankenstein-style rebirth when Roaring Mouse Cycles and Velo Bella got together to put on a race on Halloween. These two teams know that a racer can be fun-loving, zany and fast and each of these qualities were exposed in even the most seriously minded cyclocross aficionado at the Spirit of Surf City Cyclocross Race.
The Santa Cruz County Fairgrounds has probably never seen such sights as sexy Bella slayers roaming the venue in black mini skirts, fishnets, go-go boots and black Bella capes, adding distraction for racers whose minds needed to be plotting their next move on the highly praised course. Every category enjoyed a great race, including the participants of the costume and kid's races.
This year the course featured the famously long and painful run up termed "Trick or Treat" as the absence of a barrier at the base allowed the strongest riders an option of riding or running. In the elite men's race, Bryan Miller (The Bike Trip) used this and his little ring as an advantage to pull away from Cameron Falconer (Hunter Cycles) and Aaron Odell (Rocklobster).
Some were floating
Photo ©: Nancy Wright

In the Elite women's field, the blood bath started early between Stella Carey (Kelly Bikes) and Katrin Tobin (Velo Bella). Stella succumbed to the forces and faded to 7th place. Katrin's teammate, the well dressed Andi Mackie (Velo Bella/Moots), finished 2nd while Janie Dalton (Missing Link)finished 3rd.
Dozens of racers entered the "Costume Race". Some raced in full costume while others, such as "El Matador", raced in less than full costume. "El Matador" managed to dismount and remount his cross bike sporting nothing but a wrestling mask, a jock strap, and his race number scrawled where the sun don't shine. A cross gender Elvira, giant pink bunny, Power Puff "girls", and even Darth Vader also made for an exciting event, adding both horror and delight to the otherwise standard cross race.
Future cyclocrossers, age divisions of under five, six to eight years, and ten to twelve years, raced a modified course and received prizes for their efforts. Afterward, little kids were heard talking about one day racing the "big" race with twinkles in their eyes.
The entertainment did not stop at having two unique races and volunteers dressed in costume. Racers and their personal entourages got their groove on to the sounds of Rock Lobsters Cycle's own Paul Sadoff and his band, the Link Horns, as well as the musical stylings of DJ/musician Grant Stoner. Racers were not sure if they were at a race or a party as they chowed down on a great bar-b-que served up by Cowboy Flip while lounging on the lawn listening to music in view of the phenomenal costumes which surrounded them.
Careful of the tail.
Photo ©: Nancy Wright

Record attendance by female racers, 77 in all, helped make the event successful. All profits from the race will go to Velo Bella's Elite Cyclocross team. The team is without any cash sponsors, but is enjoying great success on the North American UCI circuit. The money raised will be used to help fund their trips to Nationals and hopefully to Worlds.
The Spirit of Surf City has been kept alive by the following sponsors: Another Bike Shop, Chris King, Clif Bar, Family Cycling Center, GU Sports, Il Fornaio, Jeff Traugott Guitars, Jeremiah's Pick Coffee, Kelly Bikes, Pegasus Bicycle Works, Ritchey, Roaring Mouse Cycles, Roudon Smith Winery, Soulcraft, Scotts Valley Cyclesport, Sheila Moon, Studio 5, The Bicycle Trip, Truvativ, Velo Bella, WTB, and Wild Dingo.com.
Photography
Images by Nancy Wright/www.AbbiOrca.com
Results
Men A
 
1 Bryan Miller (The Bike Trip)               1.00.50
2 Cameron Falconer (Hunter Cycles)              0.14
3 Aaron Odell (Rocklobster)                     0.32
4 David Wyandt (Unattached)                     1.01
5 Aaron Kereluk (Hunter Cycles)                 1.02
6 John Funke (Sycip)                            1.20
7 Rob Saybolt (Hunter Cycles)                   1.42
8 Dan O'Sullivan (Velo Bella)                   2.04
9 Simon Vickers (Rock Lobster)                  2.25
10 Larry Hibbard (K2 Aptos Bike Trail)          3.03
11 Phil Roberts (Redline/Ritchey)               3.45
12 Troy Barry (Alan Factory/Jackson)            3.47
13 Shawn Locker (DeSalvo Cycles)                3.57
14 Ben Dodge (Rock Lobster)                     4.28
15 Anastasio Flores (Watsonville Cross)         4.31
16 Gannon Myall (Family Cycling Ctr)            4.45
17 Aaron Beardsley (Big Swingin Cycles)         4.58
18 Jeremy Sarrow (Sycip)                        5.33
19 Martin Suro (DeSalvo)                        5.46
20 Brock Dickie (Village Peddler)               6.00
21 Rick Hunter (Hunter Cycles)                  6.04
22 Jason Rhalwes (Fox Racing Shox)              6.14
23 Stephen Kent (Sycip)                         7.18
 
1 lap behind
 
24 Patrick Myall (DFL)                              
25 Evan Adams (Big Swinging Cycles)                 
26 Gabe Sanctuary (NorCal Velo)                     
27 Jimmy Blair (Missing Link)                       
28 Greg Bloom (Unattached)                          
29 Patrick Rocchi (Nor Cal Bike Sport)              
30 Robert Mau (Unattached)                          
31 Robert Nelson (Missing Link)                     
32 Justin Morgan (Unattached)                       
33 Mike Foley (Bioc)                                
34 David Allen (Unattached)                         
 
Singlespeed
 
1 Micali Mozal (Joselyns)                           
2 Jeffrey Hantman (Clif Bar)                        
3 Paul Janney (Another Bike Shop)                   
 
1 lap behind
 
4 Michael Matthews (Village Peddler)                
5 Dylan Snodgrass (DFL)                             
6 Jason Pyrzinski (Unattached)                      
7 Kurt Gensheimer (Village Peddler)                 
8 Monty Worthington (Tifosi Wines)                  
9 Terry Curley (DFL)                                
10 Jonathan Grill (Joselyn's)                       
11 A.J. Atale (Pegasus)                             
 
2 laps behind
 
12 Mike Evans (Team Santa Cruz)                     
 
3 laps behind
 
13 Melanie Dominguez (The Bicycle Trip)             
 
Men B
 
1 Reed Maxwell (Missing Link/Bianchi)          43.24
2 Cesar Chavez (Buycell.com)                    0.05
3 Matt Kramer (Stan's)                          0.07
4 Jesse Mayberry (Redline/Ritchey)                  
5 Damon Pettinger (White Jersey Sports)         0.16
6 Eric Russell (Clif Bar)                       0.55
7 John Kammeyer (Redline Ritchey)               1.09
8 Isaias Job (Team Wrong Way)                   2.06
9 Joe Ernst (Sycip)                             2.18
10 Jeff Patton (Vandalay Industries)            2.54
11 Stacey Sell (Specialized)                    3.04
12 Aron Bonar (Solano Ave. Cyclery)             3.11
13 Chris Coffey (Redline Ritchey)               3.31
14 Jeff Bronack (Team Santqa Cruz)              3.36
15 Joe Lavelle (Specialized)                    3.37
16 Bo Barry (Soulcraft)                         3.59
17 Ryan Galdes (Redline Ritchey)                4.12
18 Johannes Schmidt (Redline Ritchy)            4.13
19 Cisco Moran (Team I Love Daisy)              4.44
20 Ryan Schlichting (Solano Ave. Cyclery)       4.45
21 Jason Rimmer (Unattached)                    5.11
22 Norman Field (Team Santa Cruz)               5.20
23 Paule Bates (Roaring Mouse)                  5.29
24 Jason Villarin (Davis Bike Club)             5.32
25 Kevin Kirkhart (Unattached)                  6.13
26 Joe Cahoon (Specialized)                     6.44
27 Patrick McEnaney (Unattached)                7.15
28 Russell Anderson (Unattached)                7.57
 
1 lap behind
 
29 Robert Davenport (Unattached)                    
 
Women A
 
1 Katrin Tobin (Velo Bella)                    39.29
2 Andi Mackie (Velo Bella/Moots)                1.33
3 Janie Dalton (Missing Link)                   1.47
4 Julie Adams (Redline Ritchey)                 1.55
5 Kathleen Hanson (Free Wheel)                  2.07
6 Sarah Bamberger (Sycip)                       2.34
7 Stella Carey (Kelly Bike)                     3.03
8 Cat Malone (Webcor)                           3.51
9 Melanie Dominquez (The Bicycle Trip)          4.39
10 Heather Kirkby (Velo Bella)                  4.55
11 Nicole Amaral (Velo Bella)                   5.35
 
Women B
 
1 Celeste McCartney (Missing Link/Bianchi)     43.47
2 Tricia Baumsteiger (Southern Sierra Cycl)     0.05
3 Kim Heiser (Velo Bella)                       0.40
4 Mindy Surratt (Velo Bella)                    0.41
5 Julie Barott (Roaring Mouse Cycles)           0.54
6 Janel Lodge (Black Market Racing)             1.14
7 Beverly Chaney (Hot Flash Chicks)             2.27
8 Courtney Brown (Freewheel)                    2.40
9 Melinda Jones (Team Santa Cruz)               2.47
10 Alyse Weyman (Velo Bella)                    3.35
11 Brenda Cranford (Velo Bella)                 3.47
12 Amy Abele (Velo Bella)                       4.45
 
1 lap behind
 
13 Ell Lawrence (Huangoche)                         
14 Kathleen Meyer (TWW)                             
15 Shauna Potocky (Family Cycling ctr)              
16 Monica Gill (GCCA)                               
17 Melissa Frost (Missing Link)                     
18 Lorri Lee Lown (Velo Girls)                      
19 Jeni Udall (Velo Bella)                          
20 Julie Brothers (Rock Lobster)                    
21 Betty Jordan (Velo Bella)                        
 
Women C
 
1 Jill McLaughlin (Velo Bella)                 35.55
2 Slobhan Saunders (Unattached)                 0.53
 
1 lap behind
 
3 Debby Malheiro (SCCC/Village Imports)             
4 Jen Chapman (Velo Bella)                          
5 Tracie Nelson (Velo Bella)                        
6 Sue Lovecchio (Velo Bella)                        
7 Cheryl Hennessy (Unattached)                      
8 Henrietta Stern (Hot Flash Chicks)                
9 Helen Powers (Cycle sports)                       
10 Jen Ziegler (Unattached)                         
11 Susan Fizzell (Unattached)                       
12 Bethany Jenkins (Unattached)                     
13 Kelly Miller (Bicycly Trip)                      
14 Julian Foley (Unattached)                        
15 Cassandra McCain (Velo Girls)                    
16 Lynn Zachreson (Unattached)                      
17 Kim Natzel (Velo Girls)                          
18 Penny Lane (Roaring Mouse Cycles)                
19 Mary Perez (Velo Girls)                          
20 Julie Starling (Velo Bella)                      
21 Eryn Hughes (Velo Girls)                         
22 Ann Marie Straud (Roaring Mouse Cycles)          
23 Arleen Pietrzak (Velo Bella)                     
24 Sarah Rogerson (Devlish Divas)                   
25 Susan Brown (Velo Bella)                         
26 Yvonne Walbroehl (Velo Girls)                    
27 Lisa Bono (Unattached)                           
28 Karin Jeffrey (Velo Bella)                       
29 Lisa Young (Team in Training)                    
30 Doris Rigoni (Velo Girls)                        
31 Beth Pietrzak (Unattached)                       
32 Karen Ng (Velo Girl)                             
33 Kathy Cook (Unattached)                          
34 Tammy Henera (Team in Training)                  
 
2 laps behind
 
35 Jill German (Unattached)                         
 
Men 35+ A
 
1 Todd Hoeffer (Hunter Cycles)                 42.08
2 Mark Howland (Black Market Racing)            0.37
3 Thomas Feix (Pen Velo/Kondra)                 0.58
4 Tim Thompson (Eurocycling Imprts)             1.19
5 Pat Schott (Black Market Racing)              1.29
6 Keith Defiebre (Day Bikes)                    1.46
7 Steve Hess (Bicycle Trip)                     1.50
8 C. Daugherty (Infinion Raceway)               2.22
9 Charles Ehm (Sycip Racing)                        
10 Michael Matthews (Village Peddler)           2.40
11 Eric Bustos (LGBC)                           2.43
12 Aaron Baker (Missing Link)                   2.53
13 Bob Stoik (Cal Giant Inc)                    2.56
14 Scott Lynch (Sycip Racing)                   3.19
15 Jason Rahlwes (Fox Racing Shox)              3.36
16 Philip Sims (Santa Cruz/Hunter)              3.46
17 Matt Watson (Bicyle Trip)                    3.52
18 Andy Holdsworth (Thirsty Bear)               3.59
19 Ron Gutierrez (Sycip Racing)                 4.01
20 Rich Sangalli (Dewars/Bianchi)               4.09
21 Thomas Hoeffel (3rd Rail/Steeleman)          4.10
22 Dick Vanderluit (Eurocycling Imports)        4.12
23 Mark Mastaras (Unattached)                   4.57
24 David Gill (Team Santa Cruz)                 5.48
25 Brij Lunine (Missing Link/Bianchi)           5.50
26 Keith Henderson (Bicycle Trip)               6.00
27 John Rowen (Sycip Racing/Free wl)            6.13
28 Gregory Phipps (Black Market Racing)         6.27
29 Matt Rolandson (DFL)                         6.31
30 Matt Wocasek (Team Santa Cruz)               6.36
31 Darrel Brokeshoulder LGBRC                   6.52
32 Dave Gane (Sycip)                            7.15
33 Ray Mendoza (Santa Cruz Bicycles)            7.46
34 Tim Watson (Team America/World P)            8.02
35 Barnaby Lee (Team Santa Cruz)                8.11
36 Erik Thunstrom (Eels on Wheels)              8.21
 
1 lap behind
 
37 Larry Vanzant (Echelon Santa Barba)              
38 Eugene Beyer (Fremont Free Wheeler)              
39 Mike Evans (Team Santa Cruz)                     
40 Gary Noe (Panaracer)                             
41 Tom Leach (Panaracer)                            
42 Willie Bullion (Family Cycling Center)           
 
2 laps behind
 
43 Dennis McGovern (Sycip Racing)                   
 
Men 45+ A
 
1 Henry Kramer (Schwab)                        43.14
2 Larry Hibbard (K2 Aptos Bike Trail)           0.08
3 Mark Abele (Panaracer)                        1.13
4 Jim Gentes (Family Cycling)                   2.06
5 David Covington (Excel Sports)                2.24
6 Cass Laizure (Missing Link)                   2.36
7 John Brown (Family Cycling)                   3.38
8 Edwin Rambuski (So.Sierra Cyclists)           3.46
9 Jon Suzuki (Missing Link)                     3.55
10 Doug Hatfield (Family Cycling)                   
11 Bob Guglielmelli (Family Cycling Cente)      4.43
12 Steve Stewart (LGBRC)                        5.20
13 Kem Akol (Bicycle Trip)                      5.41
14 Kyle Samuels (Cal Giant)                     5.42
15 Jim Benselinck (Eurocycling Imports)         6.14
16 Joe Fabris (Le Village)                      6.30
17 Chuck Scarpelli (Gianni)                     6.45
18 Mark Michel (Bicycle Trip)                   7.46
 
1 lap behind
 
19 Scott Calley (Earthbound Farm)                   
20 Brian Birch (Panaracer)                          
21 Erik Salander (Pen Velo)                         
22 Dave Samples (Cal Giant Ind)                     
23 Larry Broberg (Team Bicycle Trip)                
24 Dionicio Ybarra (Missing Link/Bianchi)           
25 Robert Barber (Unattached)                       
26 Paul Sadoff (Rock Lobster)                       
27 Robert Harbuch (Unattached)                      
28 Bob Lofland (TWW)                                
 
2 laps behind
 
29 Brad Williamson (Family Cycling)                 
30 Peter Dahlstrand (BBC)                           
 
Men C
 
1 Gustavo Jimenez (Pegasus)                    32.17
2 Sean O'Connell (Real Bicycles)                0.19
3 James Bonnet (Off the Chain Bikes)            0.38
4 Kari Knutson (Unattached)                     0.47
5 Eric Lowe (Unattached)                        1.30
6 Brad Hepler (Unattached)                      1.51
7 Robert Davenport (Unattached)                 2.18
8 Deric Dangzalan (unattached)                  2.40
9 Stephen Gerace (Pegasus)                      2.55
10 Creedence Shaw (Unattached)                  2.57
11 Mike Bodge (Body Zone)                       2.59
12 Jesse Passafiume (Unattached)                3.04
13 Peter Sherrill (Mt. Nittany Wheelwrk)        3.42
14 Shawn Williams (Unattached)                  3.52
15 Matthew Gunnell (PAA/Merrill Lynch)          4.08
16 Troy Mayfield (Unattached)                       
17 Danny Napolez (VCM)                          4.31
18 Jesse Nickell (Joselyn's)                    4.32
19 Marc Rosenblum (Bicycle Trip/Sea Bre)        5.50
20 John Bono (Unattached)                       6.32
21 Cesar Agustin (Unattached)                   7.28
22 Kevin Kone (Pen Velo)                        7.37
 
1 lap behind
 
23 Greg Kuhnen (Unattached)                         
 
Men 35+ B
 
1 Justin McInerny (Missing Link/Bianch)        31.23
2 Kevin Farley (Unattached)                     0.16
3 Paris Loader (Bay Bikes)                      0.29
4 Mark Slavonia (Pen Velo)                      0.41
5 Dave Schindehette (Unattached)                0.42
6 Cory Nash (Sycip Racing)                      0.44
7 William Sharar Muir (Stevens Creek Euro)      0.48
8 Chris Rodriguez (Pegasus Bicycle Work)        0.58
9 Jeffrey Bramlett (Unattached)                     
10 Steve Natzel (Unattached)                    1.15
11 Michael Lucaccini (Missing Link/Bianchi)     1.21
12 Jeff Green (Unattached)                      1.23
13 Harry Sherrill (Mt. Nittany Wheelwrk)        1.28
14 Thomas Fox (Unattached)                      1.58
15 Troy Boome (Team Santa Cruz)                 2.27
16 Rob Abundis (Family Cycling Ctr)             2.48
17 Tom Gandesberg (Unattached)                  2.52
18 Rocco Hollaway (Trek Livermore Cly)          2.54
19 Chris Baker (Unattached)                     3.00
20 Juan Ortiz (Fusion Sport)                    3.18
21 Steven Woo (LGBC)                            3.58
22 Scott Osgood (Livermore Cyclery/tr)          4.30
23 Chris Hudson (Monterey Velo)                 4.50
24 Dave Charles (Roaring Mouse Cycles)          4.53
25 Michael Schaller (Chico Velo)                5.26
 
1 lap behind
 
26 Andrew Payne (FFBC)                              
 
Men 45+ B
 
1 Steve Clifton (Team Santa Cruz)              32.41
2 Jeff Crofton (Penn Velo)                      0.51
3 Scott B. DeLaurentis SCCC/Village Imports     1.37
4 Joseph Crabtree (Hub Cyclery)                 1.54
5 Dwight Goss (Redwood Riders)                  1.59
6 Bruce Lodge (Black Market Racing)             2.13
7 Wayne Smith (SCCC/Village Imports)            2.35
8 Kevin McKee (SCCC/Village Imports)            4.18
9 ]ohn Simmons (Shaws GCC)                      4.42
10 Len Tabor (Velo Club Monterey)               4.47
11 Bob Malheiro (SCCC/Village Imports)          5.39
 
Junior Men B
 
1 Leonardo Magana (Bicycle Trip)               33.35
2 Kevin Pelley (Salinas High School)                
3 Jose Bonilla (Bicycle Trip)                   0.39
4 Tim Reuss (Bicycle Trip)                      1.27
5 Pedro Bonilla (Bicycle Trip)                  3.10
6 Jack Fogelquist (Bike Trip)                   3.14
7 Taylor Shamshoian (Bike Trip)                 3.53
8 Robert Smith Jr (Unattached)                  6.06
9 Jeremy Blalock (Joselyn's)                    6.31
10 Dylan Markell (Hunter)                       7.11
 
1 lap behind
 
11 Bjorn Fox (Team Elmo)                            
12 Wesley Watts (Bicycle Trip)                      
13 Clayton Gjerstad (Unattached)                    
14 Raymond Mendoza (Bicycle Trip)                   
15 Samuel Cerruti (Cal Giant Cycling)               
16 Nikki Hiltz (Bicycle Trip)                       


Local results 2004