Results &amp reports from the USA
Promoters wishing to submit results should send them to Cyclingnews
Bay Area Super Prestige Series #2
Candlestick Point, October 24, 2004
Pontoni offers advanced seminar to NorCal Riders
By Tom Simpson
Rob Evan (Village Peddler),
Photo ©: Nancy Wright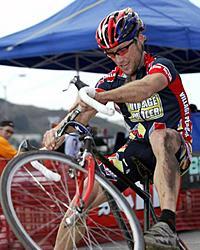 Northern California fall weather is usually dry until November but some very early rain storms last week softened up a dry and dusty course in San Francisco that hosted 275 competitors, especially a former World Champion on an American sojourn.
After 4 laps of reconnaissance '97 Weltmeister Daniele Pontoni lowered the boom on the Elite Men's field and in the span of 2 laps opened an insurmountable lead. With early lap times averaging just under a bare 6 minutes Pontoni followed in the wake of Justin Robinson, David Wyandt, John Funke, and Cameron Falconer through the sandy circuit that featured just 2 dismount sections. But after lap 4 the stop watches suddenly showed a 5:39 time and on lap 6 it was 5:27 recorded and the field was shattered as Pontoni signaled for the engine room to supply Super Cruise power. As Pontoni rode unchallenged towards the bell lap the race for 2nd developed into a duel between Robinson and Wyandt and was decided just yards from the finish as Wyandt took the inside line under the Red Bull arch and surged ahead of the 2000 Worlds team member Robinson. Cameron Falconer had his best finish of the season in 4th and Dan O'Sullivan - the "B" Category series winner in 2003 - overcame an atrocious start to steadily catch and pass half the field for his personal best of the season - and earning a much better start position on the grid for Round 3 can now think of a crack at the podium.
Gina Hall ran her string of Super Prestige victories to 2 in a row with a minute+ margin over Velo Bella's Sarah Kerlin. With Kerlin's teammates Barbara Howe and Christine Vardaros scoring victories on the East Coast this weekend, Kerlin kept Hall in sight through the 6 lap race but couldn't close the early lead and Gina,US GP of 'cross series leader after the Northwest segment can now consider a trip back east to the next GP of 'Cross weekend in New England to secure her points lead -and another World's berth.
Round 3 of the Bay Area Super Prestige CycloCross has a tremendous opportunity to showcase CycloCross in San Francisco as Golden Gate Park was announced as the new venue for the November 14th race. And for Pontoni, his last words as he was leaving the venue were to change his travel plans and delay the return to Italy until after December 5th - and a showdown with the top NorCal stars on their home course.
Round 3 - Golden Gate Park - November 14th
Round 4 - Bianchi 'Cross - UCI Cat 2 - December 4th
Round 5 - CCCP CycloCross @ Coyote Point - UCI Cat 1 - December 5th
Photography
Images by Nancy Wright/www.AbbiOrca.com
Images by Tom Simpson/Pilarcitos CycleSports
Images by Garrett Lau/www.pbase.com/garrettlau/cycling
Results

Elite Men
 
1 Daniele Pontoni (Selle Italia)          57.14
2 David Wyandt                             1.24
3 Justin Robinson (Bullioro Stil)          1.25
4 Cameron Falconer (Hunter Cycle)          1.28
5 Dan O'Sullivan (McGuire)                 2.30
6 John Funke (Sycip)                       2.36
7 Perry Paolini (Amgen)                    2.38
8 Jeremy Sarrow (Freewheel/Sycip)          5.30
25 Jeffrey Huntman (Clif Bar)              5.48
26 Mark Christian (Infineon)               5.51
27 Charles Ehm (Sycip)                     6.22
28 Brock Dickie (Village Peddler)          6.35
29 Andy Glanz (Dragon Racing)                  
30 Mike Bohn                                   
32 Thomas Feix (Pen Velo)                      
34 Mansur Nurallah                             
36 Kurt Gensheimer (Village Peddler)           
4 Jason Pyrzynski                              
6 Patrick McAnulty (White Jersey Sports)       
7 Robert Godar (Huangoche)                     
10 Aron Bonar (Solano Ave Cyclery)             
11 Eric Muensterman (Huangoche)                
12 Isaias Job (Wrong Way)                      
13 Brian Rogers (Sycip)                        
14 Dan Nelson (NTP Racing)                     
 
Jr Men cat A
 
1 Collin Samaan (Bicycle Business)        45.00
2 Logan Loader (Racef)                         
 
35+ Men Cat A
 
1 Chris D'Aluisio (Specialized)           41.35
2 Richard Maile (Art by Opsle)             0.19
3 Mark Noble (Amgen)                       0.22
4 James Coats (Amgen/Felt)                 1.07
5 Gannon Myall (Family Cycle Center)       1.31
6 David Hejduk (Sycip)                     1.32
7 David Eastwood (Art by Opsall)           1.39
8 ]ark Howland                             2.00
9 Tim Thompson (Eurocycling Imports)       2.01
10 Aaron Laker                             3.45
20 Patrick Myall (DFL)                     3.47
21 Andrew Holdsworth (Thirsty Bear)        4.05
22 Matthew Smith                           4.14
23 Mike Morgan (Sycip)                     4.15
24 C. Daugherty (Infineon Raceway)         4.31
25 Stephen Kent (Sycip)                    4.52
26 Dan Sovreign (SGW City Bike)            4.53
27 Daniel McNally (DFL)                    5.09
28 Mark Mastoras                           5.10
29 Dick Vanderluit (Euro Cycling)          5.11
30 Brig Lynine (Missing Link Bianchi)      5.20
31 Scott Lynch (SYCIP)                     5.28
32 Thomas Hoeffel (3rd Rail)               5.32
33 David Gill (Team Santa Cruz)            5.51
34 Steve Griffiths                             
40 Matthew Rolandson (DFL)                     
42 Eugene Beyer (FFBC)                         
44 Jeffrey Green                               
46 Mike Evans                                  
 
45+ Men Cat A
 
1 Henry Kramer (Schwab Cycle)             44.34
2 Larry Hibbard (K2 Aptos Bike Trail)      0.05
3 Mark Abele (Panaracer)                   0.36
4 Norm Kreiss (Missing Link)               1.00
5 Cass Laizure (Missing Link Bianchi)      2.09
6 Jim Gentes (Giro Family)                 2.12
7 Rich Stone                               2.29
8 Robert Kurosawa (Third Rail)                 
9 Chris Allen (Euro Cycling Team)              
11 Doug Hartfield (Family Cycling)             
13 Dionicio Ybarra (Missing Link)              
15 Jim Beuselinck (Euro Cycling Imports)       
17 Brian Birch (Puwercer)                      
19 Robert Barber (Tribe)                       
21 Mike Macdonald (Jaeger)                     
24 Peter Dahlstand (BBC)                       
 
Elite Women
 
1 Gina Hall                               44.20
2 Sarah Kerlin (Velo Bella)                0.56
3 Kate Maher (Missing Link Bianchi)        2.01
4 Hillary Daniels (Hunter Cycle)           2.21
5 Allison Baumhefner (ABS/ Hunter)         3.19
6 Sara Baumberger (Sycip)                  4.24
7 Erin Kassoy (Velo Bella)                 4.29
8 Andrea Mackie (Velo Bella)               4.36
9 Janie Dalton (Missing Link)              4.47
10 Kathleen Hannon (Free Wheel)            5.13
11 Lauren Costantini (Sycip)               5.25
12 Cat Malone (Webcor)                     5.31
13 Maartina Patella (Missing Link)             
14 Jessie Hinkel (Velo Bella)                  
16 Celeste McCartney (Missing Link Bianchi)    
4 Juli Hamilton                                
6 Janel Lodge (Black Market Racing)            
8 Jen Jupenga                                  
10 Ella Lawrence (Huanogoche)                  
12 Betty Jordan (Velo Bella)                   
 
C Women
 
1 Betina Hold (Webcor)                    38.17
2 Beverly Chaney                               
3 Kelly Miller                                 
5 Mary Hoover (Bay Area Velo Girls)            
7 Maria Perez (Bay Area Velo Girls)            
9 Chauncey Monte-Sano                          
 
C Men
 
1 James Newman                            34.19
2 Jeff Crofton                             0.56
3 Sean O'Connell (Real Bicycles)           1.23
4 Mark Vanek (Marin Bike)                  2.37
12 Erik Salander (Pen Velo)                2.41
13 Eric Lowe                               3.18
14 Jeff Zerger                             4.06
15 George Haler                            4.14
16 Conner Wiles-Berry                      4.23
17 Jason Sage (FFBC)                       4.25
18 Bjorn Pave                              5.39
25 Alex Monte-Samo                         5.45
26 Mike Singleton                          6.21
27 Eric Sterner                                
28 Peter Black                                 
30 Kevin Kone (Pen Velo)                       
32 Daniel Sherman                              
34 David Noble                                 
36 Andrew Lyndon (Missing Link)                
22 Don Toy                                     
23 Andrew Payne (FFBC)                         
24 David Charles (Roaring Mouse)               
 
45+ Men Cat B
 
1 Tim Itin                                35.20
2 Bruce Lodge (Black Marker Racing)        0.51
3 Christopher Holmes (Team Roberts)        0.58
4 Thomas Kellner (Davis Bike Club)         1.07
5 Gary Anghinetti (Bike Route)             2.04
6 Brian Doubles (Panex Racer)              2.21
7 Bob Malheiro (SCCC Trellig Import)       4.07
8 Gary Davis (LGBRC)                           

Local results 2004