Recently on Cyclingnews.com
Results &amp reports from the USA
Promoters wishing to submit results should send them to Cyclingnews
Tour de Tunnel
Port Townsend, Washington, October 3, 2004
Double Decker - Carl Decker Decker takes two in a row
By Hyun Lee
Carl Decker
Photo ©: Hyun Lee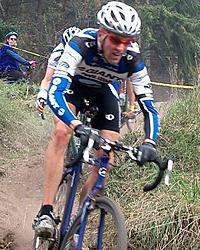 After winning Saturday Night's Star Crossed Cyclocross race at Grouphealth Velodrome, Carl Decker (Giant) continued his winning streak in Western Washington by winning the 2004 edition of the Tour de Tunnel at Fort Warden in Port Townsend, Washington. This race, put on by Team Ragnorak, was attended by some of the same racers that only raced a few hours ago at Star Crossed including the Maxxis-Giant duo of Jonny Sundt and Geoff Kabush, the Benaroya Research Institute trio of Russell Stevenson, Eric Atwood, and Loren Hansen, Andrew Pinfold (Symmetrics) from B.C.; and others.
This year's course was slightly different from last year but the weather was reminiscent of 2003 where the fog lingered most of the day and the sun never quite poked through. When asked about how this course differed form last year's, race promoter Lisa Miller said, "We just wanted a grassroots race that's a little unusual and out of the norm. We're mountain bike racers. Last year's course was more of a mountain biker's course. This year, we did a bit more climbing... we tried to put in more stuff for the 'roadies.'"
During the race, the lead changed almost every lap with Geoff Kabush leading through the first lap, marked by Andrew Pinfold, Jonny Sundt, Russel Stevenson, course designer Christian Young, Eric Atwood and eventual winner Carl Decker. With a few laps to go, Sundt retired from the race. The race for the win wound down to Decker, Pinfold, Kabush and Stevenson with Young just a few seconds back. Eventually, Decker turned on the pressure and got a gap with Kabush chasing for second place. At the end of six long laps, Carl Decker rolled in for his second win in as many days. The biggest cheer were reserved for hometown hero Christian Young (Ragnorak Racing) who rolled in for 5th.
Race winner Carl Decker described the course as "something new" and that it "would've been cool for Halloween with the tunnel." When asked about how he felt racing two days in a row, Decker said he "felt fine doing double duty on weekends. I raced three times last weekend."
Tunnel Vision
By Lisa Miller, Ragnarok Racing
Under the blanket of misty fog, riders of all racing levels showed up for what would be a great day of cyclocross racing in the 2nd annual Tour de Tunnel Cross in Port Townsend, WA. Reminiscent of 2003, the fog loomed over Fort Worden State park all day, lending to the eeriness of the race's signature tunnels and embattlements and setting the perfect scene for Halloween. But there were no tricks or treats here, only hard work, talent, and downright great racing!
This grassroots event hosted by Ragnarök Racing and Second Ascent was attended by some of the area's most dedicated racers as well as some of the nation's top talent, many of which were worked over from Star Crossed the night before. Absent was last year's Elite winner, Ryan Trebon, but new to Tour de Tunnel was national talent including Carl Decker (Giant/Pearl Izumi), Geoff Kabush (Maxxis/Giant) and Andrew Pinfold (Symmetrics) - placing 1st, 2nd and 3rd respectively. Returning elite riders included Christian Young and Ben Thompson of Ragnarök Racing, Russell Stevenson & Eric Atwood of Benaroya Research, Jonny Sundt of Maxxis/Giant and Ben Smith of Second Ascent.
The honors of the first lap prime went to Geoff Kabush, who eventually went on to place 2nd in the race. It appeared that Decker, Kabush, Pinfold, Stevenson and Sundt (before he pulled out after the 3rd lap) were constantly working together and taking turns pulling each other up the climb just past the start line. Maintaining a consistent distance of just a few seconds behind the duelling foursome was hometown hero Christian Young, who finished in 5th place with a wild roar from the beer garden located at the finish line.
Carl Decker, winner of the race, also holds the title of 2004 US National Mountain Bike Champion. When asked what he thought of the course, his first reaction was to describe it as "cool, different and unique - I would most certainly do it again". He thought the course struck a good balance of skills and fitness and equally so for mountain bikers as well as road cyclists. "I thought the course was perfect for the cross bike. There was never a time when I was racing that I thought I wish I had my mountain bike. [Cyclocross] is a very eclectic group of people and the Tour de Tunnel exemplifies that."
Voted the most exciting heat of the day, was the Master Elite race, ending in a nail biting sprint finish between Tom Phillips (Ragnarök Racing) and Sean Lunny (Frontrunners). Phillips, in the lead when he suffered an ill-fated flat during the first lap, fell to the 9th place position at the start of the second lap. Last years race winner Tim Ellis of Recycled Cycles quickly took over, winning the first lap prime. Ellis maintained his lead for 2 laps before suffering a broken derailleur, which caused him to fall back into 6th place, where he finished in the end.
When Ellis lost his lead in the 3rd lap, Lunny took over by tapping into his strength as a climber. "It was so exciting, there was a constant changing of positions between the top group of riders", says Lunny. Phillips, working diligently to regain his position with the leading group, finally reached Andy Dahlstrom (GS Flash) who at that time was in 3rd position on the 4th lap. The two worked together and eventually caught and passed Lunny and Chad Berg of Bicycle Centers who rode flawlessly and constantly maintained his position within the leaders. With Phillips in the lead at the start of the final lap, he worked hard to pull away from the group, and at the end of the last big road climb, Phillips was the first to reach the top.
According to Phillips, he thought that he had opened up a gap, "but I turned to look back at the top and they were right there - all of them: Berg, Dahlstrom, and Lunny". It wasn't long before Lunny passed Phillips to regain his lead. Phillips said, "When he passed me, I saw that he was tired so I passed him back right away. I knew that I needed to make it to the tunnel first so I could attack on the downhill". "I can't even remember when [Phillips] passed me. I was tired and focusing so hard on the turns trying to remember them all", says Lunny.
Coming into the infield on the final lap just before the finish, where all the spectators were located, exhausted, Phillips chose not to jump the last log and decided to run it and continue running through the last set of barriers before hopping back on his bike. This is when Lunny once again closed the gap. With the last technical section to go, comprised of a short steep run-up, a small road climb, and then a technical downhill, Phillips pulled ahead after the run-up, with Lunny once again closing in on the climb. The two raced to last section of downhill, but Phillips was first with Lunny on his wheel. And after a very short sprint to the finish line, Phillips won by a wheel length.
Photography
Images by Hyun Lee
Images by Lisa Miller/Ragnarok Racing
Results

Elite Men
 
1 Carl Decker (Giant)                                
2 Geoff Kabush (Maxxis)                              
3 Andrew Pinfold (Symmetrics)                        
4 Russell Stevenson (Benaroya Research Institute)    
5 Christian Young (Ragnarök Racing)                  
6 Eric Atwood (Benaroya Research Institute)          
7 Ben Thompson (Ragnarök Racing)                     
8 Ian Mackie (Ragnarök Racing)                       
9 Brent Penzlow (Salso - Celo Pacific)               
10 Ben Smith (Second Ascent)                         
11 Taylor Lane (Rio Grande)                          
12 Nick Adsero (Bicycle Centers)                     
DNF Russell Cree (Broadmark)                         
DNF Jonny Sundt (Maxxis)                             
DNS Loren Hansen (Benaroya Research Institute)       
 
Master A Men
 
1 Tom Phillips (Ragnarök Racing)                     
2 Sean Lunny (Front Runners)                         
3 Andy Hahlstrom (GS Flash)                          
4 Chad Berg (Bicycle Centers)                        
5 Michael Murdin (The Garage)                        
6 Tim Ellis (Recycled Cycles)                        
7 Ed Arthur (Valley Athletic)                        
8 Alex Andel (Broadmark)                             
9 Brad Marquardt (Second Ascent)                     
10 Pat Weiler (REI / Novara)                         
11 Aaron Erbeck (Alki Rubicon)                       
12 Daniel Wynn (Team Novara)                         
13 Dave Pearson (Bicycle Centers)                    
DNS Dana Parnello (Novara)                           
 
B Men
 
1 James Birkenbuel (Starbucks Doubleshot)            
2 Mark Knokey (S3)                                   
3 Lance Simanek (Benaroya Research Institute)        
4 David Schmidt (Rhoades Cycling)                    
5 Chad Willems (Second Ascent)                       
6 Mark Howlett (Old Town Cycles)                     
7 JJ Ecker (S3)                                      
8 Alan Adams (Broadmark)                             
9 Matt Hulsey (Ragnarök Racing)                      
10 Alan Schmidtz (Broadmark)                         
DNF Todd Temres (Mike's Bikes)                       
 
Master B Men
 
1 Konrad Binder (Ragnarök Racing)                    
2 James Loetterle                                    
3 Nick Rhodes (Second Ascent)                        
4 Brian Vickers (Rhoades Cycling)                    
5 Hahn Rossman (Alki Rubicon)                        
6 Paul Werner (S3)                                   
7 LeRoi Smith (Ritchey Dirtworld)                    
8 Dave Hill (Old Towne Cycles)                       
9 Kent Wienker (Starbucks Doubleshot)                
10 Jim Johnson (Second Ascent)                       
11 Dan Davidson (Aurora Cycles)                      
12 Keith Blumhagen                                   
13 Ben Suttlemyre (Vertical Earth)                   
14 Schott McBeath                                    
15 Brad Collins (Sugoi)                              
16 Gerald Swayze                                     
17 Hyun Lee (Lake Washington Velo)                   
18 David Bise                                        
19 Mark Kunnecke (Bicycle Centers)                   
DNF Pete Brunner (Starbucks Doubleshot)              
DNF Andrew Novikoff (Alki Rubicon)                   
DNS Scott Keiper (JF2)                               
 
Singlespeed Men
 
1 Brandon Lockwood (Counterbalance)                  
2 Brett Larson (Ragnarök Racing)                     
3 Dennis Rose (Alki Rubicon)                         
4 Clifford Smith                                     
 
Beginner Men
 
1 Zack Spreacker                                     
2 Keith Blumhagen                                    
3 Jason Queen                                        
4 Derek Jensen                                       
5 Steve Marchioro (Arc en Ciel)                      
6 Robert Wilson                                      
7 Mike Tapogna                                       
8 Martin Hogger                                      
9 Michael Adamson                                    
10 Troy Taylor (JF2)                                 
11 Eric Miller                                       
12 Harlan Knudson                                    
13 Derek Falkenhagen                                 
14 Jim Shaver (Quimper Trail)                        
15 Christopher Fowler (Mike's Bikes)                 
16 Nick Russian                                      
17 David Chuljian                                    
18 Dan Conway                                        
19 Joe Johnson                                       
DNF Michael Kroon                                    
 
Elite Women
 
1 Josie Beggs (Starbucks CCA)                        
2 Wendy Simms (Front Runners)                        
3 Kristi Berg (Bicycle Centers)                      
4 Ingrid Spies (Ti Cycles)                           
5 Wanda Howlett (Starbucks Doubleshot)               
6 Kelly Jones (Sugoi)                                
7 Holly Walker (Alki Rubicon)                        
8 Tracy Bartholomew (Alki Rubicon)                   
9 Jadine Riley (Group Health)                        
 
Women B
 
1 Merideth Malocsay                                  
2 Diana Spring (Group Health)                        
3 Jodi Hess (Ragnarök Racing)                        
4 Freya Fennwood (Ragnarök Racing)                   
5 Jenny Loertscher                                   
6 Elizabeth Salvo (Ragnarök Racing)                  
7 MJ Redman (Group Health)                           
8 Diane Conway (Group Health)                        
 
Beginner Women
 
1 Tonia Schmidt                                      
2 Jill Corrales                                      
3 Natalie Brown                                      
4 Romi Epstein (Group Health)                        
5 Cynthia Freed (Starbucks Doubleshot)               
6 Sully Mynatt                                       
7 Francene Watson                                    
DNF Amanda Stoneham                                  
 
Juniors 15 To 18 Years
 
1 Grant Boursaw (Gregg's Trek)                       
2 Robbie Sepler                                      
3 Kyle Schores                                       
4 Andy Danner                                        
5 Brian Bolling                                      
 
Juniors 14 Years & Under
 
1 Tavish Taylor (JF2)                                
2 Trevor Tillman                                     
3 Skylar Larson (Ragnarök Racing)                    
4 Trevor Taylor (JF2)                                
5 Peter Weiler (ASC / Lowrys)                        
DNF Luke Copperrath                                  
DNS Kyle Howlett                                     

Local results 2004