Recently on Cyclingnews.com
Results &amp reports from the USA
Promoters wishing to submit results should send them to Cyclingnews
Nebraska State Cyclocross Championships
Pioneers Park, Lincoln, November 28, 2004
Steve Tilford (HRCC/McLaren Racing/Bikesource)
Photo ©: Michael Madcharo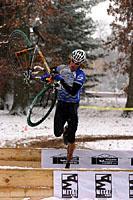 Tilford Wins Nebraska Cx Series Finale
Steve Tilford (HRRC/Maclaren Racing/BikeSource) rode to an impressive win on a cold and snowy Sunday afternoon at the Nebraska Cyclo-cross State Championship (Mid-America Cross #5), held at Pioneers Park in Lincoln. From the start, Tilford, a mountain-bike world champion, powered to the front and exited on to the grass in first position; putting the entire field on notice. As riders picked their way through the muddy, slick turns, Tilford maintained a brisk pace, gaining over two and a half minutes on the field in just three laps. "You learn something new every time you race cross," commented Tilford. "Each lap rode different due to the conditions today, but I figured it out each time around."
While Tilford would eventually lap the field, the race behind saw his BikeSource teammate, Shadd Smith, enjoying a fantastic outing of his own as he rode solo to a second place finish. As a result he rises to second in the Cross Cup standings. Nebraska State "Men's A" Champion and Cross Cup series leader, Tony Wilhelm (LBC/Highgear), battled the course at the beginning of the 60-minute contest, going down twice and finding himself in last place after just two laps. After an amazing comeback, which saw Wilhelm claw his way back through the field, he and Team X Cycling rider, Brad Cole exchanged attacks until the finale where Cole edged Wilhelm in the sprint for third. Despite missing the podium, Wilhelm grabbed top honors in the state.
In the Women's event, Catherine Walberg (Team Kenda) motored her way to her first victory of the Cross Cup Series over Team Kaos standout, Marie Neville. Neville took top honours as Nebraska State Champion with her second place finish overall, beating Kristi Newcomb (Mountain Magnolias), who crossed the line in third place continuing to show impressive cross form. The Mid-America Cross Cup concludes next Saturday, December 4, 2004 in Kansas City. For complete information on this event, please visit: http://www.cowtowncycling.com.
Photography
Images by Mitch Kline/mitchkline.com
Images by Michael Madcharo/nebraskacycling.org
Local results 2004