Results &amp reports from the USA
Promoters wishing to submit results should send them to Cyclingnews
Sonoma Valley Cyclocross
Infineon Raceway, CA, November 27, 2004
Vardaros, Jacques-Maynes take the checkered flags
Ben and Andy Jacques-Maynes
Photo ©: Russ & Nancy Wright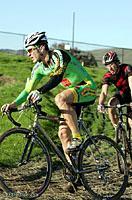 Northern California's cyclocross fans got another high-octane dose of mud and tough racing at the second annual Sonoma Valley Cyclocross at Infineon Raceway north of San Francisco.
Conditions were a carbon-copy of last year's event, with a hard overnight rain giving way to clear sunny skies over a twisty, muddy circuit overlooking the NASCAR Nextel Cup raceway. With the USA Cycling national championships only two weeks away, a slate of national contenders showed up to do battle over the challenging course, with stiff winds and tough elevation gains to complement the soft grass and mud on the two-kilometer circuit.
In the headline Campion Wines Men's A event a strong field of national contenders faced a steadily increasing afternoon wind. Former collegiate champion Ben Jacques-Maynes (Sierra Nevada) and brother Andy (Specialized) quickly established a lead with Jackson Stewart (Clif Bar) on the twisty, rutted course, with a group of five chasers fighting for the rest of the podium. The elevation gains and stiff winds took a toll on the field over the sixty minutes. At the finish, Ben Jacques-Maynes sprinted to the win over Andy, with Jah Snead (Rocklobster/Jeff Traugott) fourth behind Stewart and Justin Robinson (Bullion Stil) fifth.
The Sheila Moon Women's A race featured a dominating performance from Velo Bella's oustanding 'cross squad including CX Worlds competitor Christine Vardaros; Barb Howe, 5th overall in this year's national Grand Prix of Cyclocross Series; and Sarah Kerlin, 7th overall in the Grand Prix. From the start the Bellas splintered the field as Vardaros, Kerlin and Howe forced the pace at the front and shared pulls into the headwind stretches. Vardaros took the win over Kerlin and Howe, with Bella teammate Melodie Metzger in fourth and Hunter Cycles' Hillary Daniels in 5th, the only opponent to break the Bellas' domination.
In the Sports Basement Master 35 A race, 2003 national champion Alan Coates (Amgen Felt) handily defeated the field with a relentless pace over the stair runups and soft muddy chicanes, giving a preview of his form for this year's nationals. CX Masters Worlds rider Henry Kramer (Schwab Cycles) took the win in Master 45 A. Blake Anton of Davis BC won the Soulcraft Bikes Junior Men's race.
Saturday's race was also a benefit for the Ross Dillon Family Fund (www.rossdillon.com). Ross is a fellow Sonoma County bike racer who was struck down by a driver in 2002. A donation will be given out of race entry fees to help cover Ross' expenses as he works through his difficult recovery.
Photography
Images by Russ & Nancy Wright/abbiorca.com
Results
Men's A   
 
1 Ben Jacques-Maynes (Sierra Nevada Cycling)
2 Andy Jacques-Maynes (Specialized R&D)
3 Jackson Stewart (ClifBar)
4 Joshua Snead (Rocklobster/Jeff Traugott)
5 Justin Robinson (Bullion Stil)
6 Sean Doyle (DeSalvo Custom Cycles)
7 Cameron Falconer (Hunter Cycles/DFL)
8 John Funke (SyCip Racing)
9 Dan O'Sullivan (Eden Bicycles)
10 Rob Saybolt (Hunter Cycles)
11 Phil Roberts (Redline Richey)
12 Kevin Hulick (S&M)
13 Reed Maxwell (Missing Link / Bianchi)
 
Men's B   
 
1 Cesar Chavez (Village Peddler)
2 Robert Mau (Unattached)
3 Eric Muensterman (Huangoche)
4 Jesse Mayberry (Redline Richey)
5 Brian Rogers (SyCip Racing)
6 Steve Oz (Missing Link)
7 Steven Scott Woo (Fusion Sport)
8 Bill Carslay (Missing Link)
9 Jordi Cortes (Missing Link)
10 Thomas Fox (Unattached)
11 Eric Russell (Clif Bar)
12 Brian Ellin (Veloshop.org)
13 Christopher Coffey (Redline Richey)
14 David Pauls (Napa Valley Velo / Infineon Raceway Cycling)
15 James Camino (Unattached)
16 Ben Murphy (Huangoche)
17 Albert Reinhardt (Unattached)
18 David Dick (Alan Factory Team)
19 Blake Anton (Davis Bike Club)
20 Curtis Inglis (Inglis)
21 Loren Soltes (Huangoche)
 
Men's C   
 
1 Jeff Crofton (Penn Velo)
2 Ryan Isaacs (Alto Velo)
3 Dirk Rohloff (Unattached)
4 Colin McLaughlin (Unattached)
5 Sergio Jimenez (Unattached)
6 James Peters (Unattached)
7 John Priolo (Santa Rosa Cyclery)
8 Jason Sage (FFBC)
9 Ryan Williams (Unattached)
10 Andy Schocken (Team Schocken)
11 Justin Forbes (Monticello Cycling Club)
 
Women A   
 
1 Christine Vardaros (Velo Bella)
2 Sarah Kerlin (Velo Bella)
3 Barb Howe (Velo Bella)
4 Melodie Metzger (Velo Bella)
5 Hillary Daniels (Hunter Cycles)
6 Katharine Maher (Missing Link)
7 Linda Elgart (Alto Velo / Webcor)
8 Jessica Hickel (Velo Bella)
9 Sheila Moon (Napa Valley Velo / Infineon Raceway Cycling)
 
Women B   
 
1 Amrita O'Leary (Huangoche)
2 Christy Murphy (Soulcraft)
3 Julie Barott (Roaring Mouse Cycles)
4 Alyse Weyman (Velo Bella)
 
Women C   
 
1 Heather MacKenzie (Unattached)
2 Karen Rehder (Unattached)
3 Lainie Bebber (SoulCraft)
4 Trea Schocken (Team Schocken)
5 Mary Hoover (Velo Girls)
6 Yvonne Walbroehl (Velo Girls)
7 Lorri Lee Lown (Velo Girls)
 
Master 35+ A   
 
1 James Coats (Amgen Felt)
2 Sean Kelsey (Alan)
3 Christopher Daugherty (Napa Valley Velo / Infineon Raceway Cycling)
4 Scott Lynch (SyCip)
5 John Kammeyer (Redline Richey)
6 Jeff Hane (Wrong Way)
7 Dan Sovereign (SGW/City Bike Works)
8 Mark Mastoras (Unattached)
9 Rich Sangalli (Dewars)
10 Eugene Beyer (FFBC)
11 John Rowen (SyCip)
12 Matt Rolandson (DFL)
 
Master 35+ B   
 
1 William Carslay (Missing Link / Bianchi)
2 Steve Oz (Missing Link / Bianchi)
3 Paule Bates (Roaring Mouse Cycles)
4 Joe Fabris (Le Village)
5 Christopher Holmes (Team Robeks)
6 Tim McCracken (Mako / Galaxy Granola)
7 Gary Anghinetti (Penn Velo)
8 Joseph Crabtree (Hunter Cycles)
9 Mark Kurashige (Los Gatos Bicycle Racing Club)
10 Curt Ferguson (Unattached)
11 Andrew Payne (FFBC)
12 Juan Ortiz (Fusion Sport)
13 Micheal Gomez (Monticello Cycling Club)
 
Master 45+ A   
 
1 Henry Kramer (Schwab Cycles)
2 Cass Laizure (Missing Link)
3 Norm Kreiss (Missing Link)
4 Jon Suzuki (Missing Link / Bianchi)
5 Robert Kurosawa (Panaracer)
6 Brian Birch (Panaracer)
7 Joe Fabris (Le Village)
8 Robert Barber (Tribe)
9 Hank Mini (RagDoll Racing)
10 Mike Macdonald (Jaeger Wheelmen)
 
Junior Men (14-18)   
 
1 Blake Anton (Davis Bike Club)
2 Jeremy Ferguson (Unattached)
3 Bjorn Fox (Unattached)
4 Musa Zaid (Davis Bike Club)
5 J.T. Bailey (Eagle)
 
Kids   
 
1 Bjorn Fox (Unattached)
2 Steven Bailey (Unattached)
3 Anders Fox (Unattached)
4 Nicole Rehder (Unattached)
5 Linnea Fox (Unattached)
6 Kayleen Pauls (Unattached)
 
Singlespeed   
 
1 Rich Maile (Art By Opsal)
2 Jason Pyrzynski (Unattached)
3 Mike Macdonald (Jaeger Wheelmen)

Local results 2004