Results &amp reports from the USA
Promoters wishing to submit results should send them to Cyclingnews
2003 ACA Junior Cyclo-cross Camp
Snow Mountain Ranch, September 26-28, 2003
Top riders coach tomorrow's stars
Story by Dave LaMay
Daniel Summerhill works on bunny hopping.
Photo ©: Beth Seliga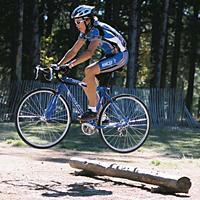 September 26 - 28 saw 31 juniors, and 35 staff and parents converge on Y.M.C.A. of the Rockies/Snow Mountain Ranch for the 2nd annual Junior Cyclocross Camp and race. After a late night of registration Friday night, campers all found rooms and Mentors and coaches put the plans together for the weekend under the direction of Scott Mares of Sibex Sports Cyclocross (www.sibexsports.com).
Saturday, 7:00 A.M., 35 degrees Fahrenheit and its time for "The Run", a tradition at the junior camps to get in a little 'Cross training and get the blood pumping before the long day of drills and skills. After breakfast, Coaches gathered everyone on the athletic field for 5 hours of specific drills and games designed to hone the myriad skills necessary for cyclocross riding. The athletes were divided into several groups and the coaches' split up and worked with their groups respectively. Travis Brown and Jim Copeland took the older and more experienced group, while other volunteer coaches including top local and national 'cross riders combined the series of drills into a later competition, aptly named "Call out the Coach" where the juniors get to try at a little revenge against the coach of there choice. Unfortunately Pro rider Travis Brown didn't get the call this time!
Bump 'n' Thump
Photo ©: Beth Seliga

A lot of the day's thoughts were filled with ideas on how to come away with the most swag at Saturday night's "Bump -n- Thump". Thanks to donations of everything from coffee to water bottles. The camp was another success! This event held on the gyms wooden floors, resembles a bike rodeo and track race all in one. Groups of 4-6 riders enter the oval "track" and with no rules try to out manoeuvre, out last and survive (I know, sounds like a bad Reality TV show!) until just one rider is upright. Winner takes his or her "Shwag" and the next groups heads out.
In preparation for the ACA BAR/BAT race on Sunday, we spent 2 hours teaching the campers ins and outs of building a proper cyclo-cross course and all the hard work that goes into putting together such races. The 3km. course was filled with twists and turns, 6 creek crossings, 6 forced dismounts through he use of traditional cyclo-cross barriers and "natural" barriers and one big 25yard long mud bog that any pig would have been proud to call home! The course received great reviews form both spectators and riders alike. We look forward to the spring road/MTB camp next May…
For more information on ACA programs go to www.americancycling.org
Photography
Images by Beth Seliga/www.3catsphoto.com
Results

13-14
 
1 Daniel Summerhill (Rocky Mtn Cycling Education Foundation)      
2 Bryson Sewell (Velo Del Norte)                                  
3 Danielle Haulman                                                
4 Jon Anderson (Horsetooth Racing Team)                           
5 Davis Balgley (Vitamin Cottage Cycling Team)                    
6 Madeline Hack (Unattached)                                      
 
15-18
 
1 Braden Kappius (5280/Subaru)                               27.58
2 Daniel McKinnon (Boulder/Denver Couriers)                       
3 Alex Howes (Lakewood Racing Team)                               
4 Walker Savidge                                                  
5 Emil Marinov (Front Rangers Cycling)                            
6 James Anderson                                                  
7 Davis Glasscock (Horsetooth Racing Team)                        
8 Francisco Rocha (Rocha)                                         
9 Tyler Gallup (Team Cornerstone)                                 
10 Timothy Anderson (Team Cornerstone)                            
11 Cameron Payne (Lakewood Racing Team)                           
12 Mark Huang (Fort Collins Cycling and Racing)                   
13 Allen Browne (East Side Wheelmen)                              
14 Xander Elliott (International Christian Cycling)               
15 Clint Mitchell (Front Rangers Cycling Team)                    
16 Zach Williams                                                  
 
37906
 
1 Ivan Rocha (Rocha)                                              
2 Ty Olwin (Rocky Mtn Cycling Education Foundation)               
3 Jeremy Erbsen                                                   
4 Hannah Hausman (Unattached)                                     
5 Kaitlyn Hack (Unattached)                                       
6 Ryan Russ                                                       
7 Emily Sewell                                                    
8 Katie Olwin (Rocky Mtn Cycling Education Foundation)            
9 Nathan Hausman (3 Bad Dogs)                                     
 
Senior Men Open
 
1 Travis Brown (Jimmy D. Racing)                             57.12
2 Tim Faia (Valdoro Mountain Lodge Cycling Team)                  
3 Brandon Dwight (7UP/Cannondale)                                 
4 Andy Lee (Unattached)                                           
5 Nick Payne                                                      
6 Kenneth Bloomer (Sycip/Clif Bar)                                
7 Shawn Harshman (Excel Sports)                                   
8 Jeffrey Hartmann (Jimmy D. Racing)                              
9 Daniel DePaemelaere (Rocky Mtn Cycling Education Foundation)    
10 Lew Perna (Schwab Cycles/Torelli Velo Project LLC)             
11 Jonathan Baker (Pro Peloton Velo)                              
12 Jesse Riel (Unattached)                                        
13 Wade Wilderman (Totally Wired Cyclery)                         
 
Men 3
 
1 Len Zanni (Honey Stinger)                                  40.19
2 Brian Hutchison (Fort Collins Cycling and Racing)               
3 Jared Roy (Birchwood)                                           
4 Braden Kappius (5280/Subaru)                                    
5 Adam McGrath (Eyland.com)                                       
6 John Judge (Unattached)                                         
7 Glen Light (Red Rocks Velo)                                     
8 Dean Dealy (North Metro Cycling)                                
9 John Drake (Red Rocks Velo)                                     
10 Joe Sullivan (Vitamin Cottage Cycling Team)                    
11 Peter Lopez (Green Mountain Sports Velo)                       
12 Evan Wasserman (Red Rocks Velo)                                
13 Todd Gold (Team Columbus)                                      
14 John Leybourne (SEAR/Cont'l Homes-Campus Cycles)               
15 Brian Bruggeman (Fort Collins Cycling and Racing)              
16 David Middlekauff (Haul N Ass Racing Team)                     
17 Erik Hultgren (Unattached)                                     
18 James Hersey II (AST Cycling Team)                             
19 Ronald Weber (Red Rocks Velo)                                  
 
Men 4
 
1 Allison Dunlap (Luna Women's MTB Team)                     42.59
2 Steve Gabbard (Swift Cycling)                                   
3 Todd Brady (Louisville Velo)                                    
4 Sean Steeves (Swift Cycling)                                    
5 Charles Corbin (Colorado Velo - Denver Spoke)                   
6 Chris Smith (Unattached)                                        
7 Brendan Kiernan (Unattached)                                    
8 Ian Ramsey (Unattached)                                         
9 Steve Pardee (Unattached)                                       
10 Kevin Krajewski (Colorado Velo - Denver Spoke)                 
11 Justin Green (Dean Bicycles)                                   
12 John Smith (Honey Stinger/Moots)                               
13 Marcus Moran (Unattached)                                      
14 Duke Matthews (Swift Cycling)                                  
15 Kurt Kolleth (Lakewood Racing Team)                            
16 Matthew Fix (Unattached)                                       
17 Gordon Hardenbergh (Unattached)                                
18 Marlon Crespin (Unattached)                                    
19 Jim Heuck (Red Rocks Velo)                                     
20 Mike Phillips (GS Barali)                                      
21 Philip Higgs (Unattached)                                      
22 Benjamin Wojtowicz (Unattached)                                
23 Robby Ball (Chatfield Cruise)                                  
24 David Anderson (EWS)                                           
25 Terry Jordan (Indy Fab.)                                       
26 Erik Werner (Unattached)                                       
 
Men 35+
 
1 Dennis Farrell (Red Rocks Velo)                                 
2 John Vickers (Cody Racing Team)                                 
3 Emery Legg (Cicli Casati Cycling Team)                          
4 Bart Sheldrake (Cody Racing Team)                               
5 Charlie Hayes (Excel Sports)                                    
6 Rich Herger (Honey Stinger/Moots)                               
7 Charles Brown (Mountain Pedaler)                                
8 Greg Frozley (Jimmy D. Racing)                                  
9 Chris Kopp                                                      
10 Thomas Jensen (WRC/Specialized)                                
11 Craig Hilton (Red Rocks Velo)                                  
12 Richard Squires (Red Rocks Velo)                               
13 John Talley (GS Boulder Masters Cycling Team)                  
14 Ronald Weber (Red Rocks Velo)                                  
15 Doug Squires (Red Rocks Velo)                                  
16 Joel Howes (Cody Racing Team)                                  
17 Dennis Lane (Red Rocks Velo)                                   
18 Joseph Paulson (Rocky Mounts Racing)                           
19 Bruce Whitesel (Cody Racing Team)                              
20 Brent Choate (Ice Box)                                         
21 Bob Brown (Cody Racing Team)                                   
22 David Hixson                                                   
23 Paul Williams (Unattached)                                     
24 David Burns (Vail OH Crossers)                                 
 
Men 45+
 
1 Dan Pate (Unattached)                                           
2 Bret Wade (Simple Green/MAZDA)                                  
3 Robert Balgley (Cody Racing Team)                               
4 Jeff Payne (King of the Rockies)                                
5 Ken Brecheisen (Rocky Mountain Road)                            
6 Lee Rivers (Colorado Velo - Denver Spoke)                       
7 Lee Waldman (Red Rocks Velo)                                    
8 Patrick O'Grady (Dogs At Large Velo)                            
9 Mike Zeller (Cody Racing Team)                                  
10 Thomas Prehn                                                   
11 Walt Lee (East Side Wheelmen)                                  
12 Scott Glasscock (Team Rio Grande)                              
13 Guillermo Garibay                                              
14 Ed Browne (New Mexico Velo Sport)                              
15 Donald Haywood (Fort Collins Cycling and Racing)               
16 Richard Elliott (International Christian Cycling)              
17 Peter Strebe (Laurel Street Racing)                            
 
 
Senior Women 
 
1 Anne Lannan (Valdoro Mountain Lodge Cycling Team)          43.01
2 Erin Light (Red Rocks Velo)                                     
3 Tawnya Ferbiak (Swift Cycling)                                  
4 Deanna Greco (Unattached)                                       
5 Jennifer Atkinson (Morgul Bismarck Bicycles)                    
6 Shan Wo (Colorado Velo - Denver Spoke)                          
7 Frances Summerhill (La Forza)