Results &amp reports from the USA
Promoters wishing to submit results should send them to Cyclingnews
Clif Bar/Emerald City Cyclocross
Donita Farms, Auburn, Washington, October 19, 2003
Russell Stevenson (Bianchi) on his way to second behind Dale Knapp
Photo ©: Hyun Lee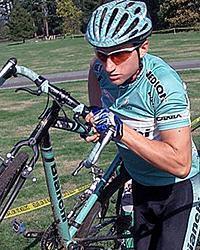 By Craig Grundem
As the fall wind and rain continues to wash away the excitement of high-profile international racing, our focus shifts back to Seattle cyclo-crossers, who turned out in force for round three of the Microsoft Emerald City Cyclocross Series, hosted for the second year by Donida Farms in Dale Knapp and Ingrid Spies made the rough, windy, and challenging course appear as smooth as silk as they each rode away with their first series victories in the elite men's and women's categories respectively. The show didn't stop there with competition in all categories becoming increasingly fierce as the battle for the podium begins, and record turn out of 101 beginners in our 10am race surprised even Seattle cross faithful!
The Donida farms course favored power and endurance. With the exception of a short run up and a brief flat single track section, the course was dominated by extremely rough and flat grass sections. The wide open staging area provided an arena for spectators to eat hot dogs and watch the majority of the suffering from a single vantage point. Race day sponsor, Clif Bar, provided prizes for the noon time kid's race and raffle.
Juniors
The future stars of cross have been providing some of the most exciting racing of the season, as the top 5 positions in all categories are separated by only a few points. For the category D Jr. racers, Ethan Mair bumped JD Fette from the top of the podium with his first place finish. JD finished in close second. Paul Sales held onto his third place position with a third place finish.
In the Jr. C category, Noah Buckley ran away with first place, taking over the first place position by 10 points. Evan Schmidt finished with second, and Lugiano Worl will stay in second place overall with a third place finish.
Gian Dalle (1st), Joey Rogerson (2nd), and Conor Byrne (3rd) could concentrate on each other without the distraction of other races, as they alone battled for top three.
Severin Skolrud took the lead with a first place finish in the Jr. A category. Tyler given also moved up the leader board with a second place finish. Tristian Skolrud moved into third overall with a solid third place finish.
Women
It was like watching track racing, except with dirt, gears and brakes, as local track stars Taylor Boglioli (first) and Amara Boursaw (second) proved it takes power to dominate this challenging course. Taylor may be a threat to Amara's current first place standing. Dennette Wood endured the punishment for a solid third place finish for her first race of the season.
In the women's B field, Jadine Riley, Danielle Crandall, and Lisa Given provided an instant replay at the finish line as they once again placed 1st, 2nd, and 3rd respectively.
The Women's A category continues to provide fast, world class racing. Ingrid Spies (Re-Cycled Cycles) cleaned up, sans bar end streamers, with her best finish of the season, also moving into first place and extending her overall lead. In a close second it was Kristi Berg, also moving into second overall, with Emily Westbrook finishing in third.
Wanda Howlett and Kathy Smith had the course all to them selves in the Masters Women race. Wanda finished first, closing the gap to Kathy Smiths first place position.
Elite and Master Men
David Schmidt moved to the top of the leader board with a first place finish in the Men's C category. Close behind were Chris Kutach in second place, and Brian Hogan in third, each with their highest placings of the season.
There are several new faces at the top of the leader board in the Men's B field after this week. Eric Noll finished in first, proudly flying the Husky purple and gold. Isaas Gmazel finished second - his best finish of the season.
In the Master C field, Mike Hays edged out David Scott for the first place finish, moving up to 6th overall. Sam Jaagen crossed the line in third for his season cross debut. Kyle Felmley moved into third place overall with a third place finish.
The Master B's saw two riders making their season debut, only to throw down the hammer and step up the level of competition. Dave Rider Rubicon and Samuel Eldersueld walked away with first and second place respectively. Joe Sales was able to hold onto his first place position with a third place finish.
Dan Norton easily rode away with his first season victory in the Master A category, with challenger Alex Andel (Broadmark) close on his wheel finishing in second. Doug Carlton finished in third, also with his best placing of the season.
The elite men continue to demonstrate why they are the fastest cross racers on the west coast. At the whistle, Aaron Menenberg was off the front like a cannon shot, with Dale Knapp (Kona), Russell Stevenson (Bianchi), and Try Heithecker (Re-Cycled Cycles) in close tow. Dale, Russell, and Troy started the battle for first early in the race. Heithecker lost his grip on third as he suffered from multiple mechanical problems early in the race that eventually resulted in a dramatic, spectator pleasing, catastrophic failure as his rear derailleur came into contact with the wheel. Eric Atwood moved up to third to join Russell and Dale at the front of the train. Drama ensued as Russell dropped his chain, and Dale seized the opportunity for an attack. Dale powered away and never looked back as he picked his way through the masters A group, and crossed the line in first place with a huge margin over second place finisher, Russell Stevenson. Eric Atwood was able to hold onto a solid third place finish, while Matt Hill (Ti Cycles) and Rob Campbell (The Valley) duked it out for 4th and 5th.
The Microsoft Emerald City Cyclocross Series continues to promote world class racing for athletes, and unparalleled NW cycling entertainment for spectators. All of this is possible only through the support of title sponsors Microsoft and REI, as well as a list of race day and supporting sponsors. Racing would not be exciting without our family and friends fan base. If you have not seen a cross race yet this year, it's time! Be sure to bring your cow bell! There are 5 races remaining in the Microsoft Emerald City Cyclocross Series:
Oct 26 - Steilacoom (Spoke & Sprocket)
Nov 2 - Lincoln Park, St. Jude's benefit race
Nov 9 - Ft. Flager (Broadmark)
Nov 16 - South SeaTac Park (REI)
Dec 6 - North SeaTac Park (Microsoft
Photos
Images by Hyun Lee
Results

Elite Men
 
1 Dale Knapp (Kona)
2 Russell Stevenson (Bianchi)
3 Eric Atwood (Ritchey)
4 Matt Hill (Ti Cycles)
5 Rob Campbell (The Valley)
 
Masters
 
1 Dan Norton (Redline)
2 Alex Andel (Broadmark Capital)
3 Tim Ellic (recycled Cycles)