Recently on Cyclingnews.com
Results &amp reports from the USA
Promoters wishing to submit results should send them to Cyclingnews
Bio Wheels Ohio Valley Cyclocross
Harbin Park, Ohio, October 19, 2003
By Mitch Graham, Bio Wheels
Joe Bellante (Bio Wheels) on his way to a podium finish
Photo ©: Mitch Graham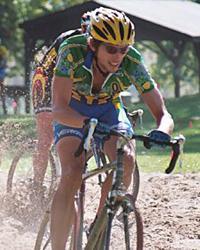 The first of two '03 Bio Wheels cyclocross events at Harbin Park couldn't have been any more fun if we tried. Bio Wheels racer and head chef Chad Irey had the burrito fixings on the cooker (and a couple shots of rum in his system) well before the first racer pulled into the parking lot at 9am. The course was a rip-roaring twist-fest with lots of natural and artificial barrier carnage.
With all the twists and turns, the spectating was top-notch. The racers didn't disappoint, as the competition was fierce in all the categories. The B race was one of the more memorable in recent memory, with six riders in contention for the win ($200 would go to five places) with two laps to go. Two teams had two riders in the group, including Bio Wheels Racing's Joe Bellante and Pete Bauer, and Sonic's Ben Peacock and Dean Freeman (Memphis-area rider). Airborne's Scott Spees and Team Louisville's Brad Wunderlich rounded out the group. Spees was the first to turn the screws, as his effort narrowed the group to himself, Wunderlich, and Peacock. Unfortunately, that tactic turned on itself, as he was the next to be dropped. Wunderlich and Peacock battled all the way to the last barrier, where Peacock made it to the last turn first and squeaked out the win.
The A race ($400 for five places) went through its own thinning-out process, but things thinned out much sooner than in the B's. The first lap produced a lead group of six, including Phil Noble and Mike Kalan of Airborne, Matt Bell and Mitch Graham from Bio Wheels Racing, Nathan Rice from St. Louis (Catamount), and Al Senft (NUVO-BAP). Kalan was the first to attack on the long flat backstretch to the water tower. That effort was countered by Rice, who continued the effort for a near full-lap, and narrowed the lead group to three. Noble and Graham were the last two along for the ride. Rice ended up losing contact on lap 3, which left Noble and Graham to battle for the win. The win was decided just before the halfway point, with Noble attacking after the quad barrier to go on and take an insurmountable lead. The A Ladies race was poached by out-of-towner Betsy Schauer of Pittsburg. Anne Conroy (Revolution) and Sheila Senft (Airborne) rounded out the top three.
The next race at Harbin will be the USCF Ohio State Cyclocross Championship (details at www.biowheels.com). It will be held on a similarly challenging and rippin' course. Trophies will go out to all who finish in the top three in each category. There will be one masters 35+ race at 12pm that races along with the B's. Total cash and prizes for the event will be $1800! Music and food will be on hand. Hope to see you all there!
Photos
Images by Mitch Graham
Results

Category A
 
1 Phil Noble (Airborne.net)             1.01.17
2 Mitch Graham (Bio Wheels)                1.13
3 Nathan Rice (Catamount)                  1.51
4 Ezra Taylor (Mid State Velo)             2.21
5 Al Senft (NUVO/BAP)                      3.00
6 TJ Turner (Airborne.net)                 4.49
7 Matt Bell (Bio Wheels)                   5.42
8 Mike Rucker (Unattached)                 5.46
9 Gordon Daniel (Rapid Transit)            7.25
10 Justin Becker (Bio Wheels)              7.38
11 Jerry Witham (PBF Cyco Team)            8.02
12 Bob Combs (Bio Wheels)                  8.43
13 John Koury (Montgomery Cyclery)     at 1 lap
DNF Mike Kalan (Airborne.net)
 
A Masters
 
1 Jon Sulentic (McLain Rollers)         1.07.41
2 John Riedel (Indy Fab)               at 1 lap
 
A Women
 
1 Betsy Schauer (ESSM/GPOA)               46.25
2 Anne Conroy (Revolution)                 3.25
3 Sheila Senft (Airborne.net)              8.57
 
Category B
 
1 Ben Peacock (Sonic)                     51.00
2 Brad Wunderlich (Team Louisville)        0.02
3 Joe Bellante (Bio Wheels)                0.10
4 Pete Bauer (Bio Wheels)                  0.15
5 Scott Spees (Airborne.net)               0.33
6 Dean Freeman (Sonic)                     1.02
7 Mark Hooten (Midwest Flyers)             1.33
8 Matt Botting (Team Dayton)               2.01
9 Steven Rider (BGI/Trane)                 2.40
10 Mark Lauterwasser (Bio Wheels)          2.42
11 Dan Ott (Unattached)                    3.36
12 Kurt Smits  (Unattached)                4.02
13 Andrew Millard  (Midwest Flyers)        4.10
14 Andrew Cover (Midwest Flyers)           4.19
15 Samuel Rhoads (Bike Line)               4.50
16 Tim Hill (Team Louisville)              4.54
17 Tim Humbert (Unattached)                5.10
18 Brian Belmont (Weber Sports)            5.57
19 Todd McKean (Nike Cycling)              6.25
20 Tony Franklin (Bio Wheels)          at 1 lap
21 Dean Freeman (Sonic)
22 Mike Otting (QCW)
23 Daniel Mendoza (Airborne.net)
 
B Masters
 
1 Rick Toler (Airborne.net)               52.49
2 Harry Wicks (Bio Wheels)                 0.53
3 Dennis Barber (Bike Station)             2.27
4 Dave Nissen (QCW)                    at 1 lap
 
Juniors
 
1 Jarrett Frauhiger (QCW/Kids on Bikes)   27.41
 
C Results
 
1 Michael Combs (Unattached)              31.15
2 Rob Burns (Unattached)                   1.05
 
C Masters
 
1 Larry Steinberg (Unattached)            29.28
2 DA Fleischer (Unattached)                0.32