Results &amp reports from the USA
Promoters wishing to submit results should send them to Cyclingnews
Scary Fast Cyclocross Cup #1
Woodland Hills, CA, October 5, 2003
By Ed Winchester, Amgen Cycling Team
Speedster Brent Prenzlow 'gazelles' a set of barracades
Photo: © Gary Hanson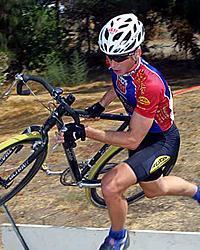 The cyclocross season opener for Southern California Cyclocross Cup took off in high fashion Sunday with the Scary Fast Cyclocross Cup at Pierce College in Woodland Hills, Ca. Located in the heart of the San Fernando Valley, this humble agricultural college was the perfect backdrop for the 132 'crossers that came from all over the Southwest.
The A-Men's event started of with a vicious attack from the gun by the youngster from Thousand Oaks, Perry Paolini (Team Rocket Parts), who took the hole shot at the first corner and kept the field in an eye-crossed world of hurt for three laps until the heads of state started working together to reel him in. With Paolini caught, it was 'F-Troop back to normal' in the form of a wicked counter attack from fellow Rocket Part team-mate Mark Noble who took control of the race with constant assaults on the courses run-ups and short climbs that made this such a challenging race. The ever consistent Brent Prenslow (Celo Pacific) charged till the end, making it a difficult day for Noble to take second. Strongman Erik Burgan (Team D.A.R.E.) held off a four-man chase group to take third.
In the Women's A race it was Kelly Bicycle's Dorothy Wong taking top honors from Jennifer Franklin (Velosport) who took second and Team Amgen's very own Maegan Daigler taking third.
In the Jr-Mens division, it was a battle royale with Excel team-mates David Mendoza and Luis Zamudio who broke away early and fought it out tooth and nail with Mendoza getting the better of his team-mate/rival at the line. The cerebral assassin, Jake Morris (Team Amgen) came in nipping at there heals for third.
The next race for the So. Cal 'crosser's is up north to Solvang. Go to www.ridesb.com for the info.
Photos
Images by Gary Hanson
Results

A-Men
 
1 Mark Noble
2 Brent Prenslow
3 Paul Burgan
4 Emilio Cervantes
5 Leonardo Sandoval
6 Jerry Jane
7 Perry Paolini
8 Jeff Herring
9 Paul Cusick
10 Mike McMahon
11 Thad Sparrow
12 Michael Eaton
13 Matias Mendigochen
14 Jeff Prinze
15 Chance Noble
16 Sean McHugh
17 Eric Fraer
18 Mark Newton
19 Ted Posch
20 Paul Hernandez
21 Carl Hooper
22 Ed Winchester
23 Monte Nathanson
24 Scott Tomlinson
25 Mike Treinen
 
A-Women
 
1 Dorothy Wong
2 Jennifer Franklin
3 Maegan Daigler
4 Joan Davies-Wilson
5 Jeanie Connie
6 Cathy Keelly
 
Junior Boys 14-18
 
1 David Mendoza
2 Luis Zamudio
3 Jake Morris
4 Spencer Spagnoda
5 Derek Lynch
6 Wyatt Carnell
 
B-Men
 
1 Jeff Prinz
2 Erik Barlevau
3 Bert Blanchette
4 Jamie Goldstein
5 Jeffrey Wilson
6 Jeff Schmela
7 Jay Brodie
8 Michael Bennett
9 Marco Calzidilla
10 Tim Farasy
11 Rich Franz
12 Eric Jorgensen
13 Mark Meecham
 
C-Men
 
1 Glenn Masuda
2 Alan Braff
3 Jeff Rowe
4 Alvin Tolosa
5 Joeseph Puskarich
6 Brian Dallas
7 James Jakabowski
8 Chris Tankersley
9 Eric Matthies
10 Merlyn Plumlee
11 Dan Fisher
12 Shannen McGinnis
13 Colin Schieer
14 Chris Hipwell
15 Chris Carnell
16 John Johnson
17 Keith Palkovic
 
C-Women
 
1 Megan Cordes
2 Heather Ford
3 Jennifer Blaska
 
Men 30+
 
1 Matt Glick
2 Jay Brodie
3 Paul Welsh
4 Marco Calzidilla
5 James Jakabowski
 
Men 35+
 
1 Brent Prenzlow
2 Gary Hanson
3 Mike McMahon
4 Keith Neil
5 Adan Guzman
6 Ted Posch
7 Scott Evans
8 Ted Seville
9 Mark Fluss
10 John MacMiller
11 Steve McKovich
12 Erik Luk
 
Men 40+
 
1 Emilio Cervantes
2 Chris Gallup
3 Larry Van Zant
4 David Bales
5 Richard Murphy
6 Scott Cruckshank
7 Bryan McMahon
8 Jeff Steinhart
9 Chris Hipwell
10 Charles Morris
 
Men 45+
 
1 Jon Livosay
2 Steve Silva
3 Gregory Townsend
4 Will Bondurant
5 Ken Greene
6 Rickey Russell
7 Ed Morris
8 Randy Perkins
9 John Reynolds
10 Richard Abrams
11 Greg Gatz
12 Mark Lynch
 
Men 55+
 
1 Steve Brown
2 Dean Ferrandini
3 Lee Wellmore
4 Roger Sexton