Results &amp reports from the USA
Promoters wishing to submit results should send them to Cyclingnews
Boulder Racing Cyclocross Series #1
Boulder, CO, October 5, 2003
By Matt Pacocha, Boulder Racing
Heather Szabo on her way to victory
Photo: © BoulderRacing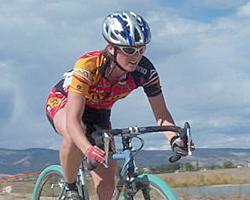 Travis Brown and Heather Szabo took the respective men's and women's main events under blue skies and unseasonably warm temperatures.
In the men's race, Travis Brown (Trek) took the hole shot, with some furious jockeying behind him resulting in Micah Thompson (Excel Sports) crashing out of the race. From there Travis, Brian Smith (Trek Rocky Mtn) and Brandon Dwight (7-Up/ Maxxis) showed their skills and early season form quickly gaining a substantial gap on the rest of the 35-man field.
Travis took the first lap prime and the three leaders worked together for another lap. On the third lap, Brian Smith put in an effort, gaining an advantage on the other leaders, Travis not wanting to chase a teammate down, left it up to Brandon to close the gap. After an ill-fated attempt to close the gap, Brandon was counterattacked by Travis, who bridged to his teammate quickly. From then on, Brian and Travis held their lead until the final lap where Travis broke away to take the win. Behind Brian held on for second and Brandon succumbed to the steady pressure of a hard charging Christian McCarthy (Pro Peleton).
In the women's race it was all Heather Szabo (Tokyo Joe's). After getting the hole shot and taking the New Belgium Hot lap prime, she had to deal with an untimely flat tire. Heather was able to take a pit from her mechanic Adam McGrath, after only riding here spare bike to the second pit she regained her race bike and set off the chase, for the then leader Leslie Lowery (BWCT). Heather caught Leslie on the next lap and quickly pulled away holding her lead to the end of the race. Heather credited her win to her running fitness, claiming the three long running sections allowed her to gain the most time on her fellow competitors.
Photos
Images by BoulderRacing
Results

Pro 1-2
 
1 Travis Brown (Trek/VW)
2 Brian Smith (Trek/ Rocky Mounts)
3 Christian McCarthy (Pro Peleton)
4 Brandon Dwight (Excel)
5 Jonathan Baker (ProPeloton)
6 Dennis Farrell (Red Rocks Velo)
7 Jeff Wardell (Louisville Velo)
8 Douglas Campbell
9 Alick Payne
10 Vicent Davis (Laurel Street Racing)
11 Joe Depaemelaere (Boulder Denver Curiers)
12 Michael Huffman (Valdora Mountain Lodge)
13 Lew Perna (Schwab / Torelli)
14 Joseph Saperstein (Team Rio Grrande)
14 Joseph Saperstein (Team Rio Grrande)
15 Charlie Hayes (Excel Sports)
16 Joseph Cooper (Denver Spoke)
17 Franck Abate (Valdora Mountain Lodge)
18 Dan Depaemelaere (RMCEF)
19 Hugh MacEachran (FCRC- Trek)
20 Brian Hludzinski (Vitamin Cottage)
21 Jesse Riel (Laurel Street Racing)
22 Brett Batchelder (Red Rocks Velo)
23 John Drake (Red Rocks Velo)
24 Aaron Brown (CU Cycling)
DNF Ben Turner (7 -UP)
DNF Christopher Albert (Louisville Velo)
DNF Chris Hopwood (Gary Fisher)
DNF Chuck Coyle (Vitamin Cottage)
DNF Colby Pearce (5280/Subaru)
DNF Jeffrey Hartman (Big Shark)
DNF Jon Cariveau (MOOTS)
DNF Keith Novello (Red Rocks Velo)
DNF Mike Hall (Carmicheal Training System)
DNF Micah Thompson (Excel Sports)
DNF Patrick Brown (Gary Fisher/Subaru)
 
Men Cat 3
 
1 Craig Wu (Vitamin Cottage)
2 Neal Henderson (WRC/Specialized)
3 Matt Opperman (Pro Peleton)
5 Jared Roy (Birchwood)
6 Ryan Hamilton (Dean)
7 Kris Arnott (Pikes Peak Velo)
8 Andrew Juskaitis
9 Joe Lindsey (Rocky Mounts)
10 Andrew Holton (Excel)
11 John Drake (Red Rocks Velo)
12 Keith Novello (Red Rocks Velo)
13 Peter Lopez (Green Mtn Sports)
14 Stephen Iles (Uberlube)
15 Emil Marinov (North Metro Cycling)
16 William DePaemelaere
17 Peter Stetina
18 Kory Balic Wilson
19 Tim Barnes (Team Dean)
20 Thomas Needy (International Chistian Cycling)
DNF Adam McGrath (Nema)
DNF Brett Batchelder (Red Rocks Velo)
DNF Cameron Brantley (ProPeloton)
DNF Grant Holicky (Pedros)
DNF Jamie Kilcoyne (GSCiao)
DNF Joe Sullivan (Vitamin Cottage)
DNF Kris Lathrop
DNF Parker Macy
DNF Paul Brooks
DNF Paul Des Rosiers (Schwinn / Neva)
DNF Ryan Amirault (CUCycling)
DNF Ron Weber (Red Rocks Velo)
 
Women 1-3
 
1 Heather Szabo (Tokyo Joe's)
2 Leslie Lowery - Abate (BWCT)
3 Anne Lannan (Veritas)
4 Rebecca Cooke (Landis/Trek/VW)
5 Margell Abel (Veritas)
6 Catherine Johnson (Pro Peleton Velo)
7 Mara Abbott (mtbchick.com)
8 Tanya Laffey (mtbchick.com)
9 Alison Rockwell (Outdoor Divas)
10 Beth Fisk (Visenka)
 
45+ Men
 
1 Brett Wade (SimpleGreen/Mazda)
2 Bob Bieterman (SimpleGreen/Mazda)
3 Doug Squires (Moots)
4 Jon McClurg (Rocky Mounts)
5 Rick Squires (Moots)
6 Jesse Coldsmith
7 Thomas Prehn (Boulder Chaos)
8 Lee Waldman (Red Rocks Velo)
9 Michael Spak (LRT)
10 Charles Edwards (LRT)
DNF Tim Downing (LVC)
 
55+ Men
 
1 Al Marvin (Red Rocks Velo)
2 John Daily (Swift Cycling)
DNF James Kissinger (GSBMCT)
 
Juniors 15-16
 
1 Alex Howes (LRT)
2 Emil Marinov (North Metro Cycling)
3 James Anderson (Horsethooth Racing Team)
4 Tyler Gallup (Team Cornerstone)
 
Juniors 10-12, 13-14
 
1 Tane Crespin
2 Jon Anderson (Monsoon Jr team)
3 Jeremy Simpson
 
Women 4
 
1 Megan Blades
2 Tawnya Ferbiac (Swift)
3 Mary McCarty
4 Neven Steinmetz (Swift)
5 Marija Balic-Wilson
6 Deanna Greco
7 Shan Wo
8 Nicole Gordon
9 Susan Prieto
10 Shaina Maytum
11 Cat Jaffee (mtbchick.com)
DNF Cristina Begy
DNF Lisa Davis
 
Women 35+
 
1 Amy Stenner
2 Althea Clary (Pikes Peak Velo)
3 Teresa Ritter (Uyi)
4 Krin Soll
 
Men Cat 4
 
1 Clint Knapp (Dean)
2 Andrew Biglow
3 Ryan McFarling (Mtn. Pedaler)
4 Craig McKessy
5 Greg Mueller
6 Greg Hammond
8 Bill Hanson (Denver Spoke/ CO Velo)
9 Chris Smith
10 Steve Pardoe (Red Rocks Velo)
11 Jim Scheel (Red Rocks Velo)
12 Seth Ramsbottom (Yeti/RPM)
13 Marlon Crespin
15 Eric Burns
16 Justin Green (Dean)
17 Gary Meyer (Pikes Peak Velo)
18 Gary Wolff (Trek)
19 Michael Burch (Red Rocks Velo)
20 Duke Matthews (Swift Cycling)
21 Philip Higgs
22 Keith McHugh (Rocky Mounts)
23 Bob Roberts
24 Zach Vanderkooy (Swift Cycling)
25 Christopher Freolerick
26 Terry Jordon (Pikes Peak Velo)
27 Seth Townsend (Amgen)
28 Jim Heuck (Red Rocks Velo)
29 Greg Friedman
30 Brendan Billingsley
31 Erik Werner
32 Tim Sells (Amgen)
33 David Petrick (GBOF)
34 Brett Ploessel (SEAR)
35 Brad Thomas
36 Tom McKinnon
DNF Brian Lee
DNF Chuck Farman
DNF Doug Smith
DNF Marcus Moran
DNF Mike Schrock
DNF Pete Burhop
DNF Peter Fahringer (Louisville Velo)
DNF Reeves McDonald
DNF Roger Knight
DNF Ryan Oliver (Grr Racing)
NP Steve Grabbard (Swift Cycling)
 
35+ Men
 
1 Charlie Hayes (Excel Sports)
2 Marc Dawes (Cody Racing)
3 Terry Wheeler (Red Rocks Velo)
4 Tim Leahy (TPRT)
5 Franck Abate (Valdora Mountain Lodge)
6 Dennis Lane (Red Rocks Velo)
7 John Talley (GSBMCT)
8 Bob Brown (Cody Racing)
9 Kirk Olson (Valdora Mountain Lodge)
10 Ronald Weber (Red Rocks Velo)
11 Roger Knight
12 David Hixson
13 Chris Koop
14 James Howe (Boulder Denver Couriers)
15 Brian Gunnrison
16 Daniel Bork
17 Paul Bauersfeld
18 Pat McCormick
DNF Bob Pieto
DNF Charlie Brown (Mnt. Pedaler)
DNF Doug Smith
DNF Joel Howes (Cody Racing)