Recently on Cyclingnews.com
Results &amp reports from the USA
Promoters wishing to submit results should send them to Cyclingnews
Tour de Tunnel
Port Townsend, Washington, October 4, 2003
By Hyun Lee
The battle for third on the historic battlegrounds at Fort Warden Park.
Photo: © Hyun Lee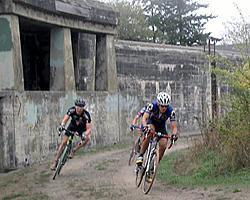 Saturday, October 4 was Team Ragnorok's Tour de Tunnel cyclocross race in Port Townsend's Fort Warden Park. Fort Warden is known for being the locale for the film "An Officer and a Gentleman" with Richard Gere and Debra Winger and of course, Louis Gossett Jr.
This was a course that wound its way up through historic bunkers and battlements and down a loose, sandy descent. Ryan Trebon won the elite race followed by Jonny Sundt (K2) about a minute back. Trebon and Sundt stayed together for the first three or four laps before Trebon got a gap which he held for the win. Sundt soloed in for second place, with the battle for third between Eric Atwood (Ritchey), Christian Young (Rahnorok) and Troy Herthecker.
In the end, it was Hetchecker followed by Atwood and Young, with Mark Hansen (Bianchi) coming in for sixth place. In the women's race, Christy Berg (JF2) won comfortably, holding a significant gap over the chasers.
Photos
Images by Hyun Lee
Results

Men
 
1 Ryan Trebon
2 Jonny Sundt (K2)
3 Troy Herthecker
4 Eric Atwood (Ritchey)
5 Christian Young (Rahnorok)
 
Women
 
1 Christy Berg (JF2)