Results &amp reports from the USA
Promoters wishing to submit results should send them to Cyclingnews
Minnesota Cyclocross Championships
Bassett Creek Park, Crystal, Minnesota USA , November 9, 2003
By Bicisport Media
Doug Swanson (Trek/VW)
Photo: © Bicisport Media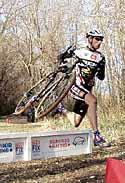 "It's a huge chess game that's being played - all over the world - if this is the world at all, you know. Oh, what fun it is! How I wish I was one of them! I wouldn't mind being a Pawn if only I might join - though of course I should like to be Queen, best".
-Lewis Carroll, Through the Looking Glass
Record Turnout! Record Season!
148 riders turned out on this spectacular day for the Cyclocross Championships of Minnesota. Bright sunshine and moderate temperatures. A bracing breeze and dry conditions. The best racers and the hottest bikes. What more could you ask for?
Cyclocross in Minnesota is exploding! The depth of fields has stepped up and the sheer volume of participants has been astonishing. With such a broad appeal, across all cycling spectrums, cyclocross is the one sport that most cyclists can relate to. Not every person wants to race mountain bikes or road bikes. You will see few tri-athletes at the velodrome. From the blanket gangster bike messenger to turned up collar roadie, they all want to ride cyclocross.
But why has Minnesota cyclocross been so strong in 2003?
Much of the credit for this yearís success goes to go to the Alan Factory Team. The Alan Factory Teamís has invested heavily on coalition building efforts to bring new people into the sport via a weekly clinic featuring technical coaching and a nightly training race. These clinics and races allow the newcomer to learn valuable lessons and promptly use them each night in pseudo competition. This grass roots community based approach takes the pressure off the newcomer and allows him or her to advance at an organic pace. The momentum of these and similar efforts will have a profound effect on Minnesota cyclocross in 2004 and beyond.
The Course
Bassett Creek Park has been used for the Minnesota State Championship Cyclocross for many years and offers a challenging course regardless of design. Partly due to the natural topography of the park as well as the amount of land available for course layout. This years event was a rich coalescence of ruddy tarmac, dirt roads, grassy flats, a long dirt hill run up (El Diablo), a long railroad tie stair step run up, single track and downhill sections interrupted by barriers placed strategically to muddle any rhythm that one could institute or any momentum that would aid you. The only thing missing in 2003 was the annual creek portage. In the end, the course was a fairly long affair that had something for everybody and two things for all, Truth and Suffering!
The Truth About Cyclocross
Cyclocross is a strongmanís sport. There are no tricksters in cyclocross. There is only truth. No deceivers, no shock and illusion makers or shamanic faith healers. A tricksters veil is quickly removed, the deceiver has nowhere to hide. The shock and illusion makers burn up in smoke and the shamanic faith healers along for the ride. Cyclocross reveals a paradox of truth. Once paradox has arrived, the circle is inescapable. It spirals down to madness or ascends to revelation.
Elite Race
Doug Swanson, Trek/Volkswagenís favourite young star, is no trickster. He is no deceiver. He is no shock and illusion maker nor shamanic faith healer. Doug Swanson is about truth. The revelation of this truth is the paradox of his legs and his heart and his lungs. The paradox of truth is the mortal coil. Thatís the rub.
The Elite race began in earnest and not surprisingly it was Doug Swanson who took to the front. Swansonís classic attack from the gun style is at once challenging to his rivals. Such is the confidence of his pacing and sharpness of his attack. The recent winner of the Chequemegon 40 and defending Minnesota Cyclocross Champion asked for the truth from his rivals, and they all answered. One by one, they all came to one unified truth. Today, Doug Swanson is the truth.
The chaos behind was a vexing affair for his closest rivals. Closest of all was Jake Stechman. Racing for the Alan Factory Team, Stechman planned to work his way through the front of the pack and chase up to Swanson who had already gained 26 seconds very early in the race. Stechman rode with a powerful grace, style and confidence worthy of a victory here and was bearing down on Swanson on more than one occasion when the fickle finger of fate tickled him. A crash here and a bike change there and the gap to the truth grew. Stechman remained the heroic deceiver right to the end when finally he submitted to the truth.
After the first twenty minutes of racing first and second position were secure. The big battle now was for third spot and, truth be told, this was the highlight of the race. Dan Swanson (Nature Valley/Penn Cycle), kid brother to Doug Swanson, had dominated the 2003 Minnesota cyclocross season. Many thought today would be the day he climbed out of his brotherís shadow to emerge as the state champion. This was not to be. However it must be said Dan Swanson had a bit of misfortune and got tangled up in traffic. Dan worked his way back to lead a group of Minnesotaís best cyclocross racers including Bianchi/Grand Performance riders Paul Ellis (4th) Duane Dickie (5th) and Jeremy Sartain (13th), Orbea/Momentum Expeditions Chris Flood (8th) Andy Powell (9th) Aric Harland (16th) and Salsa Cycles Fast Freddie Feirn (6th). As luck would have it Dan Swanson also found teammate and strongman Scott Ralston (7th) in this group. Ralstonís efforts aided Danís recovery and played a crucial role in liberating Dan later in the race.
The truth of limits is what cyclocross is all about. Each rider today was at the limit. Once beyond the truth of limits the paradox is revealed. For the competitors, today was an exercise in this fundamental truth. Suffice it to say that each and every rider tried as hard as they could and earned the distinction of cyclocrosses greatest attribute.
Other Noteworthy Performances
The winner of the entertaining masterís menís 35+ division was the Birchwood/GIS racer Scott Robertson. Robertson displayed rock solid technique and experienced pacing to ride away from the Bianchi/Grand Performance duo of Mark Milnar and Charlie Townsend.
Tim Brandavold won the B-Race impressively in front of Slater Crosby (Flanders Bros) and Zack Handler while Krystynn Kras (Cargill) lead home the Womans Elite division leaving second and third for Niaomi Humenny (Volkswagen) and Beckie Alexander (Kenwood Racing) respectively. The C-Race was pure recklessness and the hard charging Jason Holt (Birchwood/GIS) arrived at the line in front of Matt McDonough and Jeff Lewis.
All in all, a great end to the best cyclocross season ever.
Credit
Sponsored by: Kenwood Racing, Salsa Cycles, Chino Latino, THE FIX active body massage and the city of Crystal Parks and Recreation.
The annual chili and malt beverage from Bill OíReilly.
The window rolled down in the car on the drive home. A must.
Now thatís the truth!
Results
A Race - 60 min 
  
Men (USCF Categories 1/2, MNSCS Expert) 
  
1 Doug Swanson (Trek/VW)
2 Jacob Steckman (Alan)
3 Dan Swanson (Flat City)
4 Paul Ellis (Bianchi/GP)
5 Dewey Dickey (Bianchi/GP)
6 Fred Feirn (Salsa)
7 Scott Ralston (Flat City)
8 Chris Flood (MoEx)
9 Andy Powell (Orbea/MoEx)
10 102#
11 Jason McDonald (Alan)
12 Harry Anderson (Ski Hut)
13 Jeremy Sartain (Bianchi/GP)
14 Terry Boenken (Unattached)
15 Jay Richards (Bookoo)
16 Aric Hareland (MoEx)
17 Shawn Brick (Birchwood)
18 #239?
19 #240?
DNF Jonah Clark (VW)
DNF Chris Edin (Bicycle Sports)
DNF Paul Thorsen (Alan)
  
Men (USCF Cat 3, MNSCS Comp) 
  
1 Kevin Kralston (Kenwood)
2 Bjorn Selander (Alan)
3 Tom Cory (Salsa)
4 Todd Heiser (Squadra)
5 Brian Mohrlant (Metrix)
6 Josh Schwantes (Kenwood)
7 Mike Weisptenning (AUC)
8 Steve Rowentree (Kenwood)
9 Cory Gross (Flat City)
10 Dave Dingman (Bianchi/GP)
11 Derek Laan (Alan)
DNF Jared Roy (Birchwood)
  
Men (35+, Any Category) 
  
1 Scott Robertson (Birchwood)
2 Mark Milnar (Bianchi/GP)
3 Charlie Townsend (Bianchi/GP)
4 Paul Schoening (Alan)
5 Tom MacDonald (Kenwood)
6 Tim Boyle (Make Shift)
7 Wallace Alexander (Kenwood)
  
B Race - 45 Min 
  
Men (USCF Category 4, MNSCS Sport) 
  
1 Tim Brandrold (NV)
2 Slater Crosby (Flanders/MBRC)
3 Zack Handler (Unattached)
4 Patrick Humenny (VW)
5 Adam Birr (Gopher)
6 Matt Swanson (Unattached)
7 Jon Jensen (Flat City)
8 Steve Sonnesyn (Alan)
9 Sean Burns (Unattached)
10 Matt Meuyres (NV)
11 John Townsend (Unattached)
12 Jon Friedell (Kenwood)
13 Sean Peotter (Flat City)
14 John Thompson (Flat City)
15 Jason Holt (Birchwood/GIS)
16 Ladric Danri (Birchwood/GIS)
17 Tim Stone (Kenwood)
18 Tyler Johnson (MNJRC)
19 David Cory (Salsa)
20 John Struchynski (Unattached)
21 Gary Sewell (Fog)
22 Lee Bengel (MNJRC)
23 Brian Szlelckch (VW)
24 Matt Huron (Kenwood)
25 Kolyn Kirkham (Squadra)
26 Raleigh Loerch (Unattached)
27 Jim McCarvill (Dirt Posse)
28 Thomas Thornquest (Kenwood)
29 Steve Eberley (Unattached)
30 Marty Larson (Unattached)
31 Mark Kotz (Gopher)
32 Steven Nanzel (Unattached)
33 Allan Schuros 
34 Kent Plegge 
35 Patrick Lemieux (MNJRC)
36 Mark Kowalin 
37 Matt Kriegler 
38 Ian Hall (VW)
39 Robert Tomb (AUC)
40 DavidBucholtz 
41 John O'Brian
42 Rusty Williford 
43 Aaron Piddle (Unattached)
44 Kent Thorson (Unattached)
45 Andy Kruse (Tonka/MCT)
46 Allen Robertson (VW)
47 Lonnie Sauber (LCR)
48 Brendon O'Brien
49 Andrew Thiesen 
50 David Weber 
51 Paul Krafthefer (Kenwood)
52 Carl Nienon
53 #158
54 Garratt Nolan (Eriks)
DNF Kevin Schaeffer (Bicycle Chain/LSC)
DNF Tom Scherber (Salsa)
DNF Mark Schwartz (Unattached)
DNF Eric Zimmerman (Sports Hut)
  
Men (45+, Any Category) 
  
1 Dag Selander (Alan)
2 Dan Meyer (Bicycle Chain/LSC)
3 George Szymansky (Bicycle Chain/LSC)
4 Mike Lyner (Bicycle Chain/LSC)
5 Tom Bengel (Unattached)
6 David Hastert (Flanders/MBRC)
7 John Krawczak (Flat City)
8 Tim Power (Bicycle Chain/LSC)
  
Women (USCF Cat 1/2/3, MNSCS Sport or Expert)
  
1 Krystynn Kras (Cargill)
2 Niaomi Humenny (VW)
3 Beckie Alexander (Kenwood)
4 LauraBraun 
5 Ann Steuer (Gopher)
6 Benita Warns (Bianchi/GP)
  
C Race - 30 Min 
  
Men (USCF Cat 5, MNSCS Citizen ) 
  
1 Jason Holt (Birchwood)
2 Matt McDonough (Unattached)
3 Jeff Lewis (Unattached)
4 Drew Boeke (Unattached)
5 Will Hoeg (Eagle Ridge)
6 Michael Waatajan (Unattached)
7 Jason Tischer (Flat City)
8 Doug Hogland (AMEX)
9 Matthew Schlosser (Kenwood)
10 Bryan Butts (Bianchi/GP)
11 Jason Lajon (Unattached)
12 Jack Stock (Flanders/MBRC)
13 John Adelman (Unattached)
14 Mark Jerde (Flanders/MBRC)
15 John Thompson (Unattached)
16 TimLarson 
17 Ryan Hall (Flat City)
18 Mike Miziorko (Dung Beetle)
19 Jon Paulica (Unattached)
20 Gary Friedell (Kenwood)
21 John Shepard (Unattached)
22 ChuckJacobs 
23 Tim Dalton (Unattached)
24 Marc Nevisnski (RR)
25 Greg McCrea (Unattached)
DNF Rem Laan (Gopher)
  
Women (USCF Cat  4, MNSCS Citizen)
  
1 Benita Warns (Bianchi/GP)
  
Juniors (10-14, Any Category or Gender) 
  
1 Eric Thompson (Flat City)
2 Andrew Kotz (Gopher)
3 Joe Burianek (Gopher)