Recently on Cyclingnews.com
Results &amp reports from the USA
Promoters wishing to submit results should send them to Cyclingnews
Boulder Racing 2003 Cyclocross Series, Race #3
Louisville Recreation Center -Louisville,Colorado, November 9, 2003
Barnholt & JHK take race three
One lap to go
Photo ©: Rob Karman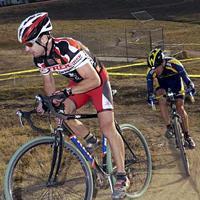 Grey skies and cold weather from the previous week broke just in time for race number three in Boulder Racing's Cyclocross Series. Sunny skies and mild temperatures once again greeted racers for a day full of racing on a compact, European-style course. The course offered spectators the chance to watch entire races unfold before their eyes. The Louisville Recreation Center Graciously hosted what has become more of a spectacle than a race, much like the super cups of old, Boulder Racing had a number of sponsors on hand to peddle their wares, and give away large amounts of swag, and connect with the cycling community. Clif Bar, Medically Based Fitness, Rudy Project, and Noodles & Co were all represented throughout the venue. To top it off New Belgium Brewery hosted a beer garden. Sunshine Wheat beer, as well as their famous Fat Tire Amber Ale was both on tap, the first lap prime was continued with the winners receiving a six-pack for the fastest first lap.
The women's race was a truly exciting show, after the previous two events in the Boulder Racing series were chalked up as primarily un contested wins by Heather Szabo (Tokyo Joe's). Race number three would proved to be a true nail biter. The start was fast and furious with Heather Szabo fighting a large women's field for the lead. Only holding on for three-quarters of a lap, Heather was over taken by Kerry Barnholt (Sobe/Cannondale), a pro mountain biker known for her breakthrough race this year at mountain bike world's where she finished in the top 15. Kerry came to Boulder Racing's third cyclocross series event fresh off a season break, but by the end of the first lap she showed she has lost little fitness.
Fifteen minutes into the forty-five minute event Kerry had a commanding lead with Heather Szabo and Julie Emmerman (Ritchey/K2) matching each other stride for stride in the fight for second. Disaster struck on the far side of the course when Kerry suffered a flat tire, forcing her to relinquish her lead and as many as six positions. After riding more than three-quarters of a lap on a flat tire, Kerry made it to the pit where she was able to get a new wheel, and set off a chase for the leaders. By this time Heather had stretched the elastic between herself and Julie Emerman, gaining a gap that hovered around 15 seconds, where both women enjoyed a lead over Kerry of around 1:45. The race ended with an inspiring display of determination. Kerry, riding like a champion, clawed her way back, erasing the margin over the course of the remaining laps and in dramatic fashion took the lead back from Heather on the last lap. Kerry was able to hold the lead over the last half lap to score the win. Heather rode strongly to second place, and Julie established herself among Colorado's best in her first season of cyclocross racing.
With Travis Brown (Trek) out of the state attending the UCI race in California, the men were be able to look to someone besides Travis for the win. Seeing an opportunity for some free beer, Mike West (Full Cycle) started like a man shot out of a cannon gaining a considerable gap quickly. After a blistering two laps, Jeremy Horgan-Kobelski (Polo RLX) made his move to close the gap to Mike. This put pressure on the rest of the chasers and opened a gap between the leaders, Jeremy and Mike, and the rest of the race. The two worked together gaining a serious advantage over Jonathan Baker (Pro Peloton) and Christian McCarthy (Vitamin Cottage) the most active chasers. Jeremy took the first test of Mike's form three-quarters of the way through the hour-long race, but Mike hung in able to match all of Jeremy's efforts until the last 200 or so meters of the race where Jeremy took the lead for good crossing the line with only a couple seconds advantage over Mike. Jonathan Baker, Christian McCarthy, and Doug Campbell rounded out the top five. Of race note Alison Dunlap (Luna Chix) finished a strong 26th in the open men's race. Before the race she claimed she was looking for a "extra hard workout to prepare for next week's world cup." Hopefully all the local hotshots helped - good luck next weekend Alison.
Other winners on the day were, Dennis Farell (Red Rocks Velo) SM35+, Laura Cleven SW4/35+, Alex Howes (LRT) Juniors, Daniel Summerhill (RMCEF) SM4, and Colin Becker (CU Cycling) SM3. Boulder Racing's events are only made possible by our sponsors and the hard work of all those who volunteer.
A special thanks goes out to Medically Based Fitness, Excel Sports, Clif Bar, Rocky Mounts, Moots Cycles, Case Logic, Xilinx, and New Belgium Brewery. As well as our supporting sponsors Vermarc Sportswear, Deuter Packs, Acelerade, Maxxis, K2 Bikes, Noodles & Co, Gofast, and Glacier Homemade Ice cream.
Photography
Images by Rob Karman/www.roadbikephotos.com
Images by www.boulderracing.com
Results
Men's 1,2 
 
1 Jeremy Horgan-Kobelski (Polo RLX)
2 Mike West 
3 Jonathan Baker (ProPeloton)
4 Christian McCarthy (Vitamin Cottage)
5 Douglas Campbell 
6 James Boylan 
7 Brandon Dwight (7 Up / Maxxis)
8 Joe Depaemelaere (Boulder Denver Curiers)
9 Zak Grabowski (Hot Tubes)
10 Jeff Wardell (Louisville Velo)
11 Greg Frozley (Cody Racing)
12 Chris Jung (CU Cycling)
13 Ariel Lindsley (Maverick/James Frames)
14 Ken Helgeson (Cody Racing)
15 Chris Hopwood (Gary Fisher)
16 Colby Pearce (5280/Subaru)
17 Jon Cariveau (MOOTS)
18 Lew Perna (Schwab / Torelli)
19 Scott Forrest (Victory Circle)
20 Michael Huffman (Valdora Mountain Lodge)
21 Todd Carver (Comotion Sports)
22 Jon Tarkington (Vitamin Cottage)
23 Douglas Ryden 
24 John Vickers (Cody Racing)
25 Alison Dunlap (Luna MTB Team)
26 Joe Taddeucci (Vitamin Cottage)
27 Glen Light (Red Rocks Velo)
28 Hugh MacEachran (FCRC- Trek)
29 Aaron Brown (CU Cycling)
30 Dan Depaemelaere (RMCEF)
31 Jesse Riel 
32 Chris Stockberger (Rio Grande / Monsson)
33 Brian Hludzinski (Vitamin Cottage)
DNF Brian Ellis (Jamba Juice)
DNF Brian Krombein (Cycle Solutions)
DNF Daniel Chechis 
DNF Logan Garey 
DNF Micah Thompson (Excel Sports)
DNF Peter Lopez (GMSU)
DNF Shawn Harshman (Excel Sports)
DNF Tim Faia (Valdora Mountain Lodge)

Women's 1,2,3
 
1 Kerry Barnholt (Sobe / Cannondale)
2 Heather Szabo (Tokyo Joe's)
3 Julie Emmerman (Ritchey/K2)
4 Jennifer Gersbach (CU Cycling)
5 Anne Lannan (Veritas)
6 Meghan Blades 
7 Heather Irmiger (Ritchey/K2)
8 Catherine Johnson (Pro Peleton Velo)
9 Erin Light (RedRocks)
10 Margell Abel (Boulder Racing)
11 Elizabeth Fisk 
12 Julianne Boylan 
13 Heather Armstrong (Denver Spoke/Colorado Velo)
14 Cristina Begy 
15 Deanna Huff (LaForza)
DNF Alison Rockwell (Outdoor Divas)
DNF Danielle Haulman (La Forza)
 
Men's 3
 
1 Collin Becker (CU Cycling)
2 Branden Kappius (5280 Subaru)
3 Dean Dealy (KHS)
4 Paul Brooks 
5 Len Zanni (Honey Stinger)
6 Adam McGrath (Nema)
7 Mark Roebke (Dean Bikes)
8 Clay Harris (Red Rocks Velo)
9 Jonathan Coln (The Niss Niss)
10 Tim Assoi (Bike Source)
11 Joe Sullivan (Vitamin Cottage)
12 Dan Barry (Vitamin Cottage)
13 Russell Harding (CU Cycling)
14 Ryan Artale (CU Cycling)
15 Paul Des Rosiers (Swift)
16 Keith Novello (Red Rocks Velo)
17 Ryan McFarling (Mountain Pedaler)
18 Doug Manno 
19 Ryan Hamilton (Dean)
20 Joe Lindsey (Rocky Mounts)
21 Ryan Amirault (CU Cycling)
22 Peter Lopez (Green Mtn Sports)
23 Circ Toepel (Team Corner Stone)
24 Neal Henderson (WRC/Specialized)
25 Kory Balic-Wilson (International Chistian Cycling)
26 Jimmy Wills (Purdue Triathlon)
27 Todd Gold (Team Cornerstone)
28 Jamie Kilcoyne (GS Ciao)
29 Emil Marinov (North Metro Cycling)
30 Tim Barnes (Team Dean)
31 Matt Edwards (Haul-N-Ass)
32 Stephen Boston (Vitamin Cottage)
33 Bryan Jew (Rocky Mounts)
34 Alex Reynolds (CSU)
35 Michael Phillips (GS Barale)
36 James Voorhies (CSU)
DNF Brett Batchelder (Red Rocks Velo)
DNF Chris Kopp (Yeti)
 
Men's 4
 
1 Daniel Summerhill (RMCEF)
2 Stuart Jones 
3 Joe Brenner (Red Rocks Velo)
4 Ian Ramsey 
5 Steve Gabbard (Swift Cycling)
6 Craig McKessy 
7 Ward Baker (PBR)
8 Cullen Barker (Lake)
9 Ed Schultz (Honey Stinger)
10 Christian Gadapow 
11 Sean Steeves (Swift Cycling)
12 Marcus Moran (Eastside Wheelmen)
13 Steve Pardoe (Red Rocks Velo)
14 Chad Corbin (Colorado Velo/Denver Spoke)
15 Craig Walker 
16 Seth Ramsbottom (Yeti/RPM)
17 Michael Robson 
18 Joel Wenger 
19 Eric Burns 
20 John Barclay 
21 Peter Kieliszewski (Ritchey Logic)
22 Philip Higgs (Red Rocks Velo)
23 Justin Green (Dean)
24 Micheal Fulton 
25 John Bevans (Rocky Mounts)
26 Steve Gosselin 
27 Ryan Soderberg 
28 Frederico Medina (Green Mtn Sports)
29 Alec Uitti 
30 Davis Glasscock (Team Rio Grande)
31 Bill Pfaffendorf (Freewheel Bike)
32 Gary Meyer (Pikes Peak Velo)
33 Matthieu Chesaux (Ritchey Sports)
34 Clint Kay 
35 Nick Thehen 
36 Keith McHugh (Rocky Mounts)
37 Rob Russell 
38 Randin Isip (Old Town Bike Shop)
39 Ted Hanan 
40 Steven Slenker 
41 Brian Frost 
42 Michael Burch (Red Rocks Velo)
43 Jim Heuck (Red Rocks Velo)
44 Bob Roberts 
45 Tim James 
46 Paul Williams 
47 Chip Reynolds 
NP Albert Ioppolo (Boulder Triathalon Club)
NP Alex Coelho (RioGrande/Monsoon)
NP Bob Prieto 
NP Bowman Judd (FRX)
NP Brendan Billingsley 
NP Brendan Kieman 
NP Darron Cheek (A Racers Edge)
NP Darrell Nye 
NP Dash Ash (Ritchey)
NP David Femmer (SMBA)
NP Doug Felkley (FRX)
NP Douglas Gilkey (PBR)
NP Doug Smith 
NP Ethan McGraw 
NP Greg Friedman 
NP Greg Hammond 
NP Greg Mueller (Mountain Peddler)
NP Jason Olden 
NP Jeff Stephenson 
NP Jeremy Rodgers 
NP John Porter (Collegiate Peaks)
NP Kevin Krajewski (Colorado Velo)
NP Lane Miller (Louisville Velo)
NP Matt Parker (Golden Bear)
NP Miguel Santana 
NP Mike Ehreht 
NP Peter Shaffer 
NP Ryan Root 
NP Scott Robson 
NP Shawn Bandell 
NP Tad Plappert 
NP Tim Miller (Green Mountain Sports)
NP Todd Kleinman 
NP Travis Lukens 
 
Men's 35+
 
1 Dennis Farrell (Red Rocks Velo)
2 Frank Hibbits (Rainbow Racing)
3 Charlie Hayes (Excel Sports)
4 Terry Wheeler (Red Rocks Velo)
5 Bruce Whitesel (Cody Racing)
6 Emery Legg (Casati)
7 Charles Brown 
8 Franck Abate (Valdora Mountain Lodge)
9 Steven Stalgren (Schwinn)
10 Craig Hillon (Red Rocks Velo)
11 Tim Leahy (TPRT)
12 Mike Eyer (Zone 5 Sports)
13 John Talley (GSBMCT)
14 Mike Starck 
15 Dan Tomlin (Hay Hole)
16 Thomas Jensen (WRC / Spoke)
17 Dennis Lane (Red Rocks Velo)
18 Bob Brown (Cody Racing)
19 Steven Slenker 
20 Scott Mares (Pro Peleton Velo)
21 Ronald Weber (Red Rocks Velo)
22 Brian Gunnarson 
23 Bill Johnson 
24 Bruce Schwab (LRT)
25 Doug Smith 
26 Jim Dunlap (Trek/VW)
DNF Cameron Brantley (Pro Peleton Velo)
DNF Darron Cheek (A Racers Edge)
 
Men's 45+
 
1 Karl Kiester (Cody Racing)
2 Gary Thacker (Louisville Velo)
3 Bob Bieterman (SimpleGreen/Mazda)
4 Brett Wade (SimpleGreen/Mazda)
5 Pat Zeller (Cody Racing)
6 Jeff Payne (KOR)
7 Kevin Healy (Rainbow Racing)
8 Doug Squires (Red Rocks Velo)
9 Rick Squires (Red Rocks Velo)
10 Brook Watts (CRT)
11 Walt Lee (Eastside Wheelmen)
12 Lee Rivers (Dogs at Large Velo)
13 Tim Downing (LVC)
14 Lee Waldman (Red Rocks Velo)
15 Michael Spak (LRT)
16 Ken Brecheisen (LRT)
17 Pete Miller (Mountain Pedelar)
18 Dennis Collard (Rainbow Racing)
19 Jonathon Cawley 
20 Jim Barlow 
DNF Mike Zeller (CRT)
DNF Tom McKinnon 
 
Men's 55+
 
1 Al Marvin (Red Rocks Velo)
2 John Daily (Swift Cycling)
3 Rick Abbott (COBRAS)
4 Erik Nordenson (Cyclocrossworlds.com)
5 James Kissinger (GSBMCT)
 
Women's 4
 
1 Sarah Kennedy (Medically Based Fitness)
2 Mary McCarty 
3 Ailhea Clary (Pikes Peak Velo)
4 Marija Balic-Wilson 
5 Shan Wo 
6 Susan Prieto (Dean Bikes)
7 Devora Peterson (Dynatek)
8 Kristine Church (CU Cycling)
9 Elizabeth Carrington (Pedal Power)
10 Celeste Howe (Superfly)
11 Neven Steinmetz (Swift Cycling)
12 Sasha Milhous 
13 Tawnya Ferbiac (Swift)
14 Shaina Maytum 
15 Shawnee Oswald 
16 Jennifer Hasen (Trailcentrail.com)
17 Adriel Dealy (Vella Bella)
DNF Kate Baker 
DNF Susan Einberger (Clif Bar)
 
Women's 35+
 
1 Laura Clellan (Swift)
2 Karin Barclay 
3 Jennifer Atkinson (Morgul Bismark)
4 Cindi Toepel (Team Cornerstone)
5 Krin Soll 
 
Women's 45+
 
1 Cindi Toepel (Team Cornerstone)
 
Junior Men All
 
1 Alex Howes (LRT)
2 Emil Marinov (North Metro Cycling)
3 Peter Hibl (New Vista High School)
4 Francisco Rocha (Rocha)
5 Tyler Gallup (Team Cornerstone)
6 Colin Harris (Y-Riders)
7 Shawn Hallman 
8 Cameron Payne (LRT)
9 Tommy Joyce (Y-Riders)
 
Junior Men 17-18
 
1 Peter Hibl (New Vista High School)
2 Shawn Hallman 
 
Junior Men 15-16
 
1 Alex Howes (LRT)
2 Emil Marinov (North Metro Cycling)
3 Tyler Gallup (Team Cornerstone)
 
Junior Men 13-14
 
1 Francisco Rocha (Rocha)
2 Colin Harris (Y-Riders)
3 Cameron Payne (LRT)
4 Tommy Joyce (Y-Riders)