Results &amp reports from the USA
Promoters wishing to submit results should send them to Cyclingnews
3rd Annual CrossLogic Cyclocross Challenge
Parkville, MO, November 2, 2003
Battle on the River Banks
By Chris Locke
Steve Tilford
Photo ©: Gregg Riess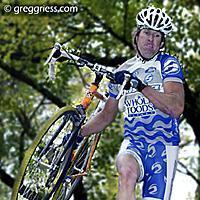 Fall weather finally hit the Midwest this weekend. Just in time for this now classis event. Cold damp weather didn't keep 95 of the region's best cyclo-cross racers from battling on a great course set on the banks of the Missouri River. Racers were challenged by two sand pits, some high-speed gravel trail, fun turn, chicanes and a fast technical boat ramp excursion that brought the riders down along the riverbank.
Elite
Steve Tilford showed why he is one of the nation's best cyclo-cross racers. Easily taking the Men's Elite division, Steve led from start to finish. Teammate Bill Stolte held off Micah Moran to take second. In the Women's Elite division, Catherine Walberg and Jennifer Tilley battled for the Women's title with Catherine taking the win.
Masters
Dean Parker (Team X)
Photo ©: Lyle Reynolds

Positions changed several times in the very competitive masters class. Steve Songer led early with Mark Thomas in second. Steve Songer came out on top with Dean Parker taking second place after working his way back up from a flat. This was Dean's second race of the day (he won the Masters 50+) and looks to be in good form to go for a Gold medal at Nationals next month. Darrel Bratton took the final podium spot.
Relay Race
Santa Fe trail racing team juniors
Photo ©: Lyle Reynolds
The most exciting race of the day was a new event - the team relay race. Three riders each doing one lap on the fast exciting Parkville course. Team Bikes & Boards battle with Team KCOI for the entire race. In the end only 1 second separated the winners. Team KCOI narrowly edged out Team Bikes & Boards to take the win. Team X rounded out the podium.
Thank you to all the volunteers, Roger Harrison & crew, the Bikes & Boards Racing Team and all our sponsors: CrossLogic, Go Fast Energy Drinks, Peak Bars, Metro Walk & Run, Landscape Architect's Design Group, 75th Street Brewery, The Wheel Cyclery, Fenton's Bar & Grill, Santa Fe Trails, Raleigh Bikes, & ProCyclocross.com.
Photography
Images by Lyle Reynolds
Images by Gregg Riess/www.greggriess.com
Results
Women A 
 
1 Catherine Walberg 
2 Jennifer Tilley 
3 Trudi Rebsamen 
4 Glenda Taylor 
5 Teresa Jarzemkoski 
 
Men A
 
1 Steve Tilford 
2 Bill Stolte 
3 Micah Moran 
4 Mike Koons 
5 Jason Ozenberger 
6 Steve Ragan 
7 Bill Marshall 
8 David White 
DNF Phil Gronniger 
 
Masters 40+
 
1 Steve Songer 
2 Dean Parker 
3 Darrell Bratton 
4 Keith Walberg 
5 Mark Thomas 
6 Pat Houtakker 
7 Ed Williams 
8 Bill Anderson 
9 Mike Berning 
 
Master 50+
 
1 Dean Parker 
2 Jim Witt 
 
Men B
 
1 Mark Smelser 
2 David Pitt 
3 Todd Davis 
4 Scott Hammack 
5 Curtis Martell 
6 Justin Hawkins 
7 Tony Stanislav 
8 Seth Smith 
9 Pat Lantz 
10 Walter Blesser 
DNF Joseph Vohland
 
Women B/C
 
1 Madeline Finch 
2 Stacie Tripodi 
 
Men C
 
1 Damian Almanza
2 Charles Jenks 
3 Tony Stewart 
4 Richard Paz 
5 Monte May 
6 John Schlesselman 
7 Bob Owen 
8 Brendan Sheehan 
9 Mike Classen 
10 Brian Robinson 
11 Mike Young 
12 Joe Erwin 
13 Sean Jackson 
14 Auben Galloway 
15 Russ Pederson 
16 David Matthews 
17 Adam Jackson 
18 Jeremy Haynes 
19 James Floyd 
20 Jim Whalen 
21 Todd Posson 
 
First Time Women
 
1 Marian Smith 
2 Nikki Browning 
 
First Time Men
 
1 Jeff Unruh 
2 Kevin Henderson 
3 Dan Carter 
4 Darren Martin 
5 Frank Quinlan 
6 Andrew VanBlancom 
 
Juniors 11-14
 
1 Justin Matthews 
2 Randy Harrison 
3 Alex Edwards 
4 Charlie Harrison 
 
Juniors 15-18
 
1 Sam Harrison 
 
Pee Wee
 
1 Ryan Jackson 
2 Jacob Pitt 
3 Amanda Floyd 
4 Christopher Locke 
5 Ellen Floyd 
6 Carson Williams 
 
Collegiate Women
 
1 Kelly Cool
 
Collegiate Men
 
1 Mike Koons 
2 Mark Smelser 
3 Scott Hammack 
4 Andrew Phelps 
5 Josh Coulter 
 
Team Relays
 
1 KCOI 
2 Bikes & Boards 
3 Three Stooges