Introduction to Track Racing - What's a Wheelrace? - Introduction to Six Day racing - UCI codes
Results and Reports for May 25-31 2002
USA
Promoters wishing to submit results should send them to cyclingnews
Asheville Training Series
Asheville, NC, May 28, 2002
Biggest turn-out to date for local fixed-gear races
By Chris Kamm
The women's race
Photo: © George Riedesel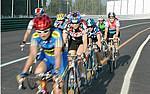 The latest installment of this biweekly fixture produced the biggest race card to date. The Youth Race kicked off a beautiful evening at the French Broad River Park as ten riders pushed their limits around the oval. The Women's Race returned to the meeting with a full field that included Junior National Champion, Jessie Karriker. Allison Hardy kept control of the points race throughout to hold off Patricia Pinner and previous winner Jennifer Petosa.
The absence of Brian Pierce in the B Race entries left things wide open, and Patrick Britain made his trip from Boone, NC well worthwhile as he topped Eric White and David Fortner in the points classification. The Fixed Gear Omnium also seemed to have several aspirants to the throne. However, Todd Tamplin had all the answers on this night and swept the three races comprising the competition. Marc Mullinax and Herb Young put in good rides to grab the lower placings.
The Masters Race was the first to produce a familiar result as Joey Coddington strengthened his hold on that season-long competition with another victory. T-Bone Taylor took home the second prize and Paul Mittelstadt, on holiday from Washington, DC, stepped up to round out the podium. The A Race also crowned a former winner. Randy Parker of Raleigh put on a devastating performance as he first lapped the field in tandem with Darby Harris, and then left his erstwhile partner for dead as he rode away to another half-lap gain for a solo victory. Harris and Coddington finished tied on points for second place, but the latter was a lap down and finished third in the race.
The facility continues to put smiles on the faces of the riders and a great thanks is due to the Asheville Parks and Recreation Department. I must also thank the indispensable volunteers that make all this possible.
Photography
Results
Scratch Race - 8 laps
 
1 Todd Tamplin
2 Mike Koerschner
3 Marc Mullinax
4 Chris Kamm
5 Jim McMillan
 
Snowball Race - 10 laps
 
1 Todd Tamplin
2 Herb Young
3 Marc Mullinax
4 Jim McMillan
5 Mike Koerschner
 
Points Race - 15 laps
 
1 Todd Tamplin
2 Marc Mullinax
3 Herb Young
4 Chris Kamm
5 Jim McMillan
 
Year Total Omnium Points
 
1 Todd Tamplin                                  24
2 Brian Pierce                                  16
3 Bruce Berry                                   10
4 Mike Koerschner                                8
5 Herb Young                                     7
6 Marc Mullinax                                  7
7 George Riedesel                                5
8 Joey Coddington                                1
9 Chris Kamm                                     1
 
Category "A" Points Race
 
1 Randy Parker                                  55
2 Darby Harris                                  26
3 Joey Coddington                               26
4 Patrick McLoughlin                             9
5 Dean Lyous                                     8
6 Chad Schoenauer                                5
7 Michael Davidson                               5
8 Jacob McGahey                                  4
9 Clark Hollins                                  2
10 Colin Izzard                                  2
 
Year Total Omnium Points
 
1 Darby Harris                                  17
2 Joey Coddington                               16
3 Randy Parker                                  12
4 Andrew Crarter                                 7
5 Kent Williams                                  5
6 Chris Sheppard                                 5
7 Jacob McGaahey                                 3
8 Julian Hine                                    2
9 Patrick McLoughlin                             2
10 Greg Brown                                    1
11 Colin Izzard                                  1
12 Dean Lyous                                    1
 
Category "B" Points Race
 
1 Patrick Brittain                              20
2 Eric White                                    12
3 David Forkner                                 11
4 Michael Boone                                 10
5 Jennifer Petosa                                7
6 Thomas Cason                                   5
7 Ken Lee                                        5
8 Blair Hobgood                                  2
9 Ron Henninger                                  2
10 Chris Herndon                                 1
11 David Lovett                                  1
12 Randall Barnett                               1
 
Year Total Omnium Points
 
1 Brian Pierce                                  19
2 Blair Hobgood                                 10
3 Robert Schoen                                 10
4 Greg Brown                                     8
5 Patrick Brittain                               7
6 Eric White                                     5
7 Blake Sagar                                    3
8 David Forkner                                  3
9 James Shelfer                                  2
10 Michael Boone                                 2
11 Bill McBee                                    1
12 Matthew Sescilla                              1
13 Scott Rousseau                                1
14 Thomas Cason                                  1
 
Master's Points Race
 
1 Joey Coddington                               32
2 T-Bone Taylor                                 16
3 Paul Mittelstadt                              15
4 Todd Tamplin                                   5
5 Mike Koerschner                                4
6 Darby Harris                                   4
7 Russell Kelly                                  4
8 Patrick Brittain                               3
9 Dean Lyons                                     3
10 #264                                          2
 
Year Total Omnium Points
 
1 Joey Coddington                               23
2 Darby Harris                                  16
3 T-Bone Taylor                                 12
4 Kent Williams                                  5
5 Randy Parker                                   5
6 Jeffery Haase                                  3
7 Todd Tamplin                                   3
8 Paul Mittelstadt                               3
9 Michael Koerschner                             2
10 Scott Lunsford                                1
 
Women's Points Race
 
1 Allison Hardy                                 20
2 Patricia Pinner                               17
3 Jennifer Petosa                               11
4 Cara Mcauley                                   6
5 Jessie Karriker                                6
6 Monica Koerschner                              3
 
Year Total Omnium Points
 
1 Jennifer Petosa                               10
2 Allison Hardy                                  7
3 Annette Kamm                                   5
4 Patricia Pinner                                5
5 Robin Pace                                     3
6 Monica Koerschner                              2
7 Cara Mcauley                                   2
8 Laura Bowles                                   1
9 Jessie Karriker                                1