Introduction to Track Racing - What's a Wheelrace? - Introduction to Six Day racing - UCI codes
Results and Reports for June22-28, 2002
USA
Promoters wishing to submit results should send them to cyclingnews
Asheville Training Series #6
French Broad River Park, June 25
Asheville racing growth continues
By Chris Camm
Mike Smith and George Riedesel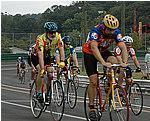 The high chance of thunderstorms failed to spoil the party as a steamy day yielded to a hot summer night at the French Broad River Park. Session number six is now recorded and we have reached the halfway point of the season. High summer brought out the largest fields of the meet, and each category was packed with its top players.
The youth races were on display with an array of riders on mounts of all shapes and sizes. After that opener, and then the fixed gear scratch race (won by Brian Pierce of course), the women produced a full field for their points race. Allison Hardy and Jennifer Petosa repeated past results while dominating the 25 laps and are now separated by one point for the season's prize. Debra Elliot drove over from Hickory and put in a consistent ride to complete the podium.
The B points race covered 30 laps and churned out a real brawl between Thomas Burns (Nantahala Outdoor Center) and Blair Hobgood (Asheville Bicycle Racing Club) until a backstretch pile up ended the latter's evening. After a few neutral laps, everyone walked away and Mr. Burns sailed on for the victory. He was followed home by Drew Snelfer and Jeff Parker, and now leads the table among active riders. (Mr. Pierce will likely lead the standings for another fortnight despite having moved on to loftier pastures.)
The Masters race wheeled out some 32 riders. Randy Parker decided to double up this week and interfere with the private duel between Joey Coddington and Darby Harris. To no one's surprise, Parker proved the fastest, besting Coddington and a quietly lurking Treavis Taylor. Harris salvaged a fourth on points to stay in contention for the season overall. Many of the same players lined up for the 60 lap A race (30 km) which went on a rail from the start. Parker put it out of reach by 10 to go and Coddington nailed the last sprint for double points to beat back the challenge of world-class, Canadian mountain biker Chris Sheppard, who was cross training no doubt. Ditto the Masters, Harris finished fourth...
Interspersed in all these feature length races, the Fixed riders played around with an unknown distance scratch race, a miss and out, and a 15 lap points race. Brian Pierce swept the card while Mike Koerschner took second on a tie breaker from Herb Young. Todd Tamplin finished fourth and still leads the season's count. He must be hoping Pierce has another business trip coming up...
Many thanks again to Asheville Parks and Recreation Department, and all our sponsors: Hearn's Cycling and Fitness, Asheville Bicycle Racing Club, Liberty Bikes, Cane Creek Cycling Components, Asheville Family Health Center, Dr. Steve Miller, DDS, and The Musician's Workshop.
Photography
Images courtesy George Riedesel
Results
Scratch Race - Unknown Distance
 
1 Brian Pierce
2 Michael Koerschner
3 Todd Tamplin
4 Herb Young
5 Jim McMillan
 
Miss-n-Out
 
1 Brian Pierce
2 Herb Young
3 George Riedesel
4 Chris Kamm
5 Todd Tamplin
 
Points Race - 15 laps
 
1 Brian Pierce
2 Michael Koerschner
3 Herb Young
4 Chris Kamm
5 Steve Miller
 
Year Total Omnium Points
 
1 Todd Tamplin                            31
2 Brian Pierce                            30
3 Mike Koerschner                         15
4 Herb Young                              13
5 Bruce Berry                             10
6 Marc Mullinax                            7
7 George Riedesel                          5
8 Chris Kamm                               3
9 Joey Coddington                          1
 
Category "A" Points Race
 
1 Randy Parker                            41
2 Joey Coddington                         23
3 Chris Sheppard                          19
4 Darby Harris                            13
5 Patrick McLoughlin                      10
6 Robbie Higdon                           10
7 Scott Duncan                             9
8 Brian Pierce                             7
9 Adam Penney                              6
10 Clark Hollins                           3
11 Russell Kelley                          1
12 Mark Brown                              1
 
Year Total Omnium Points   
 
1 Joey Coddington                         28
2 Randy Parker                            24
3 Darby Harris                            20
4 Chris Sheppard                           8
5 Andrew Crarter                           7
6 Kent Williams                            5
7 Jacob McGaahey                           3
8 Michael Lantz                            3
9 Patrick McLoughlin                       3
10 Julian Hine                             2
11 JC Rummel                               2
12 Greg Brown                              1
13 Colin Izzard                            1
14 Dean Lyous                              1
 
Category "B" Points Race
 
1 Thomas Burns                            24
2 Drew Shelfer                            11
3 Jeff Parker                              8
4 Blair Hobgood                            7
5 Wesley Dickson                           5
6 Andy Grabowski                           5
7 David Forkner                            5
8 Ron Heninger                             4
9 Ron Slagle                               4
10 Scott Lowery                            2
11 Mark Scholtz                            1
12 David  Lovett                           1
 
Year Total Omnium Points
 
1 Brian Pierce                            19
2 Thomas Burns                            14
3 Blair Hobgood                           13
4 Robert Schoen                           10
5 Eric White                              10
6 Greg Brown                               8
7 Patrick Brittain                         7
8 James Shelfer                            5
9 Blake Sagar                              3
10 David Forkner                           3
11 Thomas Cason                            3
12 Allan Smith                             3
13 Jeff Parker                             3
14 James Shelfer                           2
15 Michael Boone                           2
16 Bill McBee                              1
17 Matthew Sescilla                        1
18 Scott Rousseau                          1
19 Wesley Dickson                          1
 
Master's Points Race
 
1 Randy Parker                            22
2 Joey Coddington                         20
3 T-Bone Taylor                           11
4 Robbie Higdon                           10
5 Darby Harris                             9
6 Brian Elliot                             6
7 Brandon Miller                           5
8 Art Shuster                              3
9 Michael Koerschner                       2
 
Year Total Omnium Points
 
1 Joey Coddington                         31
2 Darby Harris                            24
3 T-Bone Taylor                           15
4 Randy Parker                            12
5 Kent Williams                            5
6 Brian Elliot                             5
7 Michael Koerschner                       4
8 Jeffery Haase                            3
9 Todd Tamplin                             3
10 Paul Mittelstadt                        3
11 Robbie Higdon                           2
12 Scott Lunsford                          1
13 Ray Von Dohlen                          1
 
Women's Points Race
 
1 Allison Hardy                           24
2 Jennifer Petosa                         18
3 Deborah Elliot                          14
4 Monica Koerschner                        8
5 Saundra Hardy                            2
 
Year Total Omnium Points
 
1 Jennifer Petosa                         15
2 Allison Hardy                           14
3 Annette Kamm                             5
4 Patricia Pinner                          5
5 Monica Koerschner                        4
6 Robin Pace                               3
7 Deborah Elliot                           3
8 Cara Mcauley                             2
9 Laura Bowles                             1
10 Jessie Karriker                         1
11 Saundra Hardy                           1