Introduction to Track Racing - What's a Wheelrace? - Introduction to Six Day racing - UCI codes
Results and Reports for June 8-14, 2002
USA
Promoters wishing to submit results should send them to cyclingnews
Asheville Training Series #5
French Broad River Park, June 11
Great racing continues at Asheville
By Chris Camm
Masters at Asheville
Photo: © George Riedesel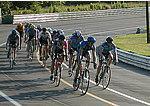 Session number five of this twelve race series was run under perfect conditions at the French Broad River Park and generated a robust list of entries in all the categories. As we near the midpoint of the series, the principal players are putting their mark on Asheville's developmental track racing event.
Brian Pierce has been graduated from the B Race ranks, and the road is clear for new contenders to clog the top of the table. Thomas Burns took advantage to claim his first win of the meet, while Eric White and Allen Smith took their share of the sprint points to account for the second and third places. The Masters event played out another act in the seesaw battle between Darby Harris of Cullowhee and Joey Coddington of Asheville. This week Harris perfectly timed a counterattack after the third sprint lap. He rode away with Bryan Elliot of Hickory to lap the field and secure the win. Elliot inherited second in the process and Coddington minimized the damage by finishing third on the night. Harris and Coddington remain locked in a battle for the season prize, well above the rest of the field.
Please do not feed the racers
Photo: © George Riedesel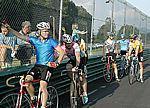 In the A race the field stayed on laps and it came down to the final, double points sprint to settle it. Coddington made a clean dive underneath exiting turn four and won the closing sprint to depose two time winner Randy Parker of Raleigh. The sprint points were spread throughout the field and Mike Lantz gathered enough to claim the third step of the podium on this night. As a warm-up for his promotion to the A race, Brian Pierce toyed with his competitors in the Fixed Gear Omnium and swept the three events for a clear win. Herb Young continues to take to this discipline like a fish to water and moved up to second in the night's overall result. As part of that effort Young made a great attack in the opening Scratch Race for a clear gap on the final lap. As is his custom, Pierce flew from the field to win on the line by a tire's width. In the Win and Out, the sprint for second place was even closer when Mike Koerschner and Todd Tamplin put in a dead heat photo. After minutes of post race deliberation, the camera could not separate the two.
All in all it was a great night of racing and we thank our generous sponsors: Hearn's Cycling and Fitness, Asheville Parks and Recreation Department, Asheville Bicycle Racing Club, Liberty Bicycles, Cane Creek Cycling Components, Asheville Family Health Center, Dr. Steve Miller, DDS
Results
Scratch Race - 8 laps
 
1 Brian Pierce
2 Herb Young
3 Todd Tamplin
4 Michael Koerschner
5 Jim McMillan
 
Win-n-Out
 
1 Brian Pierce
2 Michael Koerschner
2 Todd Tamplin
3 Herb Young
4 Jim McMillan
5 Youngblood Haske
 
Points Race - 15 laps
 
1 Brian Pierce
2 Chris Kamm
3 Youngblood Haske
4 Todd Tamplin
5 Herb Young
 
Year Total Omnium Points
 
1 Todd Tamplin                      25
2 Brian Pierce                      23
3 Herb Young                        12
4 Mike Koerschner                   11
5 Bruce Berry                       10
6 Marc Mullinax                      7
7 George Riedesel                    5
8 Chris Kamm                         3
9 Joey Coddington                    1
 
Category "A" Points Race
 
1 Joey Coddington                   32
2 Randy Parker                      24
3 Michael Lantz                     19
4 JC Rummel                         14
5 Darby Harris                       8
6 Eric White                         8
7 Jeremiah Angel                     7
8 Dylan Taylor                       6
9 Thomas Zuzig                       5
10 Scott Langford                    5
11 Andy Pooser                       3
12 Russell Kelley                    3
13 Chris Ernst                       2
14 Clark Hollins                     2
15 Ray Von Dohlen                    2
16 Adam Penney                       1
17 Brian Pierce                      1
18 Michael Scholtz                   1
 
Cat A Year Total Omnium Points
 
1 Joey Coddington                   23
2 Darby Harris                      18
3 Randy Parker                      17
4 Andrew Crarter                     7
5 Kent Williams                      5
6 Chris Sheppard                     5
7 Jacob McGaahey                     3
8 Michael Lantz                      3
9 Julian Hine                        2
10 Patrick McLoughlin                2
11 JC Rummel                         2
12 Greg Brown                        1
13 Colin Izzard                      1
14 Dean Lyous                        1
 
Category "B" Points Race
 
1 Thomas Burns                      26
2 Eric White                        12
3 Allan Smith                       12
4 Thomas Cason                      10
5 Blair Hobgood                      5
6 Patricia Pinner                    4
7 Matt Martin                        4
8 Bill McBee                         2
9 Allison Hardy                      1
10 Thad Walker                       1
 
Cat B Year Total Omnium Points
 
1 Brian Pierce                      19
2 Blair Hobgood                     11
3 Robert Schoen                     10
4 Eric White                        10
5 Greg Brown                         8
6 Patrick Brittain                   7
7 Thomas Burns                       7
8 Blake Sagar                        3
9 David Forkner                      3
10 Thomas Cason                      3
11 Allan Smith                       3
12 James Shelfer                     2
13 Michael Boone                     2
14 Bill McBee                        1
15 Matthew Sescilla                  1
16 Scott Rousseau                    1
 
Master's Points Race
 
1 Darby Harris                      20
2 Brian Elliot                       9
 
One lap behind
 
3 Joey Coddington                   11
4 Michael Koerschner                11
5 Ray Von Dohlen                     6
6 Michael Scholtz                    5
7 T-Bone Taylor                      5
8 Scott Langford                     4
9 Brandon Lane                       3
10 Michael Davidson                  3
11 Todd Tamplin                      3
12 Andrew Hanger                     2
13 Victor Moore                      2
14 Tim Johnson                       1
15 Jay Hilow                         1
 
Masters Year Total Omnium Points
 
1 Joey Coddington                   26
2 Darby Harris                      23
3 T-Bone Taylor                     12
4 Kent Williams                      5
5 Randy Parker                       5
6 Brian Elliot                       5
7 Michael Koerschner                 4
8 Jeffery Haase                      3
9 Todd Tamplin                       3
10 Paul Mittelstadt                  3
11 Scott Lunsford                    1
12 Ray Von Dohlen                    1