Introduction to Track Racing - What's a Wheelrace? - Introduction to Six Day racing - UCI codes
Results and Reports from the USA
Promoters wishing to submit results should send them to cyclingnews
Asheville Training Series #8
French Broad River Park, July 23, 2002
The Three Ring Circus
By Chris Kamm
B racers get underway
Photo: © AVG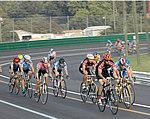 An afternoon deluge did nothing more than wash the racing surface and cool the heat. By 6:00 PM the French Broad River Park had the look of a typical Tuesday night including the presence of a hundred or more spectators which is something no cycle racer can get too much of.
After Sidney Hedberg beat the boys in the youth race, Michael Koerschner set the tone for the fixed gear races by winning the Scratch Race. Top dogs Brian Pierce and Todd Tamplin were absent and Mike would sweep the three events before things ended. The Miss and Out produced my favorite moment of the night. The promoter, Chris Kamm, was deciding who to put out each lap and things were going well as it came down to the lap to decide the final three. "....I had my favorite position, down low, and in front, and it looked good to put Mike Smith out of the race. That is until he came under my right elbow at the line and sent me off." Mr. Smith has returned to the races this season after many years away and it is great to see him come good with this result. Mike Koerschner also won the Points Race but not before impersonating some dead meat inside of 200 meters on the double points finale. Marc Mullinax and Chris Kamm were sure to blow by out of turn four, but it never happened.
Women's duel
Photo: © AVG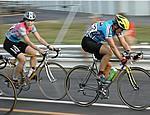 The Women's Race turned out a full field for their 25 lapper and it evolved into another duel between Allison Hardy and the field. She scored on every points lap to hold off Jennifer Petosa and Robin Pace. Only two points separated that latter pair in a tightly contested race. For good measure, after sitting quiet all race, Cara MacCauley grabbed the last sprint for ten points to gain fourth place.
The B grade racers have the best season-long points-contest going. Brian Pierce still leads, although he left the ranks weeks ago. Eric White is the latest winner, by a landslide, and now heads the table of active riders with seventeen points. Thomas Burns and Blair Hobgood are even at fourteen, and Rob Schoen with a third this time around has arrived at thirteen points total. Anything could happen next time.
Many of the A grade racers took the night off after a hot weekend at amateur road nationals in Nashville, Tennessee, and the Masters and A Races had smaller than usual fields. One man who did come to race was Darby Harris. The night presented a good time to gain ground on chief rival Joe Coddington, and Harris did not miss the chance. He won the Masters event from Scott Duncan and Michael Scholtz, and then teamed with Mike Lantz in the feature race to lap the field. Experienced trackie Lantz easily won on points while Harris accepted second as a step up on the absent Coddington. Scott Duncan finished third, adding to his haul from the Masters Race which included another mystery 12-pack prime, courtesy Cara MacCauley.
Thanks to all our sponsors: Hearn's Cycling and Fitness, Asheville Parks and Recreation Department, Asheville Bicycle Racing Club, Liberty Bicycles, Cane Creek Cycling Components, Asheville Family Health Center, Dr. Steve Miller, DDS, The Musician's Workshop.
Photography
Images by Asheville Velodrome Group
Results
Scratch Race - 8 Lap
 
1 Michael Koerschner
2 Mark Mullinax
3 Herb Young
4 Chris Kamm
5 Steve Miller
 
Miss-n-Out
 
1 Michael Koerschner
2 George Riedesel
3 Mike Smith
4 Chris Kamm
5 Herb Young
 
Points Race - 15 laps
 
1 Michael Koerschner
2 Mark Mullinax
3 Herb Young
4 George Riedesel
5 Steve Miller
 
Year Total Omnium Points
 
1 Brian Pierce                        37
2 Todd Tamplin                        31
3 Mike Koerschner                     22
4 Herb Young                          17
5 Marc Mullinax                       13
6 Bruce Berry                         10
7 George Riedesel                      8
8 Jeff Franz                           5
9 Chris Kamm                           4
10 Jim McMillan                        3
11 Joey Coddington                     1
 
Category "A" Points race
 
1 Mike Lantz                          37
2 Darby Harris                        21
3 Scott Duncan                        15
4 Drew Shelfer                        15
5 Chris Ernst                          9
6 Heath Dotson                         8
7 Jason Kallaus                        8
8 Adam Penny                           6
9 Kent Williams                        6
10 Clark Hollins                       5
11 Michael Scholtz                     3
12 T-Bone Taylor                       2
13 Ray Von Dohlen                      1
 
Year Total Omnium Points           
 
1 Joey Coddington                     33
2 Darby Harris                        25
3 Randy Parker                        24
4 Jacob McGahey                       10
5 Michael Lantz                       10
6 Chris Sheppard                       8
7 Andrew Crarter                       7
8 Kent Williams                        5
9 Patrick McLoughlin                   3
10 Curtis Stepler                      3
11 Scott Duncan                        3
12 Julian Hine                         2
13 JC Rummel                           2
14 Drew Shelfer                        2
15 Jeff Franz                          2
16 Chris Ernst                         1
17 Greg Brown                          1
18 Colin Izzard                        1
19 Dean Lyons                          1
20 Brian Pierce                        1
 
Category "B" Points Race
 
1 Eric White                          27
2 Wes Dickson                         10
3 Robert Schoen                        9
4 Jeff Parker                          8
5 Mark Scholtz                         6
6 Blari Hobgood                        6
7 Lloyd Jones                          5
8 David Covett                         4
9 John Wolfe                           1
 
Year Total Omnium Points           
 
1 Eric White                          22
2 Brian Pierce                        19
3 Thomas Burns                        14
4 Blair Hobgood                       13
5 Robert Schoen                       13
6 Greg Brown                           8
7 Patrick Brittain                     7
8 Drew Shelfer                         7
9 Curtis Stepler                       7
10 Jeff Parker                         7
11 Wesley Dickson                      7
12 Blake Sagar                         3
13 David Forkner                       3
14 Thomas Cason                        3
15 Allan Smith                         3
16 Candice Blickem                     3
17 Michael Boone                       2
18 Mark Scholtz                        1
19 Bill McBee                          1
20 Matthew Sescilla                    1
21 Scott Rousseau                      1
 
Master's Points Race
 
1 Darby Harris                        25
2 Scott Duncan                        16
3 Michael Scholtz                     14
4 T-Bone Taylor                        6
5 Kent Williams                        5
6 Bryan Elliot                         5
7 Joel Kelley                          5
8 Bill Eby                             3
9 Brandon Lane                         3
10 Shawn Smith                         2
11 Michael Koerschner                  2
 
Year Total Omnium Points
 
1 Joey Coddington                     38
2 Darby Harris                        31
3 T-Bone Taylor                       19
4 Randy Parker                        12
5 Bryan Elliot                        10
6 Kent Williams                        9
7 Scott Duncan                         5
8 Michael Koerschner                   4
9 Jeffery Haase                        3
10 Todd Tamplin                        3
11 Paul Mittelstadt                    3
12 Michael Scholtz                     3
13 Robbie Higdon                       2
14 Scott Lunsford                      1
15 Ray Von Dohlen                      1
16 Dean Lyons                          1
 
Women's Points Race
 
1 Allison Hardy                       23
2 Jennifer Petosa                     17
3 Robin Pace                          15
4 Cara McCauley                       10
5 Monica Koerschner                    9
6 Jessie Karriker                      2
7 Soundra Hardy                        1
 
Year Total Omnium Points
 
1 Allison Hardy                       21
2 Jennifer Petosa                     20
3 Robin Pace                           6
4 Annette Kamm                         5
5 Patricia Pinner                      5
6 Monica Koerschner                    5
7 Cara McCauley                        4
8 Deborah Elliot                       3
9 Laura Bowles                         1
10 Jessie Karriker                     1
11 Saundra Hardy                       1