2008 UCI Track Cycling World Championships - CM
Great Britain, March 26-30, 2008
Main Page Results Previous Day Next Day
Day 4 - March 29: Men's keirin 1st round, repechages, 2nd round, 7th-12th & final, Madison final; Women's sprint semifinal & final, points race final;,
Vos Makes History
By Ben Atkins and Shane Stokes in Manchester, England
Marianne Vos (Netherlands) shows her delight
Photo ©: Nick Rosenthal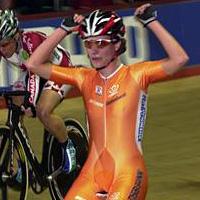 Netherlands cycling phenomenon Marianne Vos has made history at the World championships in Manchester by becoming the first elite woman ever to win rainbow jerseys in cyclo-cross, road and track disciplines.
When she spoke to Cyclingnews' Ben Atkins yesterday, she wasn't confident of victory over such an unpredictable event, but as it turned out the race looked all too easy for the 20 year-old Dutchwoman.
"It is great," said an amazed Vos. "After my cyclo-cross and road titles, I couldn't imagine that I would do it on the track. But here it happened. I can't believe it."
"I felt good," she said of her chosen race tactics, "and in the first few sprints I didn't have enough speed to sprint with the best. So I had to do it another way. That was to take a lap."
"This race gives me a lot of confidence," she said of her chances of repeating this success in Beijing. "Of course, it won't be until August but I will do my best to be 100% there."
The first action of the race happened almost straight away when Mexican Belem Guerrero Mendez fired off the front, followed by Charlotte Becker of Germany. Defending champion Katherine Bates of Australia was having none of this though and led the pack back up to the pair.
A big move from United States' Rebecca Quinn just after the first sprint quickly got half a lap, but this was quickly countered by Denmark's Trine Schmidt and Svetlana Paulikaite of Lithuania who went on alone. Schmidt quickly dropped the Lithuanian and continued alone and finally managed to latch on to the back of the pack to take a lap and twenty valuable points.
Paulikaite continued and at one point was agonisingly close to the rear of the string, but as they began to accelerate she couldn't match its pace and faded rapidly.
The next big move came from Lesya Kalitovska of Ukraine, quickly followed by Great Britain youngster Lizzie Armitstead and Vos. The other two faded again, but Vos set out alone taking first place in the next sprint and a full lap - and twenty points - a few laps further on. Vos now held the joint lead with Schmidt, but behind her the highly experienced Vera Carrara took a lap seemingly without much trouble at all.
There were more attacks as the race moved in to the closing stages, none of which came to anything, but at the twenty laps to go sprint Vos took second place - and three points - to assume the outright lead.
With fourteen laps to go, Bates attacked to join a small breakaway group and went over the top of them after the penultimate sprint. Her move came to nothing though, but it provoked a flurry of activity from the rest. With Vos watching Schmidt, Wan Yiu Wong of Hong Kong attacked. Vos recognised a good move and followed Wong, overtaking her with five laps to go and continuing alone to take the final sprint and win the race in magnificent style.
Pendleton through, but no Guo in final
By Ben Atkins and Shane Stokes in Manchester
...before being swamped by the media
Photo ©: Nick Rosenthal

Great Britain's golden girl from 2007 Victoria Pendleton is through to her fourth consecutive gold medal final in the Sprint, where she will be up against Simona Krupeckaite of Lithuania.
Both riders needed just two of the available three legs to defeat their semi-final opponents. Pendleton came around Jennie Reed (United States) in the finishing straight after the American tried to outfox the defending champion and go early in the first leg. In the second leg Reed again attacked first, this time at the bell, but this time it was even easier for Pendleton and she crossed the line at a canter.
Krupeckaite beat Shuang Guo of China in two identical legs, denying a repeat of last year's final. In both cases, the Lithuanian took the front and held the inside line all the way to the finish. Both races ended very close, but Guo was just unable to come past.
Quarter finals - Kanis out; Pendleton set to defend
Four of the five fastest women from the original qualifying round have progressed to tomorrow's semi-final races, setting up a potential repeat of last year's Gold medal match. Great Britain's reigning champion Victoria Pendleton managed to comfortably beat the Netherlands' Yvonne Hijgenaar in two legs, despite the Dutchwoman attacking from the start and trying to sprint the whole 750 metres in the first leg.
Last year's silver medallist Shuang Guo of China managed to see off France's Clara Sanchez fairly comfortably, although Guo was relegated in the second of three legs for coming down below the red sprinters' line when Sanchez was in the sprinter's lane.
Simona Krupeckaite of Lithuania was also relegated in one leg when she moved off her line in her first contest with World Cup winner Willy Kanis of the Netherlands. Despite this, Krupeckaite took the next two legs to progress to the medal stages.
Jennie Reed of the United States has the chance to take her country's second medal of the championships - after Sarah Hammer's silver in the individual pursuit - having defeated Lisandra Guerra Rodriguez of Cuba in two close rounds. Guerra Rodriguez was warned for riding dangerously in one of the legs, but since Reed crossed the line first no action was taken.
High drama in the Pace-Race
By Ben Atkins and Shane Stokes in Manchester, England
In the first heat, defending champion and World Cup winner Chris Hoy (Great Britain) took the front with two laps to go in his usual style and used his kilometre experience to stay clear. The next saw a bit more drama when the Netherlands' Theo Bos swerved early on to avoid the back wheel of Frenchman Arnaud Tournant and nearly took out Malaysia's Azizulhasni Awang. Awang stayed upright and managed to come around to win.
The third heat was lead out early by Great Britain's Ross Edgar from three laps out. Despite pressure from the other riders he managed to hold his lead to the line. The final heat though was far more controversial as a finishing straight switch from France's Mickael Bourgain took out the front wheel of Malaysian Josiah Ng Onn Lam. Ng Onn Lam hit the track hard at speed and also took out José Antonio Escuredo Raimondez of Spain and they crossed the line on their backs. Bourgain was disqualified and will not be able to ride in the repecharges. The win was taken by Christos Vakakis of Greece after he overhauled an early move from Great Britain's Matthew Crampton.
The repecharge races proved as exciting as the initial heats. Ng Onn Lam went early in the first – seemingly recovered from his high - speed crash – but was caught before the line by the rest led by the Netherlands' Teun Mulder. Tournant brought all his years of experience to bear in manoeuvring the rest of the riders to where he wanted them before taking the front with two laps to go. Carsten Bergemann took the front form the start and stayed there to take the next race, while Russian Segey Ruban managed to get a gap on the rest in the final race but faded spectacularly as Australain Ryan Bayley led the rest past.
Two Golds for Hoy; Nine for Great Britain
By Ben Atkins and Shane Stokes in Manchester
Keirin winners: Britain's Chris Hoy on the Keirin podium,
Photo ©: Nick Rosenthal

Great Britain's Chris Hoy has sensationally retained his Keirin title and taken his second rainbow jersey at this year's World Championships. His second gold also puts the Great Britain total at nine with a day's events still to come.
Like the majority of Hoy's victories in this event he took the front as the derny bike pulled off and relied on the endurance he developed in his days as a Kilometre specialist to maintain his speed where his opponents are unable.
"I had to get the front and try and control it," he said after his victory. "Teun [Mulder] took the motorbike and that was fine for me because I just had one person to overtake. I just didn't want to get stuck in the back. I was wary of Arnaud [Tournant] and the other riders towards the back, and when the bike swung off I just wanted to go to the front and try and pick up the pace and control it."
If anything, this race was slightly less of a dominant performance than usual, after a hard few days competing for medals in the Sprint and Team Sprint events. "My legs were very tired," he continued, "and it was a long way – the last lap felt pretty hard and I was just really glad to get across the line first." In fact he finished, not his usual length or two clear, but not much more than a wheel ahead of Teun Mulder of the Netherlands and Christos Volikakis of Greece.
"To win two golds and a silver is way beyond what I hoped at the start of the week," the Scotsman said of his phenomenal few days. "The sprint is a huge surprise, and while I knew the Keirin was possible, I never expected to win because it is a very unpredictable event."
Looking forward to Beijing, Hoy noted that "Everybody, the other teams, the other nations are going to raise their game again so there was no complacency, no cockiness or overconfidence. But you will gain a lot of confidence for the Olympics from the results that we [the Great Britain team] have achieved here."
"Chris is – at this moment – the best rider, the best sprinter, and he's the best [on paper] for Beijing." Silver medallist Teun Mulder told Cyclingnews. "For me and the Dutch team, we got a bronze medal, so it was a good beginning for us. The Sprint for me was not so good, and then I got second in the Keirin, so it's a good motivation for the next couple of months to train harder and try to beat Chris."
Wiggins and Cavendish get the High Road over the Germans
By Ben Atkins and Shane Stokes in Manchester
Teamwork: Mark Cavendish and Bradley Wiggins
Photo ©: Nick Rosenthal

Great Britain's pair of Mark Cavendish and Bradley Wiggins won a dramatic victory in the World Championship Madison. It was Wiggins' third gold of these championships, and Britain's eighth - eclipsing last year's astonishing total of seven.
"It was quite hard," said Cavendish after the race. "I don't know how it looked, but it seems to us that when we went, five or six other teams came with us every time. So I kept saying to Brad, 'We have got to keep going till they all blow and we can just carry on.' I think we are about the only riders here who've spent the season on the road, and we have got the depth for 50 kilometres. We noticed in the World Cups a lot of the teams blew after 40 kilometres, so it was just a case of keeping going until that happens."
Winning points first and then taking a lap later is one of the toughest ways to win a Madison, but the Great Britain pair was forced to do it that way. "We just thought we'd try and score early really," Wiggins told Cyclingnews, "with a view to if we got a lap later on in the race we'd be well up. Which is what we did. We didn't bust a gut, but at the same time if we were there-or-there-abouts we'd just try to nick a couple of points each time"
"We were just nipping and nipping," Cavendish concurred, "and later on we have the reserves to go for a lap. Obviously the group split and at one point I thought it was going to be hard, but Brad held me in. He gave me a couple of double rests there and that allowed me to keep on top of it. If I start going into fatigue it is hard for me to come back. So Brad kept doing a perfect job to give me that extra rest, and that keeps me on top of my game."
Silver: The German pairing of Roger Kluge and Olaf Pollack
Photo ©: Nick Rosenthal

Most of the top teams watched each other during the race, but it seemed as thought the eyes of all seventeen other teams were on the pair in red, white and blue. Wiggins himself was also attentive to one or two others, but knew that when they made a decisive move, they could successfully carry it off. "Just the guys like Llaneras and those guys really," he said, "and the early ones that took a lap. They felt like they were marking us a bit, but once we got fifty-sixty metres they just kind of forget about you a little bit and there's the realisation that they have to make quite a bit of effort to get you back. That was the main thing for us really, just timing the attack to perfection"
The British pair was the first to put in a serious attack and there was a roar from the crowd as Wiggins took first place, and five points, in the first sprint. The bid for freedom and a vital lap proved fruitless though as a fresh and attentive bunch reeled them back in.
A crash after at twenty-three laps saw the end of the Russian team's race as Alexei Markov came down. Fabio Masotti also came down for the Italians, but remounted and rejoined the race.
Soon after the second sprint, the Belgian pair of Kenny De Ketele and Iljo Keisse attacked with Denmark's Michael Morkov and Alex Rasmussen, they were chased by the Netherlands team of Jens Mouris and Peter Schep, the German team of Roger Kluge and Olaf Pollack, and Great Britain. The chase was to no avail though and the Belgians and Danes made contact with the back of the bunch to go a lap up.
Constant attacks from many teams - mostly Great Britain - were not fruitful until defending champions Franco Marvulli and Bruno Risi of Switzerland escaped alone and successfully joined Belgium and Denmark on the leading lap.
As the race entered its second half Great Britain was continuing to attack, but only succeeded in adding points to their total which were useless unless they could get on to the same lap as the leaders. At one point they managed to get in to a small group with Belgium and Denmark, but the Swiss pair marked the move and it fizzled out like all the others.
Happy chappies: Mark Cavendish and Bradley Wiggins (Great Britain)
Photo ©: Nick Rosenthal

In to the last quarter the Spanish team made up of 2006 winner and last year's Points race champion Joan Llaneras Rosello and Carlos Torrent Tarres put in a devastating attack and managed within the space of ten laps to catch the field and make it four teams in the lead, with Denmark in pole position due to their ten points.
Finally with around twenty laps to go, a massive acceleration from Wiggins allowed him and Cavendish to finally break the bonds of the other favourites and take the lap they so desperately needed. They moved into an immediate lead by virtue of the sixteen points they'd accumulated in their numerous other attacks.
An attack from current also-rans Germany suited Great Britain as they took the big points in the penultimate sprint, but when they managed to turn their attack into a successful bid to take a lap they were catapulted into a silver medal position just three points behind Great Britain.
In the final laps, it became clear that the race would come down to a contest between Great Britain, Germany in the sprint, with Denmark and Belgium in with a chance for a medal but unable to get gold. Cavendish was thrown into the action by Wiggins with two to go and the young sprinter used his devastating speed to capture second place and the gold medal. Denmark managed to get fourth on the line, but that single point was not enough to overhaul the Germans who took silver.
Photography
For a thumbnail gallery of these images, click here
Images by Nick Rosenthal/fatnick.com
Images by John Pierce/Photosport International
Images by WomensCycling.net/WomensCycling.net
Images by Stephen McMahon
Results
Women's points race

1 Marianne Vos (Netherlands)                 33 pts (46.899km/h)
2 Trine Schmidt (Denmark)                    25
3 Vera Carrara (Italy)                       20
4 Olaberria Dorronsoro (Spain)               11
5 Yoanka Gonzalez Perez (Cuba)               10
6 Svetlana Paulikaite (Lithuania)             8
7 Olga Slyusareva (Russian Federation)        7
8 Rebecca Quinn (United States Of America)    7
9 Pascale Jeuland (France)                    6
10 Jarmila Machacova (Czech Republic)         6
11 Wan Yiu Wong (Hong Kong, China)            6
12 Katherine Bates (Australia)                6
13 Yan Li (People's Republic of China)        5
14 Belem Guerrero Mendez (Mexico)             5
15 Maria Luisa Calle Williams (Colombia)      5
16 Charlotte Becker (Germany)                 4
17 Gina Grain (Canada)                        2
18 Lesya Kalitovska (Ukraine)                 2
19 Elizabeth Armitstead (Great Britain)        
20 Aksana Papko (Belarus)                      
21 Catherine Cheatley (New Zealand)            
22 Min Hye Lee (Korea)                       18 pts

Women's sprint 

Semi-finals

Heat 1
1 Victoria Pendleton (Great Britain)           11.972     11.697
2 Jennie Reed (United States Of America)        
 
Heat 2
1 Simona Krupeckaite (Lithuania)               12.046     11.381
2 Shuang Guo (People's Republic of China)

Finals

1 Victoria Pendleton (Great Britain)           11.747     11.551
2 Simona Krupeckaite (Lithuania)                    
3 Jennie Reed (United States Of America)       12.055                12.044
4 Shuang Guo (People's Republic of China)                 11.498     
5 Willy Kanis (Netherlands)                         
6 Clara Sanchez (France)                            
7 Lisandra Guerra Rodriguez (Cuba)                  
8 Yvonne Hijgenaar (Netherlands)                    
9 Lulu Zheng (People's Republic of China)           
10 Christin Muche (Germany)                         
11 Oksana Grishina (Russian Federation)             
12 Jinjie Gong (People's Republic of China)         
13 Swetlana Grankowskaja (Russian Federation)       
14 Lyubov Shulika (Ukraine)                         
15 Anna Blyth (Great Britain)                       
16 Dana Glöss (Germany)                             
17 Kaarle Mcculloch (Australia)                     
18 Sandie Clair (France)                            
19 Elisa Frisoni (Italy)                            
20 Miriam Welte (Germany)                           
21 Virginie Cueff (France)                          
22 Diana Maria Garcia Orrego (Colombia)             
23 Anastasiya Chulkova (Russian Federation)         
24 Jess Varnish (Great Britain)                     
25 Valentina Alessio (Italy)                        
26 Sakie Tsukuda (Japan)                            
27 Jutatip Maneephan (Thailand)                     

Men keirin heats

First round

Heat 1
1 Chris Hoy (Great Britain)                  
2 Toshiaki Fushimi (Japan)                   
3 Teun Mulder (Netherlands)                  
4 Sergey Ruban (Russian Federation)          
5 Andriy Vynokurov (Ukraine)                 
6 Hodei Mazquiaran Uria (Spain)              
7 Athanasios Mantzouranis (Greece)           
 
Heat 2
1 Azizulhasni Awang (Malaysia)               
2 Shane Perkins (Australia)                  
3 Arnaud Tournant (France)                   
4 Theo Bos (Netherlands)                     
5 Ricardo Lynch (Jamaica)                    
6 Sergey Borisov (Russian Federation)        
7 Filip Ptacnik (Czech Republic)             
 
Heat 3
1 Ross Edgar (Great Britain)                 
2 Shane John Kelly (Australia)               
3 Carsten Bergemann (Germany)                
4 Kévin Sireau (France)                      
5 Denis Spicka (Czech Republic)              
6 Roberto Chiappa (Italy)                    
7 Mohd Rizal Tisin (Malaysia)                
 
Heat 4
1 Christos Volikakis (Greece)                
2 Matthew Crampton (Great Britain)           
3 Ryan Bayley (Australia)                    
4 Josiah Ng Onn Lam (Malaysia)               
5 José Antonio Escuredo Raimondez (Spain)    
6 Stefan Nimke (Germany)    

First round repecharge                 
 
Heat 1
1 Teun Mulder (Netherlands)                  
2 Sergey Borisov (Russian Federation)        
3 Josiah Ng Onn Lam (Malaysia)               
4 Denis Spicka (Czech Republic)              
 
Heat 2
1 Arnaud Tournant (France)                   
2 Ricardo Lynch (Jamaica)                    
3 Athanasios Mantzouranis (Greece)           
4 Kévin Sireau (France)                      
5 Hodei Mazquiaran Uria (Spain)              
 
Heat 3
1 Carsten Bergemann (Germany)                
2 Theo Bos (Netherlands)                     
3 Andriy Vynokurov (Ukraine)                 
4 Stefan Nimke (Germany)                     
5 Mohd Rizal Tisin (Malaysia)                
 
Heat 4
1 Ryan Bayley (Australia)                    
2 Filip Ptacnik (Czech Republic)             
3 José Antonio Escuredo Raimondez (Spain)    
4 Roberto Chiappa (Italy)                    
5 Sergey Ruban (Russian Federation) 
 
Final
 
1 Chris Hoy (Great Britain)                   
2 Teun Mulder (Netherlands)                   
3 Christos Volikakis (Greece)                 
4 Arnaud Tournant (France)                    
5 Toshiaki Fushimi (Japan)                    
6 Matthew Crampton (Great Britain)            
7 Shane John Kelly (Australia)                
8 Ross Edgar (Great Britain)                  
9 Ryan Bayley (Australia)                     
10 Carsten Bergemann (Germany)                
11 Shane Perkins (Australia)                  
12 Azizulhasni Awang (Malaysia)               
13 Filip Ptacnik (Czech Republic)             
13 Theo Bos (Netherlands)                     
13 Sergey Borisov (Russian Federation)        
13 Ricardo Lynch (Jamaica)                    
17 José Antonio Escuredo Raimondez (Spain)    
17 Athanasios Mantzouranis (Greece)           
17 Josiah Ng Onn Lam (Malaysia)               
17 Andriy Vynokurov (Ukraine)                 
21 Denis Spicka (Czech Republic)              
21 Kévin Sireau (France)                      
21 Stefan Nimke (Germany)                     
21 Roberto Chiappa (Italy)                    
25 Hodei Mazquiaran Uria (Spain)              
25 Mohd Rizal Tisin (Malaysia)                
25 Sergey Ruban (Russian Federation) 

Men's Madison final

1 Great Britain                19 pts
 Mark Cavendish
 Bradley Wiggins
2 Germany                      13
 Roger Kluge
 Olaf Pollack
3 Denmark                      11
 Michael Morkov 
 Alex Rasmussen
4 Belgium                       8
 Kenny De Ketele
 Iljo Keisse
5 Switzerland                   3
 Franco Marvulli
 Bruno Risi
6 Spain                         1
 Joan Llaneras Rosello
 Carlos Torrent Tarres

One lap behind

7 France                       15
 Matthieu Ladagnous
 Jérôme Neuville
8 Argentina                    12
 Juan Esteban Curuchet
 Walter Fernando Perez
9 New Zealand                  11
 Greg Henderson
 Hayden Roulston
10 Netherlands                  5
 Jens Mouris
 Peter Schep
11 Italy                         
 Angelo Ciccone
 Fabio Masotti

Two laps behind

12 Japan                        5
 Makoto Iijima
 Kazuhiro Mori
13 United States                4
 Michael Friedman 
 Colby Pearce
14 Czech Republic               3
 Alois Kankovsky
 Petr Lazar
15 Ukraine                       
 Lyubomyr Polatayko
 Volodymyr Rybin
DNF Canada                       
 Martin Gilbert
 Ryan Mckenzie
DNF Korea                        
 Sun Jae Jang
 Jae Wan Jung
DNF Russia                       
 Mikhail Ignatiev
 Alexei Markov