2008 UCI Track Cycling World Championships - CM
Great Britain, March 26-30, 2008
Main Page Results Previous Day
Day 5 - March 30: Men's omnium: 200m TT, scratch race, individual pursuit, points race, 1km TT; Men's kilometre TT, Women's keirin 1st round, repechages, 2nd round, 7th-12th & final; scratch race final;, 444km
All Black takes Gold
By Ben Atkins and Shane Stokes in Manchester
Godfrey takes a victory lap
Photo ©: AFP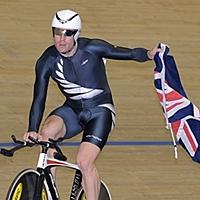 New Zealander Hayden Godfrey has taken his country's first gold medal of these World Championships with victory in cycling's "pentathlon".
"I first heard about the event a couple of years ago," said a delighted Godfrey. "I thought that would really suit me, because I am quite good at all disciplines. One of the most important things is being right up there in everything. You can't afford to have a bad ride on one event, otherwise you lose your opportunity of doing it."
"Well, that's the thing. I am sort of like a jack-of-all-trades and master of none, I suppose," he said modestly, "and that is why when this event came along I slotted in well. Last year I never got to do it because I had an injury, so I felt like I had to have another year to have a crack at it. I am just really happy it has worked out."
Taking silver for Australia, 18 year-old Leigh Howard was ecstatic with his medal: "It's fantastic. I went into this saying that top five would be fantastic, so to come away with silver is unbelievable."
"I started off doing a personal best time for the flying 200," he continued, "so I couldn't have asked for anything more. The pursuit and the kilo were also personal best times, so for me it was fantastic and showed I had good form."
Entering the second stage of the competition with a five-point lead over nearest rival Howard, Godfrey merely needed to maintain his earlier consistency to take the title. The remaining events consisted of a Points race and a Kilometre time trial though, requiring entirely different characteristics.
Hayden Godfrey (New Zealand)
Photo ©: AFP
Victory in an action packed went to Ukrainian Roman Kononenko, already out of contention after a disastrous afternoon session. Godfrey himself consolidatd his position with a creditable seventh after taking first in the fifth sprint. However, a second place for Aliaksandr Lisouski of Belarus saw him move up the table into second place above Howard. Disasters for Robert Bartko of Germany and Bobby Lea of the United States saw them drop from third and fourth places respectively down to fifth and seventh, but more importantly widened the gap between them and the lead to fourteen and nineteen points, removing any chance of gold.
Going in to the final event of the kilometre, Godfrey needed only to finish eighth or higher to guarantee the gold medal, even in the event of a Lisouski victory. In the event, a fourth place behind a popular home win from Great Britain's Steven Burke was more than enough. Howard finished third to make up for his twelfth in the points race and leapfrog Lisouski to take silver, who despite only managing eleventh took the bronze.
2007 champion Alois Kankovsky of the Czech Republic rode a strong Kilometre to finish equal on points with Lisouski, but the Belarusian took the medal by virtue of having two second places to the Czech's one.
Morning session: Southern Hemisphere sitting pretty
Third place in the 200 metres Sprint time trial and victory in the 5km Scratch Race put New Zealander Hayden Godfrey on top of the Omnium standings after two events. A strong fourth place in the 3km pursuit behind German six-day specialist Robert Bartko means that Godfrey now holds the lead with two races to go.
Australian eighteen year-old Leigh Howard currently trails Godfrey by five points. He finished second behind the New Zealander in the Scratch race and ahead of him in the pursuit, but tails due his eighth place finish in the 200 metres. He should do well in this evening's Points race and put pressure on Godfrey for the medals.
Bartko sits a further two points back, while the United States' Bobby Lea trails by another five after consistent placings in all three events. Fourth placed finisher from last year, Aliaksandr Lisouski of Belarus currently lurks in fifth place, fourteen points behind Godfrey, but should feel disappointed with his lowly seventh in the Scratch race after taking that gold medal on day one. He will fancy his chances of moving up in this evenings points race though.
2007 champion Alois Kankovsky of the Czech Republic currently sits in seventh place, fifteen points back. He should do well in the Kilometre – the competition's final event – but may be too far back at this stage to challenge for the medals.
Mulder's K-Files: Dutchman completes medal collection
By Ben Atkins in Manchester
Teun Mulder (Netherlands)
Photo ©: AFP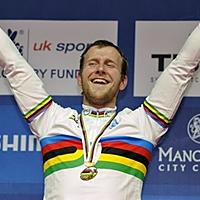 Teun Mulder of the Netherlands now has a complete set of medals after his bronze in the Team Sprint and silver in the Keirin. Third from last to ride, the Dutchman was fastest at all the splits and finished almost two-tenths of a second quicker than Michael D'Almedia and François Pervis of France.
"It feels great," a still breathless Mulder told Cyclingnews. "One week ago, I heard I [would] race the kilo. I did no special training for this, only for Keirin and Team Sprint, and then this morning I picked up a [time trial handlebar] from a youth rider. The formation was just: put it on, I race, and then I do the fastest time and I win the gold medal here. It's unbelievable for me"
Off at a lowly number four, Great Britain's Matthew Crampton smashed his own personal best to set a time of 1:01.822 in front of a home crowd. For a long time it looked as though the unthinkable might happen and the host nation would capture yet another title. Finally though, thirteenth man off D'Almedia went three-hundredths of a second faster to push Crampton off the top of the standings.
Australia's Scott Sunderland flew round the first lap, almost half a second quicker than any previous fastest time, but faded to eventually finish eighth. World Cup winner Yevhen Bolibrukh of the Ukraine couldn't quite reproduce the form that won him that competition, finishing sixth, and the expected challenge from France's Didier Henriette didn't materialise and he finished a lowly fifteenth.
Almedia's lead lasted until Mulder's winning ride, and last man off, French favourite François Pervis led until 750m, but faded in the final lap. He still managed to hold on to take the bronze medal though, and knock Crampton off the podium.
Crampton was obviously disappointed to be finally pushed off the podium after being in a medal position for so much of the competition. He explained to Cyclingnews, "Definitely, you have that little dream, you know, standing up there on the top of the podium, but it's just how it goes isn't it, that's racing"
A personal best time for the 21 year-old was of some consolation though. "It's really good," he continued. "I'm really happy. I had a bit of a big knock early in the season, I really under performed and lost my place in the team sprint, so I kind of tried to make the kilo my own and get some good rides in there. It's a great confidence boost now."
He will now concentrate all his efforts to regain his place in the Great Britain Team Sprint team, but doesn't rule out a return to the Kilometre in future. "I'll train more for man three in the team sprint, which is similar to the kilo. I probably will ride it again"
Reed wins gold for USA
By Ben Atkins and Shane Stokes in Manchester
Reed in the colours of world champion.
Photo ©: John Pierce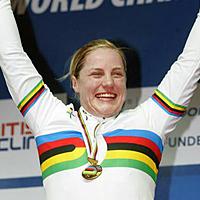 The United States' Jennie Reed has spoiled the Great Britain party in the final event of the 2008 World Championships by taking victory in a dramatic women's Keirin final. She won the final sprint by half a bike length over a photo finish between defending champion Victoria Pendleton of Great Britain and Christin Muche of Germany.
"I am so happy," said Reed "I have been waiting for this title for so many years. I was very excited to come around Vicky, I felt so strong out there."
When asked if she had a feeling that she'd be able to win before the race, she replied: "I don't know if I had that feeling, but I knew that I was going to attack it and whatever came after that, I knew I had to give it everything. In my head, I had to be ready to win."
On her prospects for the coming Olympic games in Beijing this August, Reed takes this gold and a bronze from the sprint, giving her extra confidence. "I love the keirin, but I am pretty happy with my sprint. My form has improved so I am excited."
"You can't win all the time." Was the reaction from a visibly disappointed Pendleton. "Racing would be boring if it was that easy. I am pretty pleased with my form, I think that perhaps I tanked it a bit, gone a fraction of a second earlier. But Jenny did a great job. Congratulations to her."
Despite losing this title to Reed, the outgoing World champion did manage to hang on to her other two: the Team Sprint and Sprint. The second of those two being the only event in Beijing for the sprinters. "Obviously that by far outweighs the other events here." Said Pendleton. "It is nice to do well in other events like the Team Sprint and the Keirin, but the sprint is the only one that really, really matters this year… it is the only Olympic chance I have got."
A voice from the media scrum asked a very blunt question about how it felt having won so many golds and having to settle for silver in this event. "Obviously very, very disappointing." was her only reply, and visibly upset she turned and walked away.
The first move was made by Great Britain's Anna Blyth, moving from the back of the line to the front as the derny pulled off, she was followed closely by team-mate Pendleton. With two laps to go, Pendleton took the front in her usual style, but didn't seem to have the power in her legs to be able to gap the others and a tenacious Reed managed to stay side-by-side with her around the final lap and overtake her in the finishing straight.
A fast finishing Muche almost managed to come past the Briton on the line, but a visibly tearful Pendleton was given the verdict by the judges and the silver medal.
The race for seventh to twelfth places was a tightly contested affair with Russian Swetlana Grankowskaja taking a consolation victory just ahead of Diana Maria Garcia Orrego of Colombia and Willy Kanis of the Netherlands. The six riders hit the finishing line more or less side by side, but China's Jinjie Gong was adjudged to have not held her line in the last 200 metres and relegated to last place.
Semi-Finals: Pendleton through; no Kanis in Final
The first semi-final was taken by a Great Britain one-two with reigning champion Victoria Pendleton and Anna Blyth leading around the final two laps with no one able to come around them. France's Clara Sanchez was the best of the rest, almost – but not quite able – to come past Blyth on the line.
Jennie Reed of the United States and World Cup Winner Willy Kanis of the Netherlands came together just after bell in the second semi-final, knocking both off balance but they managed to stay upright. Kanis seemed to be more affected by the incident and featured no further, but Reed went on to finish second behind Christin Muche of Germany. Simona Krupeckaite took the last spot in this evening's final.
First round: Favourites through to Second Round
In Heat 1, Pendleton took the race from the front as the others jostled for position behind her. The defending champion crossed the line comfortably in the lead and 500 metres champion Lisandra Guerra Rodriguez came around the others to qualify for the next round.
Dana Gloss of Germany and Swetlana Grankowskaja of Russia won a cagey second heat beating Netherlands' World Cup winner Willy Kanis and local favourite Anna Blyth of Great Britain, forcing them to try to qualify through the repecharges.
In the third heat, seventeen year-old Jess Varnish of Great Britain moved straight to the front in an attempt to take on her far more experienced rivals from the start. Russian Oksana Grishina crashed going into the closing stages – but was unhurt – and the valiant attempt from Varnish proved unsuccessful as she was outclassed be the others. Sprint bronze medallist Jennie Reed of the United States took the win ahead of Jinjie Gong of China.
Clara Sachez of France won a guarded first Repecharge in front of Lithuanian Simona Krupeckaite, despite the best efforts of Varnish in front of her home crowd. The second run saw the expected advancement of Kanis and Blyth, while the third was taken by Germany's vs. Muche and Diana Maria Garcia Orrego.
Van Dijk strikes more Gold for Dutch
By Ben Atkins and Shane Stokes in Manchester
Eleonora Van Dijk (Netherlands)
Photo ©: AFP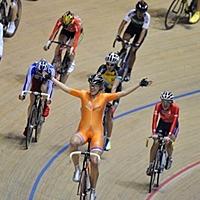 A solo break in the final laps gave Eleonora Van Dijk of the Netherlands victory in the Women's 10km scratch race, giving the Dutch team their second gold medal in the women's bunch races, and their third overall.
"My plan was to attack about ten laps from the finish." Said Van Dijk after the race, "I wanted to go when the speed was a bit lower. I did it about eight laps before the finish. I was surprised [that no one tried to chase], but every country has just one rider so they don't work together. That was better for me to ride away."
Despite having almost half a lap on the rest of the pack, Van Dijk refused to start getting complacent, but just put her head down and kept going. "I didn't look behind, just once. I knew I had to give it everything and if there was no gap, then there was no gap. But it worked out well."
When Cyclingnews asked her at what point she knew she was sure of victory, the Dutch woman replied: "Just 100 metres before the finish. I didn't know how big the gap was [before then], I didn't look back, I was just focussed on riding hard and getting everything out."
Second placed rider Yumari Gonzalez Valdivieso of Cuba was very pleased with her result. "The race was very fast." She told the assembled media. "I didn't feel very good but at the end I was able to get the silver medal so I am happy about that."
Australia's Belinda Goss was even happier with her bronze medal: "I'm certainly stoked by the result." The Tasmanian enthused. "It is such a great improvement on last year. It would have been great to have got gold, the top prize, but I am really happy.
"It has been a long wait." She continued. "I had to put it in my head that I'd get in some training this week, get a bit fitter. But I am really happy with myself; things have been going well for me. I rode well in Europe last year."
The race was peppered with attacks, the first meaningful one coming in only lap five from Aksana Papko of Belarus in an early bid to match her countryman Aliaksandr Lisouski's victory in the men's race on day one. She was hunted down by a small group that included Svetlanan Paulikaite of Lithuania, Svitlana Galyuk of Ukraine and Van Dijk. The rest of the bunch was very attentive at this early stage though and they were soon hunted down. Paulikaite struck out alone, but her effort didn't come to anything.
A crash in the middle period of the race took down Catherine Cheatley of New Zealand and Spain's Gema Pascual Torrecilla after a touch of wheels near the back. Cheatley remounted after a few minutes, but Pascual Torrecilla pulled out having fallen more heavily.
More attacks continued, but all were reeled in until less than to go when Van Dijk struck out alone and no one else reacted. She soon had an almost half lap lead, as the rest of the riders hesitated and looked to one another to chase down the flying Dutchwoman. When finally a chase did materialise, it was all far too late and Van Dijk finished comfortably alone to take the gold.
Behind her the sprint was won by Yumari Gonzalez Valdivieso of Cuba, from Australian Belinda Goss. Annalisa Cucinotta of Italy was fourth and America Rebecca Quinn fifth.
Photography
For a thumbnail gallery of these images, click here
Images by Nick Rosenthal/fatnick.com
Images by John Pierce/Photosport International
Images by AFP Photo
Images by Stephen McMahon
Results
Men's omnium
200m TT
 
1 Ghislain Boiron (France)                10.481 (68.695km/h)
2 Travis Smith (Canada)                   10.489
3 Hayden Godfrey (New Zealand)            10.569
4 Vasileios Galanis (Greece)              10.664
5 Bobby Lea (United States Of America)    10.688
6 Alois Kankovsky (Czech Republic)        10.701
7 Steven Burke (Great Britain)            10.854
8 Leigh Howard (Australia)                10.857
9 Gianpaolo Biolo (Italy)                 10.926
10 Robert Bartko (Germany)                10.937
11 Tim Mertens (Belgium)                  10.944
12 Robert Slippens (Netherlands)          11.132
13 Aliaksandr Lisouski (Belarus)          11.171
14 Unai Elorriaga Zubiaur (Spain)         11.213
15 Reona Sumi (Japan)                     11.354
16 Walter Fernando Perez (Argentina)      11.376
17 Evgeny Kovalev (Russian Federation)    11.413
18 Roman Kononenko (Ukraine)              11.441

Scratch race
 
1 Hayden Godfrey (New Zealand)          
2 Leigh Howard (Australia)              
3 Walter Fernando Perez (Argentina)     
4 Robert Bartko (Germany)               
5 Tim Mertens (Belgium)                 
6 Gianpaolo Biolo (Italy)               
7 Aliaksandr Lisouski (Belarus)         
8 Bobby Lea (United States Of America)  
9 Alois Kankovsky (Czech Republic)      
10 Ghislain Boiron (France)             
11 Unai Elorriaga Zubiaur (Spain)       
12 Travis Smith (Canada)                
13 Vasileios Galanis (Greece)           
14 Steven Burke (Great Britain)         
15 Robert Slippens (Netherlands)        
16 Roman Kononenko (Ukraine)            
17 Evgeny Kovalev (Russian Federation)  
18 Reona Sumi (Japan)                   

Individual pursuit
 
1 Robert Bartko (Germany)                 3:17.078
2 Aliaksandr Lisouski (Belarus)           3:17.464
3 Leigh Howard (Australia)                3:18.080
4 Hayden Godfrey (New Zealand)            3:18.248
5 Robert Slippens (Netherlands)           3:19.355
6 Bobby Lea (United States Of America)    3:20.123
7 Tim Mertens (Belgium)                   3:21.410
8 Alois Kankovsky (Czech Republic)        3:22.184
9 Roman Kononenko (Ukraine)               3:23.263
10 Steven Burke (Great Britain)           3:23.439
11 Gianpaolo Biolo (Italy)                3:24.000
12 Walter Fernando Perez (Argentina)      3:25.365
13 Unai Elorriaga Zubiaur (Spain)         3:25.729
14 Evgeny Kovalev (Russian Federation)    3:26.880
15 Reona Sumi (Japan)                     3:29.598
16 Ghislain Boiron (France)               3:30.088
17 Travis Smith (Canada)                  3:34.299
18 Vasileios Galanis (Greece)             3:40.991

Points race
 
1 Roman Kononenko (Ukraine)               11
2 Aliaksandr Lisouski (Belarus)            9
3 Evgeny Kovalev (Russian Federation)      8
4 Tim Mertens (Belgium)                    8
5 Walter Fernando Perez (Argentina)        7
6 Steven Burke (Great Britain)             6
7 Hayden Godfrey (New Zealand)             5
8 Gianpaolo Biolo (Italy)                  3
9 Robert Slippens (Netherlands)            3
10 Alois Kankovsky (Czech Republic)        3
11 Reona Sumi (Japan)                      2
12 Unai Elorriaga Zubiaur (Spain)          0
13 Leigh Howard (Australia)                0
14 Robert Bartko (Germany)                 0
15 Bobby Lea (United States Of America)    0
16 Ghislain Boiron (France)              -20
17 Travis Smith (Canada)                 -40
18 Vasileios Galanis (Greece)            -40

1000m time trial

1 Steven Burke (Great Britain)            1.03
2 Alois Kankovsky (Czech)                 1.03
3 Leigh Howard (Australia)                1.04
4 Hayden Godfrey (New Zealand)            1.04
5 Bobby Lea (United States Of America)    1.05
6 Ghislain Boiron (France)                1.05
7 Travis Smith (Canada)                   1.05
8 Robert Bartko (Germany)                 1.05
9 Gianpaolo Biolo (Italy)                 1.05
10 Robert Slippens (Netherlands)          1.06
11 Aliaksandr Lisouski (Belarus)          1.06
12 Tim Mertens (Belgium)                  1.06
13 Roman Kononenko (Ukraine)              1.07
14 Reona Sumi (Japan)                     1.08
15 Evgeny Kovalev (Russia)                1.08
16 Walter Fernando Perez (Argentina)      1.09
17 Unai Elorriaga Zubiaur (Spain)         1.10
DNS Vasileios Galanis (Greece)  

Final standings  

1 Hayden Godfrey (New Zealand)            19 pts
2 Leigh Howard (Australia)                28
3 Aliaksandr Lisouski (Belarus)           35
4 Alois Kankovsky (Czech Republic)        35
5 Robert Bartko (Germany)                 37
6 Steven Burke (Great Britain)            38
7 Bobby Lea (United States Of America)    39
8 Tim Mertens (Belgium)                   39
9 Gianpaolo Biolo (Italy)                 43
10 Ghislain Boiron (France)               49
11 Robert Slippens (Netherlands)          51
12 Walter Fernando Perez (Argentina)      52
13 Travis Smith (Canada)                  55
14 Roman Kononenko (Ukraine)              57
15 Evgeny Kovalev (Russian Federation)    66
16 Unai Elorriaga Zubiaur (Spain)         68
17 Reona Sumi (Japan)                     73
DNF Vasileios Galanis (Greece)              

Men's 1000m time trial


1 Teun Mulder (Netherlands)                  1.01.332
2 Michaël D'almeida (France)                 1.01.514
3 François Pervis (France)                   1.01.579
4 Matthew Crampton (Great Britain)           1.01.822
5 Mohd Rizal Tisin (Malaysia)                1.02.409
6 Yevhen Bolibrukh (Ukraine)                 1.02.432
7 Wen Hao Li (People's Republic of China)    1.02.503
8 Scott Sunderland (Australia)               1.02.515
9 Tim Veldt (Netherlands)                    1.02.757
10 Edward Dawkins (New Zealand)              1.02.893
11 Yong Feng (People's Republic of China)    1.02.955
12 David Daniell (Great Britain)             1.03.018
13 Robert Forstemann (Germany)               1.03.179
14 Ben Kersten (Australia)                   1.03.330
15 Didier Henriette (France)                 1.03.395
16 Michael Seidenbecher (Germany)            1.03.428
17 Kamil Kuczynski (Poland)                  1.03.482
18 Hodei Mazquiaran Uria (Spain)             1.03.512
19 Tomas Babek (Czech Republic)              1.03.612
20 Sergey Polynskiy (Russian Federation)     1.04.025
21 Athanasios Mantzouranis (Greece)          1.04.202
22 Vasileios Reppas (Greece)                 1.04.888

Women's keirin


First round
 
Heat 1
1 Victoria Pendleton (Great Britain)         
2 Lisandra Guerra Rodriguez (Cuba)           
3 Clara Sanchez (France)                     
4 Christin Muche (Germany)                   
5 Simona Krupeckaite (Lithuania)             
6 Sakie Tsukuda (Japan)                      
 
Heat 2
1 Dana Glöss (Germany)                       
2 Swetlana Grankowskaja (Russian Federation) 
3 Willy Kanis (Netherlands)                  
4 Kaarle Mcculloch (Australia)               
5 Anna Blyth (Great Britain)                 
6 Elisa Frisoni (Italy)                      
 
Heat 3
1 Jennie Reed (United States Of America)     
2 Jinjie Gong (People's Republic of China)   
3 Sandie Clair (France)                      
4 Valentina Alessio (Italy)                  
5 Diana Maria Garcia Orrego (Colombia)       
6 Jess Varnish (Great Britain)               
 
First Round Repecharge
 
Heat 1
1 Clara Sanchez (France)                     
2 Simona Krupeckaite (Lithuania)             
3 Jess Varnish (Great Britain)               
4 Kaarle Mcculloch (Australia)               
 
Heat 2
1 Willy Kanis (Netherlands)                  
2 Anna Blyth (Great Britain)                 
3 Valentina Alessio (Italy)                  
4 Elisa Frisoni (Italy)                      
 
Heat 3
1 Christin Muche (Germany)                   
2 Diana Maria Garcia Orrego (Colombia)       
3 Oksana Grishina (Russian Federation)       
4 Sandie Clair (France)                      
5 Sakie Tsukuda (Japan)                      

Second round
 
Heat 1 
1 Victoria Pendleton (Great Britain)         
2 Anna Blyth (Great Britain)                 
3 Clara Sanchez (France)                     
4 Swetlana Grankowskaja (Russian Federation) 
5 Jinjie Gong (People's Republic of China)   
6 Diana Maria Garcia Orrego (Colombia)       
 
Heat 2
1 Christin Muche (Germany)                   
2 Jennie Reed (United States Of America)     
3 Simona Krupeckaite (Lithuania)             
4 Lisandra Guerra Rodriguez (Cuba)           
5 Dana Glöss (Germany)                       
6 Willy Kanis (Netherlands)                  

Finals
 
1 Jennie Reed (United States Of America)      
2 Victoria Pendleton (Great Britain)          
3 Christin Muche (Germany)                    
4 Clara Sanchez (France)                      
5 Anna Blyth (Great Britain)                  
6 Simona Krupeckaite (Lithuania)              
 
Finals 7 to 12

7 Swetlana Grankowskaja (Russian Federation)  
8 Diana Maria Garcia Orrego (Colombia)        
9 Willy Kanis (Netherlands)                   
10 Lisandra Guerra Rodriguez (Cuba)           
11 Dana Glöss (Germany)                       
12 Jinjie Gong (People's Republic of China)   
13 Jess Varnish (Great Britain)               
13 Valentina Alessio (Italy)                  
13 Oksana Grishina (Russian Federation)       
16 Kaarle Mcculloch (Australia)               
16 Sandie Clair (France)                      
16 Elisa Frisoni (Italy)                      
19 Sakie Tsukuda (Japan)                      

Women's scratch race


1 Eleonora Van Dijk (Netherlands)             
2 Yumari Gonzalez Valdivieso (Cuba)           
3 Belinda Goss (Australia)                    
4 Annalisa Cucinotta (Italy)                  
5 Rebecca Quinn (United States Of America)    
6 Pascale Jeuland (France)                    
7 Elizabeth Armitstead (Great Britain)        
8 Maria Luisa Calle Williams (Columbia)       
9 Elke Gebhardt (Germany)                     
10 Catherine Cheatley (New Zealand)           
11 Olga Slyusareva (Russia)                   
12 Svitlana Galyuk (Ukraine)                  
13 Jarmila Machacova (Czech)                  
14 Gina Grain (Canada)                        
15 Aksana Papko (Belarus)                     
16 Wan Yiu Wong (Hong Kong)                   
17 Jessica Jurado (Mexico)                    
18 Svetlana Paulikaite (Lithuania)            
19 Trine Schmidt (Denmark)                    
DNF Gema Pascual Torrecilla (Spain)           
DNF Wathinee Luekajorh (Thailand)