2008 UCI Track Cycling World Championships - CM
Great Britain, March 26-30, 2008
Main Page Results Previous Day Next Day
Day 3 - March 28: Men's sprint semifinal & final, points race final; Women's sprint 200m qualifying, 1/16 finals, 1/8 finals, 1/4 finals, repechages & 5th-8th, team pursuit qualifying & final;
Hoy adds to British Gold Rush
By Ben Atkins and Shane Stokes in Manchester
Chris Hoy (Great Britain) sprints to victory,
Photo ©: John Pierce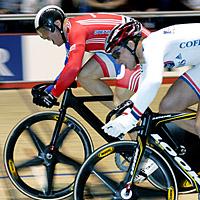 Great Britain's defending kilometre champion Chris Hoy has spectacularly made the transition to match sprinter with a two-leg victory over 20 year-old French World Cup winner Kevin Sireau. Probably the loudest roar from the crowd so far greeted the victory of Hoy's team's sixth gold medal of the championships so far.
"I am speechless, and that doesn't happen very often," said the jubilant Scotsman. "I really didn't expect this, I was hoping at an outside chance that I would get a medal. To win it here in front of the whole crowd is a dream come true. It really is fantastic."
The new world champion remained cautiously optimistic over what the victory meant for the upcoming Olympic Games in Beijing, China. "Really, there are still five or six guys who can win in Beijing," he said. "This doesn't mark me out as a firm favourite. It is going to be an incredibly tight competition; for the qualifying here, the top six were within four hundredths of a second. Tonight was my night, but that doesn't mean I am necessarily the favourite for Beijing.
"I'm just delighted with the help I have had," he added. "The coaching staff of the British Cycling team are just second to none, so thanks to their help I have won this."
In the first leg, Sireau shot inside Hoy with a lap and a half remaining, but the Scotsman steadily reeled him back in, then came alongside on the home straight to take the win by a few fractions of an inch. The second leg was a similar story but Hoy made it look much easier and won by a much bigger margin over the gracious Frenchman.
"He is a very talented rider," Hoy said of his defeated opponent. "He is very young and has a great future ahead of him."
When asked for a prediction for his forthcoming defence of his Keirin title tomorrow, the Scotsman was again unwilling to show too much outward confidence. "It has put me on a high, but my legs are fairly sore right now. I will get a massage and get to bed relatively early, who knows what can happen tomorrow."
But returning to tonight's victory, Hoy continued in a jubilant vein. "This is unbelievable," he said. "I rank this up there with any of my previous victories. It has been fantastic. To have my family here is extra-special, and it is my girlfriend's birthday tonight, so this is a nice present for her.
"The sprint is an extra special event, it is the blue riband event and one that I thought was never possible from me to win," he said. "Tonight, with the home crowd supporting me, it is a dream come true."
In the earlier contest for the bronze medal, the wily Italian veteran Roberto Chiappa was no match for the power of Mickael Bougain, and the Frenchman took both legs comfortably.
Semi finals - Hoy and Sireau to battle for Gold
The men's sprint final will once again present a passionate hometown crown with the opportunity to roar one of their heroes to yet another Gold for Great Britain as Scotsman Chris Hoy goes up against World Cup champion Kevin Sireau of France.
Both Hoy and Sireau managed to dispatch their opposition in just two of the three available legs. Hoy proving too strong for Roberto Chaippa of Italy, and Sireau's superior power overcoming the superior experience of compatriot Mickael Bourgain.
Kiryienka takes second Gold for Belarus
By Ben Atkins and Shane Stokes in Manchester
Vasili Kiryienka (Belarus) shows his happiness when
Photo ©: Nick Rosenthal

Vasili Kiryienka has won Belarus' second gold medal of these World championships after Aliaksandr Lisouski's Scratch Race title yesterday. After taking second in the first sprint, the Belarusian won the second and held his lead right to the end.
"My start was delayed because my bike was too light," said Kiryienka, who rides on the road for Tinkoff Credit Systems. "I was very angry with that and that is why I really wanted to win."
"The victory is important to me as I have now qualified for the Olympic Games," he added. "Also, I have a daughter who is one and a half years old and I won this for her."
The first serious attack of the race was from Milton Wynants Vazquez of Uruguay, he was quickly followed by Andreas Graf (Austria) and Milan Kadrec (Czech Republic), but they never really looked like taking a lap and the rest of the field swept them up after only a few laps. The next attack came quickly from Juan Esteban Arango Carvajal of Colombia, but no one joined him and it came to nothing more than the acquisition of a few points.
An early challenge came in from Australian Cameron Meyer, but he was unable to match the consistent scoring of some of the others and despite a late rally was unable to get into the medals. At just after halfway, Canadian Zachary Bell touched a wheel towards the back of the line and came down heavily. He was visibly winded, but seemed to be unhurt, his race though, was definitely over.
The men's points race took place
Photo ©: Nick Rosenthal

Last year's champion Joan Llaneras Rosello of Spain was active throughout the middle section of the race, but picked up very few points for his troubles. The expected challenges from Great Britain's Mark Cavendish and Belgium's new six-day king Iljo Keisse never materialised, both riders remaining anonymously in the bunch for most of the race, picking up a scant few points between them.
With around 30 laps to go, reigning Olympic champion Mikhail Ignatiev launched a powerful attack and was quickly joined by Meyer and Kiryienka, but the rest of the contenders were in no mood to let them go, particularly 2006 champion Peter Schep (Netherlands) who had begun to mount a challenge.
A few laps later, French rider Christophe Riblon launched a powerful attack, he was followed by Martino Marcotto of Italy and Kiryienka himself - worried about the Frenchman, who if he managed to get a lap would take 20 points and victory.
"I was chasing and got close to the bunch, but couldn't close the last bit," the Frenchman explained. "I thought that I was going to do it, they were just there ahead of me, but they got faster and I couldn't make it."
When asked about this late charge Kiryienka explained that it was riders behind him rather than the lone one ahead that he was concerned with. "I was not worried when the French rider broke away," he said. "I was more worried about the Dutch rider [Schep] or the New Zealand rider [Greg Henderson, who finished in fifth place]."
At one point, Riblon and the bunch were almost in the same straight, but it was to no avail. He managed to take the final two sprints to take him into silver medal position - just one point behind the Belarusian - but Kiryienka hung on to take gold. Schep had done enough mid-race to take the bronze medal ahead of Meyer's late points surge.
Kanis out; Pendleton set to defend
By Ben Atkins in Manchester
Victoria Pendleton (Great Britain) is set to
Photo ©: John Pierce
Four of the five fastest women from the original qualifying round have progressed to tomorrow's semi-final races, setting up a potential repeat of last year's Gold medal match. Great Britain's reigning champion Victoria Pendleton managed to comfortably beat the Netherlands' Yvonne Hijgenaar in two legs, despite the Dutchwoman attacking from the start and trying to sprint the whole 750 metres in the first leg.
Last year's silver medallist Shuang Guo of China managed to see off France's Clara Sanchez fairly comfortably, although Guo was relegated in the second of three legs for coming down below the red sprinters' line when Sanchez was in the sprinter's lane.
Simona Krupeckaite of Lithuania was also relegated in one leg when she moved off her line in her first contest with World Cup winner Willy Kanis of the Netherlands. Despite this, Krupeckaite took the next two legs to progress to the medal stages.
Jennie Reed of the United States has the chance to take her country's second medal of the championships - after Sarah Hammer's silver in the individual pursuit - having defeated Lisandra Guerra Rodriguez of Cuba in two close rounds. Guerra Rodriguez was warned for riding dangerously in one of the legs, but since Reed crossed the line first no action was taken.
In the race off for fifth to eighth, a flying Willy Kanis - determined to take something from the championships after her World Cup victory - was first to make a move and held off the other three who finished close together behind her.
Defending champion sets new national record
Defending champion Victoria Pendleton (Great Britain) has broken her own national record, and set a new best time for the Manchester Velodrome to qualify fastest for the knockout rounds. Pendleton set a 10.904 in the flying 200m to place atop the leaderboard in the first round.
China's Shuang Guo – last year's silver medallist – looked to have done enough when her time of 11.002 set a new track record, but Pendleton was next rider out and went faster still.
There was a slightly dramatic moment when Jennie Reed of the United States pulled her foot out of her pedal just after completing her flying time. The American didn't panic though and stayed in control throughout, slowing herself with one leg.
Meares one step closer to Beijing – from Australia
The big news from the 1/16th finals is that Russian Swetlana Grankowskaja was knocked out by Germany's Christin Muche. Not a major event in itself, but Grankowskaja was one of only two riders who could prevent Australian Anna Meares (currently at home in Australia recovering from a broke neck sustained in the Los Angeles World Cup) from qualifying for the Beijing Olympics. The other rider is China's Lulu Zheng, who qualified comfortably.
Sandie Clair of France made the bizarre decision to go straight from the gun in her heat against Belarusian Natalia Tsylinskaya. Her 500 metre strength helped her hold off her opponent for two of the three laps, but Tsylinskaya caught her at the bell and won easily.
Serious crash mars knockout stages
A nasty looking crash in the final heat between 2006 World Champion Natallia Tsylinskaya (Belarus) and Willy Kanis (Netherlands) saw Tsylinskaya taken to hospital on a stretcher with her neck and spine immobilised for safety. Going into the second of three laps, the Belarusian's front tyre blew just as the pair accelerated, causing her to fall heavily on her right side and slide to the bottom of the track. News came later that she had regained consciousness, but was suffering from concussion and pain to her right shoulder.
The other heats generally went to the faster qualifying riders, with Clara Sanchez (France) and Yvonne Hijgenaar (Netherlands) advancing via the repechages.
The good news for Australia is that with Lulu Zheng of China knocked out at this stage, Anna Meares has definitely qualified for the Beijing Olympics.
Great Britain completes Pursuit dominance
By Ben Atkins in Manchester
The taste of victory! Rebecca Romero,
Photo ©: Nick Rosenthal

Great Britain now has all four Pursuit Gold medals after its record-breaking women's team pushed their qualifying time still further to set a new best time against World Cup winners Ukraine. As they did in their qualifying heat, Wendy Houvenaghel, Joanna Rowsell and individual gold medallist Rebecca Romero started slower than their opponents as they took a while to reach their top speed.
Ukraine was around half a second up after the first 500 metres, but by now Great Britain were motoring and had cut that to less around a quarter by the kilometre mark.
After another lap and a half, the Great Britain team were back on level terms, and by the end of kilometre two they had pulled out a lead of almost a second. The Ukrainian team by this stage was beginning to look quite ragged - their changes less smooth - and Great Britain could almost see the tail of their line as they came around each bend.
Coming into the final laps, the Ukrainian line split up, their front rider dropping the other two, but there wasn't enough track left for Great Britain to catch them. They crossed the line over seven seconds ahead, knocking more than three seconds off the World best time they set this afternoon.
The delirious hometown crowd was treated to several laps of honour, which began with Romero pointing at her 19 year-old team-mate Rowsell. "Would anyone have known, from us riding that race, that she was 19 years old?" said Romero. "Wendy and I do what we do and then she comes in and performs phenomenally. She definitely made it for our team.
"When she knew that team pursuiting was coming to the Worlds, she wanted that place and she's had to lift herself up," she said. "It's very, very intimidating to come along and ride with Wendy and myself, especially having to sit at the hotel last night, and see what we did. You can't hide in that race, you've got to hold your own, and she absolutely did."
Britain's winning women's pursuiters
Photo ©: Nick Rosenthal

Joanna Rowsell returned the respect to her far more experienced team-mates. "It's not scary, it's inspirational to ride with people that can achieve the top four positions in the world," said Rowsell. "For me, it's a really great opportunity to ride with them, to be able to hold my own in the team and win. That's the main thing.
"Just that it's sinking in that we won and it's the world title," said the clearly emotional teenager. "It's amazing, I'm only 19 and to be at this level with these girls is unbelievable. It hasn't sunk in yet."
While the rest of the team is looking to Beijing Olympic Games in August, Rowsell is realistic in her ambitions, focussing further on the Olympics in her hometown in 2012. "I'm thinking about London to be honest, I'm really hoping that the women's Team Pursuit will be an event for London, but if not I'd still really like to do the individual pursuit," she said. "I'm not at these guys level yet, but I'll get there. Definitely."
Houvenaghel missed out on a medal in yesterday's individual competition, but can take a great deal of compensation in her team success. "It does make up for it," she admitted. "However, I had a good hard think about how yesterday went and I'm actually very pleased. The actual process that I went through and the times that I got, they were all world class and I'm now in the mix with the potential medal winners."
A position amongst the top names in the event gives her an extra spur to push herself towards greater glory in August. "I'm very happy with where I'm at now, I've got to use the next five months to maximise that small gap that I need to breach to get to that medal winning podium place," said Houvenaghel. "So, I'm pleased with how yesterday went, but I'm even more pleased that today's gone the way it has."
Romero remains realistic and level headed about the bearing these jersey and medal will have in those Games. "Winning both races here does doesn't mean anything in Beijing," said Romero.
In the race for bronze, the German team broke its own national record to beat Belarus in a much closer contest. Germany started faster and consistently rode a second faster per kilometre to comfortably take the medal.
Qualifying - More World records tumble
Tonight's Women's team pursuit final will be between host nation Great Britain and World Cup winners Ukraine. First to ride, the Great Britain trio of individual champion Rebecca Romero, fourth placed Wendy Houvenaghel, and nineteen year-old Joanna Rowsell, set a fastest time of 3:25.725. There is no officially ratified World record for this discipline for women, but this eclipses the previous best time set by the Ukraine in the Los Angeles round of the World Cup by almost two seconds.
The Ukrainian team were on level terms with Great Britain but tired in the final kilometre, changes became more ragged, and they finished three-quarters of a second behind.
Germany started fast but faded in the mid-section, but will face the more consistent Belarus in the ride off for bronze.
Photography
For a thumbnail gallery of these images, click here
Images by John Pierce/Photosport International
Images by Nick Rosenthal/fatnick.com
Images by Stephen McMahon
Images by WomensCycling.net/WomensCycling.net
Results
Men's Sprint

Semifinal

Heat 1
1 Chris Hoy (Great Britain)       0.10.955  10.669     
2 Roberto Chiappa (Italy)              
 
Heat 2
1 Kévin Sireau (France)           0.10.44   10.481
2 Mickaël Bourgain (France)            

Men's points race


1 Vasili Kiryienka (Belarus)                 24 pts
2 Christophe Riblon (France)                 23
3 Peter Schep (Netherlands)                  19
4 Cameron Meyer (Australia)                  18
5 Greg Henderson (New Zealand)               17
6 Milan Kadlec (Czech Republic)              14
7 Juan Esteban Arango Carvajal (Colombia)     9
8 Rafal Ratajczyk (Poland)                    8
9 Kampo Wong (Hong Kong, China)               5
10 Mikhail Ignatiev (Russian Federation)      5
11 Milton Wynants Vazquez (Uruguay)           5
12 Martino Marcotto (Italy)                   4
13 Iljo Keisse (Belgium)                      4
14 Mark Cavendish (Great Britain)             3
15 Makoto Iijima (Japan)                      3
16 Joan Llaneras Rosello (Spain)              3
17 Marco Arriagada (Chile)                    3
18 Andreas Graf (Austria)                     2
19 Colby Pearce (United States Of America)    1
20 Casper Jorgensen (Denmark)                  
DNF Zachary Bell (Canada)                      
DNF Dimitrios Gkaliouris (Greece)              
DNF Chun Kai Feng (Chinese Taipei)             

Women's Sprint
1 Victoria Pendleton (Great Britain)             0.10.90 (66.03 km/h)
2 Shuang Guo (People's Republic of China)        0.11.00
3 Simona Krupeckaite (Lithuania)                 0.11.09
4 Jinjie Gong (People's Republic of China)       0.11.15
5 Lisandra Guerra Rodriguez (Cuba)               0.11.17
6 Willy Kanis (Netherlands)                      0.11.17
7 Natallia Tsylinskaya (Belarus)                 0.11.22
8 Swetlana Grankowskaja (Russian Federation)     0.11.28
9 Jennie Reed (United States Of America)         0.11.28
10 Yvonne Hijgenaar (Netherlands)                0.11.30
11 Lyubov Shulika (Ukraine)                      0.11.32
12 Clara Sanchez (France)                        0.11.35
13 Anna Blyth (Great Britain)                    0.11.35
14 Lulu Zheng (People's Republic of China)       0.11.42
14 Dana Glöss (Germany)                                 
16 Kaarle Mcculloch (Australia)                  0.11.42
17 Christin Muche (Germany)                      0.11.51
18 Sandie Clair (France)                         0.11.54
19 Elisa Frisoni (Italy)                         0.11.54
20 Miriam Welte (Germany)                        0.11.55
21 Oksana Grishina (Russian Federation)          0.11.58
22 Virginie Cueff (France)                       0.11.60
23 Diana Maria Garcia Orrego (Colombia)          0.11.61
24 Anastasiya Chulkova (Russian Federation)      0.11.74
25 Jess Varnish (Great Britain)                  0.11.76
25 Valentina Alessio (Italy)                            
27 Sakie Tsukuda (Japan)                         0.12.27
28 Jutatip Maneephan (Thailand)                  0.12.53
 
1/16 Round

Heat 1 
1 Victoria Pendleton (Great Britain)             0.11.98
2 Anastasiya Chulkova (Russian Federation)              
 
Heat 2 
1 Shuang Guo (People's Republic of China)        0.11.75
2 Diana Maria Garcia Orrego (Colombia)                  
 
Heat 3 
1 Simona Krupeckaite (Lithuania)                 0.11.89
2 Virginie Cueff (France)                               
 
Heat 4 
1 Oksana Grishina (Russian Federation)           0.11.85
2 Jinjie Gong (People's Republic of China)              
 
Heat 5 
1 Lisandra Guerra Rodriguez (Cuba)               0.11.70
2 Miriam Welte (Germany)                                
 
Heat 6 
1 Willy Kanis (Netherlands)                      0.12.52
2 Elisa Frisoni (Italy)                                 
 
Heat 7 
1 Natallia Tsylinskaya (Belarus)                 0.13.28
2 Sandie Clair (France)                                 
 
Heat 8 
1 Christin Muche (Germany)                       0.11.88
2 Swetlana Grankowskaja (Russian Federation)            
 
Heat 9 
1 Jennie Reed (United States Of America)         0.11.95
2 Kaarle Mcculloch (Australia)                          
 
Heat 10 
1 Yvonne Hijgenaar (Netherlands)                 0.11.93
2 Dana Glöss (Germany)                                  
 
Heat 11 
1 Lulu Zheng (People's Republic of China)        0.11.86
2 Lyubov Shulika (Ukraine)                              
 
Heat 12 
1 Clara Sanchez (France)                         0.11.65
2 Anna Blyth (Great Britain)                            

1/8 final
 
Heat 1 
1 Victoria Pendleton (Great Britain)          0.11.63
2 Clara Sanchez (France)                             
 
Heat 2 
1 Shuang Guo (People's Republic of China)     0.11.95
2 Lulu Zheng (People's Republic of China)            
 
Heat 3 
1 Simona Krupeckaite (Lithuania)              0.11.24
2 Yvonne Hijgenaar (Netherlands)                     
 
Heat 4 
1 Jennie Reed (United States Of America)      0.11.81
2 Oksana Grishina (Russian Federation)               
 
Heat 5 
1 Lisandra Guerra Rodriguez (Cuba)            0.11.64
2 Christin Muche (Germany)                           
 
Heat 6 
1 Willy Kanis (Netherlands)                   0.16.22
 
1/8 repechages
 
Heat 1 
1 Clara Sanchez (France)                      0.12.63
2 Oksana Grishina (Russian Federation)               
 
Heat 2 
1 Yvonne Hijgenaar (Netherlands)              0.12.65
2 Christin Muche (Germany)                           
3 Lulu Zheng (People's Republic of China)            

1/4 Finals
 
1 Victoria Pendleton (Great Britain)          0.11.80
 Yvonne Hijgenaar (Netherlands)                      
2 Shuang Guo (People's Republic of China)     0.11.94
 Clara Sanchez (France)                              
3 Simona Krupeckaite (Lithuania)                     
 Willy Kanis (Netherlands)                           
4 Jennie Reed (United States Of America)      0.00.29
 Lisandra Guerra Rodriguez (Cuba)                    
 
For fifth place
 
5 Willy Kanis (Netherlands)                   0.12.05
6 Clara Sanchez (France)                             
7 Lisandra Guerra Rodriguez (Cuba)                   
8 Yvonne Hijgenaar (Netherlands)                     

Women's team pursuit
Gold Medal final 
 
1 Great Britain                 3.22.42 (53.355 km/h)
 Wendy Houvenaghel                     
 Joanna Rowsell                        
 Rebecca Romero                        
 
2 Ukraine                       3.29.74
 Svitlana Galyuk                       
 Lyubov Shulika                        
 Lesya Kalitovska                      

Bronze medal final
 
3 Germany                       3.26.96
 Charlotte Becker                      
 Alexandra Sontheimer                  
 Verena Joos                           
 
4 Belarus                       3.29.45
 Alena Amialyusik                      
 Tatsiana Sharakova                    
 Aksana Papko                          

Qualifying

1 Great Britain    3.25.72
2 Ukraine          3.26.57
3 Germany          3.28.51
4 Belarus          3.29.88
5 Russia           3.30.32
6 Netherlands      3.31.60
7 Belgium          3.35.59