Tasmanian Christmas Carnivals
Tasmania, December 20, 2008 - January 17, 2009
Main Results Complete event results
Devonport Carnival, December 29-30, 2008 - Day 2
Another Teenage Win
By Rod Morris
The men's Wheel Race podium (l-r): Peter Loft (2nd,180ms), Luke Ockerby (1st,120ms)
Photo ©: Shane Goss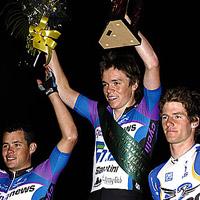 Yet another exciting 16-year-old cyclist has thrust his name squarely in front of Australian selectors with a big track handicap win in Tasmania. Ulverstone's Luke Ockerby, in just his first season of riding in open age company, won the tough 3000m Devonport Wheelrace on Tuesday night before an estimated audience of 3500 people.
Ockerby, who overcame injuries in the 2006-2007 season to return the promise shown as a sub-junior, won from Launceston youngster Peter Loft and Victoria's world class scratchman Glenn O'Shea, who the night before had won the 2000m Mersey Wheelrace. Ockerby was Cycling Tasmania's Junior Rider-of-the-Season in 2005-2006 after winning 18 races and becoming the first cyclist to top 100 points in the unique scoring system.
Ockerby's only other flirtation with success in senior company this track season has included a second placing in the Rosebery Wheel, third in the Devonport Oval Wheel and second in the Launceston Wheel last Sunday night.
O'Shea, who arguably has been "THE" rider of this carnival series, was joined on scratch in the final by Tasmanians Mark Jamieson and Nathan Clarke, but it was soon apparent that the home grown locals were working towards getting O'Shea across the finish line quicker than anyone else.
Ockerby started from the tough 3000m mark of 120m, but that's testimony to his strength of junior glory and the promise he's already shown at the next level. Without doubt, Ockerby is a star of the future.
Both he and runner-up Peter Loft are members of the hugely successful Tasmanian Institute of Sport cycling squad.
Consistency is a key to success at the Tasmanian Christmas Carnivals and hitting peak form at the right time. There are a number of riders who are knocking on the door of a big win. Names such as Doug Repacholi (WA), Adrian Hanson (Vic.), Ben Grenda (Tas.), Peter Loft (Tas.), Jame Carney (USA) and Alex Carver (NSW) have all been regular handicap wheel finalists this week, but with only the Burnie Wheel and a couple of support races remaining, time is running out.
Another victory to a rider from the TIS/Cyclingnews.com team.
Photo ©: Shane Goss

West Pine based sisters Amy and Sarah Cure ran 1-2 in the final of the women's Devonport Wheel over 2000m, pushing Launceston Wheel winner Harriet Kossman back to third.
Malaysian rider Fathah Mustapa won her third consecutive women's A Grade Scratch. Glenn O'Shea lowered his colours somewhat in the A Grade Scratch at the second night of the Devonport Carnival.
After winning at Latrobe, Launceston and Devonport (Night 1), O'Shea can be excused for not running a place behind James Langedyk, Todd Wilksch and Matt Goss. But the 19-year-old Bendigo based O'Shea has bigger fish to fry. His target is to be in the Australian track which competes in the London 2012 Olympics.
Judging by his performances around the globe in the last 12 months, he looks a good bet.
A support 2000m handicap for the males on Tuesday night saw Launceston's Clay Murfett win from the appropriately named Samuel Spokes and the in-form Peter Loft. All three riders started from the same handicap, 120m.
Female cyclists Laura McCaughey (Tas.) and Katie Mullarkey (NZ) who were injured in a track fall on Monday night did not compete at Devonport on Night 2.
Hong Kong's Xiao Juan Diao, who was also injured in an associated fall with McCaughey and Mullarkey, was however able to taker her place on the start line.
Riders have New Year's Eve off before tackling one of Australia's most prestigious sports carnivals, Burnie on January 1.
At the weekend, sporting action heads to the south of Tasmania for the Hobart Carnival on Sunday and then the season ending St Helens Carnival on January 17.
Photography
For a thumbnail gallery of these images, click here
Images by Shane Goss/www.licoricegallery.com
Results
Elite men
 
3000m Wheel Race
1 Luke Ockerby      3.15.93
2 Peter Loft                   
3 Glen O'Shea                  
4 Jame Carney