Australian National Track Cycling Championships - CN
Sydney, Australia, April 27 - May 2, 2004
Main Page Results Previous Day Next Day
Day 5 - May 1: U19 Women's Keirin, Men/U19 Men/Multi Disability Team Sprint, Women/U19 Women's Points Race, Men's 15km Scratch Race
Keirin title to swimmer-turned cyclist
By Karen Forman in Sydney
All lined up
Photo ©: John Veage

NSW rider Skye-Lee Armstrong collected her first Australian track title with a gold medal in the women's under 19 keirin at the national track championships in Sydney tonight. Armstrong, who earlier in the championships won the bronze medal in the under 19 women's scratch race, was a clear winner from ACT rider Jennifer Loutit and Jackie Kejda of NSW.
Without a doubt one of the keys to her success was NSWIS teammate Amanda Spratt, who did a lot of hard work in the early stages of the event, taking the derny with Armstrong on her wheel at the start, then leading when the derny pulled away. The 17 year old, who works in a bike shop so she has enough hours to train, said she had felt good for the past two days and her results had proved that. "The point score is my main race," she said. "I am more endurance rider than anything else and it suits me."
She started cycling just two years ago after being noticed while at swimming training at the Merrylands pool, which is adjacent to the velodrome. "NSW Cycling president Rob Bates was there and he told me I should have a ride," she said. "So I did and I loved it."
She's now a member of the Parramatta Cycling Club and hopes to get to the junior worlds. In six years, she wants to represent Australia at the Commonwealth Games.
How it unfolded
With two laps to go Hayley Wright started to move up on the outside. When the derny pulled away, Spratt led out, Tanner was trying to go around the outside. Spratt applied pressure at the bell, but was challenged in the back straight by Armstrong, who came around the outside to pip her on the post. It was selfless ride by Spratt who did the hard yards before her teammate took the honours.
In the first round, the newly crowned sprint champion Hayley Wright took the derny with NSW rider Jacki Kejda on her wheel. Wright was unchallenged when the derny moved up the track and led into the bell lap, challenged by Kejda in the back straight. However Wright held off her opponent to finish one-two across the line and earn their entry into the final.
The second round began with a crash - Amy Phillips of Victoria and Michelle Crisp of Queensland came down at the start, which meant a restart for the entire field. Both girls were back on their bikes within a few minutes, Phillips requiring some minor pedal adjustments. South Australian Bianca Rogers took the derny after the restart, with Skye-Lee Armstrong (NSW) beside her.
With four to go, Elizabeth Wishart of South Australia moved into first wheel and the rest of the field fell into a two-abreast formation. When the derny moved away with two laps to go, Armstrong took the lead and hit out strongly, finally slowing in the back straight when challenged by Victorian Jessica Tanner.
Tanner then hit out at the bell, with Armstrong trying hard to stay in contact. In the end Tanner and Armstrong were the one-two combination moving into the final.
Another Meares wins women's sprint crown
By Karen Forman in Sydney
Anna Meares (Qld)
Photo ©: John Veage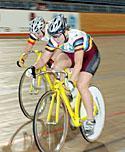 Queenslander Anna Meares is the new Australian women's sprint champion, taking the title her sister Kerrie won last year in her absence with a back injury. Meares beat South Australian Rosealee Hubbard in two straight heats to clinch her 11th national title. But she said that still didn't equal her sister's stunning record of "oh 15 or 16 championships."
"It feels very good," she said. "It has been five years since I won a national sprint title. Kerrie dominated the sprint since she stepped up to seniors."
She said her sister, who has been forced to take time off the bike for two to three months after sustaining three bulging discs in her lower back, had been "incredibly supportive" of her efforts. "She absolutely told me, though, that she will be back to challenge me next year," Anna said with a grin.
Anna said she had been confident, however, that she would perform well tonight. "It's my first senior national sprint title and I will be calling Kerrie to tell her as soon as I get off the rollers," she said. "She will be really happy. She has been calling me during the week to check on me between sessions. I was actually quite worried before the race; Rosealee is very competitive and rides tactically. But I had good legs on the night and I tried a few tactics on her."
In the first ride, Meares overtook Hubbard in the back straight to easily win in 12.324. The Queenslander struck out in the back straight, Hubbard tried to come at her at the finish line.
The Bronze medal went to New Zealander Elisabeth Williams after beating Rebecca Ellis of NSW. In the first ride, Ellis led but Williams pipped her on the line. In the second Ellis kicked at the bell, Williams came level in the back straight, but Williams won in 12.777.
Gold medal ride for NSW in the men's team sprint
By Karen Forman in Sydney
NSW
Photo ©: John Veage

Gold medals may have evaded him in the coveted individual pursuit and sprint, but one finally found its way to Ben Kersten tonight when he, Shaun Hopkins and Greg McFarlane won the men's team sprint for NSW.
In a tough State of Origin-style tussle, NSW beat Victoria in an impressive display of sprinting and tactics. A highlight was Kersten's ride - he made up half a second in the final lap after Victoria led for the first two laps, to clinch the gold for NSW. He wasn't about to take all the credit, however. "It wasn't all about me," he said. "It was a team effort. In fact, it was Greg's turn that threw me in."
McFarlane, however, said Kersten had been "great". "We relied on him and he did the job for us," he said. "I think we were playing tactical games, too, by changing Shaun's riding position."
Kersten said riding the third lap, for him, had been similar to riding a kilo (his pet event). "It probably suits me," he said.
In the first qualifying round, the New Zealand team of Daniel Beatson, David Cresswell and Jonno Hamlin flew out of the box and maintained a hefty momentum to beat the South Australian team of Mario Mazza, Sean Hennessy and Tommy Nankervis in 47.45 (51.76).
The second qualifying round NSW team of Shaun Hopkins, Ben Kersten, Greg McFarlane versus the West Australian team of Carlo Barendilla, Dean Santoro and Daniel Vogels was a false start when McFarlane had pedal problems at the start. When they got going, the NSW team went through lap 1 in 19.4, with Kersten on the front for the second lap and Hopkins taking the final lap.
The third qualifier went to the Victorian team Joel Leonard, Jason Niblett and Damien Keirl from Queensland Daniel Rynne, Clint Johnson and Grant Irwin. In the fastest time of 47.07.3, earning it a place in the ride off for gold..
Men under 19 teams sprint goes to Victoria
By Karen Forman in Sydney
Victoria lived up to the early predictions of coach Mark Heinz, winning the men's under 19 teams sprint from Queensland at the Australian national track championships in Sydney tonight - with the same line-up it won with last year. Ben Rix, Daniel Thorsen and Shane Perkins rode a perfectly synchronised race to beat NSW.
Perkins said the team was delighted with the win, particularly as the line-up and the technique hadn't changed from the previous year. "It was a hard race, but we were confidence that we would be able to win it again," he said.
In fact, it had been a good week. "All round we were one-two-three in the sprints and Daniel and I were one-two in the kilo," he said. "It's been a good week."
He and Thorsen now look likely to join the team for the junior world championships.
"Lucky move" wins women's points gold for Rhodes
By Karen Forman in Sydney
Alexis Rhodes (SA)
Photo ©: John Veage

South Australian Alexis Rhodes knocked an unwell two-time champion Rochelle Gilmore off her pedestal with a brilliant ride in the women's 25km points race. The 19 year old podiatry student from Adelaide got away early to notch up some valuable early points to set herself up for a strong win.
"I was pretty lucky that I got away early so I could then relax and pick off points," she said, adding that she had definitely planned to try to get a lap up "because I know I was not the fastest sprinter out there - that was Rochelle. But the race went according to plan. I always thought it would be tight, but luckily the other riders dipped off in the end."
Rhodes said she had kept in touch with her performance by looking at the scoreboard and listening to the commentators "and hopefully they will get it right" .
She said she was hoping she had clinched a berth on the World Cup team with her results and was looking forward to the event in two weeks. "It's always good to ride in front of a big crowd, especially at home," she said.
How it unfolded
Despite being unwell all night with jetlag, Gilmore was very obviously looking for her third consecutive points race title tonight. Early in the event, she was sitting in second wheel, perfectly placed for the first sprint. But Queenslander Anna Jones-Perrin went with 200 to go to take the first points.
Liz Young (Queensland) and Kerry Cohen (Western Australia) broke away with 82 laps to go, but Rhodes closed the gap after a lap.
With the bunch together again, Rhodes set the pace for a lap and then led out the second sprint, but a very determined Gilmore came off the turn to take the points, giving her the leadership with seven points, ahead of Jones-Perrin on five and Jess Berry of Victoria on four.
Gilmore was on a roll. She took the third sprint from Leonie Aisbett of NSW in a tight finish.
Jones-Perrin and Alexis Rhodes made the most of the sprint finish to form a breakaway group joined by NSW rider Toireasa Ryan with 66 laps to go. Four laps later, they had sighted the bunch and joined onto the back of it with 60 laps to go.
Rhodes took the next sprint ahead of Rhodes and Ryan. Queenslander Liz Young leapt off the group before the main group was caught by the three breakaway leaders and stayed away, joined with 55 laps to go by Cohen.
Jones-Perrin was leading with 30 points ahead of Rhodes 27, Ryan on 22. Gilmore, who unfortunately didn't make the break, was on 12 points. The breakaway group was caught with 53 laps to go. Jones-Perrin led out with Gilmore hard on her wheel to win the next sprint. Berry was third.
With 42 laps to go, Jones-Perrin was a fair leader with 35 points with Rhodes on 27 and Ryan on 22. Gilmore remained on 12 points, in fourth spot. Gilmore gave the next sprint a hard shot on Rhodes' wheel but Rhodes held out for the win, picking up five points.
New Zealander Dale Tye attacked with 33 laps to go, stringing the field out, counter attacked by West Australian Leeanne Manderson. Manderson picked up the next sprint, with that impressive tactical move, a lap out from the whistle. Aisbett then attacked out of the sprint, taking six riders with her in a breakaway that lasted two laps before the group rejoined.
With 23 laps to go, Tye attacked and was joined swiftly by Ryan, who then breakaway again to lead into the next sprint from the whistle. She was swamped, however, by Rhodes who took the sprint points from Jones-Perrin. By now she was just two points behind Jones-Perrin. Gilmore, meanwhile, appeared to be struggling in third wheel, looking pale and unwell in her pet event.
Rhodes marched around the outside to take the sprint with 10 laps to go with a defiance Jones-Perrin on her wheel. Eight laps to go and Gilmore was in the middle of the bunch struggling to recover from the previous sprint. The points count with five laps to go saw Jones-Perrin and Rhodes on equal points 45, Ryan in third on 22 and Gilmore fourth on 18.
With three to go, Rhodes was perfectly positioned in second wheel behind Jessie Maclean, sitting comfortably on the front. Rhodes attacked in the back straight, Gilmore valiantly on her wheel at the bell lap. Rhodes appeared to have plenty to spare as she powered into the last turn, chased hotly by Gilmore, who took the last sprint.
How about that? Another gold for Spratt
By Karen Forman in Sydney
Amanda Spratt (NSW)
Photo ©: John Veage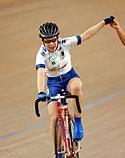 Consistent sprinting from start to finish won NSW rider Amanda Spratt the 2004 women under 19 20km points race crown at the Australian national track championships in Sydney tonight - her second for the week. The 16 year old Penrith Panthers club member from Springwood earlier won gold in the under 19 women's scratch race, following on from her silver in the 2km individual pursuit.
"It was a really top race out there," the pocket rocket, who figured in every sprint without ever appearing tired, told Cyclingnews. "A lot of teams did a really great job. They did an awesome job out there."
Spratt said she hadn't expected to do so well in her first year as an under 19 rider, despite five years' of racing experience - and BMX before that. She's hoping for a berth on the junior worlds team, but in the meantime plans to keep training on the road. Eventually she would love to go to Europe and "race the big girls over there."
In true Oscars form, she thanked her coach Michelle, her father, her whole family, her whole support squad and Gary Sutton "who has done an awesome job at the track for the past few months."
How it unfolded
New Zealander Paddy Walker did a lot of work on the front from the outset along with Jessica McCallum. Spratt led out to win the first sprint and pick up the first five points of the competition. The three NSW riders - Elizabeth Wishart, Spratt and Skye-Lee Armstrong were one two three on the front of the bunch with 64 laps to go, riding strongly as a team. Genna Crean from South Australia opened up a 10-bike length gap and attacked into the second sprint, but was overtaken on the line by Spratt, making it two in a row.
The pace increased after this second sprint. Wishart and West Australian Jessica McCallum, off the back for a lap, gave it her all to rejoin the group. Wishart took the third sprint in a hard-fought battle, pushing her lead up to 11 points to Armstrong's six and Wishart's five.
New Zealander Paddy Walker was on the front with 43 laps to go. Spratt made her move for the next sprint at the whistle but Jessica Tanner (Victoria) dived in from underneath and looked a major threat. Bianca Rogers, however, was the victor.
Spratt was leading with 13 point to Roger's nine and Armstrong's seven with 33 laps to go and four sprints. The pace appeared to drop as the bunch regrouped. But they didn't have much time to rest on their laurels...Spratt led out the next sprint with Rogers on her wheel. Rogers managed to pip Spratt on the line. Armstrong crossed the line in third place.
Tasmanian Natasha Mapley got away with 25 to go, holding a 20-metre lead for a lap until joined by the New Zealander and Armstrong. But the group was on the alert and caught them fairly swiftly. Victoria Freeland made a move at the whistle for the sprint with 20 to go but Spratt was on the ball and leapt past her to take the sprint and shoot her point score up to 21. Out of the sprint came a counter attack by Jessica Tanner hotly pursued by the Tasmanian Mapley, but the effort was to no avail. The group was together again with 15 laps to go.
Mapley had another go with 12 laps to go, increasing the pace. Walker led into the second last sprint with Rogers on her wheel, but once again Spratt powered after them to finish second behind a strong Rogers.
One sprint to go and the race was on for gold between Spratt on 24 points and Rogers on 21. Armstrong was sitting in third place on 14, well ahead of Wishart in fourth place on five points. With two laps to go Armstrong attacked off, joined by Spratt and Rogers. Spratt lead out into the finish with Rogers on her wheel, but Spratt held off her opponent to finish winner of both the last sprint and the race.
Hopkins is new men's scratch race champion
By Karen Forman in Sydney
Shaun Hopkins (NSW)
Photo ©: John Veage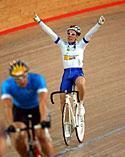 A dramatic sprint to the finish netted NSW rider Shaun Hopkins the Australian men's 15km scratch race championship after what he described as the fastest scratch race he had ever ridden, in Sydney tonight. With none of the previous winners lining up to defend their crowns the title was open and Hopkins had based his whole nationals campaign on the event. What made it so tough was the fact he wasn't the only rider who wanted to make it his own. NSW teammates Ben Kersten, for example, was still looking to make amends for failing to take gold in the sprint and kilo competitions earlier in the week and was up there and dangerously close in the final sprint.
"You can't go any faster than that, it was unbelievable. It was a great team effort," he said at the finish. "Todd (second placegetter Wilksch) is a great competitor. We have always been close over the years, but I have to say it was good to get over him at the finish. At times like that every inch counts. I didn't even know Ben was there till I crossed the line. I had been focussing fully on Todd."
Hopkins, better known as a sprinter, said his ride in the scratch race was part of a concerted effort to move more into endurance events. "I am getting some age on me now," the 27 year old said. "And the depth in sprinting is getting so that you end up racing for eighth place. Last year I tried to do endurance but I was busy with the family bike shop in Liverpool and didn't get a lot of time to train. Then, ironically, the NSW police service helped me out by taking my licence of me for six months for speeding - and I found myself having to ride the bike everywhere. I have to thank them now because it gave me some endurance."
The win was the second in one day for Hopkins, who had earlier been part of the gold medal winning teams sprint team, with Kersten and Peter Fitzpatrick. "I am ecstatic," he said. "It was really hard, and at one stage I thought I might have to pull out. But I guess that makes it sweeter, because I stayed in and I ended up winning it."
He said he had noticed a huge difference not riding sprint events. "I felt so refreshed this morning, not having to do sprint racing. I was fresher today, not brain fried. I have to say I would rather do 14km with one sprint than nine sprints in one day."
Unlike many of the old gold medal winners at these championships, Hopkins isn't looking at World Cup or Worlds anytime soon - but rather looking ahead to the 2005 nationals. "Every year is a building year for me," he said. "Now I want to keep some of the fitness I have gained, do some road miles and maybe even do some wheel races now I have the fitness"
How it unfolded
Despite the weather cooling down and rain falling outside the velodrome, a lightning tempo was set from the start, riders swapping turns smoothly. Ben Kersten looked very strong when he took his first turn, despite his hard effort to win the gold medal in the men's teams sprint earlier in the night with Peter Fitzpatrick and Shaun Hopkins. Victorians Adrian Sansonetti and Wilksch also powered through their turns.
With 38 to go, Steven Evans opened up a gap of about 20 metres, but Fitzpatrick was on the ball and immediately set off to close it. Queenslander Bradley Payne attacked with 31 to go, showing a good turn of speed and catching his opponents unawares. Tasmanian Stephen Rossendell pulled the chasing group forward to bridge the gap.
The lead constantly changed, every half lap or so, but at the fore was Rossendell, putting in some hard yards.
The weather might have been growing chillier by the minute outside, but on the indoor track the mercury was rising. Richard England teamed up with his Victorian counterparts beautifully, keeping each other at the front of the pack. He attacked with 17 to go, followed by Fitzpatrick and Evans, working well together to establish a gap of about 50 metres. Rossendell, on the front of the bunch, put his head down and powered forward to join the breakaway, establishing a split. The groups rejoined with 13 to go.
England made a show at the front again with 11 to go and Rossendell was active at the top of the bunch with seven to go. With six to go, riders jostled into position behind England setting the pace. Bradley Payne moved to the front with three to go with England on his wheel.
With the crowd roaring, the sprint began with two to go, Sansonetti leading the fray and Shaun Hopkins on his wheel, tailed by Ben Kersten making a huge effort to push his wheel across the line. But it was Hopkins' night and he took the title ahead of Kersten and Todd Wilksch third.
Photography
Images by John Veage
Results
U19 Women's Keirin
 
Heat 1
 
1 Hayley Wright (Qld)                    13.234
2 Jackie Kejda (NSW)
3 Jennifer Loutit (ACT)
4 Brigette Broad (NZl)
5 Hannah Bush (Vic)
6 Genna Crean (SA)
 
Heat 2
 
1 Jessica Tanner (Vic)                   13.140
2 Skye-Lee Armstrong (NSW)
3 Michelle Crisp (Qld)
4 Elizabeth Wishart (SA)
5 Amanda Spratt (NSW)
6 Bianca Rogers (SA)
7 Amy Phillips (Vic)
 
Repechage
 
1 Amanda Spratt (NSW)
2 Jennifer Loutit (ACT)
3 Michelle Crisp (Qld)
4 Brigette Broad (NZl)
5 Hannah Bush (Vic)
6 Elizabeth Wishart (SA)
 
Final
 
1 Skye-Lee Armstrong (NSW)               12.820
2 Jennifer Loutit (ACT)
3 Jackie Kejda (NSW)
4 Amanda Spratt (NSW)
5 Jessica Tanner (NSW)
6 Hayley Wright (Vic)
 
Women's Sprint
 
Finals
 
Gold & Silver medals

1 Anna Meares (Qld)                      12.324
2 Rosealee Hubbard (SA)

Bronze medal

3 Elisabeth Williams (NZl)               12.777
4 Rebecca Ellis (NSW) 

Men's Team Sprint
 
Qualification
 
1 VIC                                   47.073
 Joel Leonard
 Jason Niblett
 Damien Keirl
2 NSW                                   47.671
 Shaun Hopkins
 Ben Kersten
 Greg Mcfarlane
3 Qld                                   47.835
 Daniel Rynne
 Clint Johnson
 Grant Irwin
4 WA                                    49.926
 Carlo Barendilla
 Dean Santoro
 Daniel Vogels
5 SA                                    51.760
 Mario Mazza
 Sean Hennessy
 Tommy Nankervis
 
Note: New Zealand are not eligible to progress to the Finals
 NZL                                    47.450
 Daniel Beatson
 David Cresswell
 Jonno Hamlin
 
Finals
 
Bronze medal
 
1 QLD                                   47.856
 Daniel Rynne
 Clint Johnson
 Grant Irwin
2 WA                                    49.694
 Carlo Barendilla
 Dean Santoro
 Daniel Vogels
 
Gold & Silver medals
 
1 NSW                                   46.709
 Shaun Hopkins
 Ben Kersten
 Greg Mcfarlane
2 VIC                                   46.748
 Joel Leonard
 Jason Niblett
 Damien Keirl
 
U19 Men's Team Sprint
 
Qualification
 
1 VIC                                   48.485
 Ben Rix
 Daniel Thorsen
 Shane Perkins
2 QLD                                   49.395
 Lindsay Mcmaster
 Miles Olman
 Benjamin Simonelli
3 NSW                                   49.560
 Anthony Bennett
 Tyler Mclachlan
 Phillip Stokes
4 SA                                    52.096
 Ben Heylen
 Daniel Robb
 Mark Bergamin
 
Note: New Zealand are not eligible to progress to the Finals
 NZL                                     50.965
 Adam Coker
 Josh England
 Adam Stewart

Finals
 
Bronze medal
 
1 NSW                                   49.579
 Anthony Bennett
 Tyler Mclachlan
 Phillip Stokes
2 SA                                    51.307
 Ben Heylen
 Daniel Robb
 Mark Bergamin
 
Gold & Silver medals
 
1 VIC                                   48.068
 Ben Rix
 Daniel Thorsen
 Shane Perkins
2 QLD                                   48.822
 Lindsay Mcmaster
 Miles Olman
 Benjamin Simonelli
 
Multi Disability Team Sprint
 
Qualification
 
1 Mixed                                 55.010
 Greg Ball
 Chris Scott
 Scott Duvall
2 VIC                                   57.370
 Martin Vcelka
 Noel Sens
 Peter Homann
3 WA                                    57.447
 Mathew Gray
 Paul O'neill
 Glen Jarvis
Finals
 
Gold/Silver Medal race
 
1 Mixed                                 54.733
 Greg Ball
 Chris Scott
 Scott Duvall
2 VIC                                   57.552
 Martin Vcelka
 Noel Sens
 Peter Homann
 
Women's Points Race
 
1 Alexis Rhodes (SA)                      48 pts
2 Anna Jones-Perrin (Qld)                 46
3 Toireasa Ryan (NSW)                     24
4 Rochelle Gilmore (NSW)                  23
5 Jessica Berry (Vic)                     9
6 Kerry Cohen (WA)                        5
7 Leeanne Manderson (WA)                  5
8 Liz Young (Qld)                         3
9 Dale Tye (NZl)                          1
10 Jessie Maclean (ACT)                   0
DNF Leonie Aisbett (NSW)
DNF Renee Braithwaite (SA)
 
U19 Women's Points Race
 
1 Amanda Spratt (NSW)                     29 pts
2 Bianca Rogers (SA)                      24
3 Skye-Lee Armstrong (NSW)                16
4 Elizabeth Wishart (SA)                  6
5 Victoria Freeland (Vic)                 4
6 Jessica Tanner (Vic)                    3
7 Natasha Mapley (Tas)                    3
8 Paddy Walker (NZl)                      2
9 Michelle Crisp (Qld)                    1
10 Eve Hood (NSW)                         0
11 Amy Phillips (Vic)                     0
DNF Genna Crean (SA)
DNF Hannah Bush (Vic)
DNF Jessica Mccallum (WA)
 
Men's 15 km Scratch Race
 
1 Shaun Hopkins (NSW)                  17.51.19
2 Todd Wilksch (Vic)
3 Ben Kersten (NSW)
4 Grant Irwin (Qld)
5 Stephen Rossendell (Tas)
6 Tommy Nankervis (SA)
7 Peter Fitzpatrick (NSW)
8 Clint Johnson (Qld)
9 David Cresswell (NZl)
10 Adrian Sansonetti (Vic)
11 Daniel Vogels (WA)
12 Steven Evans (WA)
13 Logan Hutchings (NZl)
14 Edmund Hollands (WA)
15 Sean Hennessy (SA)
16 Mario Mazza (SA)
17 Bradley Payne (Qld)
DNS Kial Stewart (ACT)