Introduction to Track Racing - What's a Wheelrace? - Introduction to Six Day racing - UCI codes
American Velodrome Challenge - NE
Hellyer Park Velodrome, USA, June 20-21, 2008
Main Page Results Overall standings Next Race
Race 1 - June 20: Men: Miss & Out, Keirin, Madison; Women: Keirin, Points race; Masters: Miss & Out, Scratch race
Spills, thrills and no chills in hot AVC starter
Daniel Holloway wins the Miss-and-Out.
Photo ©: Garrett Lau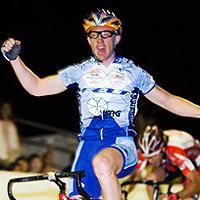 Day one saw a lot of fast and thrilling finishes especially in the men and women's keirin. In the men's keirin finals, Adam Duvendeck led with one lap to go but couldn't hold it. Local sprinter Giovanni Rey overtook Kelyn Akuna and Adam Duvendeck. Out of nowhere, Giddeon Massie came from the high line and nipped Rey at the line drawing a lot of cheers.
Earlier, Eugene Chacherine (NCNCA Collegiate Champion) took a very hard hit into the cement wall. Even though he returned for a race, he suffered injuries to his right side.
In the women's keirin finals, Jennifer Feathergill held off Larryn Ruegg and Becky Lang to win outright.
In the women's points race, local hero Shelley Olds of Proman Racing had her team work for her and it turned out to be a race for the second. Jennifer Triplett said, "The Proman women did a great job of leading out Shelley Olds each sprint, so it was a race for second. Awesome race to all who raced."
In the Madison race, nine teams showed up, making for a fast and hotly contested event. Daniel Holloway and Ben Barsi-Rhyne of Slipstream set the tempo the whole race. Kenny Williams and Grant Boursaw of First Rate Mortgage tried to keep it close but Holloway was able to grab the points during sprints to put his team out on top.
Photography
For a thumbnail gallery of these images, click here
Images by Garrett Lau/garrettlau.smugmug.com/
Results
Master's Miss 'n' Out
 
1 Dirk Copeland                        
2 Lawrence Nolan                       
3 Matt McNamara                        
 
Women's keirin final 
 
1 Jennifer Featheringill               
2 Larryn Reugg                         
3 Bekcy Lang                           
4 Shelley Olds                         
5 Jennifer Triplett                    
6 Beth Newell                          
7 Annette Williams                     
8 Andrea Fisk                          
 
 
Elite Keirin
 
1 Gideon Massie                        
2 Giovanni Rey                         
3 Steve Palaeaz                        
4 Steven Beardsley                     
5 Grant Boursaw                        
6 Kelyn Acuna                          
7 Jimmy Watkins                        
8 Adam Duvendeck                       
 
10k sratch- Masters
 
1 Lawrence Nolan                       
2 Dirk Copeland                        
3 David Klipper                        
4 Dan Smith                            
5 Matt NcNamara                        
 
Elite men Miss 'n' Out 
 
1 Daniel Holloway                      
2 Dirk Copeland                        
3 Scott Zwizanski                      
4 Patrick Briggs                       
5 Rob Evans                            
6 Kenny Williams                       
 
Women's points race
 
1 Shelley Olds                         
2 Jennifer Triplett                    
3 Annette Williams                     
4 Mary Maroon                          
5 Karla Kingsley                       
6 Julie Nevitt                         
 
Elite Madison
 
1 Daniel Holloway/Ben Barsi-Rhyne      
2 Kenny Williams/ Grant Boursaw        
3 Andrew Armstrong/ Steven Beardsly    
4 Patrick Briggs/Dirk Copeland