Introduction to Track Racing - What's a Wheelrace? - Introduction to Six Day racing - UCI codes
USA Elite National Track Championships - CN
USA, October 3-6, 2007
Main Page Results Previous Day
Day 4 - October 6: Men Team Sprint, Keirin, Madison, Women Team Sprint, Team Pursuit,
Scary start to final day at U.S. track nationals
By Mark Zalewski, North American Editor in Carson, California
T-Town Express wins men's team sprint final uncontested
The team sprint podium.
Photo ©: Mitch Clinton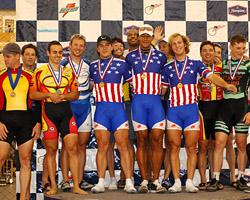 With the men's keirin and Madison scheduled for the final day of competition, the possibility for incidents was high. But the incidents came early on in the day in the men's team sprint qualifier, when anchor rider Angelo Martorell (South Bay Wheelmen) struck a volunteer track marshall who was replacing a sponge in the sprint lane. Martorell's shoulder hit the volunteer's head as he was rounding the final turn of the final lap.
Amazingly Martorell somehow managed to stay upright and complete his lap, qualifying his composite team 'The A Team' of Adam Duvendeck and Michael Blatchford in second place behind T-Town Express' team of Giddeon Massie, Ryan Nelman and Ben Barczewski. However, Martorell's shoulder was noticeably injured as he exited the track, preventing him from racing in the final. And since T-Town Express put a time nearly 1.5 seconds faster, The A Team conceded the victory to T-Town Express without racing the final.
Martorell stayed at the track with ice on his shoulder and walked up to the awards ceremony to receive his medal. Afterwards he told Cyclingnews that his shoulder was pretty bruised but not too painful. "I'll go to the hospital later to see if it's separated, but I don't think so," he said.
The volunteer, Jeff Goldman of Huntington Beach, appeared to be conscious and breathing and was treated on-scene by medics. He was put on a backboard and transported to a local hospital. Just before the incident, another potential disaster was barely avoided in the heat between T-Town Express and team Eddie Boyz. T-Town Express suffered a mechanical at the start, neutralising the race, but no gun shot was fired alerting the back stretch Eddie Boyz team who kept racing while the starting block for the T-Town Express remained in place. Luckily the first rider was alert enough to avoid the block as it was hurriedly pulled from the track.
Lea, Pearce take Madison win and talent pool spots
Colby Pearce and Bobby Lea (Toyota United)
Photo ©: Mitch Clinton

Keeping with the theme of the day, the men's Madison got off to a rocky start, as a crash between three riders on the first lap took out defending champion Mike Friedman (Slipstream-Chipotle). Even more ironic, was Friedman was starting as the relief rider. But the racing did not slow down with Bobby Lea pushing the pace high from the gun and jumping out to an early lead with teammate Colby Pearce. And even though Slipstream and Rock Racing challenged them in the sprints, Lea and Pearce stayed attentive to maximize the points for the win.
"It's such a long race you can have big momentum shifts, so there is no rule to starting it out," said Lea. "We were hoping to crack the whip early to catch guys in traffic - there is always a lot of confusion and we were hoping it would work in our favor.
No teams took a lap on the field, though one team, Dan Harm and Adrian Hegyvery, did get about two-thirds of the way before blowing up and getting reeled in. Lea said that the alarm bells did go off for him and the other favourites when this happened.
"Yeah, that was a little bit of a panic because a lot of us have been in situations where someone sneaks out under the radar," said Lea. "We saw them almost get a lap and had to put the racing aside for a minute and bring them back. If there was one thing Colby and I decided on before it was to not let that happen."
For Lea, the national championship means more than just a jersey, as the win qualified him for the talent pool - something he missed earlier in the week. "The scratch race could have gone a little bit better, and I was satisfied with the points race - Friedman deserved that win last night. But it's always stressful coming into the final race. On top of that I had missed the time standard in the 3km on Wednesday so I wasn't qualified for the talent pool until now."
Unconventional win in women's team pursuit
Sarah Hammer (OUCH Sports Medical)
Photo ©: Mitch Clinton

The trio of world pursuit champion Sarah Hammer, newly crowned national pursuit champion Dotsie Bausch and national sprint champion Jennie Reed is not a long-standing pursuit team. Bausch is still in her first year on the track and Reed, though she started as a pursuit rider, has made her mark more as a sprinter. That is why they called their team '2 Queens & a Fred' for the race on Saturday. And in the final two laps the lack of specific pursuit laps together showed, but it did not matter, as the three easily beat the best time for the win.
"We are all training partners, not really for pursuit, but it's great to race with your friends," said Hammer. The final few laps saw Bausch leaving a bit of a gap when she swung off her pulls, and in the final two Reed filled the gap by taking extra pulls along with Hammer. "It just happened to be a good gap for a bike so it went really smoothly," said Reed.
"I thought when Jennie swung off with one to go Dotsie yelled 'off off' - I thought she was telling me to go harder."
"No, I meant turn it off!" joked Bausch.
"It was the first time so there are going to be bumps in the road," said Hammer. Reed also chimed in on this sentiment. "That was our first standing start together!"
Veteran and novice win women's team sprint
Liz Reap, an experienced track racer partnered with a less-experienced racer in Cari Higgins for the team sprint, but the two sprinters complemented each other's style perfectly to net the championship win, the second in a row for Reap.
"We're both sprinters but I had a longer sprint and she has smoother style," said Reap. "She kept it nice and steady and got me up to speed for a good flying lap. After four days of competing it's nice to have some fun."
For Higgins, the racing was not what she called 'fun,' as the stress of riding with such a veteran kept her awake last night. "My goal was not to embarrass myself in front of Liz!" she said. "I know she is faster than me in the 500 so the goal was to go as fast as I can for one lap. I was pretty calm all week but last night I stayed awake because I was worried about racing for Liz!"
Reap had the opposite feelings this week, needing to post a good time in the 500 metre time trial to qualify for the track talent pool, which she did. "I was happy to get the first race out of the way!"
Massie finally nets keirin national title
Giddeon Massie (T-Town Express)
Photo ©: Mitch Clinton

2004 Pan American keirin champion Giddeon Massie (T-Town Express) took the keirin final just ahead of his teammate Ben Barczewski. Barczewski led for most of the final lap, until Massie passed on top in the final turn to take his first national title in the event. Massie sat a few wheels back for all of the pace laps and did not move up until 1.5 laps to go. At that point his teammate Barczewski charged to the front and tried to lead out the entire last lap, but Massie caught his wheel entering the third turn and kept the pace high as he passed above Barczewski, exiting the turn ahead and with enough momentum to sit up for the win on the line.
Photography
For a thumbnail gallery of these images, click here
Images by Mitch Clinton/www.clintonphoto.com
Results
Men's team sprint

Qualifying

1 T-Town Express
   Giddeon Massie (T-Town Express)                57.376     47.058
   Ryan Nelman (T-Town Express)
   Ben Barczewski (T-Town Express)

2 The A Team
   Adam Duvendeck (Momentum Cycling)              55.687     48.485
   Michael Blatchford (Cody Racing)
   Angelo Martorell (South Bay Wheelman)

3 Just Anything
   Stephen Hill (East Point Track Clu)            54.766     49.301
   Steven Beardsley (CMG Racing)
   Kelyn Akuna (Unattached)

4 Composite
   Daniel Walker (Northwest Cycling Cl)           53.708     50.272
   Andrew Lacorte (Unattached)
   Andrew Weathers (Gulf Coast Cycling A)

5 Eddie Boyz
   Tc Valentine (Eddie Boyz)                      52.943     50.998
   John Aronld (Eddie Boyz)
   Ryan Watson (TEAM WATSON)

6 LSC/GP Blaine Train
   Dan Currell (Loon State GP Blaine)             52.774     51.162
   Taylor Olson (Loon State GP Blaine)
   Ted Schmid (Loon State GP Blaine)

7 Leader Bike/Big City
   Kevin Schiller (Team 2)                        52.77      51.165
   Chris Henderson (Leader Bikes/Big Cit)
   Tonatiuh Rodriguez-Nikl (Leader Bikes/Big Cit)

8 Ouch Sports Medical                             52.569     51.361
   Brent Kay (OUCH Sports Medical)
   Chris Nekarda (Leader Bikes/Big Cit)
   Tyler Ofstad (Kahala La Grange)

9 Pist Parts
   Matt Donavan (CyclingScience RT)               51.664     52.261
   Douglas Northcott (CyclingScience RT)
   Joseph Lacour (Colavita/Sutter Home)

10 Team Unattached
    Brian Abers (Rubicon/Chinook Cycl)            49.559     54.48
    Matthew Martinez (Unattached)
    Kevin Mansker (Unattached)

11 Easton Specialized
    Tim Montagne (Easton/Specialized/L)           47.876     56.396
    Matias Elgart (Montano Velo)
    Rob Jensen (Easton/Specialized)

Finals

For Gold and Silver

1 T-Town Express
   Giddeon Massie (T-Town Express)
   Ryan Nelman (T-Town Express)
   Ben Barczewski (T-Town Express)

2 The A Team
   Adam Duvendeck (Momentum Cycling)
   Michael Blatchford (Cody Racing)
   Angelo Martorell (South Bay Wheelman)

For Bronze

3 Just Anything                                   54.645     49.41
   Stephen Hill (East Point Track Clu)
   Steven Beardsley (CMG Racing)
   Kelyn Akuna (Unattached)

4 Composite                                       53.409     50.553
   Daniel Walker (Northwest Cycling Cl)
   Andrew Lacorte (Unattached)
   Andrew Weathers (Gulf Coast Cycling A)

Men's Madison

1 Toyota United                                 22
   Bobby Lea (Toyota-United)
   Colby Pearce (Cody Racing)

2 Rock Racing                                   17
   Rahsaan Bahati (Rock Racing)
   Austin Carroll (Rock Racing)

3 Team Slipstream                               16
   Mike Friedman (Team Slipstream)
   Brad Huff (Team Slipstream)

4 Cody Racing                                   14
   Ryan Luttrell (Cody Racing)
   Kevin Suhr (Cody Racing)

5 Kodak Gallery                                 6
   Guy East (CRCA/Sakonnet Technology)
   Cody O'reilly (Kodak Gallery)

6 Rubicon                                       7
   Dan Harm (Rubicon/Chinook Cycling)
   Adrian Hegyvary (Hagens-Berman LLP)

7 PA Lightning                                  0
   Jackie Simes (PA Lightning/Merrill)
   David Wiswell (Nerac Pro Cycling)

8 Wine Tasting                                  0
   Kenny Williams (Avanti TiCycles)
   James Stangeland (Wines of Washington)

DNF VMG Racing
   David Mccook (Kelly Benefit Stratagies)
   Daniel Hollaway (VMG Racing)

DNF Trek
     Brian Crosby (University of Minnes)
     Steen Rose (Trek/VW/RBM)

DNF Nerac Pro Cycling
     Todd Yezefski (Nerac Pro Cycling)
     Daniel Holt (Nerac Pro Cycling)

DNF Rubicon II
     Matthew Martinez (Unattached)
     Brian Abers (Rubicon/Chinook Cycling)

DNF Team Rock
     Iggy Silva (Team Rock)
     Justin Williams (Team Rock)

DNF Fraysse Sports
     Andrew Armstrong (Matrix / RBM)
     Barry Miller (MikeFraysseSports.Co)

DNS Factory Time
     John Walsh (Factory Time)
     Becky Quinny (South Bay Wheelmen)

Women's team pursuit

1 2 Queens & A Fred                              3.34.8 (50.283 km/h)
   Sarah Hammer (OUCH Sports Medical)
   Dotsie Bausch (Colavita/Sutter Home)
   Jennie Reed (Momentum Cycling)

2 South Bay Wheelmen                             3.43.8 (48.249 km/h)
   Becky Quinny (South Bay Wheelmen)
   Christen King (Young's Training Gro)
   Neva Day (South Bay Wheelmen)

3 Underdogs                                      3.54.9 (45.987 km/h)
   Kele Murdin (Team UltraLink)
   Heather Albert (America's Dairyland)
   Shelley Olds (PROMAN/Paradigm)

4 Biker Chix                                     4.05.2 (44.043 km/h)
   Katharine Lundby (Karl Strauss/SDBC)
   Julia Lafranchise (Leader Bikes-Big Cit)
   Kelli Jones (Paramount Racing)

5 D'snail Zippy                                  4.23.8 (40.945 km/h)
   Charlayne Barger-Hoover (Patent it!/Ride Clea)
   Julia Cross (South Bay Wheelman)
   Tara Unverzagt (South Bay Wheelman)

Women's team sprint

Qualifying

1 Cody / T-Town Expres                            49.07      36.682
   Liz Reap (T-Town Express)
   Cari Higgins (Cody Racing)

2 Sandiego Express                                48.307     37.262
   Martha Dunne (Unattached)
   Anna Lang (SDBC/Karl Strauss)

3 North Meets South                               46.943     38.344
   Cristin Walker (Northwest Cycling)
   Mindi Martin (Dent Wizard)

4 Home Depot Center                               46.44      38.76
   Catherine Fiedler (Home Depot Center)
   Becky Lang (Home Depot Center)

5 Vanvalkendaca                                   46.231     38.935
   Heather Vanvalkenberg (Vanvalkendaca)
   Kara Vidaca (Bicycle Johns)

Final

For Gold and Silver

1 Cody / T-Town Expres                            47.031     38.273
   Liz Reap (T-Town Express)
   Cari Higgins (Cody Racing)

2 Sandiego Express                                46.91      38.371
   Martha Dunne (Unattached)
   Anna Lang (SDBC/Karl Strauss)

For Bronze

3 North Meets South                               49.194     36.59
   Cristin Walker (Northwest Cycling)
   Mindi Martin (Dent Wizard)

4 Home Depot Center                               48.157     37.378
   Catherine Fiedler (Home Depot Center) 
   Becky Lang (Home Depot Center)

Men's keirin

Round 1

Heat 1
1 Stephen Hill (East Point Track Club)           11.746 (61.297 km/h)
2 Adam Duvendeck (Momentum Cycling)
3 Steven Beardsley (CMG Racing)
4 Joseph Lacour (Colavita/Sutter Home)
5 Raja Audi (Unattached)
6 Giovanni Rey (BPG/Montano Velo)

Heat 2
1 Brent Stein (Egoistas)                         11.297 (63.734 km/h)
2 Ben Barczewski (T-Town Express)
3 Matias Elgart (Montano Velo)
4 Jonathan Fraley (VC Bikesport)
5 TC Valentine (Eddie Boyz)
6 Daniel Walker (Northwest Cycling Club)
7 Joshua Ryan (White Mountain / Lan)

Heat 3
1 Ryan Nelman (T-Town Express)                   11.807 (60.981 km/h)
2 Justin Williams (Team Rock)
3 Ryan Watson (TEAM WATSON)
4 Eric Manuel (Planet-X Masters)
5 Jimmy Watkins (AIAGE cycling club)
6 Chris Ferris (Sub11)
7 Nelson Li (Global Locate)

Heat 4
1 Kelyn Akuna (Easton / Specialized)             12.087 (59.568 km/h)
2 Giddeon Massie (T-Town Express)
3 Dean Tracy (Team Rubicon-ORBEA)
4 Wesley Pierce (Wines of Washington)
5 Dan Currell (LOON STATE GP BLAINE)
6 Andrew Weathers (Gulf Coast Cycling)
7 Matthew Martinez (Unattached)

Round 2

Heat 1
1 Ben Barczewski (T-Town Express)                11.287 (63.790 km/h)
2 Justin Williams (Team Rock)
3 Stephen Hill (East Point Track Clu)
4 Kelyn Akuna (Easton / Specialized)
5 Ryan Watson (TEAM WATSON)
6 Jimmy Watkins (AIAGE cycling club)

Heat 2
1 Adam Duvendeck (Momentum Cycling)              11.406 (63.125 km/h)
2 Giddeon Massie (T-Town Express)
3 Brent Stein (Egoistas)
4 Ryan Nelman (T-Town Express)
5 Giovanni Rey (BPG/Montano Velo)
6 Dean Tracy (Team Rubicon-ORBEA)

Final

1 Giddeon Massie (T-Town Express)
2 Ben Barczewski (T-Town Express)
3 Brent Stein (Egoistas)
4 Justin Williams (Team Rock)
5 Adam Duvendeck (Momentum Cycling)
6 Stephen Hill (East Point Track Clu)