Introduction to Track Racing - What's a Wheelrace? - Introduction to Six Day racing - UCI codes
USA Elite National Track Championships - CN
USA, October 3-6, 2007
Main Page Results Previous Day Next Day
Day 3 - October 5: Men Points, Sprint, Women 500m TT, Points, Sprint
Fast and furious highlighted on day three
By Mark Zalewski, North American Editor in Carson, California
Friedman doubles team's points title with solo lap, team on title roll
Mike Friedman (Slipstream Chipotle)
Photo ©: Mitch Clinton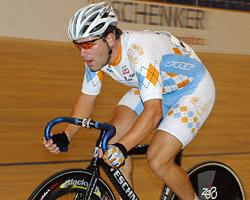 Slipstream-Chipotle's Mike Friedman jumped out to an early lead by being the first, and eventually only rider to take a lap on the field in the points race final. Meatball, as his teammates so affectionately call him, took his lap with 84 laps to go in the race, and then kept racking up points in most of the other sprints. Meanwhile, his teammate Michael Creed protected the lead and title defense to perfection - giving Friedman his second points title in as many years and the team its third national championship so far.
"I wanted to wait a little longer, but three sprints in guys looked a little tired," said Friedman. "They were hanging their heads and going up on the banking, and when you are eighth rider in line and see that you just go."
When Friedman was a third of a lap up on the field he looked over and saw Creed riding the front and no riders attempting to pass. "When I saw Creed on the front I couldn't believe nobody was coming around him. I was going 75% when I attacked and then looked over and saw that, so I went 90% and just waited to see what happens."
In the final five laps of the race there was a lap threat from Colby Pearce, Ben Jacques-Maynes and Curtis Gunn had a lead looking to lap, but once again Michael Creed and Mike Friedman blasted to the front of the field, reeled in the three and even put Creed across the line first to take the final five points.
"Creed did double the work out there and sacrificed defending his championship," said Friedman. "I would have done the same thing for him if he was up there."
Even though he has already qualified for the talent pool, the national title for Friedman means a lot to him for his own reasons. After missing the first part of the road season due a blood clotting disorder Friedman has been riding an uphill battle. "From the blood clot I didn't get a chance to prove myself on the track and I was a coaches selection to the talent pool," he said. "I had an abysmal pursuit yesterday and I was doubting myself, so to have a really good points race means a lot for me. This is the exact thing I needed to give me push towards the World Cups!"
Blatchford nets sprint title over Barczewski
Michael Blatchford (Cody Racing)
Photo ©: Mitch Clinton

Former champion Michael Blatchford (Cody Racing) earned his spot in the sprint finals with a tough semi-final victory over Gideon Massie. He then went on to face Ben Barczewski (T-Town Express) who gave him a tough run in the first sprint, narrowly winning. But the second race was the coronation as Blatchford rode a perfect race, making Barczewski lead the entire first two-and-a-half laps and then came around him easily in the final curve for a multiple bike-length win.
"I've been training really hard and have a lot in my legs, but if you don't use it correctly... I almost gave up and decided late to keep going," Blatchford said about the first race. "Ben is a great tactician, so when you pass you have to do it definitively. I didn't and it became a drag race so I had to pass close."
After that first race scare Blatchford knew he had to come out swinging in the second race so as to not be put in that position again. "I had it in my legs and knew it was what I should have done it the first time around - just lay down the law!"
The win is another national title for Blatchford, and two today if you count him as an under 23 rider, but the first sprint title in a few years. "It's been three years in the making to return to the top spot, and going for another one tomorrow!"
Quinn gets a little help from her friends in points win
Becky Quinn (South Bay Wheelmen)
Photo ©: Mitch Clinton
The women's 100km points race was a lot of build-up to the final lap, when Becky Quinn (South Bay Wheelmen) took maximum points and beat race leader Heather Albert by one point.
"I had to win the final two and she had to get no points," said Quinn. "It wasn't the way I like to win, but a win is a win!"
"The dynamics of the race change without the likes of a Sarah [Hammer]," said Quinn about the race. "It was 99 laps of pointing it out the whole time - going in I knew the race was going to be taken on a lap." Heather Albert had amassed about a 10 point on Quinn lead going into the final 19 laps, meaning that just winning sprints would not be enough. But Albert was unable to gain any points in the final two sprints while Quinn had help from two teammates leading her out.
"I couldn't have done it without my teammates, there were three key times when I really needed them."
Reed wins sprint easily over Reap
Jennie Reed (Momentum Cycling)
Photo ©: Mitch Clinton

Jennie Reed had a pretty cushy ride to the sprint finals after qualifying first and dispatching her competition. But that did not mean she was going to take it easy on Liz Reap, as she won the first sprint from more than half a lap out. In the second race she let Reap lead but was given it right back. After a little tactics Reed again came around Reap to take the title.
It's tough because you don't have really hard rides until the final," said Reed about the earlier races.
"The first [final] was pretty easy coming over the top so on the second ride I was going to give her the front," Reed said. "She didn't take it and I led - but I didn't want it to be dangerous so I backed off and then came around her."
More important to Reed was her qualifying time, as she was looking to make the talent pool standard - which she did by a few seconds. "It was good enough but I was hoping for better. But it's a start!"
Photography
For a thumbnail gallery of these images, click here
Images by Mitch Clinton/www.clintonphoto.com
Results

Men's points race

Heat 1

1 Karl Bordine                   25 pts
2 Cody O'Reilly                  22
3 Dan Harm                       20
4 Bobby Lea                      20
5 Austin Carroll                 14
6 David Wiswell                   8
7 Roman Kilun                     8
8 Kevin Schiller                  7
9 David Mccook                    6
10 Brad Huff                      5
11 Michael Garrett                4
12 Devon Vigus                    3
13 Kevin Suhr                     3
14 Barry Miller                   1
15 Brian Crosby                    
16 Scott Kasin                     
17 Tony Trattenero                 
18 Alan Klug                       
DNF Danny Finneran                 
DNF Justin Williams                
DNF George Meilahn                 
DNS Kayle Leogrande                
DNS James Stangeland               
 
Heat 2

1 Daniel Hollaway                28 pts
2 Jackie Simes                   25
3 Mike Friedman                  25
4 Colby Pearce                   22
5 Kenny Williams                 13
6 Haldane Morris                  8
7 Daniel Holt                     8
8 Adrian Hegyvary                 5
9 Roger Rilling                   5
10 Kenneth Harris                 4
11 Rob Evans                      2
12 Zach Watson                    1
13 Brian Peterson                  
14 Steen Rose                      
15 John Allen                      
16 Jason Macom                     
17 Chris Kutach                    
18 Matthew Johnson                 
19 Dirk Copeland                   
20 Dan Currell                     
DNF Sergio Hernandez               
DNF Joey Spragins                  
DNF Giovanni Rey                   
DNS Mariano Friedick               
 
Heat 3

1 Todd Yezefski                  53 pts
2 Mike Creed                     49
3 Curtis Gunn                    49
4 Timothy Henry                  46
5 Ben Jacques-Maynes             45
6 Iggy Silva                     44
7 Tyler Ofstad                   43
8 Steve Pelaez                   26
9 Guy East                       25
10 Sam Jurekovic                  5
11 Wesley Pierce                   
12 Chris Lindensmith               
13 John Walsh                      
14 Randy Mclain                    
15 Andrew Armstrong                
16 James Keiser                    
17 Dana Alia                       
18 Keith Miller                    
DNF Rahsaan Bahati                 
DNF Aron Gadhia                    
DNF Sterling Magnell               
DNF Ryan Luttrell                  
DNF Matt Tamel                     
DNS Ken Hanson                     

Men 30km Points Race Final

1 Mike Friedman (Slipstream-Chipotle)             32 pts
2 Austin Carroll (Rock Racing)                    19
3 Bobby Lea (Toyota United)                       16
4 Curtis Gunn (Successful Living)                 12
5 Colby Pearce (Cody Racing)                      11
6 Ben Jacques-Maynes (Priority Health)            10
7 Daniel Hollaway (VMG Racing)                     9
8 Jackie Simes (PA Lightning / Merrill)            8
9 David Wiswell (Nerac Pro Cycling)                8
10 Mike Creed (Team Slipstream)                    7
11 Iggy Silva (Team Rock)                          5
12 Kevin Schiller (Team 2)                         3
13 Dan Harm (Rubicon / Chinook)                    3
14 Todd Yezefski (Nerac Pro Cycling)               3
15 Karl Bordine (5 Star Fish)                      3
16 Steve Pelaez (Adobe / Schwalbe)                 1
17 Timothy Henry (Jittery Joe's Pro Cycling)       1
18 Daniel Holt (Nerac Pro Cycling)                  
19 Haldane Morris                                   
20 Cody O'Reilly (Kodak Gallery)                    
21 Adrian Hegyvary (Hagens - Berman LLP)            
22 Roman Kilun (HealthNet)                          
DNF Kenny Williams (Avanti Ti Cycles)               
DNF Tyler Ofstad (Kahala La Grange)                  
   
Espoir Men 30km Points Race

1 Austin Carroll (Rock Racing)                      
2 Daniel Hollaway (VMG Racing)                      
3 Jackie Simes (PA Lightning / Merrill)             
4 Cody O'Reilly (Kodak Gallery)                                      
 
Women 25km Points Race

1 Becky Quinn (South Bay Wheelman0                29 pts
2 Heather Albert (America's Dairyland)            28
3 Katharine Lundby (Karl Strauss / SDBC)          23
4 Catherine Fiedler (Home Depot Center)           13
5 Shelley Olds (Proman)                            9
6 Christen King (Young's Training)                 9
7 Cassandra Holman (Home Depot Center)             8
8 Theresa Cliff-Ryan (Verducci / Breakaway)        8
9 Bri Kovac (Texas Roadhouse)                      8
10 Megan Hottman (Defined Fitness)                 5
11 Kelli Jones                                     5
12 Neva Day (South Bay Wheelman)                   3
13 Jennifer Triplett (Ti Cycles / Avanti)          2
14 Kacey Manderfield (Lee McRae)                    
15 Carrie Eller (Ti Cycles / Avanti)             
16 Julie Granshaw (Morgan Stanley / 24 hr)       
DNF Norrene Godfrey (Team Rubicon / Orbea)       
DNF Emily Charbonneau (Therapeutics)             
DNF Cathy Keeley                                 
DNF Kele Murdin (Team Ultra Link)                   
DNS Kathryn Wilder (Bicycle Johns)                  
DNS Valerie Brostrom (xxx Racing / Athletics)     
 
Espoir Women Points Race

1 Kacey Manderfield (Lee McRae)                              
 
Men Sprint 

5th through 8th

5 Ryan Nelman              11.532
6 Stephen Hill                     
7 Ryan Cornell                     
8 Ryan Watson                      
 
Semi-Finals

Semifinal Heat 1 - Race #1
1 Adam Duvendeck           11.408
2 Ben Barczewski                   
Semifinal Heat 1 - Race #2
1 Ben Barczewski           11.782
2 Adam Duvendeck                   
Semifinal Heat 1 - Race #3
1 Ben Barczewski           11.043
2 Adam Duvendeck                   
Semifinal Heat 2 - Race #1
1 Michael Blatchford       11.110
2 Giddeon Massie                   
Semifinal Heat 2 - Race #2
1 Michael Blatchford       11.205
2 Giddeon Massie                   
 
Finals 

3rd-4th - Race #1
1 Adam Duvendeck           11.562
2 Giddeon Massie                   

3rd-4th - Race #2
1 Adam Duvendeck           11.576
2 Giddeon Massie                   

Final - Race #1
1 Michael Blatchford       11.097
2 Ben Barczewski                   

Final - Race #2
1 Michael Blatchford       10.983
2 Ben Barczewski                   
 
Men Sprint Final classification

1 Michael Blatchford (Cody Racing)                  
2 Ben Barczewski (T-Town Express)                   
3 Adam Duvendeck (Momentum Cycling)                 
4 Giddeon Massie (T-Town Express)                   
5 Ryan Nelman (T-Town Express)                      
6 Stephen Hill (East Point Track)                   
7 Ryan Cornell                                      
8 Ryan Watson (ABD Cycle)                           
9 Angelo Martorell (South Bay Wheelman)             
10 Taylor Olson (Loon State GP Blain)               
11 Timo Budarz (NOW MS)                             
12 Kelyn Akuna                                      
13 Nelson Li (Global Locate)                        
14 Andrew Lacorte                                   
15 Joshua Ryan (White Mountain)                     
16 Dan Currell (Loon State / GP Blaine)             
17 Chris Nekarda (Leaderbike)                       
18 Raja Audi                                        
19 Jonathan Fraley (VC Bikesport)                   
20 Wesley Pierce (Wines of Washington)                         
 
Espoir Men Sprint Finals

1 Michael Blatchford (Cody Racing)                  
2 Ben Barczewski (T-Town Express)                   
3 Ryan Nelman (T-Town Express)                      
4 Dean Tracy (Team Rubicon / Orbea)                 

Women 200m TT

1 Jennie Reed (Momentum Cycles)             11.708
2 Liz Reap (T-Town Express)                 00.734
3 Anna Lang (SDBC / Karl Strauss)           00.835
4 Cari Higgins Cody Racing)                 00.842
5 Becky Lang (Home Depot Center)            01.073
6 Cristin Walker (Northwest Cycling)        01.183
7 Heather Vanvalkenberg (Vanvalkendaca)     01.186
8 Mindi Martin (Dent Wizard)                01.419
9 Brooke Wilson                             01.776
10 Julia Lafranchise (Leaderbikes - Big)    02.050
DNS Shelby Allen                                    
DNS Kacey Manderfield (Lee McRae)                   
           
Women Sprint

Quarterfinals

Quarterfinal Heat 1 - Race #1
1 Jennie Reed              13.067
2 Mindi Martin          
           
Quarterfinal Heat 1 - Race #2
1 Jennie Reed              13.021
2 Mindi Martin    
                 
Quarterfinal Heat 2 - Race #1
1 Liz Reap                 12.934
2 Heather Vanvalkenberg  
          
Quarterfinal Heat 2 - Race #2
1 Liz Reap                 12.799
2 Heather Vanvalkenberg  
          
Quarterfinal Heat 3 - Race #1
1 Anna Lang                13.067
2 Cristin Walker     
              
Quarterfinal Heat 3 - Race #2
1 Anna Lang                13.150
2 Cristin Walker    
               
Quarterfinal Heat 4 - Race #1
1 Cari Higgins             12.908
2 Becky Lang     
                  
Quarterfinal Heat 4 - Race #2
1 Cari Higgins             12.952
2 Becky Lang                       
 
5th through 8th

5 Becky Lang               13.140
6 Cristin Walker                   
7 Heather Vanvalkenberg            
8 Mindi Martin                     
 
Semi-finals

Semifinal Heat 1 - Race #1
1 Jennie Reed              12.848
2 Cari Higgins     
                 
Semifinal Heat 1 - Race #2
1 Jennie Reed              12.853
2 Cari Higgins   
                   
Semifinal Heat 2 - Race #1
1 Liz Reap                 12.612
2 Anna Lang   
                      
Semifinal Heat 2 - Race #2
1 Liz Reap                 12.766
2 Anna Lang                         
 
Sprint final

3rd-4th - Race #1
1 Anna Lang                13.028
2 Cari Higgins   
                  
3rd-4th - Race #2
1 Cari Higgins             13.134
2 Anna Lang       
                 
3rd-4th - Race #3
1 Anna Lang                13.438
REL Cari Higgins  
                 
Final - Race #1
1 Jennie Reed              12.532
2 Liz Reap      
                   
Final - Race #2
1 Jennie Reed              12.408
2 Liz Reap     

Final classification Women Sprint               
 
1 Jennie Reed (Momentum Cycles)                     
2 Liz Reap (T-Town Express)                         
3 Anna Lang (SDBC / Karl Strauss)                   
4 Cari Higgins Cody Racing)                         
5 Becky Lang (Home Depot Center)                    
6 Cristin Walker (Northwest Cycling)                
7 Heather Vanvalkenberg (Vanvalkendaca)             
8 Mindi Martin (Dent Wizard)                        
9 Brooke Wilson                                     
10 Julia Lafranchise (Leaderbikes - Big)            
 
Espoir Women Sprint Final

1 Cristin Walker (Northwest Cycling)                
2 Julia Lafranchise (Leaderbikes - Big)