Introduction to Track Racing - What's a Wheelrace? - Introduction to Six Day racing - UCI codes
Oceania Cycling Championships - IM
ILT Velodrome, Invercargill, New Zealand, November 14-17, 2007
Main Page Results Overall standings Previous Race Next Race
Race 2 - November 15:
Track records tumble
By Nathan Burdon, of the Southland Times, in Invercargill
Scott Sunderland (Australia)
Photo ©: Barry Harcourt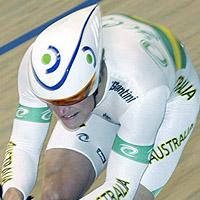 Track records fell and the Australians dominated in the opening evening session of the Oceania Championships at the ILT Velodrome in Invercargill tonight.
Defending champion Scott Sunderland proved too strong in the final of the elite men's 1000m time trial.
Sunderland (1:03.686) defeated local hero and New Zealand record holder Eddie Dawkins (1:04.682), who set the track record and fastest ever time by a New Zealander of 1:03.700 as a junior at this year's national championships.
Dawkins' fellow under 23 rider, Elijah May (New Zealand) was third in 1:06.288.
There was more to cheer about for the local spectators when Invercargill's Tom Scully took out the junior under 19 mens 10km scratch race and fellow Southlander Sequoia Cooper claimed bronze in the junior under 19 women's 12km points race.
Scully won from New Zealand team-mate Jason Christie, with Australian Peter Johnstone third.
In the all-Australian final of the women's elite sprint, Anna Meares won back some bragging rights from older sister Kerrie after losing to her in the same event at the Australian nationals.
Anna won the final 2-nil and said she had been pleasantly surprised by the quality of Invercargill's ILT Velodrome.
Sisters Anna and Kerrie Meares
Photo ©: Barry Harcourt

''I brought all types of warm gear because I thought it was going to be like 5 degrees in here and not the best of venues, but when I got here it was really nice. I really love the track and I'd love to come back. The track is smooth, easy and nice to ride on - and you get a crowd, some places in Australia and around the world you don't get a crowd so it's nice to ride in a venue where there's a bit of noise.''
Australian Kaarle McCulloch beat New Zealand's Natasha Hansen 2-nil in the elite women's sprint bronze medal ride off.
The morning session provided plenty of thrills with the Australians sending a number of track records tumbling in the sprint qualifying.
Annette Edmondsen set a new mark of 12.121 seconds in the junior under 19 women's sprint, while Anna Meares beat New Zealander Fiona Carswell's record of 11.73 seconds with a time of 11.56 seconds in the elite women's sprint.
Compatriot Ben Sanders went under the old track record in the under 19 men's sprint by just three hundreds of a second, but the real action was in the men's sprint qualifying.
Dunedin rider Nathan Seddon's mark of 10.505 seconds was broken not once but five times with defending Oceania champion Mark French recording the fastest time with 10.154.
Tomorrow's racing includes junior and elite men's sprint qualifying in the morning, with the sprint finals and individual pursuits in the evening.
Photography
For a thumbnail gallery of these images, click here
Images by Barry Harcourt/www.southlandtimes.co.nz
Results
Junior 19 Men Omnium 200M Sprint                   
                                                   
1 Scott Law (Australia)                            11.099 (64.871km/h)
2 Matthew Meisel-Dennis (Australia)                11.258 (63.955km/h)
3 Peter Johnstone (Australia)                      11.501 (62.603km/h)
4 Alex Carver (Australia)                          11.567 (62.246km/h)
5 Jamie Crass (Australia)                          11.607 (62.032km/h)
6 Sam Steel (New Zealand)                          11.690 (61.591km/h)
7 Simon Honour (New Zealand)                       11.748 (61.287km/h)
8 Lachlan Ritchie (Australia)                      12.043 (59.786km/h)
9 Sam Lindsay (New Zealand)                        13.113 (54.907km/h)
                                                   
Elite Men Omnium 200M Sprint                       
                                                   
1 Simon Van Velthooven (New Zealand)               11.155 (64.545km/h)
2 Glenn O'Shea (Australia)                         11.196 (64.309km/h)
3 Andy Williams (New Zealand)                      11.216 (64.194km/h)
4 Jonathan Lewis (New Zealand)                     11.297 (63.734km/h)
5 Hayden Godfrey (New Zealand)                     11.324 (63.582km/h)
6 Glenn Rewi (New Zealand)                         11.930 (60.352km/h)
7 Zane Alexander (New Zealand)                     12.173 (59.147km/h)

Junior 19M Omnium 5K                               
                                                   
1 Jamie Crass (Australia)                          
2 Peter Johnstone (Australia)                      
3 Scott Law (Australia)                            
4 Alex Carver (Australia)                          
5 Sam Steel (New Zealand)                          
6 Matthew Meisel-Dennis (Australia)                
7 Simon Honour (New Zealand)                       
8 Lachlan Ritchie (Australia)                      
9 Sam Lindsay (New Zealand)                        
                                                   
Elite Mens Omnium 5K                               
                                                   
1 Simon Van Velthooven (New Zealand)               
2 Andy Williams (New Zealand)                      
3 Hayden Godfrey (New Zealand)                     
4 Glenn O'Shea (Australia)                         
5 Jonathan Lewis (New Zealand)                     
6 Glenn Rewi (New Zealand)                         
7 Zane Alexander (New Zealand)

Elite Mens Omnium 3000m Individual Pursuit                         
                                                   
1 Glenn O'Shea (Australia)                         3.25.7 (52.495km/h)
2 Hayden Godfrey (New Zealand)                     3.27.4 (52.085km/h)
3 Glenn Rewi (New Zealand)                         3.35.0 (50.238km/h)
4 Andy Williams (New Zealand)                      3.36.4 (49.903km/h)
5 Simon Van Velthooven (New Zealand)               3.37.7 (49.61km/h)
6 Jonathan Lewis (New Zealand)                     3.43.3 (48.355km/h)
7 Zane Alexander (New Zealand)                     3.50.9 (46.77km/h)
                                                   
Junior 19M Onmium 2000m Individual Pursuit                           
                                                   
1 Matthew Meisel-Dennis (Australia)                2.17.7 (52.304km/h)
2 Jamie Crass (Australia)                          2.19.4 (51.635km/h)
3 Scott Law (Australia)                            2.20.9 (51.101km/h)
4 Simon Honour (New Zealand)                       2.21.3 (50.952km/h)
5 Alex Carver (Australia)                          2.22.2 (50.631km/h)
6 Sam Steel (New Zealand)                          2.25.1 (49.615km/h)
7 Lachlan Ritchie (Australia)                      2.29.4 (48.179km/h)
8 Peter Johnstone (Australia)                      2.30.9 (47.722km/h)
9 Sam Lindsay (New Zealand)                        2.35.7 (46.248km/h)
                                                   
Junior 19 Men Omnium 15Km Points
 
1 Jamie Crass (Australia)                    33 pts
2 Alex Carver (Australia)                    29
3 Peter Johnstone (Australia)                17
4 Matthew Meisel-Dennis (Australia)          11
5 Scott Law (Australia)                       9
6 Sam Steel (New Zealand)                     5
7 Simon Honour (New Zealand)                  2
8 Lachlan Ritchie (Australia)                  
 
Elite Men Omnium 15Km Points
 
1 Glenn O'Shea (Australia)                   20 pts
2 Hayden Godfrey (New Zealand)               13
3 Andy Williams (New Zealand)                 9
4 Simon Van Velthooven (New Zealand)          9
5 Jonathan Lewis (New Zealand)                7
6 Glenn Rewi (New Zealand)                    5
7 Zane Alexander (New Zealand)                3
 
Elite Men Omnium Series
 
1 Glenn O'Shea (Australia)                     
2 Simon Van Velthooven (New Zealand)           
3 Hayden Godfrey (New Zealand)                 
4 Andy Williams (New Zealand)                  
5 Jonathan Lewis (New Zealand)                 
6 Glenn Rewi (New Zealand)                     
7 Zane Alexander (New Zealand)                 
 
Ju19 Men Omnium Series
 
1 Jamie Crass (Australia)                      
2 Scott Law (Australia)                        
3 Matthew Meisel-Dennis (Australia)            
4 Alex Carver (Australia)                      
5 Peter Johnstone (Australia)                  
6 Sam Steel (New Zealand)                      
7 Simon Honour (New Zealand)                   
8 Lachlan Ritchie (Australia)                  
9 Sam Lindsay (New Zealand)                    
  
Ju19 Mens Omnium 1000M TT
 
1 Jamie Crass (Australia)               1.08.30
2 Matthew Meisel-Dennis (Australia)     1.08.40
3 Sam Steel (New Zealand)                      
4 Alex Carver (Australia)               1.08.80
5 Scott Law (Australia)                        
6 Simon Honour (New Zealand)            1.10.30
7 Peter Johnstone (Australia)           1.13.90
8 Lachlan Ritchie (Australia)           1.14.30
 
Ju19 Men Omnium Series
 
1 Jamie Crass (Australia)                      
2 Matthew Meisel-Dennis (Australia)            
3 Scott Law NSW                                
4 Alex Carver NSW                              
5 Peter Johnstone (Australia)                  
6 Sam Steel (New Zealand)                      
7 Simon Honour (New Zealand)                   
8 Lachlan Ritchie (Australia)                  
DNF Sam Lindsay (New Zealand)                  
 
Elite Mens Omnium 1000M TT
 
1 Simon Van Velthooven (New Zealand)    1.05.40
2 Glenn O'Shea (Australia)              1.06.30
3 Andy Williams (New Zealand)                  
4 Hayden Godfrey (New Zealand)          1.06.90
5 Jonathan Lewis (New Zealand)          1.10.00
6 Glenn Rewi (New Zealand)                     
 
Elite Men Omnium Series
 
1 Glenn O'Shea (Australia)                     
2 Simon Van Velthooven (New Zealand)           
3 Andy Williams (New Zealand)                  
4 Hayden Godfrey (New Zealand)                 
5 Jonathan Lewis (New Zealand)                 
6 Glenn Rewi (New Zealand)                     
7 Zane Alexander (New Zealand)                 
                                                    
Junior 19 Mens Sprint Qualification                         
                                                   
1 Ben Sanders (Australia)                          10.841 (66.415km/h)
2 Sam Webster (New Zealand)                        10.916 (65.958km/h)
3 Paul Fellows (Australia)                         10.944 (65.789km/h)
4 Scott Law (Australia)                            11.011 (65.389km/h)
5 Ethan Mitchell (New Zealand)                     11.381 (63.263km/h)
6 Peter Lewis (Australia)                          11.477 (62.734km/h)
7 Oliver Harding-Sheath (New Zealand)              11.585 (62.149km/h)
8 Alex Carver (Australia)                          11.747 (61.292km/h)
9 Markus Hirner (New Zealand)                      13.370 (53.852km/h)
                                                   
Elite Mens Sprint Qualification                            
                                                   
1 Mark French (Australia)                          10.154 (70.908km/h)
2 Ryan Bayley (Australia)                          10.326 (69.727km/h)
3 Scott Sunderland (Australia)                     10.429 (69.038km/h)
4 Shane Perkins (Australia)                        10.431 (69.025km/h)
5 Jason Niblett (Australia)                        10.462 (68.82km/h)
6 Ben Kersten (Australia)                          10.501 (68.565km/h)
7 Shane Kelly (Australia)                          10.595 (67.957km/h)
8 Daniel Ellis (Australia)                         10.660 (67.542km/h)
9 Alex Bird (Australia)                            10.789 (66.735km/h)
10 Neil Campbell (New Zealand)                     10.858 (66.311km/h)
11 Adam Stewart (New Zealand)                      10.866 (66.262km/h)
12 Eddie Dawkins (New Zealand)                     10.921 (65.928km/h)
13 Justin Grace (New Zealand)                      10.971 (65.628km/h)
14 Elijah May (New Zealand)                        11.026 (65.3km/h)
15 Simon Van Velthooven (New Zealand)              11.069 (65.047km/h)
16 Nathan Seddon (New Zealand)                     11.181 (64.395km/h)
17 Pete Murray (New Zealand)                       11.182 (64.389km/h)
18 Damian Wiseman (New Zealand)                    11.210 (64.228km/h)
19 Matthew Fox (New Zealand)                       11.290 (63.773km/h)
20 Andrew Weatherley (New Zealand)                 11.656 (61.771km/h)
21 Ian Densie (New Zealand)                        11.672 (61.686km/h)
22 Tony Wilkinson (New Zealand)                    11.926 (60.372km/h)
                                                   
Junior U19 Women Sprint

Qualifying                 
                                                   
1 Annette Edmonson (Australia)                     12.121 (59.401km/h)
2 Clare Routledge (New Zealand)                    13.032 (55.249km/h)
3 Jessica Holder (New Zealand)                     13.352 (53.925km/h)
4 Jennifer Wilson (New Zealand)                    13.879 (51.877km/h)
5 Melissa Campbell (New Zealand)                   14.238 (50.569km/h)

Round 1 Heat 1                                     
1 Clare Routledge (New Zealand)                    13.368 (53.86km/h)
 Melissa Campbell (New Zealand)                    
                                                   
Round 1 Heat 2                                     
1 Jennifer Wilson (New Zealand)                    14.124 (50.977km/h)
 Jessica Holder (New Zealand)                      
 
Repechage               
1 Melissa Campbell (New Zealand)                   
 Jessica Holder (New Zealand)
 
Semi Final 1 Race #1
1 Annette Edmonson (Australia)          0.12.44
2 Melissa Campbell (New Zealand)               
 
Semi Final 1 Race #2
1 Annette Edmonson (Australia)          0.13.16
2 Melissa Campbell (New Zealand)               
 
Semi Final 2 Race #1
1 Clare Routledge (New Zealand)         0.13.50
2 Jennifer Wilson (New Zealand)                
 
Semi Final 2 Race #2
1 Clare Routledge (New Zealand)         0.13.28
2 Jennifer Wilson (New Zealand)                         

Elite Women Sprint 

Qualifying                      
                                                   
1 Anna Meares (Australia)                          11.567 (62.246km/h)
2 Kaarle McCulloch (Australia)                     11.692 (61.581km/h)
3 Kerrie Meares (Australia)                        11.931 (60.347km/h)
4 Natasha Hansen (New Zealand)                     11.936 (60.322km/h)
5 Jos Rastrick (New Zealand)                       12.144 (59.289km/h)
6 Elizabeth Georgouras (Australia)                 12.301 (58.532km/h)
7 Laura McCaughey (Australia)                      12.801 (56.246km/h)
8 Davina Summers (Australia)                       12.943 (55.629km/h)
9 Katie Schofield (New Zealand)                    12.993 (55.414km/h)
10 Honor Davies (New Zealand)                      13.083 (55.033km/h)
11 Juliet Earle (New Zealand)                      13.210 (54.504km/h)
12 Olivia McLaren (New Zealand)                    13.951 (51.609km/h)
                                                   
Repechage                         
                                                   
1/8 Final Rep 1                                    
1 Laura McCaughey (Australia)                      13.687 (52.605km/h)
2 Katie Schofield (New Zealand)                    
3 Olivia McLaren (New Zealand)                     
                                                   
1/8 Final Rep 2                                    
1 Juliet Earle (New Zealand)                       13.114 (54.903km/h)
2 Honor Davies (New Zealand)                       
3 Davina Summers (Australia)

Quarterfinal Heat 1 - Race #1                      
1 Anna Meares (Australia)                          12.930 (55.684km/h)
 Juliet Earle (New Zealand)                        
                                                   
Quarterfinal Heat 1 - Race #2                      
1 Anna Meares (Australia)                          
 Juliet Earle (New Zealand)                        
                                                   
Quarterfinal Heat 2 - Race #1                      
1 Kaarle McCulloch (Australia)                     12.542 (57.407km/h)
 Laura McCaughey (Australia)                       
                                                   
Quarterfinal Heat 2 - Race #2                      
1 Kaarle McCulloch (Australia)                     12.348 (58.309km/h)
 Laura McCaughey (Australia)                       
                                                   
Quarterfinal Heat 3 - Race #1                      
1 Kerrie Meares (Australia)                        12.354 (58.281km/h)
 Elizabeth Georgouras (Australia)                  
                                                   
Quarterfinal Heat 3 - Race #2                      
1 Kerrie Meares (Australia)                        12.319 (58.446km/h)
 Elizabeth Georgouras (Australia)                  
                                                   
Quarterfinal Heat 4 - Race #1                      
1 Natasha Hansen (New Zealand)                     12.865 (55.966km/h)
 Jos Rastrick (New Zealand)                        
                                                   
Quarterfinal Heat 4 - Race #2                      
1 Natasha Hansen (New Zealand)                     12.643 (56.949km/h)
 Jos Rastrick (New Zealand)                        

5th-8th Final                       
                                                   
5 Jos Rastrick (New Zealand)                       
6 Elizabeth Georgouras (Australia)                 
7 Laura McCaughey (Australia)                      
8 Juliet Earle (New Zealand)                       

Ju19 Mens 1000M
 
1 Ben Sanders (Australia)               1.05.20
2 Sam Webster (New Zealand)             1.07.40
3 Ethan Mitchell (New Zealand)          1.08.00
4 Paul Fellows (Australia)              1.08.40
5 Peter Lewis (Australia)               1.10.10
 
Elite Mens 1000M Tt
 
1 Scott Sunderland (Australia)          1.03.70
2 Eddie Dawkins (New Zealand)           1.04.70
3 Elijah May (New Zealand)              1.06.30
4 Ian Densie (New Zealand)              1.07.20
5 Neil Campbell (New Zealand)           1.07.50
6 Pete Murray (New Zealand)                    
 
Elite Women Sprint Final
 
3rd-4th - Race #1
1 Kaarle McCulloch (Australia)          0.12.54
 Natasha Hansen (New Zealand)                  
 
3rd-4th - Race #2
1 Kaarle McCulloch (Australia)          0.12.54
 Natasha Hansen (New Zealand)                  
 
Final - Race #1
1 Anna Meares (Australia)               0.12.27
 Kerrie Meares (Australia)                     
 
Final - Race #2
1 Anna Meares (Australia)               0.12.39
 Kerrie Meares (Australia)                     
 
U19 Women Sprint Finals
 
Ju19 Women Sprint 3/4 Race #1
1 Jennifer Wilson (New Zealand)         0.13.94
2 Melissa Campbell (New Zealand)               
 
Ju19 Women Sprint 3/4 Race #2
1 Jennifer Wilson (New Zealand)         0.14.06
2 Melissa Campbell (New Zealand)               
 
Ju19 Women Sprint Final Race #1
1 Annette Edmonson (Australia)          0.12.68
2 Clare Routledge (New Zealand)                
 
Ju19 Women Sprint Final Race #2
1 Annette Edmonson (Australia)          0.12.75
2 Clare Routledge (New Zealand)                
 
U19 Womens 12K Points Race
 
1 Chloe Hosking (Australia)                  23 pts
2 Gemma Dudley (New Zealand)                 19
3 Sequoia Cooper (New Zealand)                8
4 Jennifer Wilson (New Zealand)               6
5 Veronica Dudderidge (Australia)             2
6 Cathy Jordan (New Zealand)                  2
7 Emma Petersen (New Zealand)               -16
8 Jessica Holder (New Zealand)              -18
Dnf Sarah Martin (New Zealand)                 
 
U19 Mens Scratch 10K
 
1 Tom Scully (New Zealand)                     
2 Jason Christie (New Zealand)                 
3 Peter Johnstone (Australia)                  
4 Paul Fellows (Australia)                     
5 Hamish Tomlinson (New Zealand)               
6 Aaron Donnelly (Australia)                   
7 Oliver Harding-Sheath (New Zealand)          
8 Jamie Crass (Australia)                      
9 Patrick Williamson (New Zealand)             
10 Alex Carver (Australia)                     
11 Wade Mangham (New Zealand)                  
12 Ruaraidh McLeod (New Zealand)               
13 Matthew Meisel-Dennis (Australia)           
14 Kieran Dobson (New Zealand)                 
15 Chad Adair (New Zealand)                    
16 Lachlan Ritchie (Australia)                 
Dnf Laurence Van Schie (Australia)             
Dnf Sam Steel (New Zealand)                    
 
Elite Womens 20K Points Race
 
1 Skye-Lee Armstrong (Australia)             17 pts
2 Joanne Kiesanowski (New Zealand)           17
3 Laura McCaughey (Australia)                11
4 Katri Laike (New Zealand)                   9
5 Cath Cheatley (New Zealand)                 8
6 Davina Summers (Australia)                  8
7 Brei Gudsell (New Zealand)                  6
8 Liz Williams (New Zealand)                  5
9 Kathryn Jones (New Zealand)                 4
10 Rosy McCall (New Zealand)                  2
11 Phillipa Swain (New Zealand)               1
12 Josie Giddens (New Zealand)                 
13 Monique Hanley (Australia)                  
DNS Tamara Boyd (New Zealand)