Introduction to Track Racing - What's a Wheelrace? - Introduction to Six Day racing - UCI codes
Sid Patterson Grand Prix - IM
Joe Ciavola Velodrome, Australia, February 3, 2007
2006 Results Results Past winners
Third time's a charm for Semmler
By Mal Sawford
Damien Semmler wins the Sid Patterson GP
Photo ©: Gary Newvine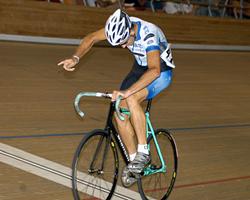 18 year-old Damien Semmler powered to the biggest win of his career in the 2000 metre Sid Patterson Grand Prix group handicap, capping off a great ride by the outmarkers that left the scratch men no chance of victory. "The whole group pulled its finger out, and worked really well: if the group works well sometimes the fronties can get up," Semmler said.
Semmler, from the northern Victorian town of Wangaratta, has been in great form in recent weeks leading up to his breakthrough win. Although disqualified from the Shepparton Wheelrace on New Years' day for dangerous riding, he had crossed the line in second place; and just last week he scored a third place at his home town carnival. Following Semmler home were 16 year-old Lewis Fulcher (Horsham) and 17 year-old Ryan Pontelandolfo (Bendigo).
The Sid Patterson Grand Prix
Unlike the traditional handicap format, riders qualify for the final by way of a top six finish in a mass start qualifying race. The legendary "Patto", arguably Australia's greatest ever track cyclist, was a four time world champion in events ranging from sprint to pursuit – and the format of the Grand Prix is designed to reward all-around cyclists, rather than handicap specialists.
The qualifying race for the C Grade riders was a twenty lap motor pace, which was marred in the opening laps by a pile up that claimed eight from the back of the twenty-one rider field before the derny had had a chance to string the bunch out. Of the survivors, Pontelandolfo hit out strongly just after two to go, and held off club mate Mark Flood and Matt Bishop (Carnegie Caulfield). Semmler qualified in fourth, later saying that he had held back, "I didn't run a place, I only ran fourth. That's all I wanted to do, just to get into the final, and save myself for the final."
Ryan Pontelandolfo
Photo ©: Gary Newvine

B Grade faced a twenty lap scratch race, and after an attacking, fast paced race, Scott Townsend (Ballarat/Sebastapol) took the win ahead of Dean Stewart, Russell Collins (Hawthorn) and Clint McDonnell (Carnegie Caulfield).
The Aces field was weakened considerably by a number of notable no-shows, including Joel Leonard, who had opted to race in Sydney, and Jobie Dajka and three of the Malaysian track team; who had all experienced transport difficulties that kept them out of Melbourne. Qualifying for the final through an elimination race were an impressive Daniel Thorsen (Drapac-Porsche Cycling), Brendan Schultz (Hamilton), Hamish Taylor (Northcote), Alexander James (Brunswick), Adrian Hanson (Coburg) and Andrew Mason (Bendigo).
In the final, the six Aces rode from scratch, giving up 70 metres to the B Grade riders and 155 metres to the C Grade bunch. Disaster struck the middle markers, who lost two riders who had tangled during the push off and fell, allowing the flying back markers to charge past after only one lap.
Will Zipp warranty this?
Photo ©: Gary Newvine

Out front, the six leaders were clearly sticking to their pre race plan, and were riding a virtual six man team sprint: the first four riders off pulled the group along for well over a lap each before allowing the next rider to take over as they slipped back and out of the race. With two laps to go, the backmarkers were still well down, and the tall and powerfully built Semmler hit the front for the first time to power to a convincing win. A huge effort by Thorsen over the final two laps saw him close the gap markedly, and he eventually crossed the line in fourth place level with Pontelandolfo's rear wheel.
Semmler admitted that the disqualification in Shepparton had "given me a bigger ambition to win a big one." He said later that he had felt the race was his to win as soon as "I was sitting on the back of these two [Fulcher and Ponteladolfo] big fellas!"
Women
Tess Downing (Drapac-Porsche Cycling) was clearly the class rider of the small women's field, and dominated all four races. None of the women could match her sprint, allowing her to win both scratch races comfortably, but it was her solo effort to win the handicap that had the crowd on its feet.
Cyclingnews caught up with Downing after her opening two wins and asked if she thought she could clean sweep all four races. "I'd really like to win the handicap," she said, "because I like to come from behind. Hopefully I can do that, because there's good prize money and we've got a few races tonight – which is a bit different to usual."
Tess Downing
Photo ©: Gary Newvine

Downing closed a 30 metre start to Livia Gluchowska (Carnegie Caulfield) and continued on to overhaul both Nicole Whitburn (Blackburn) and Nicole Holt (Carnegie Caulfield). The four outmarkers were working well, but were no match for a determined Downing, who reached the back of the group with two laps remaining without asking for help for any of the riders struggling to hold her wheel.
After a quick rest to catch her breath, Downing put the hammer down again, and surged clear on the final lap to take the win, ahead of Whitburn and Laine Hammond (Northcote). "There was no waiting for anyone. Just go straight round them, that was my only tactic."
A few minutes later, Downing completed her perfect night with another impressive sprint to win the Keirin. Downing is looking ahead to the track Nationals, where the first year senior will tackle the points and scratch races, and also hopes to ride in the first team's pursuit for women. "Victoria's got a strong team, with myself, Jess Berry, Monique Hanley and Lisa Friend. Only three get to ride so we'll see just who gets through with that…"
Downing won't race the individual pursuit this year, saying "the extra 'k' [from the junior distance] makes it a bit more difficult. After the nationals I'm going to stay home. I'm starting uni, which is very exciting, and I'll do a good strength program over the rest of the year so hopefully I can come out and smash up the track next season."
Other races
Mark French
Photo ©: Gary Newvine

With Dajka absent, the much anticipated show down with Mark French was off, but the tussle between the local boy and his Malaysian training partner Josiah Ng kept the crowd entertained. Ng caused something of an upset in the sprint derby, forcing French to go so wide in the back straight that he was unable to make up the lost ground before Ng took the win.
The Chief Commissaire issued a warning to Ng for his tactics, which Ng related. "He thought it wouldn't fly at an international race, that move. I didn't think it was that bad! I had to do something, if I didn't Frenchie would just roll past me, he's so fast he'd suck my helmet off!"
The men's keirin final
Photo ©: Gary Newvine

French wasn't too concerned about losing one to his training partner, but did threaten "JJ could be walking home tonight" before saying that it made things more exciting for the crowd. He was much more disappointed not to get the chance to test himself against Dajka. "That's why I'm here tonight. To race him. I haven't raced against him yet, and I don't train with those guys, only JJ. Marv [Martian Barras] has given John Beasley and I the nod to train for Majorca [World track championships]. They don't officially name the team until after the Nationals but I've done the qualifying times and it's just a formality. He's told me I'm riding the sprint, Keirin and second wheel in the team sprint."
French did turn the tables on Ng in the Keirin, but both riders were outsmarted by Thorsen, who hit out hard while the two favourites were still watching each other. "I wanted to go before they did, because the top end speed those guys have got is…, I have to go before them and take the race to them." French led Ng into the back straight, and left his run at Thorsen very late, before drawing level in the final metres and raising one arm to claim the win. Thorsen threw for the line, but admitted later that he, like everyone else in the stadium, thought French had taken the win.
Final lesson tonight...
Photo ©: Gary Newvine

The photo finish camera showed that the brief loss of momentum as French saluted was enough to let Thorsen's wheel surge briefly back in front at the perfect moment – giving him the win by an official margin of two milimetres!
Despite a year out of the sport, 20 year old Thorsen is back with a vengeance. "I just played footy, and uni and stuff like that, to freshen up. Back on the bike now and enjoying it at the moment!" His immediate goal is a ride at the Bendigo Madison, hopefully I'll ride with Damion Drapac. I've never done a Madison before, so it's just good experience. Then I'll get road season under me so hopefully next year can be a big year."
Thorsen was back on the podium after the final race of the evening, the Aces scratch race. Although well positioned at the bell, he had no answer to Adrian Hanson's finishing burst, but battled on to hold out Michael Downing (Carnegie Caulfield) for second place.
Photography
For a thumbnail gallery of these images, click here
Images by Gary Newvine
Results

C Grade Motor Paced Scratch Race
 
1 Ryan Pontelandolfo (Bendigo)                
2 Mark Flood (Bendigo)                        
3 Matt Bishop (Carnegie Caulfield)            
4 Damien Semmler (Wangaratta)                 
5 Lewis Fulcher (Horsham)                     
6 Vivian Mccarthy (Macedon Ranges)            
 
B Grade Scratch Race
 
1 Scott Townsend (Ballarat Sebastapol)        
2 Dean Stewart (Northcote)                    
3 Russell Collins (Hawthorn)                  
4 Clint Mcdonnell (Carnegie Caulfield)        
5 Luke Jones (Geelong)                        
6 Rohan Mccaig (Bendigo)                      
 
Women's Scratch Race
 
1 Tess Downing (Carnegie Caulfield)           
2 Nicole Whitburn (Blackburn)                 
3 Livia Gluchowska (Carnegie Caulfield)       
 
Aces Elimination
 
1 Daniel Thorsen (Shepparton)                 
2 Brendan Schultz (Hamilton)                  
3 Hamish Taylor (Northcote)                   
4 Alexander James (Brunswick)                 
5 Adrian Hanson (Coburg)                      
6 Andrew Mason (Bendigo)                      
 
M17 Scratch Race
 
1 Joshua Tepper (Bendigo)                     
2 Maddison Hammond (Northcote)                
3 Gavin Sittampalan (Blackburn)               
 
Sprint Derby
 
Heat 1
1 Mark French (St Kilda)               0.11.40
2 Gary Mueller (Brunswick)                    
 
Heat 2
1 Josiah Ng (Malaysia)                 0.12.14
2 Dean Taylor (Ballarat Sebastapol)           
 
Women's Scratch Race
 
1 Tess Downing (Carnegie Caulfield)           
2 Nicole Holt (Carnegie Caulfield)            
3 Nicole Whitburn (Blackburn)                 
 
Sprint Derby Final

1 Josiah Ng (Malaysia)                 0.11.49
2 Mark French (St Kilda)                      
3 Gary Mueller (Brunswick)                    
 
M17 Motor Paced Scratch Race
 
1 Tim Gooley (Shepparton)                     
2 Aaron Box (Geelong)                         
3 Aaron Cooper (Wangaratta)                   
 
Women's Handicap

1 Tess Downing (Carnegie Caulfield)           
2 Nicole Whitburn (Blackburn)                 
3 Laine Hammond (Northcote)                   
 
The Sid Patterson Grand Prix

1 Damien Semmler (Wangaratta)          2.06.76
2 Lewis Fulcher (Horsham)                     
3 Ryan Pontelandolfo (Bendigo)                
 
Women's Keirin

1 Tess Downing (Carnegie Caulfield)    0.12.79
2 Nicole Holt (Carnegie Caulfield)            
3 Nicole Whitburn (Blackburn)                 
 
M17 Elimination

1 Gavin Sittampalan (Blackburn)               
2 Joshua Tepper (Bendigo)                     
3 Aodan Kelly (Ararat)                        
 
Aces Keirin

Heat 1
1 Daniel Thorsen (Shepparton)          0.11.99
2 Alexander James (Brunswick)                 
2 Andrew Mason (Bendigo)                      
 
Heat 2
1 Mark French (St Kilda)               0.11.62
2 Brendan Schultz (Hamilton)                  
3 Hamish Taylor (Northcote)                   
 
Heat 3
1 Josiah Ng (Malaysia)                 0.11.63
2 Adrian Hanson (Coburg)                      
3 Cory Robinson (Wangaratta)                  
 
C Grade Motor Paced Scratch Race

1 Ryan Pontelandolfo (Bendigo)                
2 Mark Flood (Bendigo)                        
3 Damien Semmler (Wangaratta)                 
 
Aces Keirin

Final

1 Daniel Thorsen (Shepparton)                 
2 Mark French (St Kilda)                      
3 Josiah Ng (Malaysia)                        
 
B Grade Points Race

1 Rohan Mccaig (Bendigo)                    26 pts
2 Stuart Vaughan (Hawthorn)                 10
3 Russell Collins (Hawthorn)                 9
 
Aces Scratch Race

1 Adrian Hanson (Coburg)                      
2 Daniel Thorsen (Shepparton)                 
3 Michael Downing (Carnegie Caulfield)        

Past winners
Sid Patterson GP

2006 Leigh Howard (Geelong)
2005 Andrew Shannon (New Zealand) 75m 
2004 Todd Wilksch (Horsham Cycling Club)
2003 Darren Young (Tasmania) Scratch

Sid Patterson Champion of Champions

2004 Daniel Thorsen (Shepparton Cycling Club) 
2003 Darren Young (Tasmania) Scratch