Introduction to Track Racing - What's a Wheelrace? - Introduction to Six Day racing - UCI codes
Sid Patterson Grand Prix - IM
Joe Ciavola Velodrome, Australia, January 21, 2006
2005 Results Results Past winners
Howard does it again!
By Mal Sawford, with additional reporting from Ann Johnstone and Lorraine Collings
Leigh Howard
Photo ©: Gary Newvine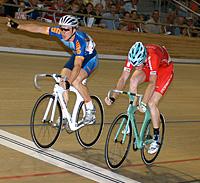 The Sid Patterson Grand Prix is one of the highlights of Melbourne's booming indoor track racing scene, and is unique in its format - with riders qualifying for the 2000 metre final not through conventional heats, but by placing well in a series of graded mass start events. One of Australia's greatest cyclists, Patterson won four World Championships on the track, and also dominated Australian handicap racing winning every major Wheelrace, including two wins in the Austral riding from the Scratch mark. 'Patto' was the complete all-rounder, and the format of the Sid Patterson Grand Prix was chosen to reward cyclists will similar versatility.
Held in stifling heat at Melbourne's second indoor velodrome, which was re-named tonight in honour of former elite racer, race promoter and current President of the state's governing body as the Joe Ciavola Velodrome, the program attracted added interest from cycling fans, and the mainstream media, with the return to competitive cycling of Mark French. French's two year drug related ban (and lifetime Olympic ban) was recently overturned, and after two months of training French was ready to attack the qualifying time necessary to earn a place of the Australian Commonwealth Games squad.
While sixteen year old sensation Leigh Howard (VIS) added another major wheelrace to his rapidly growing collection, French came up just short in his flying 200 metre time in a night of terrific racing.
How it unfolded
...and comes up short
Photo ©: Gary Newvine

French's qualifying attempt was the second event on the program, and although the 21 year old was initially apprehensive about the reaction he would receive from the capacity crowd, the thunderous cheering and Mexican wave of camera flashes around the track as he built up speed made him "wonder what all these nerves were about!" Needing to ride under 10.55 seconds before the January 31 deadline, French looked quick, but fell just short, stopping the clock at 10.80.
French's coach, John Beasley, told Cyclingnews, "Realistically, we were pretty happy with the time. Today was just about seeing where we were at, and he's only really been back on the bike for two months.
"It makes it pretty hard for the Commonwealth Games now, and our goal now is to try and cement a spot for the world's in Bordeaux," he said of the next big meeting, being the UCI's Track Cycling World Championships, to be held in France in March.
French hasn't given up hope of returning to the Australian team for 2006 just yet, however, saying "There's still another ten days to go, I'll definitely try again on the 31st itself."
See also: Mark French misses Commonwealth Games qualification time - just
Tim Decker
Photo ©: Gary Newvine

The wheelrace final saw a clean sweep of the podium places by the scratchmen, after Tim Decker (Decked Out Coaching) and new Australian Criterium Champion Richard England (VIS) did the lion's share of work to reel in the three bunches ahead. The backmarkers made contact with the leaders at two to go, and powered straight past, with Zak Dempster (Drapac-Porsche Development Program) hitting out strongly at the bell.
Howard came off the wheel in the back straight, but found Dempster hard to pass, "I didn't think I was going to get past, he was going so strong", before finally kicking clear down the home straight to claim the win. At the presentation, the young winner listened in awe to Patterson's impressive palmares, and afterwards was lost for words when Cyclingnews asked him if he thought he had four world titles ahead of him!
Howard was full of praise for the efforts of his fellow backmarkers: "I was the top ranked rider in the final, with the number two saddlecloth, so I got to start in last wheel. The guys worked really well, and when we got on we went straight round - it's good to take all the places for once."
Support Events
The Aces Keirin
Photo ©: Gary Newvine

French, a two time Junior World Sprint Champion, was back on the boards later in the evening to race in the Aces Sprint Derby and Keirin, and qualified for both finals. While he proved too quick for Howard in the Derby, his sprint was only for second after Daniel Thorsen (Drapac-Porsche) took a flyer at two to go that went unanswered.
Howard turned the tables in the Keirin final, taking a few lengths out of French as he led the sprint out a lap and a half from home. French made ground late, but didn't quite get there, and only succeeded in giving Gary Mueller a perfect lead out to steal second place on the line.
The traditional program closer, the Aces Scratch Race was well won by Sean Finning (VIS) with an attack ten laps from home. The 'Castlemaine Flyer' opened a half lap advantage and rode powerfully until the final two laps before his rhythm deserted him, and the field suddenly raced into contention under the impetus of Decker.
Finning fought on and had the crowd on their feet, as he scraped home ahead of the charging bunch, led home by Scottish Commonwealth Games hopeful Evan Oliphant.
Women
Tess Downing
Photo ©: Gary Newvine

Lisa Friend (Bianchi) made it a successful night for the sixteen year olds, taking out the 1500 metre Handicap ahead of former Junior World Champion Rahna Demarte (Drapac-Porsche). "I had to go to the front with two laps to go, and Tabatha (Cole) was still about 100 metres in front. I saw no one had come with me so I kept going and went past her. I knew Rahna was coming close at the end, but I knew she wouldn't catch me."
The win was Friend's third wheelrace victory of the summer, and she hopes the handicapper will set her a more challenging mark. "Probably not scratch but I hope he'll move me back a bit," as she prepares for her first senior Australian Track Championships.
Tess Downing (Drapac-Porsche), another of Victoria's top Under 19 talents, took the scratch race from Jessica Berry and Demarte, while the elimination went to another of the Scots, Kate Cullen who outlasted Demarte and Peta Mullens (VIS).
Under 17
Peter Johnstone
Photo ©: Gary Newvine
Peter Johnstone (Inexa Race Frames) dominated junior racing, recording commanding wins in all three races. His success made up for his disappointment at last weekend's Victorian Scratch Race Championships, where a pulled foot in the final sprint cost him any chance of the winner's automatic trip to the Australian Junior Championships.
"I was pretty fired up to win after last weekend," he told Cyclingnews, "and it was so hot in here, it made it really fast. I didn't really feel the heat while I was racing, but once you finish…man! But I knew I was going to do well tonight."
Photography
For a thumbnail gallery of these images, click here
Images by Gary Newvine
Results
Australian Abalone Exports D Grade Motor Pace
 
1 Reece Van Beek (Geelong)
2 Malcolm Clayton (Ararat)
3 David Stallan (Albury-Wodonga)
4 Michael Burke (Preston)
5 Brett Perez (Great Britain)
 
Flying 200M - Commonwealth Games Qualifying Time Attempt
 
Mark French (St Kilda)                         10.80
 
John Beasley Cycles C Grade Scratch Race
 
1 Marc Prytton (New Zealand)
2 Dean Stewart (Northcote)
3 Simon King (Carnegie Caulfield)
4 Craig Gardiner (Carnegie Caulfield)
5 Ivor Reid (Scotland)
 
Assos Cycling Apparel B Grade Motor Pace
 
1 Darren King (Carnegie Caulfield)
2 Adrian Salter (Footscray)
3 Mark Neiwand (Northcote)
4 Abe Mcdonald (Ararat)
5 Andrew Stewart (Coburg)
 
Drapac Porsche Development Program Aces Elimination
 
1 Tim Decker (Bendigo)
2 Zak Dempster (Bendigo)
3 Leigh Howard (Geelong)
4 Evan Oliphant (Scotland)
5 Richard England (Blackburn)
 
Jefferson Ford Women's Scratch Race
 
1 Tess Downing (Carnegie Caulfield)
2 Jessica Berry (Bendigo)
3 Rahna Demarte (Northcote)
 
Cyclesport Victoria M17 Scratch Race
 
1 Peter Johnstone (Chelsea & Peninsula)
2 Michael Downing (Carnegie Caulfield)
3 Patrick Drapac (Brunswick)
 
Reuters Women's Elimination
 
1 Kate Cullen (Scotland)
2 Rahna Demarte (Northcote)
3 Peta Mullens (Carnegie Caulfield)
 
First Off The Bike: Radio Cycling Show - Sen 1116 Sprint Derby
 
1 Daniel Thorsen (Shepparton)
2 Mark French (St Kilda)
3 Leigh Howard (Geelong)
4 Evan Oliphant (Scotland)
 
Cyclesport Victoria M17 Motor Pace
 
1 Peter Johnstone (Chelsea & Peninsula)
2 Trevor Griffiths (Shepparton)
3 Michael Downing (Carnegie Caulfield)
 
Reuters Women's Handicap
 
1 Lisa Friend (Carnegie Caulfield)      50m
2 Rahna Demarte (Northcote)             Scratch
3 Tabatha Cole (Blackburn)              140m
 
Patterson Family Sid Patterson 2000m Wheelrace
 
Finalists
 
Reece Van Beek (Geelong)                160m
Malcolm Clayton (Ararat)                160m
David Stallan (Albury-Wodonga)          160m
Michael Burke (Preston)                 160m
Brett Perez (Great Britain)             160m
Marc Prytton (New Zealand)              105m
Dean Stewart (Northcote)                105m
Simon King (Carnegie Caulfield)         105m
Craig Gardiner (Carnegie Caulfield)     105m
Ivor Reid (Scotland)                    105m
Darren King (Carnegie Caulfield)        55m
Adrian Salter (Footscray)               55m
Mark Neiwand (Northcote)                55m
Abe Mcdonald (Ararat)                   55m
Andrew Stewart (Coburg)                 55m
Tim Decker (Bendigo)                    Scratch
Zak Dempster (Bendigo)                  Scratch
Leigh Howard (Geelong)                  Scratch
Evan Oliphant (Scotland)                Scratch
Richard England (Blackburn)             Scratch
 
Final
 
1 Leigh Howard (Geelong)                Scratch
2 Zak Dempster (Bendigo)                Scratch
3 Evan Oliphant (Scotland)              Scratch
 
Jefferson Ford M17 Elimination
 
1 Peter Johnstone (Chelsea & Peninsula)
2 Trevor Griffiths (Shepparton)
3 Nick Aitken (Leongatha)
 
Australian Abalone Exports Keirin
 
1 Leigh Howard (Geelong)
2 Gary Mueller (Brunswick)
3 Mark French (St Kilda)
 
Drapac Porsche Development Program Aces Scratch Race
 
1 Sean Finning (Castlemaine)

Past winners
Sid Patterson GP

2005 Andrew Shannon (New Zealand) 75m 
2004 Todd Wilksch (Horsham Cycling Club)
2003 Darren Young (Tasmania) Scratch

Sid Patterson Champion of Champions

2004 Daniel Thorsen (Shepparton Cycling Club) 
2003 Darren Young (Tasmania) Scratch