Recently on Cyclingnews.com
Introduction to Track Racing - What's a Wheelrace? - Introduction to Six Day racing - UCI codes
66th Zesdaagse Vlaanderen/Gent/6D
Belgium, November 21/26, 2006
2005 results Schedule Preview Start List Past winners
Schedule
Preview
By Laura Weislo
Full house at the Gent Kuipke
Photo ©: Nick Rosenthal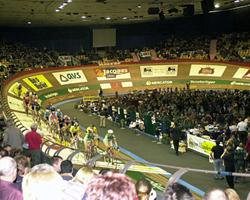 From Tuesday, November 21 to Sunday, November 26, the small university town of Gent in Northern Belgium will again be the centre of attention for all track cycling lovers. The 66th Gent Sixdays will feature not only some of the world's finest track cyclists, including last year's winner Iljo Keisse, but also the traditional mix of entertainment, food and beer. On Wednesday, former Tour de France boss Jean/Marie Leblanc will visit the 'Kuipke' indoor track, as the greatest road race on earth will pass through Gent next summer.
Keisse just returned from the Munich six day, where he and Franco Marvulli took second place to Erik Zabel and Bruno Risi. As defending champion of the Ghent six, Keisse is heavily favoured, and feels good about his prospects. "This is my home six day, so I am looking forward to it, and I've been training well, and am happy that I have good condition." he said, but since his normal partner Matthew Gilmore has been out all season after crashing in a Kermese and breaking his leg, Keisse has had a new partner for every six day.
Gilmore had surgery to put a rod into his leg, and is currently in rehabilitation. "I hope he's coming back" Keisse said, "He's training hard for it. He's very motivated to come back for the Olympics, and I don't know if he's going to be back this season. He said he wants to be back for Zurich (in January) but we'll have to see about that. He's not putting a date on it because he has some good days and some bad days."
Changing partners each races has its problems, because the event relies so heavily on well/timed exchanges and drawing on each other's strengths to gain maximum points. "Every race I got a new partner. It's not a good thing. I had Villa, I had Marvulli, and I had Stam, so it's not so easy" said Keisse. But as a relatively new pro, he is learning quite a bit from each new partner. "I like to race with Marvulli because he takes a lot of points, but I also like to race with Villa, he has a lot of experience, same with Stam. They're all big names, a lot of experience. I'm just a small boy in comparison."
"I hope my partner will be good," Keisse said of Bartko, "He had a crash in Amsterdam, and wasn't too good in Dortmund, not even in Munich, but he's promised me he would do his best to be 100% for this race. We'll see after tomorrow night".
Other picks for the win are Franco Marvulli and Alexander Aeschbach, Marco Villa and Mark Hester, world champions Isaac Galvez and Juan Llaneras, and Danny Stam and Peter Schep. "There are going to be five teams, and they'll be looking at each other." said Keisse, "It's not just the laps but also the points are important."
Keisse knows that the key to a successful six day is a high tolerance for pain, and he counts this as one of his best qualities. "I can take points, I'm not the fastest in the peloton, but I can fast enough to take alot of points." he said, "You have to be fast, but once you're over the limit you still have to keep going and that's my strong point. Like we say in Belgium, 'embrace the pain'."
Start list
1 Isaac Galvez/Juan Llaneras (Spa)
2 Iljo Keisse (Bel)/Robert Bartko (Ger)
3 Danny Stam/Peter Schep (Ned)
4 Bruno Risi (Swi)/Leif Lampater (Ger)
5 Franco Marvulli/Alexander Aeschbach (Swi)
6 Andreas Beikirch/Sebastian Frey (Ger)
7 Kenny De Ketele/Steve Schets (Bel)
8 Matthé Pronk/Aart Vierhouten (Ned)
9 Dimitri De Fauw/Wouter Van Mechelen (Bel)
10 Marco Villa (Ita)/Marc Hester (Den)
11 Steven Deneef/Ingmar Depoortere (Bel)
12 Andreas Muller/Christian Grasmann (Swi)
13 Martin Liska/Jozef Zabka (Slo) 

UIV Cup (U/25)

Heat 1
                                                  
1 Jackie Simes/ Taylor Brown (USA)               
2 Michael Arends/ Erik Mohs (Ger)                 
3 Niels Peters/ Denis Kreder (Ned)                
4 Steven Burke/ John Bellis (GBr)                 
5 Beni Baumgartner/ Tobias Baumgartner (Swi)      
6 Jesper Morkov/ Christian Ranneries (Den)        
7 Rene Schibli/ Patrick Betz (Swi/Ger)            
8                                                 
9 Dave Mertens/ Leys Birger (Bel)                 

Heat 2
                                                      
1 Kevin Suhr/ Ryan Luttrell (USA)                     
2 Marcel Katz/ Roger Kluge (Ger)                      
3 Pim Lighthart/ Jeff Vermeulen (Ned)                 
4 Thomas Murray/ Peter Williams (GBr)                 
5 Maxime Bally/ Bruno Menzi (Swi)                     
6 Pavel Subrt/ Marek Mixa (Cze)                       
7 Anzizar Lizarraga/ Blazquez Berasarte (Esp)         
8 Emilien Clere/ Michael Jeanin (Fra)                 
9 Matthias Venderhauwaert/ Jurgen Beeckman (Bel)      

Past winners
2005 Matthew Gilmore/Iljo Keisse (Bel)
2004 Robert Slippens (Ned)/Danny Stam (Ned)
2003 Matthew Gilmore (Bel)/Bradley Wiggins (GBr)
2002 Bruno Risi (Swi)/Kurt Betschart (Swi)
2001 Matthew Gilmore (Bel)/Scott McGrory (Aus) 
2000 Matthew Gilmore (Bel)/Silvio Martinello (Ita)
1999 Jimmi Madsen/Scott McGrory (Den/Aus)
1998 Silvio Martinello/Marco Villa (Ita)
1997 Etienne De Wilde/Matthew Gilmore (Bel/Aus)
1996 Bruno Risi/Kurt Betschart (Swi)
1995 Etienne De Wilde/Andreas Kappes (Bel/Ger)
1994 Danny Clark/Etienne De Wilde (Aus/Bel)
1993 Bruno Risi/Kurt Betschart (Swi)
1992 Etienne De Wilde/Jens Veggerby (Bel/Den)
1991 Etienne De Wilde/Tony Doyle (Bel/GBr)
1990 Danny Clark/Roland Günther (Aus/Ger)
1989 Etienne De Wilde/Stan Tourné (Bel)
1988 Urs Freuler/Roman Hermann (Swi/Lie) 
1987 Danny Clark/Etienne De Wilde (Aus/Bel)
1986 Danny Clark/Anthony Doyle (Aus/GBr)
1985 Stan Tourné/Etienne De Wilde (Bel)
1984 Gert Frank/Hans Henrik Oërsted (Den)
1983 René Pijnen/Etienne De Wilde (Ned/Bel)
1982 Danny Clark/Donald Allan (Aus)
1981 Patrick Sercu/Gert Frank (Bel/Den)
1980 Patrick Sercu/Albert Fritz (Bel/Ger)
1979 Danny Clark/Donald Allan (Aus)
1978 Patrick Sercu/Gerry Knetemann (Bel/Ned)
1977 Patrick Sercu/Eddy Merckx (Bel)
1976 Danny Clark/Donald Allan (Aus)
1975 Patrick Sercu/Eddy Merckx (Bel)
1974 Graeme Gilmore/Julien Stevens (Aus/Bel)
1973 Patrick Sercu/Graeme Gilmore (Bel/Aus)
1972 Patrick Sercu/Julien Stevens (Bel)
1971 Patrick Sercu/Roger De Vlaeminck (Bel)
1970 Patrick Sercu/Jean/Pierre Monseré (Bel)
1969 Rudi Altig/Sigi Renz (Ger)
1968 Peter Post/Leo Duyndam (Ned)
1967 Patrick Sercu/Eddy Merckx (Bel)
1966 Peter Post/Fritz Pfenninger (Ned/Swi)
1965 Patrick Sercu/Eddy Merckx (Bel)
1961 Rik Van Looy/Peter Post (Bel/Ned)
1960 Rik Van Looy/Peter Post (Bel/Ned)
1959 Rik Van Steenbergen/Fred De Bruyne (Bel)
1958 Reginand Arnold/Rik Van Looy (Aus/Bel)
1957 Rik Van Steenbergen/Fred De Bruyne (Bel)
1956 Reginald Arnold/Fernando Terruzi (Aus/Ita)
1955 Lucien Gillen/Fernando Terruzi (Lux/Ita)
1954 Rik Van Steenbergen/Stan Ockers (Bel)
1953 Achiel Bruneel/Arsène Rijckaert (Bel)
1952 Walter Bücher/Armin Von Büren (Swi)
1951 René Adriaensens/Albert Bruylandt (Bel)
1950 Gerrit Schulte/Gerrit Peters (Ned)
1949 Gerrit Schulte/Gerrit Boeyen (Ned)
1948 Achiel Bruneel/Camile De Kuysscher (Bel)
1947 Gerrit Schulte/Gerrit Boeyen (Ned
1937 Frans Slaats/Cees Pellenaars (Ned)
1936 Camile De Kuysscher/Albert Billiet (Bel)
1927 Maurice Dewolf/Hilaire Hellebaut (Bel)
1926 César Debaets/Emile Thollembeek (Bel)
1925 César Debaets/Jules Van Hevel (Bel)
1924 Alois Persijn/Jules Verschelden (Bel)
1923 Lucien Buysse/Victor Standaert (Bel)
1922 Marcel Buysse/Oscar Egg (Bel/Swi)
 
Past winners by Mario Stiehl, www.world/of/cycling.com