Introduction to Track Racing - What's a Wheelrace? - Introduction to Six Day racing - UCI codes
Australian Youth Olympics Festival
Sydney, January 20-23, 2005
World and Olympic Champions spur on junior cyclists
Sarah Ulmer
Photo ©: epicimages.us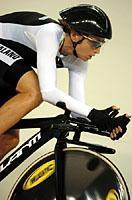 Reigning World and Olympic Champion, New Zealander Sarah Ulmer, paid a visit to Dunc Gray Velodrome with countryman and current Olympic Triathlon Champion, Hamish Carter, to show their support for the juniors competing in the Australian Youth Olympic Festival this week.
"We are here to encourage and support the New Zealand team and other juniors. We will be popping into all venues on our two day stay here in Sydney, but we had to come to my favourite sport, of course!" laughed Ulmer. "We had the opportunity to speak at the team meeting last night and to share our knowledge and experiences - to get the team pumped for the upcoming competition. The New Zealand team is just 'fizzing'. They are so excited to be here and to be a part of the event" said Ulmer.
Their visit to Dunc Gray Velodrome, is much appreciated by their fellow countryman, who were inspired by their words of encouragement. New Zealand Junior Champion, Rushlee Buchanan, who celebrated her 17th Birthday today, was given the best present of all when Sarah Ulmer leant her a pair of her racing wheels to use for tonight's bronze medal showdown in the Individual Pursuit. "They are great Kiwi Ambassadors" said Buchanan. "Sarah is there to help us all the time and when I ride with her at club races it makes you feel really special to sit on her wheel. She is a great role model for me and all of the team and I definitely want to follow in her footsteps. Hopefully, her wheels will help me tonight."
Both Ulmer and Carter were quick to praise the AOC for setting up the AYOF, wishing they had the opportunity when they were younger.
"This competition is absolutely brilliant. Most young athletes don't get the opportunity to compete on such a high class facility let alone compete against the best from other nations. I would have loved the chance when I was younger", lamented Ulmer. Carter added that "the AYOF is a great learning ground for what occurs at the actual Olympic Games. You have to deal with uniforms, rules and procedures, drug testing and traffic delays which all add to the pressure of a big event. It is great for them to have this experience now. It will definitely help them latter on in their cycling careers".
Both Ulmer and Carter are enjoying their break away from international competition and training, with Ulmer still not stating when she will return to full time training, "I'm loving life at the moment. I'm just cruising and keeping fit doing other sports. I'm in no hurry to get back into things".
Program
Day 1:
Women's Individual Pursuit (Qualifying)
Men's Individual Pursuit (Qualifying)
Women'somen's Sprint (Qualifying Round)
Men's Sprint (Qualifying Round)
Women's Scratch Race (non championship event - cyclists not in final)
Women's Sprint (Semi Finals - rd2)
Men's Sprint (Semi Finals - rd2)
Men's Scratch Race (non championship event - cyclists not in final)
Women's Sprint (Semi Finals - rd3 - if req)
Men's Sprint (Semi Finals - rd3 - if req)
Interval Women's Sprint (Final - 3rd - 4th - rd 1)
Women's Sprint (Final - 1st - 2nd - rd 1)
Men's Sprint (Final - 3rd - 4th - rd 1)
Men's Sprint (Final - 1st - 2nd - rd1)
Women's Sprint (5th - 8th)
Men's Sprint (5th - 8th)
Women's Sprint (Final - 3rd - 4th - rd 2)
Women's Sprint (Final - 1st - 2nd - rd 2)
Men's Sprint (Final - 3rd - 4th - rd 2)
Men's Sprint (Final - 1st - 2nd - rd 2)
Women's 7.5km Scratch Race (Final)
Men's 10km Scratch Race (Final)
Women's Sprint (Final - 3rd - 4th - rd 3 - if req)
Women's Sprint (Final - 1st - 2nd - rd 3 - if req)
Men's Sprint (Final - 3rd - 4th - rd 3 - if req)
Men's Sprint (Final - 1st - 2nd - rd 3 - if req)
Day 2
Women's 500m Time Trial
Men's 1000m Time Trial
Medal Ceremonies
Women's Sprint (Semi Finals - rd1)
Men's Sprint (Semi Finals - rd1)
Women's Scratch Race (non championship event - cyclists not in final)
Women's Sprint (Semi Finals - rd2)
Men's Sprint (Semi Finals - rd2)
Men's Scratch Race (non championship event - cyclists not in final)
Women's Sprint (Semi Finals - rd3 - if req)
Men's Sprint (Semi Finals - rd3 - if req)
Interval Women's Sprint (Final - 3rd - 4th - rd 1)
Women's Sprint (Final - 1st - 2nd - rd 1)
Men's Sprint (Final - 3rd - 4th - rd 1)
Men's Sprint (Final - 1st - 2nd - rd1)
Women's Sprint (5th - 8th)
Men's Sprint (5th - 8th)
Women's Sprint (Final - 3rd - 4th - rd 2)
Women's Sprint (Final - 1st - 2nd - rd 2)
Men's Sprint (Final - 3rd - 4th - rd 2)
Men's Sprint (Final - 1st - 2nd - rd 2)
Women's 7.5km Scratch Race (Final)
Men's 10km Scratch Race (Final)
Women's Sprint (Final - 3rd - 4th - rd 3 - if req)
Women's Sprint (Final - 1st - 2nd - rd 3 - if req)
Men's Sprint (Final - 3rd - 4th - rd 3 - if req)
Men's Sprint (Final - 1st - 2nd - rd 3 - if req)
Medal Ceremonies
Day 3
Men's Team Sprint (Heats)
Men's Points Race (Heats)
Men's Team Sprint (3rd - 4th)
Men's Team Sprint (1st - 2nd)
Women's 20km Points Race (Final)
Women's Keirin (Heats)
Men's Keirin (Heats)
Women's Keirin (Semi Final)
Men's Keirin (Semi Final)
Men's 25km Points Race (Final)
Women's Keirin (Final)
Men's Keirin (Final)
Medal Ceremonies
Cycling NSW Track Carnival (incl. AYOF competitors)
Day 4 (non-track)
Men's Criterium (Heats) - 20min + 3 laps
Women's Criterium (Final) - 30min + 3 laps
Men's Criterium (Final) - 45min + 3 laps
Medal Ceremonies