Introduction to Track Racing - What's a Wheelrace? - Introduction to Six Day racing - UCI codes
Track World Cup 04/05 Round 3 - CDM
Manchester, Great Britain, January 7-9, 2005
Main Page Results Previous Day Next Day
Day 3 - January 9: Men: Japanese Keirin, Madison, Team Sprint; Women: Scratch Race, Keirin
Brits on top in team sprint
By Gina Gershon in Manchester
Chris Hoy (GBr)
Photo ©: John Pierce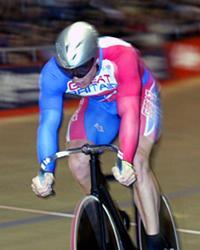 Britain's team sprint outfit overcame their Olympic heartbreak to win the event on the final day of competition at the third round of the World Cup in Manchester. Chris Hoy, Jason Queally and Craig Maclean - who were knocked out in the first round by eventual gold medalist Germany in Athens - posted a scorching time of 44.493 seconds to easily account for Polish trio Rafak Furman, Lukasz Kwiatkowski and Damian Zielinski, who rode 46.010 in the contest for gold and silver.
Olympic kilometre champion Hoy said the win was a boost ahead of the March world titles in Los Angeles after the team's disappointment in Athens. "It's good that we've not so much laid the ghost of Athens to rest but shown we've got the morale to come back from that," he said. "It means we're not looking back on our last performance as a defeat, we're looking back on our last performance as a victory."
Meanwhile, the Japanese team of Kazuya Narita, Yusho Oikawa and Kazunari Watanabe upset Australians Jobie Dajka, Shane Kelly and Ben Kersten to win the bronze medal.
French pair Andy Flickinger and Jerome Neuville took out the Madison title ahead of Belgians Kenny De Ketele and Wouter Van Mechelen. Germans Leif Lampater and Andreas Muller were third in a race that had its share of crashes.
Rob Hayles (GBr)
Photo ©: John Pierce

Great Britain's Stephen Cummings got back in the race after he fell but he and teammate Rob Hayles had to retire when Hayles was brought down by Spanish rider Miguel Alzamora, who swerved into his path. Hayles clipped Alzamora's wheel and brought three other riders down with him as he slid from near the top of the track. There were no serious injuries but Alzamora received an official warning for a dangerous manoeuvre.
Australia's Kate Bates capped a golden meet by adding victory in the women's scratch race to her wins in the points race and individual pursuit. America's Rebecca Quinn was second in the scratch race and Virginie Moinard of France finished third.
Natalia Tsylinskaya of Belarus won the women's Keirin, with Germany's Susann Panzer taking silver and Jenny Reed of the United States the bronze.
Bourgain wins big-money invitational keirin
Riders from Germany and the USA
Photo ©: John Pierce

Frenchman Mickael Bourgain topped off a successful World Cup meet with a hefty pay cheque when he won the lucrative invitational Japanese Keirin in Manchester.
The Frenchman won gold in the sprint and silver for the in-competition Keirin and then pocketed £10,000 (€14,300, AU$25,000, US$18,700) for the invitation-only event which offered a whopping total prize pool of £45,000 (€64,000, AU$111,000, US$84,000). Australia's Shane Kelly, who finished third in the standard keirin, walked away with £8,000 for second place in the invitational event, while Bourgain's countryman, Gregory Bauge, won £6,000 for third.
Bourgain was impressive as he cruised through qualifying with a turn of speed and power that none of his opponents could match. His tactic of taking the lead early and holding on worked right throughout the following rounds and in the final, when he was able to hold off the dual Australian challenge of Kelly and Jobie Dajka. Also in the final were Andrei Vynokurov of Ukraine and Ivan Vrba from the Czech Republic.
The event was sponsored by the Japan Keirin Association in a bid to highlight the event, which is a massively popular betting sport in Japan.
Photography
For a thumbnail gallery of these images, click here
Images by John Pierce/Photo Sport International
Images by Nick Rosenthal/fatnick.com
Images by John Pierce/Photo Sport International
Results
Men's Keirin

1st Round
 
Heat 1
 
1 Pavel Buran (Czech Republic)                       11.096 (64.888 km/h)
2 Ross Edgar (Great Britain)
3 RenÚ Wolff (Germany)
4 Josiah Ng (Malaysia)
5 Andrew Williams (New Zealand)
6 Andrei Vynokurov (Ukraine)
7 Kazunari Watanabe (Japan)
 
Heat 2
 
1 Sergey Ruban (Russia)                              11.126 (64.713 km/h)
2 Konstandinos Pendarakis (Greece)
3 Kin Chung Wong (Hong-Kong)
4 Kasper Jessen (Denmark)
5 CÚdric Stoller (Switzerland)
6 Damian Zielinski (Poland)
DNF Gideon Massie (USA)
 
Heat 3
 
1 Shane John Kelly (Australia)                       10.736 (67.064 km/h)
2 JosÚ Antonio Escuredo Raimondez (Spain)
3 MickaŰl Bourgain (France)
4 Tim Veldt (Netherlands)
5 Matthew Chater (Canada)
6 Michael Rodriguez (Puerto Rico)
7 Vahur Valvas (Estonia)
 
Repecharge
 
Heat 1
 
1 RenÚ Wolff (Germany)                               10.705 (67.258 km/h)
2 Kasper Jessen (Denmark)
3 Matthew Chater (Canada)
4 Damian Zielinski (Poland)
DNF Kazunari Watanabe (Japan)
 
Heat 2
 
1 CÚdric Stoller (Switzerland)                       11.086 (64.947 km/h)
2 Andrei Vynokurov (Ukraine)
3 Tim Veldt (Netherlands)
4 Kin Chung Wong (Hong-Kong)
5 Vahur Valvas (Estonia)
 
Heat 3
 
1 MickaŰl Bourgain (France)                          11.146 (64.597 km/h)
2 Josiah Ng (Malaysia)
3 Gideon Massie (USA)
4 Michael Rodriguez (Puerto Rico)
5 Andrew Williams (New Zealand)
 
Second Round
 
Heat 1
 
1 RenÚ Wolff (Germany)                               11.257 (63.960 km/h)
2 Josiah Ng (Malaysia)
3 Andrei Vynokurov (Ukraine)
4 Konstandinos Pendarakis (Greece)
5 JosÚ Antonio Escuredo Raimondez (Spain)
Rel Pavel Buran (Czech Republic)
 
Heat 2
 
1 MickaŰl Bourgain (France)                          10.836 (66.445 km/h)
2 Shane John Kelly (Australia)
3 Sergey Ruban (Russia)
4 Ross Edgar (Great Britain)
5 Kasper Jessen (Denmark)
DNF CÚdric Stoller (Switzerland)

Men's Madison

20km Qualification Heat 1
 
1 Dean Downing (Great Britain)                            8 pts
 Russell Downing (Great Britain)
2 Leif Lampater (Germany)                                 7
 Andreas Muller (Germany)
3 Lyubomyr Polatayko (Ukraine)                            7
 Vasyl Yakovlev (Ukraine)
4 Kenny De Ketele (Belgium)                               6
 Wouter Van Mechelen (Belgium)
5 Wim Stroetinga (Netherlands)                            6
 Niki Terpstra (Netherlands)
6 Angelo Ciccone (Italy)                                  5
 Martino Marcotto (Italy)
7 Michael M°rk°v (Denmark)                                5
 Alex Rasmussen (Denmark)
8 Alexander Aeschbach (Switzerland)                       0
 Ralph Zimmermann (Switzerland)
 
1 lap behind
 
9 Martin Liska (Slovakia)                               -20
 Jozef Zabka (Slovakia)
 
20km Qualification Heat 2
 
1 Mikhail Ignatiev (Russia)                               5 pts
 Nikolay Trousov (Russia)
 
1 lap behind
 
2 Martin Blaha (Czech Republic)                           7
 Petr Lazar (Czech Republic)
3 Wayne Nothstein Martin (USA)                            7
 Colby Pearce (USA)
4 Robert Hayles (Great Britain)                           6
 Steven Cummings (Great Britain)
5 Andy Flickinger (France)                                6
 JÚr˘me Neuville (France)
6 Miguel Alzamora Riera (Spain)                           4
 Asier Maeztu (Spain)
7 Ilya Chernyshov (Kazakhstan)                            3
 Yuriy Yuda (Kazakhstan)
8 Wai Cheung King (Hong-Kong)                             3
 Kam-Po Wong (Hong-Kong)
9 Jason Allen (New Zealand)                               2
 Dayle Cheatley (New Zealand)
10 Andrew Bradley (Austria)                               1
 Mario LexmŘller (Austria)
 
40km Final
 
1 Andy Flickinger (France)                                7 pts
 JÚr˘me Neuville (France)
2 Kenny De Ketele (Belgium)                               3
 Wouter Van Mechelen (Belgium)
 
1 lap behind
 
3 Leif Lampater (Germany)                                12
 Andreas Muller (Germany)
4 Michael M°rk°v (Denmark)                               10
 Alex Rasmussen (Denmark)
5 Wayne Nothstein Martin (USA)                            9
 Colby Pearce (USA)
6 Wim Stroetinga (Netherlands)                            9
 Niki Terpstra (Netherlands)
7 Martin Blaha (Czech Republic)                           7
 Petr Lazar (Czech Republic)
8 Ilya Chernyshov (Kazakhstan)                            7
 Yuriy Yuda (Kazakhstan)
9 Mikhail Ignatiev (Russia)                               6
 Nikolay Trousov (Russia)
10 Miguel Alzamora Riera (Spain)                          5
 Asier Maeztu (Spain)
11 Dean Downing REC                                       5
 Russell Downing REC
12 Angelo Ciccone (Italy)                                 4
 Martino Marcotto (Italy)
13 Lyubomyr Polatayko (Ukraine)                           3
 Vasyl Yakovlev (Ukraine)
 
2 laps behind
 
14 Alexander Aeschbach (Switzerland)
 Ralph Zimmermann (Switzerland)
DNF Robert Hayles (Great Britain)
 Steven Cummings (Great Britain)
DNF Wai Cheung King (Hong-Kong)
 Kam-Po Wong (Hong-Kong)
 
Final classification
 
1 Andy Flickinger (France)                               12 pts
 JÚr˘me Neuville (France)
2 Kenny De Ketele (Belgium)                              10
 Wouter Van Mechelen (Belgium)
3 Leif Lampater (Germany)                                 8
 Andreas Muller (Germany)
4 Michael M°rk°v (Denmark)                                7
 Alex Rasmussen (Denmark)
5 Wayne Nothstein Martin (USA)                            6
 Colby Pearce (USA)
6 Wim Stroetinga (Netherlands)                            5
 Niki Terpstra (Netherlands)
7 Martin Blaha (Czech Republic)                           4
 Petr Lazar (Czech Republic)
8 Ilya Chernyshov (Kazakhstan)                            3
 Yuriy Yuda (Kazakhstan)
9 Mikhail Ignatiev (Russia)                               2
 Nikolay Trousov (Russia)
10 Miguel Alzamora Riera (Spain)                          1
 Asier Maeztu (Spain)

Men's Team Sprint

Qualifying
 
1 Christopher Hoy (Great Britain)                    60.703 (44.479)
 Craig Mclean (Great Britain)
 Jason Queally (Great Britain)
2 Rafal Furman (Poland)                              58.834 (45.892)
 Lukasz Kwiatkowski (Poland)
 Damian Zielinski (Poland)
3 Jobie Dajka (Australia)                            58.619 (46.06)
 John Kelly Shane (Australia)
 Ben Kersten (Australia)
4 Kazuya Narita (Japan)                              58.313 (46.302)
 Yusho Oikawa (Japan)
 Kazunari Watanabe (Japan)
5 Athanasios Mantzouranis (Greece)                   57.841 (46.68)
 Konstandinos Pendarakis (Greece)
 Panagiotis Voukelatos (Greece)
6 Vladimir Kiriltsev (Russia)                        57.768 (46.739)
 Dmitry Leopold (Russia)
 Sergey Ruban (Russia)
7 Pavel Buran (Czech Republic)                       57.391 (47.046)
 Alois Kankovsky (Czech Republic)
 Ivan Vrba (Czech Republic)
8 Vitaliy Kulachkovskiy (Ukraine)                    57.275 (47.141)
 Maksym Lopatyuk (Ukraine)
 Andrei Vynokurov (Ukraine)
 
3rd & 4th/ 1st & 2nd
 
1 Kazuya Narita (Japan)                              58.304 (46.309)
 Yusho Oikawa (Japan)
 Kazunari Watanabe (Japan)
2 Jobie Dajka (Australia)                            57.268 (47.147)
 John Kelly Shane (Australia)
 Ben Kersten (Australia)
 
1 Christopher Hoy (Great Britain)                    60.684 (44.493)
 Craig Mclean (Great Britain)
 Jason Queally (Great Britain)
2 Rafal Furman (Poland)                              58.683 (46.01)
 Lukasz Kwiatkowski (Poland)
 Damian Zielinski (Poland)
 
Final Classification
 
1 Christopher Hoy (Great Britain)                        12 pts
 Craig Mclean (Great Britain)
 Jason Queally (Great Britain)
2 Rafal Furman (Poland)                                  10
 Lukasz Kwiatkowski (Poland)
 Damian Zielinski (Poland)
3 Kazuya Narita (Japan)                                   8
 Yusho Oikawa (Japan)
 Kazunari Watanabe (Japan)
4 Jobie Dajka (Australia)                                 7
 John Kelly Shane (Australia)
 Ben Kersten (Australia)
5 Athanasios Mantzouranis (Greece)                        6
 Konstandinos Pendarakis (Greece)
 Panagiotis Voukelatos (Greece)
6 Vladimir Kiriltsev (Russia)                             5
 Dmitry Leopold (Russia)
 Sergey Ruban (Russia)
7 Pavel Buran (Czech Republic)                            4
 Alois Kankovsky (Czech Republic)
 Ivan Vrba (Czech Republic)
8 Vitaliy Kulachkovskiy (Ukraine)                         3
 Maksym Lopatyuk (Ukraine)
 Andrei Vynokurov (Ukraine)

Women's Scratch Race

Heat 1
 
1 Tatsiana Sharakova (Bielorussia)                   6:47.8 (44.142 km/h)
 
1 lap behind
 
2 Apollinaria Bakova (Russia)
3 Charlotte Becker (Germany)
4 Katherine Bates (Australia)
5 Erin Mirabella (USA)
6 Virginie Moinard (France)
7 Joanne Kiesanowski (New Zealand)
8 Lisa Gatto (Italy)
9 Jacki Marshall (Great Britain)
10 Gema Pascual Torrecilla (Spain)
11 Lyudmyla Vypyraylo (Ukraine)
12 Adrie Visser (Netherlands)
13 Jarmila Machacova (Czech Republic)
14 Julita Papinigyte (Lithuania)
 
Heat 2
 
1 Yulia Arustamova (Russia)                          6:55.3 (43.339 km/h)
2 Monia Baccaille (Italy)
3 Verena Joos (Germany)
4 Rebecca Quinn (USA)
5 Marlijn Binnendijk (Netherlands)
6 Catherine Sell (New Zealand)
7 Gina Grain (Canada)
8 Alexis Rhodes (Australia)
9 Nikki Harris (Great Britain)
10 Lada Kozlikova (Czech Republic)
11 Wan Yiu Wong (Hong-Kong)
12 Debora Galvez Lopez (Spain)
13 Svetlana Pauliukaite (Lithuania)
 
Final
 
1 Katherine Bates (Australia)                       13:04.8 (45.870 km/h)
2 Rebecca Quinn (USA)
3 Virginie Moinard (France)
4 Joanne Kiesanowski (New Zealand)
5 Nikki Harris (Great Britain)
6 Catherine Sell (New Zealand)
7 Yulia Arustamova (Russia)
8 Erin Mirabella (USA)
9 Monia Baccaille (Italy)
10 Lisa Gatto (Italy)
11 Gina Grain (Canada)
12 Gema Pascual Torrecilla (Spain)
13 Apollinaria Bakova (Russia)
14 Lada Kozlikova (Czech Republic)
15 Charlotte Becker (Germany)
16 Jacki Marshall (Great Britain)
17 Marlijn Binnendijk (Netherlands)
18 Tatsiana Sharakova (Bielorussia)
19 Verena Joos (Germany)
20 Alexis Rhodes (Australia)
 
Final classification
 
1 Katherine Bates (Australia)                            12 pts
2 Rebecca Quinn (USA)                                    10
3 Virginie Moinard (France)                               8
4 Joanne Kiesanowski (New Zealand)                        7
5 Nikki Harris (Great Britain)                            6
6 Catherine Sell (New Zealand)                            5
7 Yulia Arustamova (Russia)                               4
8 Erin Mirabella (USA)                                    3
9 Monia Baccaille (Italy)                                 2
10 Lisa Gatto (Italy)                                     1

Women's Keirin

1st Round
 
Heat 1
 
1 Christin Muche (Germany)                           12.138 (59.318 km/h)
2 Simona Krupeckaite (Lithuania)
3 Kerrie Meares (Australia)
4 Victoria Pendleton (Great Britain)
5 Lenka Valova (Czech Republic)
 
Heat 2
 
1 Clara Sanchez (France)                             12.248 (58.785 km/h)
2 Oxana Grishina (Russia)
3 Shuang Guo (China)
4 Susann Panzer (Germany)
5 Katri Laike (New Zealand)
6 Willy Kanis (Netherlands)
 
Heat 3
 
1 Natallia Tsylinskaya (Bielorussia)                 12.207 (58.983 km/h)
2 Emilie Jeannot (France)
3 Elisa Frisoni (Italy)
4 Yvonne Hijgenaar (Netherlands)
5 Jennie Reed (USA)
6 Magdalena Sara (Poland)
 
1st Round Repecharge
 
Heat 1
 
1 Kerrie Meares (Australia)                          12.323 (58.427 km/h)
2 Yvonne Hijgenaar (Netherlands)
3 Susann Panzer (Germany)
4 Katri Laike (New Zealand)
5 Magdalena Sara (Poland)
 
Heat 2
 
1 Shuang Guo (China)                                 12.088 (59.563 km/h)
2 Elisa Frisoni (Italy)
3 Jennie Reed (USA)
4 Victoria Pendleton (Great Britain)
5 Lenka Valova (Czech Republic)
6 Willy Kanis (Netherlands)
 
2nd Round
 
Heat 1
 
1 Christin Muche (Germany)                           12.258 (58.737 km/h)
2 Oxana Grishina (Russia)
3 Jennie Reed (USA)
4 Emilie Jeannot (France)
DNF Yvonne Hijgenaar (Netherlands)
DNF Shuang Guo (China)
 
Heat 2
 
1 Elisa Frisoni (Italy)                              11.717 (61.449 km/h)
2 Natallia Tsylinskaya (Bielorussia)
3 Susann Panzer (Germany)
4 Simona Krupeckaite (Lithuania)
5 Clara Sanchez (France)
6 Kerrie Meares (Australia)
 
7th-12th Final
 
7 Kerrie Meares (Australia)                          12.177 (59.128 km/h)
8 Simona Krupeckaite (Lithuania)
9 Shuang Guo (China)
10 Clara Sanchez (France)
11 Yvonne Hijgenaar (Netherlands)
12 Emilie Jeannot (France)
 
1st-6th Final
 
1 Natallia Tsylinskaya (Bielorussia)                 11.976 (60.120 km/h)
2 Susann Panzer (Germany)
3 Jennie Reed (USA)
4 Christin Muche (Germany)
5 Elisa Frisoni (Italy)
6 Oxana Grishina (Russia)
 
Final classification
 
1 Natallia Tsylinskaya (Bielorussia)                     12 pts
2 Susann Panzer (Germany)                                10
3 Jennie Reed (USA)                                       8
4 Christin Muche (Germany)                                7
5 Elisa Frisoni (Italy)                                   6
6 Oxana Grishina (Russia)                                 5
7 Kerrie Meares (Australia)                               4
8 Simona Krupeckaite (Lithuania)                          3
9 Shuang Guo (China)                                      2
10 Clara Sanchez  (France)                                1