Introduction to Track Racing - What's a Wheelrace? - Introduction to Six Day racing - UCI codes
Track World Cup 04/05 Round 3 - CDM
Manchester, Great Britain, January 7-9, 2005
Main Page Results Previous Day Next Day
Day 2 - January 8: Men: Team Pursuit; Sprint, Points Race; Women: Individual Pursuit, 500m TT
Day 2 wrap up
By Nick Rosenthal
No pain, no gain!
Photo ©: Nick Rosenthal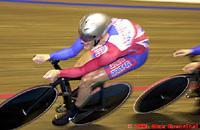 The second day of the World Cup track series in Manchester on Saturday saw the host nation take gold in the Team Pursuit, the British quartet just catching the Spanish silver-medallists on the finish line. Bronze medal went to the German team, who beat the Dutch team into fourth place.
The women's 500m time trial saw popular British rider Vicky Pendleton pick up her second silver medal of this World Cup meeting, this time behind the rapid Russian Tamilla Abassova. Italy's Elisa Frisoni took the bronze medal in the 500m, stepping on to the podium after taking fourth place in the previous day's sprints.
Australia had cause to celebrate when Katherine Bates won the Women's Individual Pursuit, beating local girl Emma Davies of Great Britain in the final. The two were fairly evenly matched, with only .6 of a second between them in qualifying, but the powerful Aussie proved stronger in the final. In the ride off for third and fourth place, Switzerland's Karin Thürig beat Germany's Verena Joos for the bronze medal. This was a double celebration for Katherine Bates, who won the women's points race with a powerful performance the previous day.
In the last lap of the race
Photo ©: Nick Rosenthal

The Men's Points Race saw two blisteringly fast heats in the morning, and the final in the afternoon was action packed. The bunch allowed five riders: Colby Pearce, Nikita Eskov, Vasil Kiryienka, Angelo Ciccone and Tamouridis Ioannis to escape and take a lap, which under the new rules means that the riders in question gain 20 points when they catch the bunch. So the top placings came from this select group. Belarus rider Vasil Kiryienka proved strongest of the escapers, never far from the action and earning a well-deserved win with 39 points. The race for second place went right down to the last sprint, with Russia's Nikita Eskov going into the last sprint just two points ahead of experienced American Colby Pearce. Although Pearce tried everything he knew to get past the Russian on the last lap, Eskov had youth and speed on his side, and managed to hold off the American to safeguard his second place.
French sprinter Mickaël Bourgain dominated the Men's Sprint series, using his superior speed to take gold ahead of Poland's Lukasz Kwiatkowski with Spain's José Villanueva picking up the bronze medal at the end of an exciting sprint series.
Photography
For a thumbnail gallery of these images, click here
Images by Nick Rosenthal/fatnick.com
Results
Team Pursuit


Qualifying
 
1 Great Britain                           4:07.168 (58.260 km/h)
 Steven Cummings
 Robert Hayles
 Paul Manning
 Christopher Newton
2 Spain                                   4:12.077 (57.125 km/h)
 Carlos Castano Panadero
 Carlos Torrent Tarres
 Gillermo Ferrer Garcia
 Asier Maeztu
3 Germany                                 4:12.890 (56.942 km/h)
 Christian Bach
 Robert Bengsch
 Henning Bommel
 Leif Lampater
4 Netherlands                             4:13.892 (56.717 km/h)
 Levi Heimans
 Wim Stroetinga
 Niki Terpstra
 Sipke Zijlstra
5 Russia                                  4:16.093 (56.230 km/h)
 Mikhail Ignatiev
 Sergey Klimov
 Alexander Serov
 Nikolay Trousov
6 Denmark                                 4:16.131 (56.221 km/h)
 Alex Rasmussen
 Casper Jørgensen
 Jens Erik Madsen
 Michael Mørkøv
7 New Zealand                             4:18.067 (55.799 km/h)
 Jason Allen
 Richard Bowker
 Anthony Chapman
 Matthew Haydock
8 Ukraine                                 4:20.724 (55.231 km/h)
 Lyubomyr Polatayko
 Volodymyr Rybin
 Alexandre Symonenko
 Vasyl Yakovlev
9 Kazakhstan                              4:21.526 (55.061 km/h)
 Vladimir Bushanskiy
 Yuriy Yuda
 Alexey Kolessov
 Alexey Lyalko
10 Italy                                  4:23.769 (54.593 km/h)
 Alessandro Bernardini
 Claudio Cucinotta
 Claudio Masnata
 Alessandro Mazzolani
 
Finals
 
For 3rd & 4th
 
3 Germany                                 4:09.327 (57.755 km/h)
 Christian Bach
 Robert Bengsch
 Henning Bommel
 Leif Lampater

4 Netherlands                             4:14.272 (56.632 km/h)
 Levi Heimans
 Wim Stroetinga
 Niki Terpstra
 Sipke Zijlstra
 
For 1st & 2nd
 
1 Great Britain                           4:03.033 (59.251 km/h)
 Steven Cummings
 Robert Hayles
 Paul Manning
 Christopher Newton

2 Spain                                   4:10.915 (57.390 km/h)
 Carlos Castano Panadero
 Carlos Torrent Tarres
 Gillermo Ferrer Garcia
 Asier Maeztu
 
Final classification
 
1 Great Britain                                 12
2 Spain                                         10
3 Germany                                        8
4 Netherlands                                    7
5 Russia                                         6
6 Denmark                                        5
7 New Zealand                                    4
8 Ukraine                                        3
9 Kazakhstan                                     2
10 Italy                                         1 
Men Sprint

Qualifying
 
1 Mickaël Bourgain (France)                 10.393(69.277 km/h)
2 Ross Edgar (Great Britain)                10.397(69.251 km/h)
3 Matthias John (Germany)                   10.411(69.158 km/h)
4 Grégory Bauge (France)                    10.474(68.742 km/h)
5 Teun Mulder (Netherlands)                 10.481(68.696 km/h)
6 José Antonio Villanueva (Spain)           10.492(68.624 km/h)
7 Lukasz Kwiatkowski (Poland)               10.506(68.532 km/h)
8 Jobie Dajka (Australia)                   10.511(68.500 km/h)
9 Tim Veldt (Netherlands)                   10.547(68.266 km/h)
10 Kazunari Watanabe (Japan)                10.564(68.156 km/h)
11 Ivan Vrba (Czech Republic)               10.610(67.861 km/h)
12 Kazuya Narita (Japan)                    10.677(67.435 km/h)
13 René Wolff (Germany)                     10.682(67.403 km/h)
14 Chung Wong Kin (Hong-Kong)               10.697(67.309 km/h)
15 Sergey Ruban (Russia)                    10.745(67.008 km/h)
16 Christian Stahl (USA)                    10.763(66.896 km/h)
17 Rizal Mohd Tisin (Malaysia)              10.776(66.815 km/h)
18 Josiah Ng (Malaysia)                     10.828(66.494 km/h)
19 Gideon Massie (USA)                      10.829(66.488 km/h)
20 Salvador Melia (Spain)                   10.864(66.274 km/h)
21 Alois Kankovsky (Czech Republic)         10.875(66.207 km/h)
22 Rafal Furman (Poland)                    10.960(65.693 km/h)
23 Kasper Jessen (Denmark)                  10.967(65.651 km/h)
24 Vitaliy Kulachkovskiy (Ukraine)          10.992(65.502 km/h)
25 Konstandinos Pendarakis (Greece)         11.057(65.117 km/h)
26 Vladimir Kiriltsev (Russia)              11.081(64.976 km/h)
27 Andrew Williams (New Zealand)            11.207(64.246 km/h)
28 Michael Rodriguez (Puerto Rico)          11.213(64.211 km/h)
29 Panagiotis Keloglou (Greece)             11.368(63.336 km/h)
30 Matthew Chater (Canada)                  11.563(62.268 km/h)
31 Vahur Valvas (Estonia)                   11.718(61.444 km/h)
DNS Priit Prous (Estonia)
DNS Cédric Stoller (Switzerland)
 
1/8 Final
 
 Heat 1

1 Mickaël Bourgain (France)                 11.318 (63.615 km/h)
2 Christian Stahl (United States Of America)
 
 Heat 2
 
1 Ross Edgar (Great Britain)                11.434 (62.970 km/h)
2 Sergey Ruban (Russian Federation)
 
 Heat 3
 
1 Matthias John (Germany)                   10.855 (66.329 km/h)
2 Kin Chung Wong (Hong-Kong, China)
 
 Heat 4
 
1 Grégory Bauge (France)                    11.240 (64.057 km/h)
2 René Wolff (Germany)
 
 Heat 5
 
1 Teun Mulder (Netherlands)                 11.299 (63.722 km/h)
2 Kazuya Narita (Japan)
 
 Heat 6
 
1 José Antonio Villanueva Trinidad (Spain)  11.314 (63.638 km/h)
2 Ivan Vrba (Czech Republic)
 
 Heat 7
 
1 Lukasz Kwiatkowski (Poland)               11.054 (65.135 km/h)
2 Kazunari Watanabe (Japan)
 
 Heat 8
 
1 Jobie Dajka (Australia)                   11.105 (64.836 km/h)
2 Tim Veldt (Netherlands)
 
1/4 Final
 
 Heat 1
 
1 Mickaël Bourgain (France)                 10.998 (65.466 km/h)
2 Jobie Dajka (Australia)
 
 Heat 2
 
1 Lukasz Kwiatkowski (Poland)               10.553 (68.227 km/h)
2 Ross Edgar (Great Britain)
 
 Heat 3
 
1 José Antonio Villanueva Trinidad (Spain)  11.085 (64.953 km/h)
2 Matthias John (Germany)
 
 Heat 4
 
1 Grégory Bauge (France)                    10.981 (65.568 km/h)
2 Teun Mulder (Netherlands)
 
Semi-Final
 
Heat 1 Race #1
 
1 Mickaël Bourgain (France)                 11.485 (62.690 km/h)
2 Grégory Bauge (France)
 
Heat 1 Race #2
 
1 Mickaël Bourgain (France)                 10.700 (67.290 km/h)
2 Grégory Bauge (France)
 
Heat 2 Race #1
 
1 Lukasz Kwiatkowski (Poland)               11.110 (64.806 km/h)
2 José Antonio Villanueva Trinidad (Spain)
 
Heat 2 Race #2
 
1 Lukasz Kwiatkowski (Poland)               10.906 (66.019 km/h)
2 José Antonio Villanueva Trinidad (Spain)
 
For 5th-8th
 
5 Teun Mulder (Netherlands)                 10.827 (66.500 km/h)
6 Matthias John (Germany)
7 Jobie Dajka (Australia)
8 Ross Edgar (Great Britain)
 
Final
 
3/4 Race #1
 
1 José Antonio Villanueva Trinidad (Spain)  11.195 (64.314 km/h)
2 Grégory Bauge (France)
 
3/4 Race #2
 
1 José Antonio Villanueva Trinidad (Spain)  11.155 (64.545 km/h)
2 Grégory Bauge (France)
 
Final Race #1
 
1 Mickaël Bourgain (France)                 10.912 (65.982 km/h)
2 Lukasz Kwiatkowski (Poland)
 
Final Race #2
 
1 Mickaël Bourgain (France)                 10.544 (68.285 km/h)
2 Lukasz Kwiatkowski (Poland)
 
Final classification
 
1 Mickaël Bourgain (France)                     12
2 Lukasz Kwiatkowski (Poland)                   10
3 José Antonio Villanueva Trinidad (Spain        8
4 Grégory Bauge (France)                         7
5 Teun Mulder (Netherlands)                      6
6 Matthias John (Germany)                        5
7 Jobie Dajka (Australia)                        4
8 Ross Edgar (Great Britain)                     3
9 Tim Veldt (Netherlands)                        2
10 Kazunari Watanabe (Japan)                     1 
Men's points race


1 Vasil Kiryienka (Belarus)                     39
2 Nikita Eskov (Russian Federation)             35
3 Colby Pearce (United States Of America)       35
4 Sergio Escobar Roure (Spain)                  24
5 Angelo Ciccone (Italy)                        24
6 Bradley Wiggins (Great Britain)               14
7 Andreas Muller (Germany)                      13
8 Tony Gibb (DFL)                               10
9 Ilya Chernyshov (Kazakhstan)                  10
10 Niki Terpstra (Netherlands)                   3
11 Andy Flickinger (France)                      1
12 Rafal Ratajczyk (Poland)                      0
13 Marc Hester (Denmark)                       -18
14 Wouter Van Mechelen (Belgium)               -18
15 Richard Bowker (New-Zealand)                -20
DNF Jozef Zabka (Slovakia)
DNF Vasyl Yakovlev (Ukraine)
DNF Mario Lexmüller (Austria)
DNF Kei Uchida (Japan)
DNF Ioannis Tamouridis (Greece)
 
Final classification
 
1 Vasil Kiryienka (Belarus)                     10
2 Nikita Eskov (Russian Federation)              9
3 Colby Pearce (United States Of America)        8
4 Sergio Escobar Roure (Spain)                   7
5 Angelo Ciccone (Italy)                         6
6 Bradley Wiggins (Great Britain)                5
7 Andreas Muller (Germany)                       4
8 Tony Gibb (DFL)                                3
9 Ilya Chernyshov (Kazakhstan)                   2
10 Niki Terpstra (Netherlands)                   1 
Women's individual pursuit


Qualifying
 
1 Emma Davies (Great Britain)             3:40.404 (49.001 km/h)
2 Katherine Bates (Australia)             3:41.007 (48.867 km/h)
3 Karin Thürig (Switzerland)              3:41.303 (48.802 km/h)
4 Verena Joos (Germany)                   3:45.484 (47.897 km/h)
5 Tatsiana Sharakova (Belarus)            3:50.771 (46.800 km/h)
6 Lyudmyla Vypyraylo (Ukraine)            3:51.712 (46.610 km/h)
7 Lada Kozlikova (Czech Republic)         3:52.161 (46.519 km/h)
8 Lisa Gatto (Italy)                      3:54.576 (46.041 km/h)
9 Adrie Visser (Netherlands)              3:55.713 (45.818 km/h)
10 Catherine Sell (New-Zealand)           3:55.884 (45.785 km/h)
11 Virginie Moinard (France)              3:56.536 (45.659 km/h)
12 Apollinaria Bakova (Russian Federation 3:58.032 (45.372 km/h)
13 Gema Pascual Torrecilla (Spain)        3:59.157 (45.159 km/h)
14 Egle Cekanauskaite (Lithuania)         4:06.666 (43.784 km/h)
15 Wan Yiu Wong (Hong-Kong, China)        4:10.022 (43.196 km/h)
 
Final
 
For 3rd & 4th
 
3 Karin Thürig (Switzerland)              3:44.777 (48.048 km/h)
4 Verena Joos (Germany)                   3:45.431 (47.908 km/h)
 
For 1st & 2nd
 
1 Katherine Bates (Australia)             3:39.264 (49.256 km/h)
2 Emma Davies (Great Britain)             3:40.971 (48.875 km/h)
 
Final classification
 
1 Katherine Bates (Australia)                   12
2 Emma Davies (Great Britain)                   10
3 Karin Thürig (Switzerland)                     8
4 Verena Joos (Germany)                          7
5 Tatsiana Sharakova (Belarus)                   6
6 Lyudmyla Vypyraylo (Ukraine)                   5
7 Lada Kozlikova (Czech Republic)                4
8 Lisa Gatto (Italy)                             3
9 Adrie Visser (Netherlands)                     2
10 Catherine Sell (New-Zealand)                  1
Women's 500m TT

1 Tamilla Abassova (Russian Federation)     34.830 (51.680 km/h)
2 Victoria Pendleton (Great Britain)        35.305 (50.984 km/h)
3 Elisa Frisoni (Italy)                     35.324 (50.957 km/h)
4 Natallia Tsylinskaya (Belarus)            35.384 (50.870 km/h)
5 Simona Krupeckaite (Lithuania)            35.426 (50.810 km/h)
6 Willy Kanis (Netherlands)                 35.844 (50.218 km/h)
7 Clara Sanchez (France)                    35.927 (50.102 km/h)
8 Susann Panzer (Germany)                   36.455 (49.376 km/h)
9 Magdalena Sara (Poland)                   36.848 (48.849 km/h)
10 Katri Laike (New-Zealand)                36.912 (48.765 km/h)
11 Lenka Valova (Czech Republic)            38.637 (46.587 km/h)
DNS Shuang Guo (People's Republic of China)
 
Final classification
 
1 Tamilla Abassova (Russian Federation)         12
2 Victoria Pendleton (Great Britain)            10
3 Elisa Frisoni (Italy)                          8
4 Natallia Tsylinskaya (Belarus)                 7
5 Simona Krupeckaite (Lithuania)                 6
6 Willy Kanis (Netherlands)                      5
7 Clara Sanchez (France)                         4
8 Susann Panzer (Germany)                        3
9 Magdalena Sara (Poland)                        2
10 Katri Laike (New-Zealand)                     1